How to Make Hibiscus Tea To Lower Your Blood Pressure
This post contains affiliate links. If you purchase something after clicking on the link, I may earn a small commission, at no additional cost to you.
Last year I researched tea's health benefits for a writing project, and I was excited to learn that several types of tea (specifically hibiscus tea and green or black tea) are great for lowering your blood pressure. Since then, I've been experimenting with different brands and flavor blends, and I hit on an iced tea recipe that I really love. It's my sparkling hibiscus green iced tea.
This is a cold-brewed iced tea (also known as sun tea). It's packed with antioxidants from green and hibiscus tea that are great for your heart and can reduce blood pressure. If you're not sure how to make sun tea, this post talks you through it.
Did you know, that next to water, tea is the most popular beverage in the world? I have to admit, I've always been more of a coffee lover. Tea used to be something that I only had when I was sick. I think it's because I only knew about black tea back in the day, and I couldn't get past the astringent feeling it leaves in your mouth. I'm the same way about red wine.
It turns out that astringent feeling, which some people describe as a bitter, dry taste on your tongue or in your mouth, is exactly why tea is SO good for you. It's caused by tannins. They belong to a larger class of antioxidant compounds called polyphenols. All types of true tea (black, green, white, oolong) are packed with polyphenols.
Health Benefits of Polyphenols
Foods that are highest in polyphenols include:
spices: cloves, peppermint, star anise, oregano, sage, ginger
cocoa powder and dark chocolate
black, green, yellow, white, oolong tea
berries: elderberries, strawberries, blackberries, raspberries, cranberries
red wine
nuts
olive oil
You've probably seen tea along with these other foods on lists of foods with tremendous health benefits. Interestingly, they're all part of the Mediterranean diet too.
The polyphenols in tea and all of these foods help protect cells from oxidative damage. They also help reduce inflammation in your body, blood vessels, and brain.
Eating (and drinking) more polyphenol-rich foods is linked with a lower risk of cardiovascular disease, including heart attack, stroke, and high blood pressure.
Which Tea is Best For Lowering Blood Pressure?
There's just something about making a cup of tea that makes you pause and relax. That in itself probably accounts for at least some of its blood pressure-reducing action.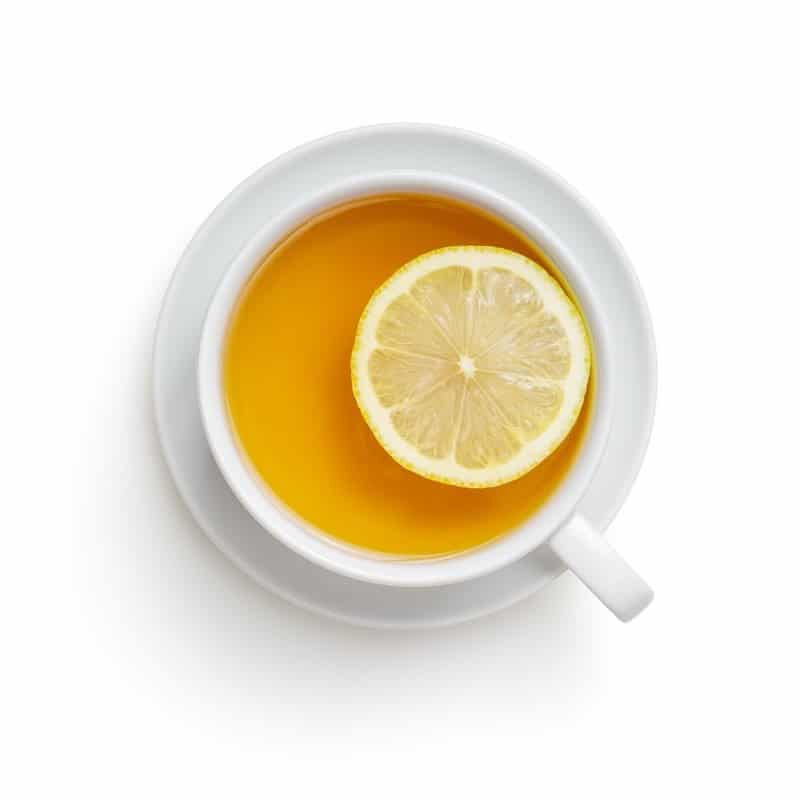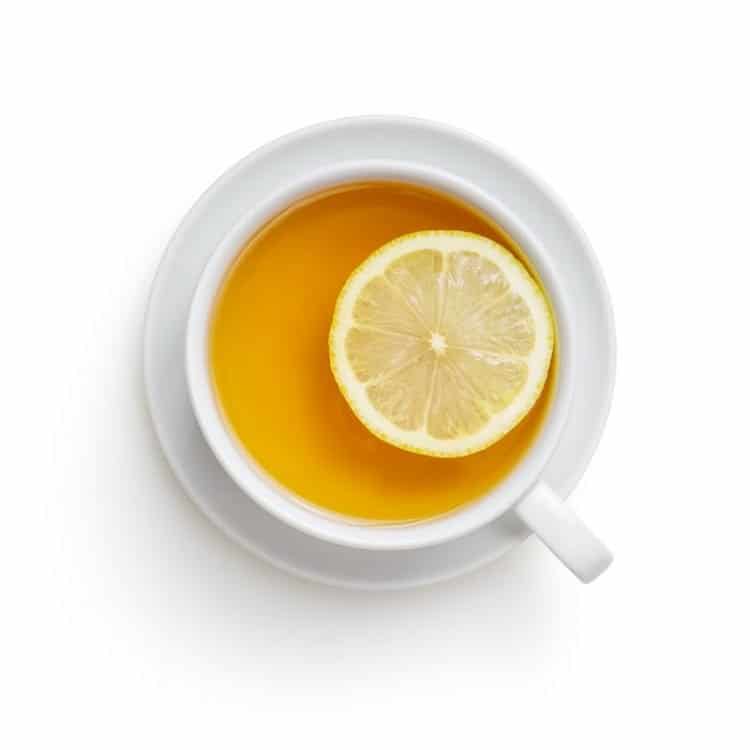 But the polyphenols in tea make it so good for your heart and blood pressure. True tea includes black and green tea and white, yellow, and oolong teas. They all come from the Camellia sinensis plant. Green tea tends to get all of the glory, but really, all of these teas are good for you. They simply differ in how the plant is grown and how the leaves are processed.
They all have polyphenol antioxidants. However, green tea has more epigallocatechin-3-gallate (EGCG), whereas black tea is a rich source of theaflavins.
They all have L-theanine, a compound that brings about a relaxed but mentally alert state.
Black tea is highest in caffeine, whereas green tea and the other true teas tend to be lower.
Studies show that drinking about two cups of green or black tea daily can lower your blood pressure.
Herbal teas are not part of the same tea family, so they're not considered true teas. That doesn't mean they're not good for you, though! Herbal teas have no caffeine or L-theanine, but they do have antioxidants, vitamins, and minerals. They also provide various health benefits, depending on the herb or plant used to make the tea.
Hibiscus Tea and Blood Pressure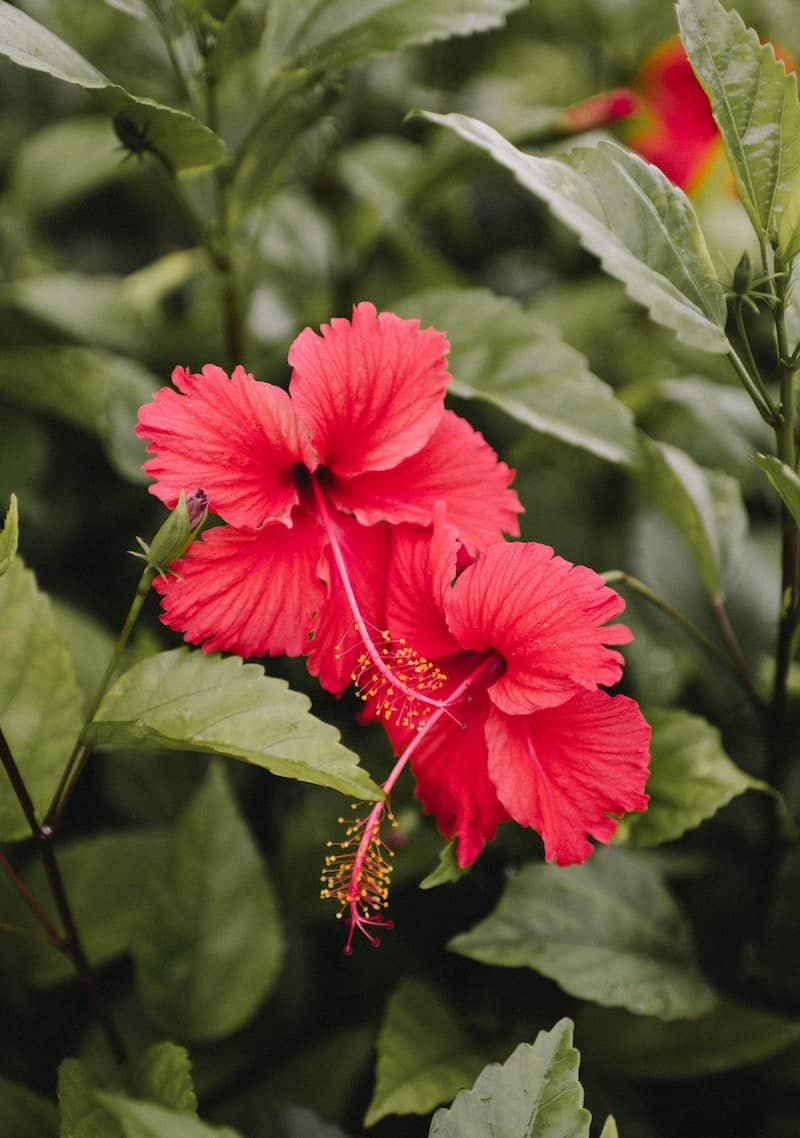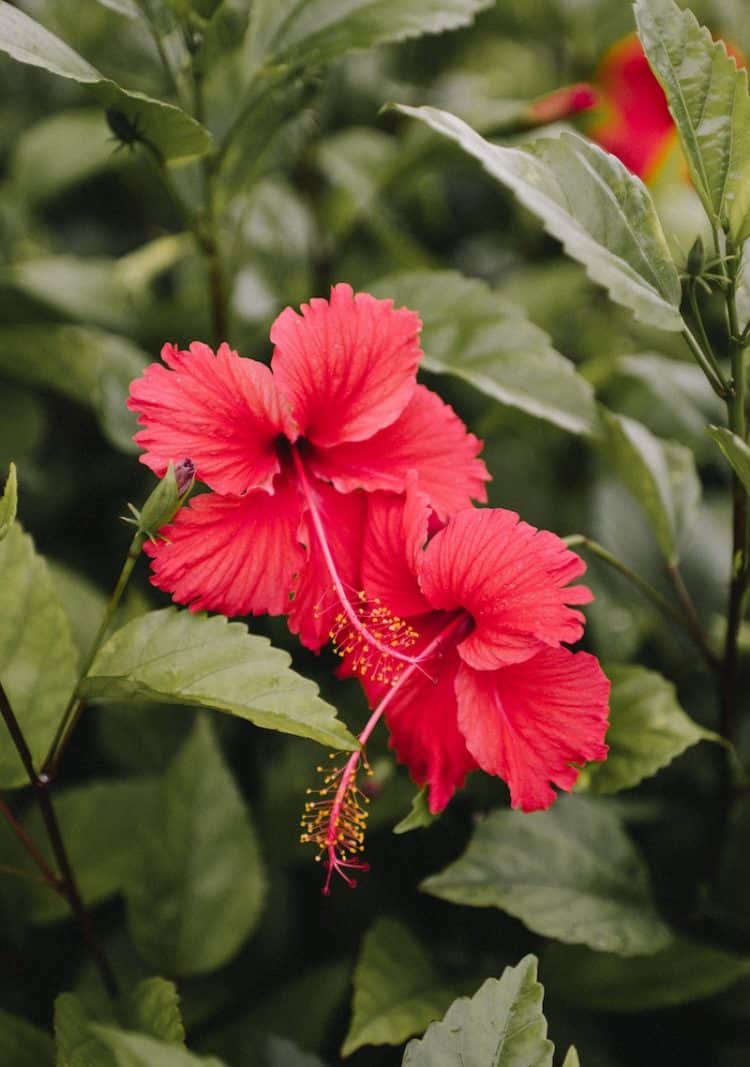 My favorite herbal tea that lowers your blood pressure is hibiscus tea (sometimes called sour tea). Just as the name suggests, it's made from hibiscus flowers. And when you make hibiscus tea, your tea isn't just healthy, it's also a gorgeous red color.
Studies show in people with stage 1 hypertension (130 to 139 and 80–89 mmHg). drinking 2 cups of hibiscus tea daily is an effective "medicine" to reduce blood pressure.
Hibiscus is another source of polyphenol antioxidants. It works by protecting your blood vessels from damaging cholesterol plaques. Hibiscus also has compounds that cause nitric oxide to be released, so it works like a vasodilator and helps your blood vessels to widen.
Hibiscus works much like my other favorite blood pressure lowering drink - beet juice.
About This Tea That Lowers Your Blood Pressure
I still don't love hot tea. But I realized I love iced tea — it's so refreshing! I've started making a pitcher of cold-brewed tea every week. I keep it in the refrigerator, and I'll usually pour a glass over ice and then top it off with water (or another splash of tea) throughout the day. I've found it really helps me drink more fluid. And along with the other lifestyle changes I've made, it also helps lower my blood pressure.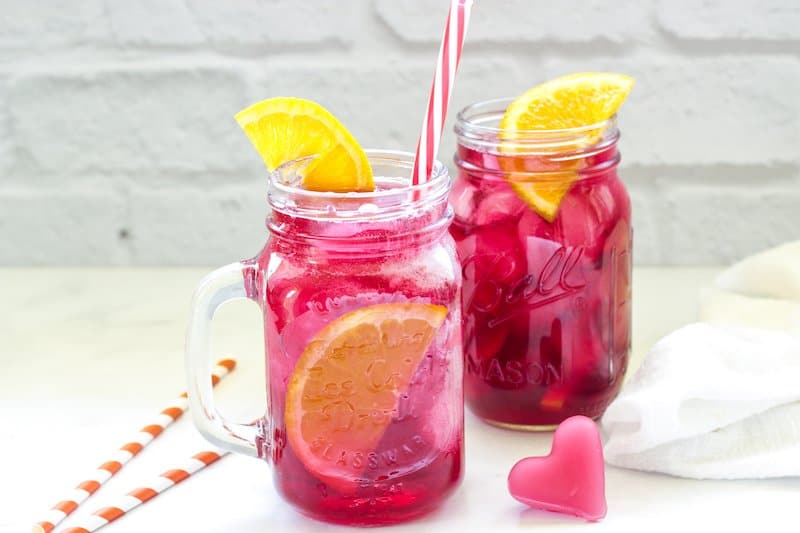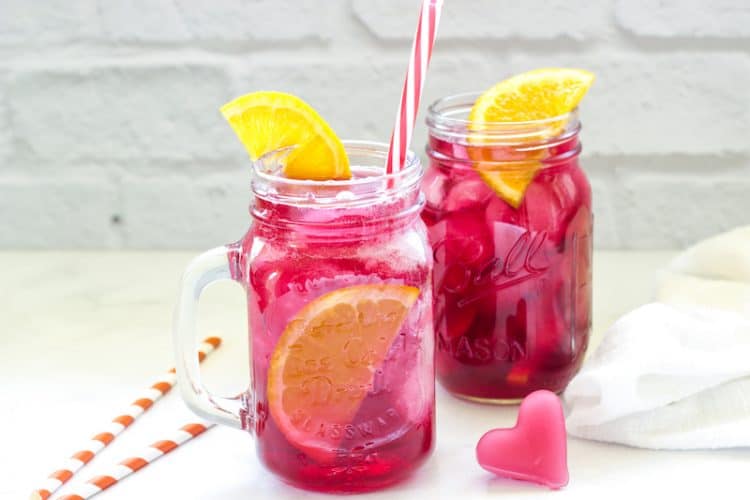 Rather than worrying about whether I'm drinking the best or healthiest tea, I put a blend of different teas and other polyphenol-rich ingredients (including a splash of cranberry juice cocktail - so full of tannins!) into my pitcher and let it brew on a sunny windowsill for a few hours. That way, I've got a little bit of everything and a lot of healthy in each glass.
I like to make my tea fairly concentrated, so it holds up to a full cup of ice. I also realized if you add a splash of seltzer to your glass, it takes your iced tea to a whole new level of refreshing and delicious.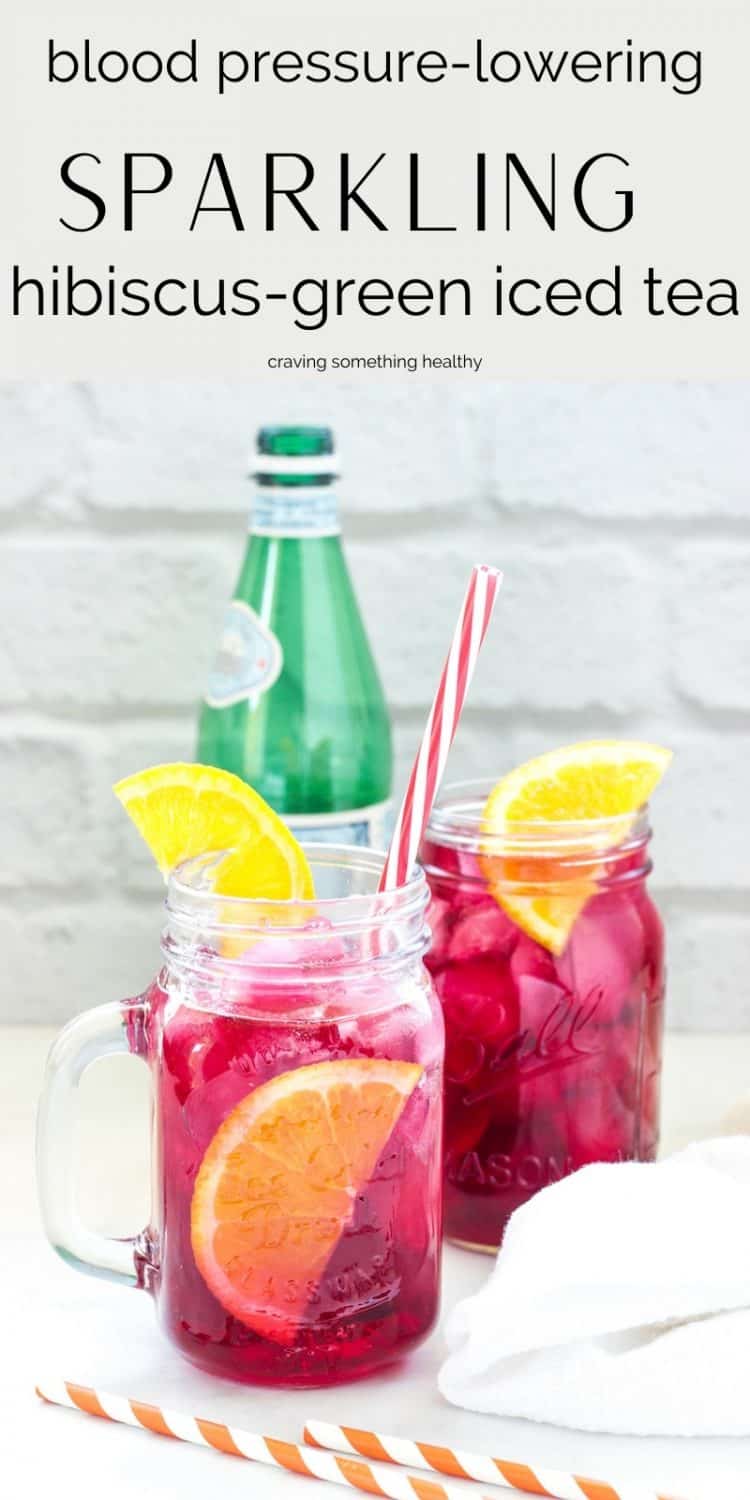 One important thing about tea: Try to buy organic whenever possible. Many teas are high in pesticides.
And here's a money-saving tip when you're buying green tea. There's no need to spring for fancy designer brands. One of the most highly rated by the independent testing lab ConsumerLab was Trader Joe's Organic Green Tea. It had significantly higher levels of the antioxidant EGCG compared to other brands.
Recipe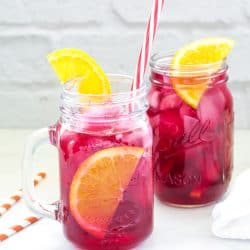 Sparkling Hibiscus Green Iced Tea
A pretty and refreshing sparkling iced tea with amazing health benefits
Print
Pin
Ingredients
1

cup

boiling water

boil in a measuring cup in the microwave

1

teaspoon

whole cloves

4-5

pieces

star anise

4

cups

cold filtered water

5

bags

hibiscus tea

8

bags

green tea

6

ounces

cranberry juice cocktail

½

fresh orange orange

seltzer water
Instructions
Place the whole cloves and star anise in the boiling water. Cover with a lid or small dish and set it aside for about 10 minutes to steep.

Pour the 4 cups of cold filtered water into a large pitcher with a lid. Add the hibiscus and green tea bags and press down lightly so they're submerged.

Add the cranberry juice, and a generous squeeze of the fresh orange juice. If desired, slice the orange half and add it to the pitcher.

When the spices have finished steeping, add them along with the hot water to the pitcher.

Cover the pitcher and let it stand on the counter for at least 2 hours, and up to 6 hours or until it's dark red in color.

Remove the tea bags, and if desired, strain off the spices and orange slices.

To serve, fill a glass with ice, add the tea until about ⅔ full, and top off with seltzer water.

Keep the tea in the refrigerator for up to 5 days. Note: it should keep longer if you remove the spices and fruit.
Notes
A pitcher of this hibiscus tea will last for about 4 days in the refrigerator.
Nutrition
Calories:
14
kcal
|
Carbohydrates:
3
g
|
Protein:
1
g
|
Fat:
1
g
|
Saturated Fat:
1
g
|
Polyunsaturated Fat:
1
g
|
Monounsaturated Fat:
1
g
|
Sodium:
1
mg
|
Potassium:
21
mg
|
Fiber:
1
g
|
Sugar:
3
g
|
Vitamin A:
18
IU
|
Vitamin C:
11
mg
|
Calcium:
6
mg
|
Iron:
1
mg
Do you prefer your tea hot or cold? Or are you more of a coffee drinker?
Eat (and drink) well!
REFERENCES:
Effect of Tea on Blood Pressure For Secondary Prevention of Cardiovascular Disease: A Systematic Review and Meta-Analysis of Randomized Controlled Trials
Effect of Hibiscus Sabdariffa on Blood Pressure in Patients With Stage 1 Hypertension