Grilled Vegetable Parmesan Casserole
This Grilled Vegetable Parmesan Casserole is perfect for those nights when you're craving some comfort food but it's too hot to stand over the stove. There's no breading and frying involved here but there are LOTS of summer vegetables.
Grilled Vegetable Parmesan is a little bit lighter and healthier than traditional eggplant Parmesan. And this is one of those dishes that tastes even better the next night. That means you can make it ahead of time and reheat it, or make enough for leftovers!
I eat a LOT of salads during the summer. Most days, it's just too hot to think about eating something hot. So maybe I'll grill up some chicken or salmon, and add it on top of my salad. But that's about the extent of my summer cooking!
Sometimes, though, I crave something hearty, cheesy, and casserole-y, and this dish hits the mark.
This is a great recipe to make when you've got lots of summer vegetables on hand and you don't know what to do with them.
Which Vegetables to Use
I love traditional Mediterranean flavors, so I use a combination of:
Eggplant
Zucchini
Red or another color sweet pepper
Portobello mushrooms
And lots of fresh basil.
Add as much (or little) of each of these as you like. Other vegetables that would be delicious include:
Summer (yellow) squash
Artichoke hearts (the ones in the can are easy)
Asparagus
Spinach, kale, broccoli rabe, or any other leafy greens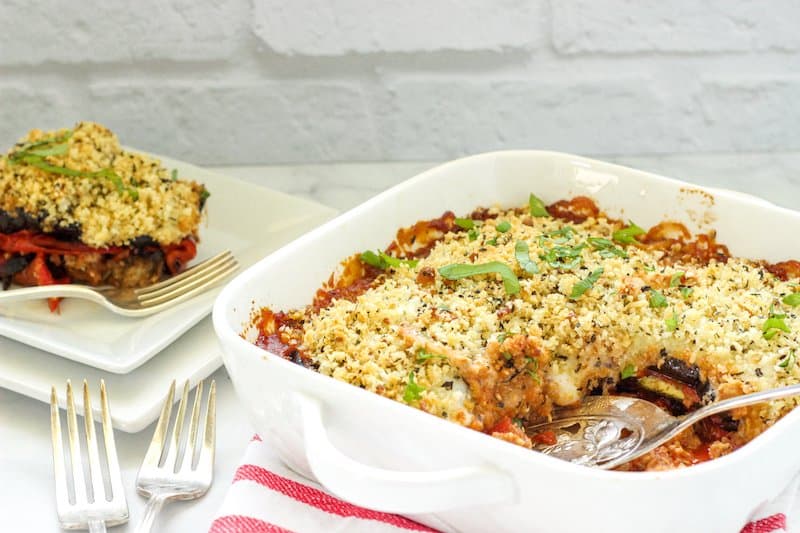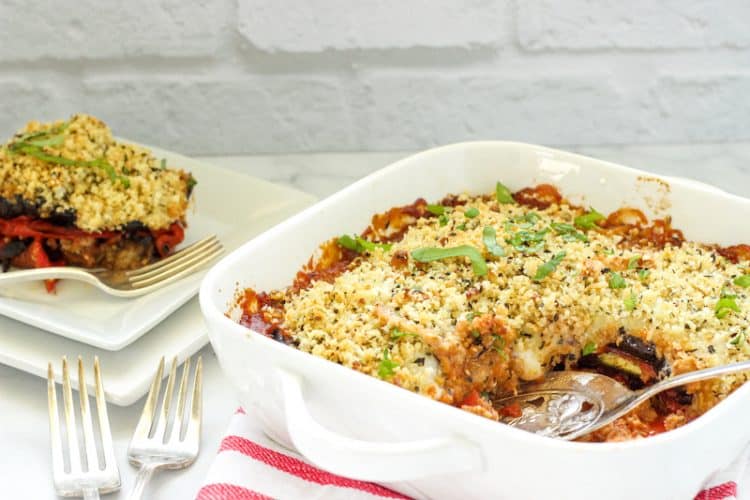 I love the idea of grilling the vegetables instead of breading and frying everything for this recipe. It's definitely a lot lighter on calories, but also, I think grilled vegetables have so much more flavor.
Grilling your vegetables ahead of time also saves work in the kitchen. Just hit the with some salt, a sprinkle of Italian seasoning, and some olive oil and pop them on the grill. You can even grill up some extra vegetables the night before, and reserve part of them for this recipe. Just keep them in the refrigerator until you're ready to use them.
When you're ready for dinner, layered up with the grilled vegetables, some tomato sauce (definitely worth it to make this easy 3-ingredient tomato sauce), and a light sprinkle of cheese.
If you happen to have some fresh mozzarella on hand (like Marinated Bocconcini), use that too! It melts so well.
Don't worry, you'll still get the breadcrumbs (I use panko for that crispy crunch), but instead of having to dip and fry your veggies, the breadcrumbs go on top. And then, the casserole just needs a quick 20-30 minutes in the oven so the cheese can melt.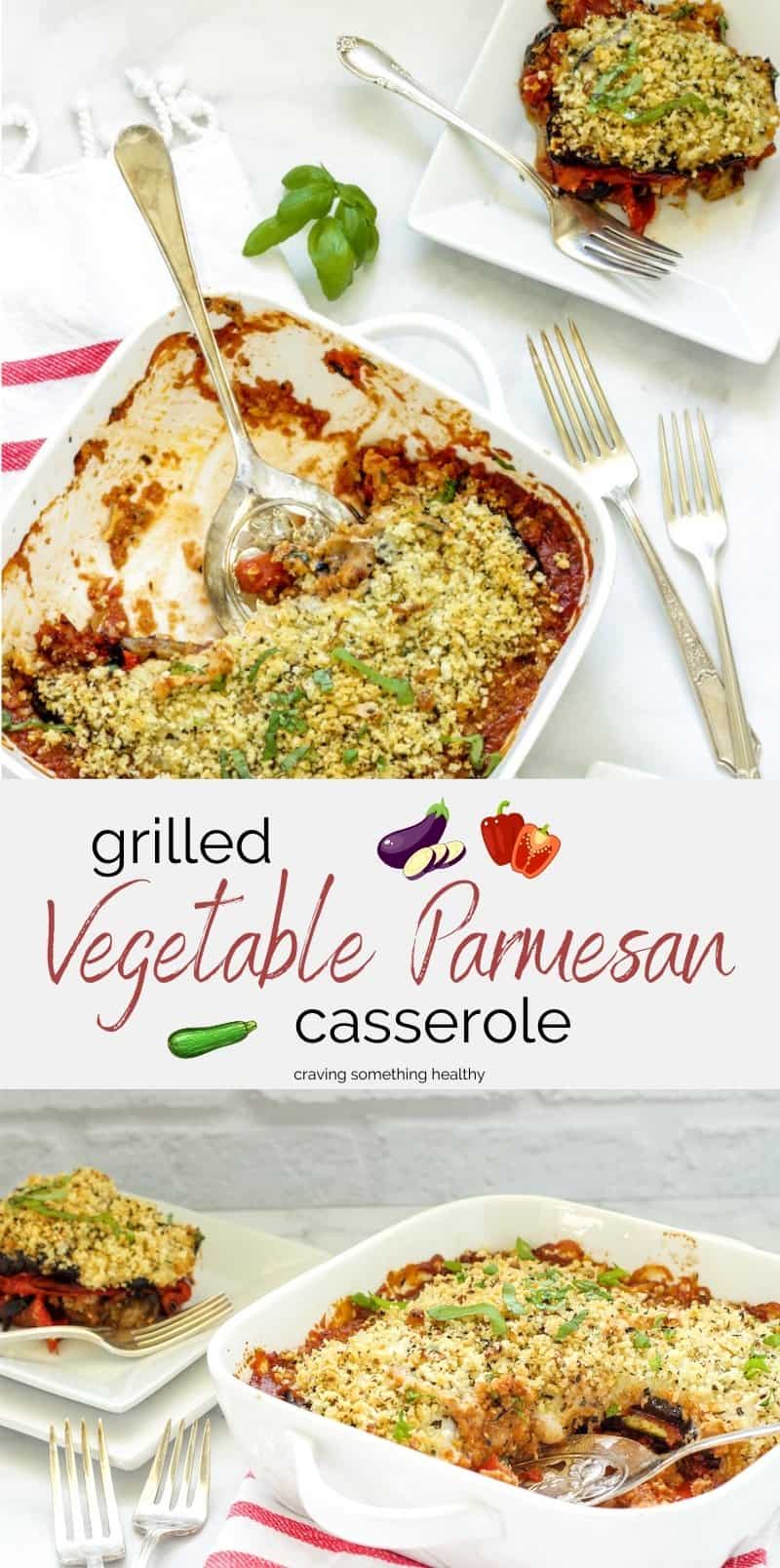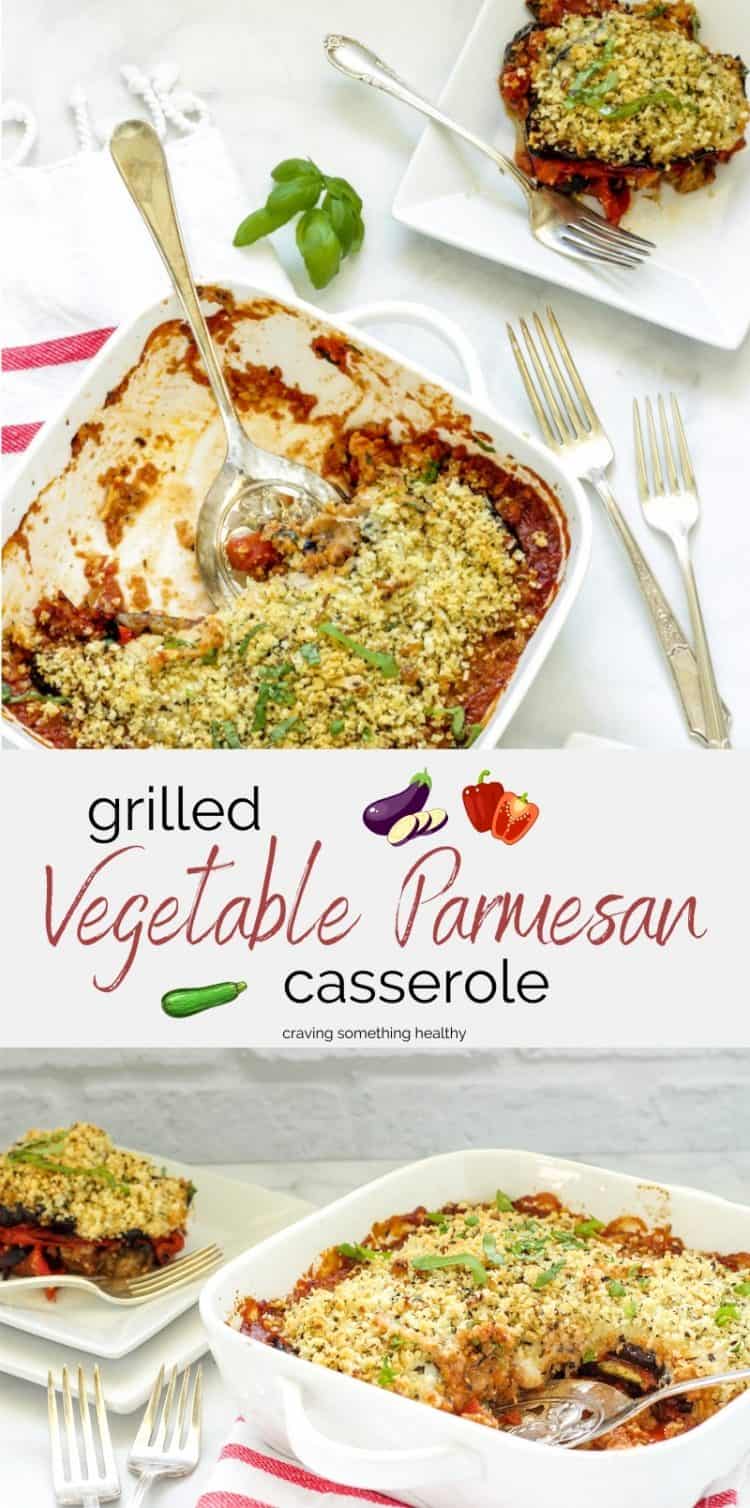 And because I'm a major fan of cook once, eat twice (or three times), this makes 4 servings. So you'll get tomorrow night off! You're welcome.
P.S. this recipe looks like it has a lot of steps, but it's mostly just the layering process. It's kind of like lasagna.
Recipe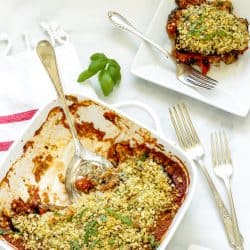 Grilled Vegetable Parmesan Casserole
An easy summer casserole that's packed with grilled seasonal vegetables
Print
Pin
Ingredients
1

medium

eggplant

peeled if desired, and cut into round ¾" slices

¼

teaspoon

sea salt

1

medium

zucchini

cut lengthwise into ¾" strips

1

large

red pepper

cut in half and seeds, core removed

2

medium

Portobello mushroom caps

2

tablespoons

olive oil

divided

1 ½

teaspoons

Italian seasoning mix

divided

12

ounces

prepared or homemade tomato sauce

8

fresh basil leaves

more or less to taste, sliced thin

¾

cup

shredded mozzarella cheese

divided

¼

cup

grated Parmesan cheese

½

cup

Panko crumbs
Instructions
Put the eggplant slices in a colander, and sprinkle/toss with the salt. Let them sit for at least 15 minutes, or until they give up some of their liquid.

When the eggplant is almost ready, heat the grill to medium-high, and slightly spray the grill racks.

Add the eggplant, zucchini slices, red pepper, and mushrooms to a large mixing bowl. Sprinkle with 1 teaspoon of Italian seasoning herb mix, and drizzle 1 tablespoon of the olive oil over the vegetables, and toss lightly to coat.

Place the vegetables on the hot grill, and grill them for about 4 minutes on each side, or until they're softened and have grill marks. I like to grill my red peppers until they blacken in spots so the skins peel off. This is optional.

Remove the cooked vegetables from the grill, and place them back into the mixing bowl to let them cool. If desired, pull the blackened skins off the red peppers. Slice the red pepper and mushrooms into strips.

In an 8" x 8" baking pan or casserole dish, spread about ¼ cup of the tomato sauce.

Add one layer of the vegetables on top of the sauce.

Sprinkle about ⅓ of the fresh basil leaves over half of the mozzarella cheese.

Top with another ¼ cup of tomato sauce.

Add a second layer of vegetables, another ⅓ of the fresh basil leaves, and the nearly the rest of the mozzarella cheese. I like to save about 1 handful of mozzarella for the topping.

Spoon or spread the rest of the sauce over the casserole.

In a small bowl, combine any remaining mozzarella cheese, the Panko, the ¼ of Parmesan cheese, the remaining ½ teaspoon of Italian seasoning mix, and the remaining 1 tablespoon of olive oil. Toss well to combine.

Sprinkle the cheese/Panko blend over the top of the casserole. Cover it lightly with foil, and bake for about 25 minutes or until the cheese is melted throughout. Remove the foil for the last 10 minutes so the Panko can crisp.

If a crispier topping is desired, turn on the broiler and move the casserole to the top rack for about 30 seconds - make sure it doesn't burn!

Garnish with the remaining ⅓ of the fresh basil leaves. Let cool for 5 minutes before serving.
Notes
The vegetables can be grilled well in advance if desired. Keep them in the refrigerator until you're ready to use them.
Nutrition
Calories:
263
kcal
|
Carbohydrates:
24
g
|
Protein:
12
g
|
Fat:
15
g
|
Saturated Fat:
5
g
|
Polyunsaturated Fat:
1
g
|
Monounsaturated Fat:
7
g
|
Trans Fat:
1
g
|
Cholesterol:
22
mg
|
Sodium:
833
mg
|
Potassium:
962
mg
|
Fiber:
7
g
|
Sugar:
12
g
|
Vitamin A:
2038
IU
|
Vitamin C:
70
mg
|
Calcium:
236
mg
|
Iron:
2
mg
Do you peel your eggplant? I like mine half-peeled, so I leave a few strips here and there.
Eat well!