Easy Homemade Pasta Sauce
Step away from the jarred spaghetti sauces! Once you try this super-simple, 3-ingredient pasta sauce, you'll use it on everything.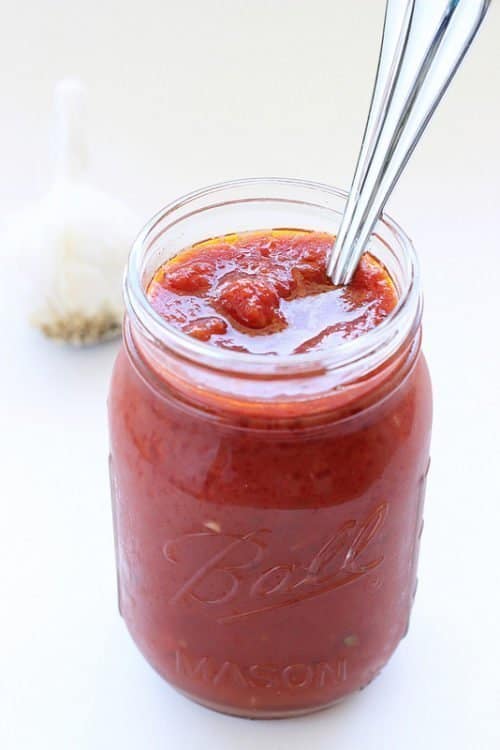 I've been making this pasta sauce forever, and I really should call it all-purpose homemade tomato sauce, because I use it not only on pasta, but also pizza, chili, tomato-based soups… anywhere you need a little bit of zhooshed up tomato sauce. Years ago, I took a cooking class from a chef who worked at Al Forno, the Providence, RI restaurant that's world famous for turning wood-fired pizza and simple pastas made with fresh, local ingredients into gourmet food. She taught us how to make homemade pasta, and also shared this sauce recipe, that's so unbelievably simple, but so amazingly flavorful.  Once I tasted it, I knew I would never use jarred spaghetti sauce again.
I've been meaning to share this recipe for a while, and this seems like a perfect time, because I just returned from a wonderful, fun and educational 3-day trip sponsored by Pacific Coast Producers. They're an agricultural co-op company made up of 160 family-farms in central and northern California, that grows and cans almost 100% of the private label tomato and fruit products found in every grocery store across the country. We met the farmers and learned all about what they do to grow quality produce while minimizing their impact on the environment. We toured their peach and tomato orchards, where we got to see the harvests in action, and we were also treated to a tour of the canning plants, where we saw how quickly those harvested fruits and tomatoes get into their cans.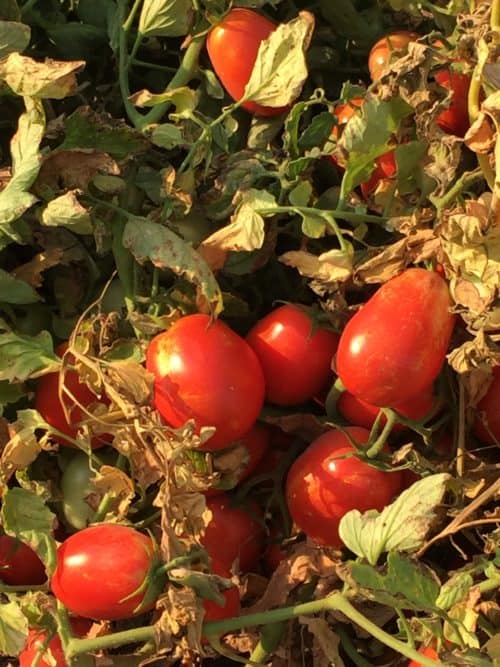 I have such a new appreciation for canned fruits and tomatoes. Did you know that they're picked, packed and perfectly preserved in their 100% fully recyclable and BPA-free and cans usually within 2 hours? Canned tomatoes and fruit are also picked and preserved when they're perfectly ripe, and they're very minimally processed – almost exactly the way our grandmothers did it, but on a waaaay bigger scale. I love my fresh produce, but let's face it, it's hard to find really good tomatoes, especially in the winter, but even in the summer, unless you're getting them from your backyard or the farmer's market. Good thing we have canned tomatoes to save the day – or the meal.
Check out how quickly they harvest those tomatoes once they're ready!
One of the things that impressed me most about Pacific Coast Producers is the tremendous effort they take to reduce food waste, and run a truly sustainable operation. Pretty much every part of what they grow is used in some way. They even recycle the liquid from their tomatoes to minimize their water use in the cannery.
[bctt tweet="#ad Those #CannedTomatoes at the grocery store go from field to can in just about 2 hours thx to @CATomatoes! #CannedFoodFan @TomatoWellness" via="CravingSomethingHealthy"]
I'll share more about what I learned about canned fruits and tomatoes in the coming weeks, but first,  about this pasta sauce recipe…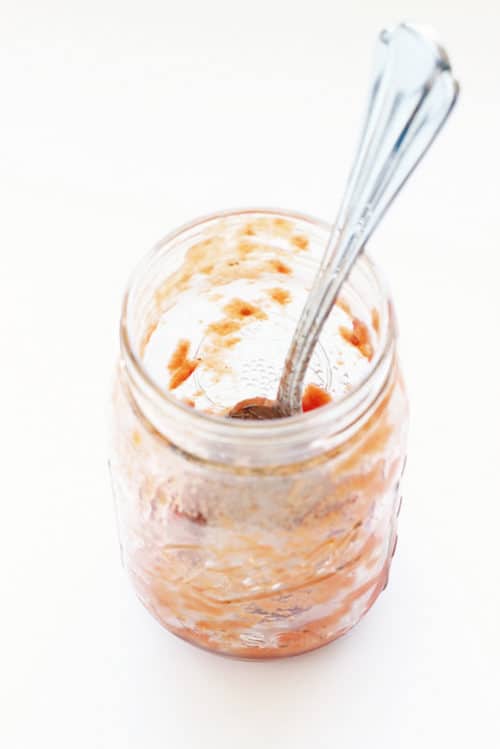 Tomatoes are full of a powerful antioxidant called lycopene. It's the pigment that gives them their beautiful red color, and it's linked to a reduction in age-related diseases, especially prostate and breast cancer, and macular degeneration. The thing to remember about lycopene, is that it's best absorbed when the tomatoes are cooked, along with some oil. So this sauce is not only delicious, it's basically a major cancer-fighter that comes from a can.
You could absolutely add any fresh or dried herbs you like to this recipe, and you can use either plain or roasted tomatoes. My favorite is just the plain crush tomatoes, that sometimes have a bit of basil in the can, but I honestly just love the simplicity of the tomato-garlic combo.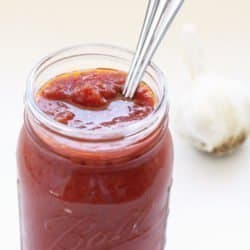 Ingredients
1/4

cup

olive oil

5

small cloves

garlic

minced

1

28-ounce can

crushed tomatoes

3/4

teaspoon

kosher or sea salt

or to taste
Instructions
Heat the oil in a medium size sauce pan over medium-high heat.

Add the minced garlic, and sauté for just about 20 seconds. Do not let the garlic get too brown.

Remove the pan from the heat, and add the tomatoes. Stir to combine.

Season with salt and let the sauce simmer for at least 10 minutes.

Serve on pasta, or use as pizza sauce.

Store any leftovers in the refrigerator for up to 5 days.
Do you ever make your own pasta sauce? Do you do a quick version or all-day cooked version? Tell me how you do it!
If you make this recipe – let me see! Tag me @CravingSomethingHealthy or #CraveSomethingHealthy on Instagram or Facebook!
Eat well!
SaveSave
SaveSave
SaveSave
SaveSave
SaveSave
SaveSave
SaveSave
SaveSave
SaveSave
SaveSave