One-Pan Salmon with Lemony Rice & Yogurt Herb Sauce
This post is sponsored by The USA Rice Federation. Thanks for supporting the brands and foods I love and use!
This tasty, one-pan Salmon recipe is full of bright lemon and herb flavors. It's delicious and so easy, because the salmon, lemony brown rice, and vegetables all cook together in the same pan. It's perfect for a weeknight meal, but also special enough to serve when you're having company.
So many people tell me they hate to cook dinner. And truth be told many nights I feel the same way! But, really, it's not the cooking part that gets us down. I think most people would agree there's something really satisfying about taking a few raw ingredients and turning them into something delicious.
The reason so many people hate to cook is because you have to clean up afterward. That's why one-pan meals are the VERY best kind of meals.
Brown rice is a perfect base for a one-pan meal. It takes longer to cook compared to white rice, but that's OK. It provides enough time to assemble the other ingredients that get layered on top as the rice finishes cooking.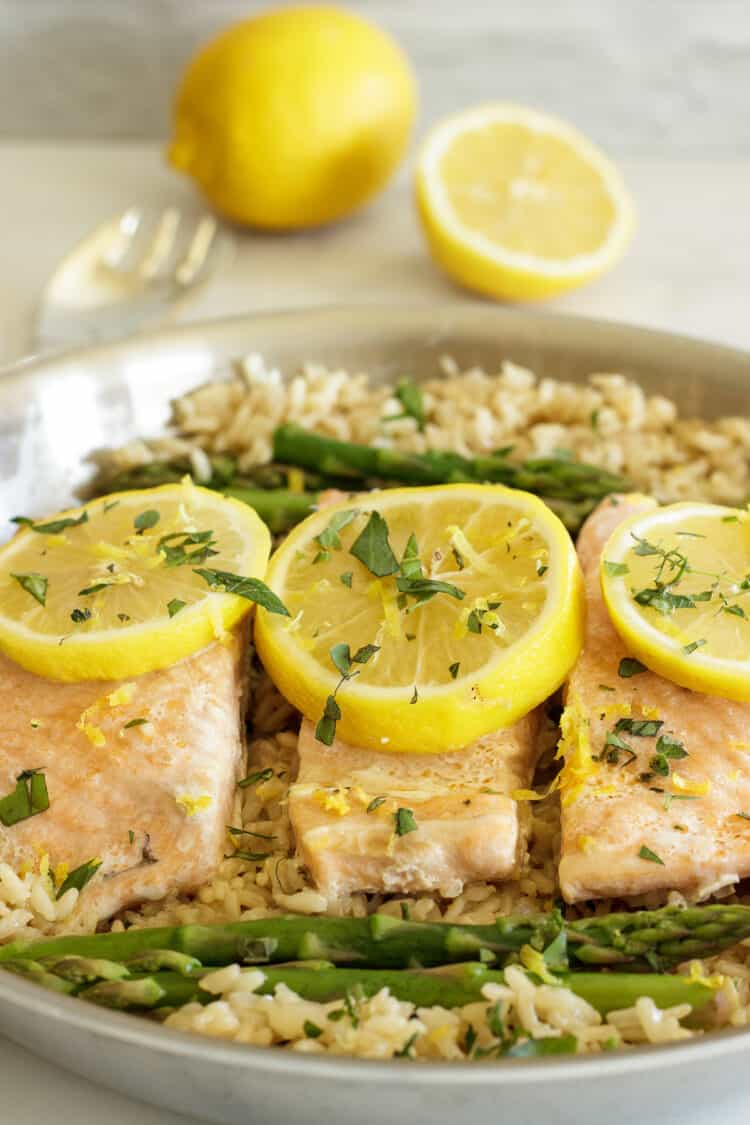 I always buy U.S-grown rice, because I like to support U.S. farmers. U.S.-grown long grain brown rice grows across the country, in Arkansas, California, Florida, Louisiana, Mississippi, Missouri and Texas.
Is Long Grain Brown Rice Nutritious?
Yes! Brown rice is full of complex carbs — the kind that provide long-lasting energy. It also has some protein, and a trace of healthy, naturally-occurring fat. Plus, long grain brown rice contains two different isoflavones, daidzein and genistein. Isoflavones are plant chemicals that have antioxidant and anti-cancer properties.
Compared to white rice, brown rice also contains more potassium and phosphorus. A ½ cup serving of U.S.-grown long grain brown rice provides about:
Calories: 120
Protein: 3g
Carbs: 25g
Fat: 1g
Fiber: 2g
What's the Difference Between Long and Short Grain Rice?
As its name suggests, long grain rice has longer grains than short grain rice. The cooked grains are lighter, fluffier and more separated than their medium or short grain counterparts. That makes long grain rice ideal for stir-fry recipes, salads, and this one-pan salmon and rice dish.
Short grain rice varieties tend to be softer and stickier with a slight springiness to their bite. They're great for risottos, soups, or anything where you might want a creamier consistency.
How Long Does Brown Rice Take to Cook?
Because it is a true whole grain, brown rice can take up to 45 minutes to cook. Whole grains have their hull (the outer brown part) and that takes some time to break down and soften during cooking. Don't be sad about that though. It's where you'll find most of the healthy stuff! Make sure you bookmark this handy chart so you have cooktimes and rice to liquid ratios for all your favorite rice varieties at your fingertips.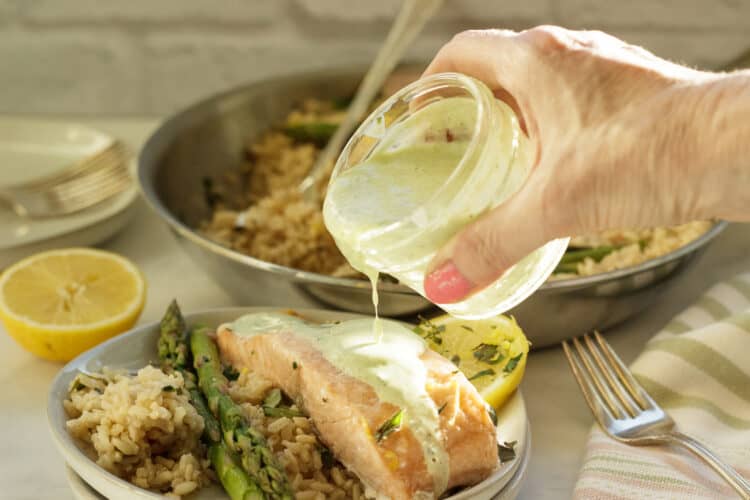 This easy one-pan salmon recipe is great any time of the year, but I especially love to make it in the spring. By March and definitely April, I'm ready to say goodbye to soups and stews and welcome in some light, bright meals. Plus, I usually have lots of lemons to use up from my lemon tree, and my herb garden is just starting to grow.
The key to this one-pan dinner is in the timing. You just have to keep one eye on the clock, so you add the next ingredient to the pan at the right time. If you're like me, and easily distracted, you should use a timer.
The brown rice takes about 45 minutes to cook
The salmon takes about 10-15 minutes to cook (depending on the thickness and how well you like it cooked)
The vegetables take about 5-8 minutes to cook (depending on which type you use)
The lemony yogurt herb sauce comes together while everything is cooking. It's optional, and does require a bullet or regular blender but it's highly recommended!
One thing I really like about this recipe is that it's a pretty fool-proof way to cook salmon. It's so easy to overcook salmon on the grill or in the oven, but the gentle heat and liquid here poach or steam your salmon. Even if you cook it too long, it won't get dry.
Can You Make This One Pan Salmon Recipe with Other Vegetables?
Of course! If you're not a fan of asparagus (or you want to switch it up), feel free to substitute broccoli florets (cut them small so they cook in about 8 minutes) or baby spinach (no cooking time needed, just toss it in at the very end so it wilts. A few cherry tomatoes would also add a lovely pop of color. Just make sure any vegetble you choose is quick-cooking. I wouldn't recommend carrots or sweet potato unless you cut them very thin.
Recipe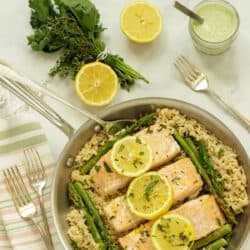 One Pan Salmon with Lemony Rice and Yogurt Herb Sauce
An easy, delicious seafood dinner that's packed with fresh flavors
Print
Pin
Equipment
1 saute pan with a tight-fitting lid

1 blender

optional (for yogurt herb sauce)
Ingredients
1

tablespoon

olive oil

1

large

shallot

minced. Reserve 1 tablespoon of the minced shallot for the yogurt herb sauce

1

cup

U.S.-grown long grain brown rice

2

cups

low sodium chicken stock

2

medium

lemons, zested and juiced (divided)

reserve and slice one juiced lemon to place under the salmon. Reserve 2 tablespoons of juice and 1 tablespoon zest for the yogurt herb sauce.

1

pound

salmon fillets

½

pound

asparagus

tough ends snapped off

½

cup

fresh minced herbs (divided)

any combination of parsley, dill, thyme, oregano, basil. Reserve ¼ cup of minced herbs for the yogurt herb sauce.

sea salt

to taste
Yogurt Herb Sauce
1

tablespoon

minced shallot

reserved from above

1

tablespoon

lemon zest

reserved from above

2

tablespoons

fresh lemon juice

reserved from above

½

cup

plain Greek yogurt

¼

cup

minced herbs

reserved from above

⅛

teaspoon

sea salt

or to taste
Instructions
In a large saute pan with a tight-fitting lid, heat the olive oil over medium-high heat. Add the minced shallot and saute for about 4 minutes or until the shallot start to turn golden. Add the rice, and let it toast for another 2-3 minutes until it starts to turn golden.

Add the chicken stock and ⅓ cup of lemon juice to the rice mixture and stir to combine. Cover, reduce the heat to low, and let the rice cook at a slow simmer. Set a timer for 30 minutes.

While the rice is cooking, prep your salmon by seasoning it with sea salt and ground pepper. Snap the tough ends off the asparagus. Slice the juiced lemon to place under the salmon fillets as they cook. Mince your herbs.

When the rice has cooked for 30 minutes, place place a few lemon slices over the rice and add the salmon on top of the lemon. Cover and let cook for 10 more minutes.

Next, add the asparagus pieces, nestling them into the rice. If the rice seems dry, add an extra ¼ cup of chicken stock or water. Cover and let cook for 5-8 more minutes.

Check the pan to see if the vegetables are tender and the salmon is opaque. Let if cook a few more minutes if needed. You can also add more liquid to the rice if needed.

Before serving, remove the salmon and vegetables. Add ¼ cup of the minced herbs and a generous tablespoon of lemon zest to the rice. Taste and season with salt as desired. Return the salmon and vegetables to the pan to serve.
Yogurt Herb Sauce
In a blender, combine the reserved tablespoon of minced shallot, the lemon zest, lemon juice, yogurt, and ¼ fresh herbs. Blend until smooth.

To serve, drizzle some of the yogurt sauce over the salmon, rice, and asparagus.
Notes
If desired, substitute broccoli florets or baby spinach for the asparagus. If using spinach, add it just before removing the pan from the heat.
Nutrition
Calories:
437
kcal
|
Carbohydrates:
48
g
|
Protein:
34
g
|
Fat:
13
g
|
Saturated Fat:
2
g
|
Polyunsaturated Fat:
4
g
|
Monounsaturated Fat:
6
g
|
Trans Fat:
1
g
|
Cholesterol:
64
mg
|
Sodium:
180
mg
|
Potassium:
1086
mg
|
Fiber:
5
g
|
Sugar:
5
g
|
Vitamin A:
1436
IU
|
Vitamin C:
52
mg
|
Calcium:
106
mg
|
Iron:
4
mg
Do you have any favorite one-pan meals using rice?
Eat well!