30 Minute Refrigerator Zucchini Pickles
I might be slightly biased, but I think these Refrigerator Zucchini Pickles are the best pickles ever. They're like sweet pickles or bread and butter pickles with a kick— a perfect blend of sweet, savory, crispy, and crunchy. Plus, they don't require heat processing or canning, so you can whip them up in 30 minutes and keep them in the refrigerator for weeks.
Zucchini pickles are one of my favorite ways to use up all of that summer zucchini. And even though these are sweet (and spicy) zucchini pickles, trust me, they're a lot lower in carbs than our other all-time favorite zucchini recipe — zucchini bread!
Jump to:
I just really happen to love pickles or anything pickled (hello pickled red onions, Hatch chile peppers, or pickled green beans) for that matter.
One of these days I'm going to get over my fear of canning vegetables and getting (or giving someone else) botulism. I'd really love to learn how to make heat-processed pickles or fermented pickles that can sit in the pantry until I eat them one day in the middle of winter.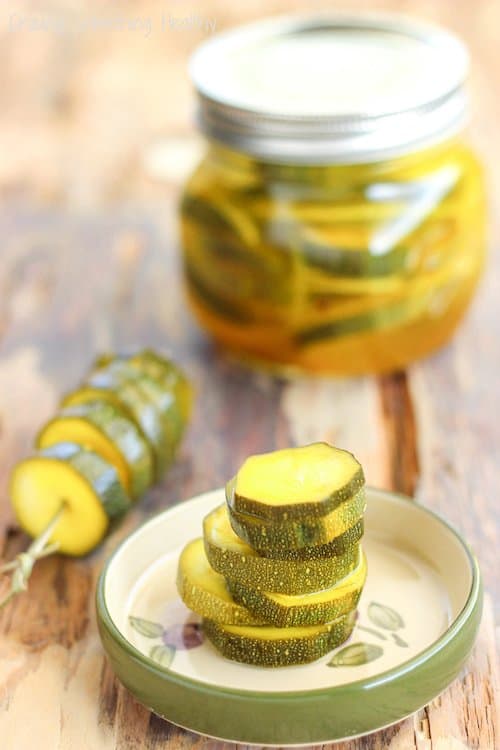 For right now though, I'm sticking to refrigerator pickles. Unlike fermented pickles that take weeks of sitting on your counter to develop their flavor, refrigerator quick pickles really are unbelievably fast to make. Of course, their flavor gets better if they swim around for a few days in their pickle brine, but honestly, you can eat this quick pickle recipe in about an hour.
Refrigerator vs Canned vs Fermented Pickles
Although they taste similar, there are some differences between refrigerator pickles, canned or heat-processed pickles, and traditionally fermented pickles.
Canned pickles or any other vegetables are heat-processed, which means you have to heat the closed jars in a water bath for a certain amount of time. That ensures any bacteria or microorganisms are destroyed and the jars are sealed for longer shelf storage. With canning, it's important to have the right amount of acid in your brine to prevent the growth of botulism spores. For low acid foods, you must use pressure canning.
Technically, you don't have to heat process fermented pickles. They're made with just salt, water, and herbs/spices. As they sit on your counter for a few weeks, they start to bubble and ferment. During the fermentation process, lactic acid forms, which prevents harmful bacteria from growing and gives fermented pickles their tangy, pickle flavor.
Fermented pickles will last for several months on the shelf if you heat process them when they're done. However, if you like fermented pickles for their probiotic bacteria, be aware that heat processing will destroy the bacteria.
You must store refrigerator pickles in the refrigerator even before you open the jar, or they'll spoil. They have a shorter unopened shelf life. Once opened, you should use them within a month but that's true with any pickling method. But there are still some advantages of the quick refrigerator method:
Since you don't have to heat process your jars, these pickles stay crispy and crunchy. With heat processing, you run the risk of "cooking" your vegetables so they may soften.
The vinegar in this brine reduces the risk of bacteria growing in the jar. That gives you more flexibility with your ingredients. You don't have to worry about measuring everything and exact amounts of acid or pH levels and botulism!
You also don't have to heat up your kitchen with huge pots of boiling water. Nor do you have to worry about processing times, or whether the lids on the jar are sealed well enough.
In short, with refrigerator pickling, you can be far more creative with your recipes and less fussy about your pickling technique, and that's more my style.
Since it's that time of year when everyone has an abundance of zucchini, and friends and neighbors are begging you to take it off their hands, you have to try these zucchini pickles. They taste pretty much like regular pickles made from cucumbers. But I think they have a nice crisp texture and a little bit more crunch than homemade cucumber pickles
This is such a great recipe to have on hand for when you need something that's NOT olives (although I love those too) for your charcuterie board. Or something that's not lettuce for your sandwich.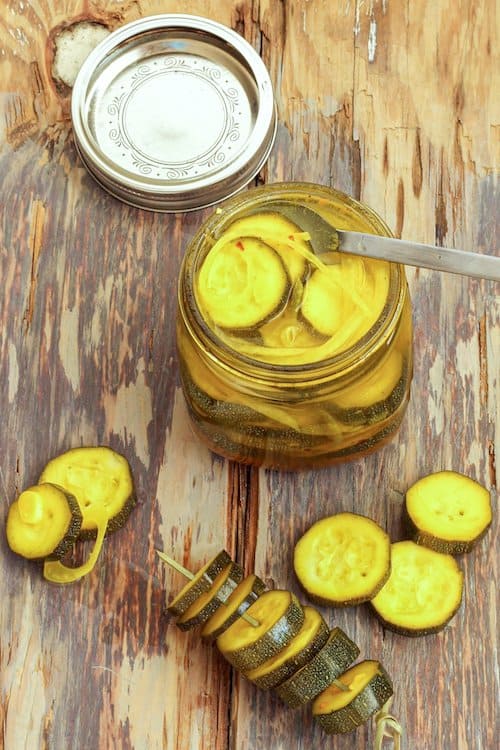 I adapted this delicious recipe from my Sweet and Spicy Zucchini Relish, which is also mouth-wateringly delicious, and perfect for sandwiches or veggie burgers. I was really feeling like sliced pickles though, and I thought some pickled thin-sliced onions would be a nice touch too.
Expert Tips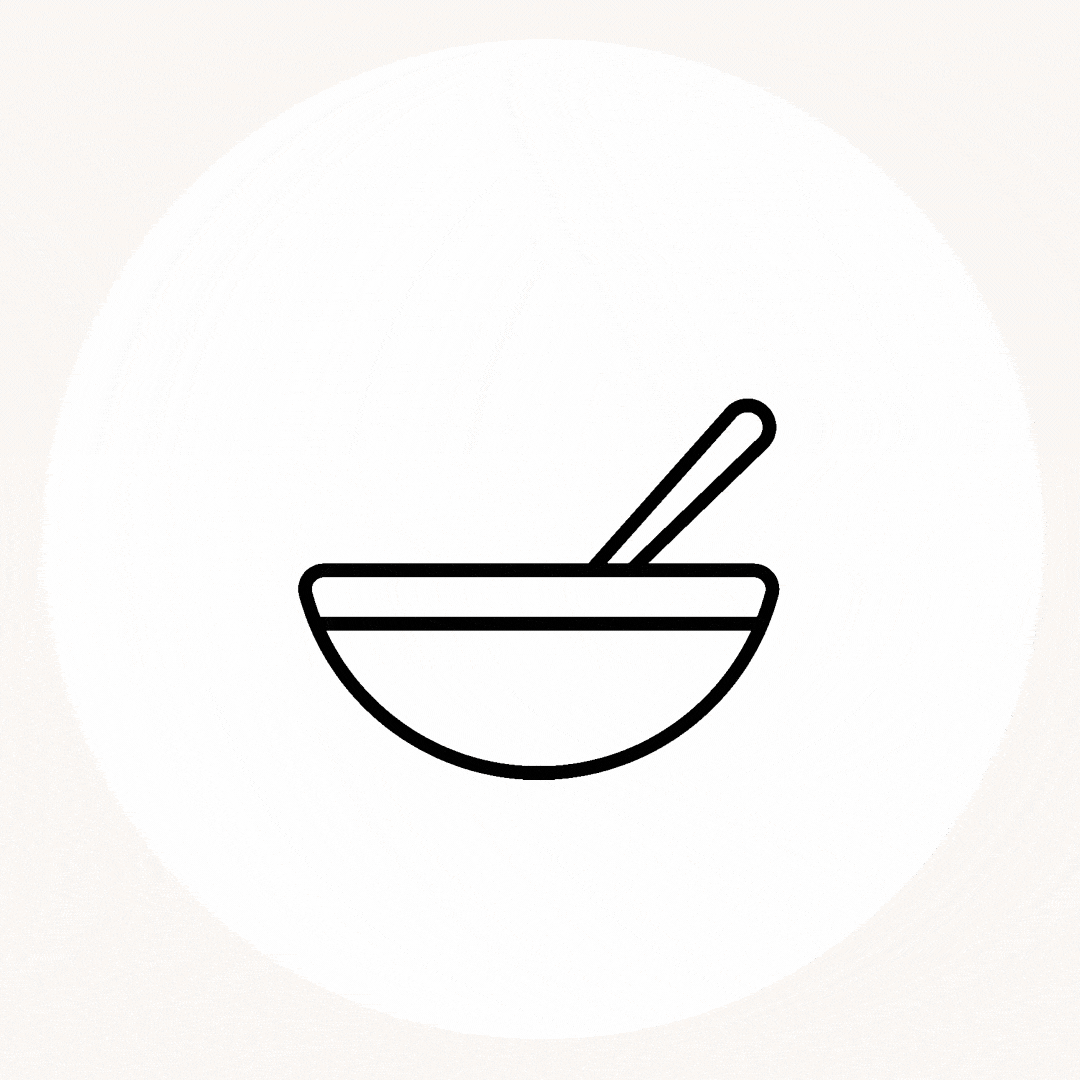 Pickling Tips & Tricks
Make sure you're using the freshest zucchini you can find! You don't want to bite into a pickle and find that it's soft or rotten!
I recommend NOT cooking your zucchini before making zucchini pickles. The hot liquid from the brine will soften them and I think they get too soft if you cook them.
Got leftover pickling juice? Save it and toss in thinly sliced carrots, red onion, or radishes and use them to top your salad.
Instead of boiling the pickling liquid in a pot and fumbling with a pot and funnel, I like to use an 8-cup glass measuring cup and boil it in the microwave. A funnel is still helpful, but it's much easier to pour from a measuring cup.
Recipe Substitutions
Vinegar: I like the clean flavor (and low cost) of regular white vinegar but you can easily substitute any vinegar of choice. Apple cider vinegar or white wine vinegar would work well. If you like balsamic, I'd stick with white balsamic vinegar.
Sugar: If you prefer less sweet pickles, you can definitely cut the sugar back. Keep in mind that not all of that sugar makes its way into the pickles. Some remains back in the brine. Also, I've never tried this, but some of my readers have said they use Monkfruit or erythritol instead of sugar for pickling. Sugar helps keep the zucchini firm, so your zucchini pickles might be softer with a zero-calorie sweetener.
Mustard: If you prefer to use mustard seeds instead of ground mustard, I recommend using a bit less than ½ teaspoon and grinding or mashing the seeds before adding them to the pickling liquid.
Spices: Feel free to play around with your favorite spices. You can add celery seeds, a few sprigs of fresh dill, whole black peppercorns, or anything else you like.
Zucchini: Instead of round slices, you can cut zucchini into spears, or if you have a spiralizer, try zucchini ribbons. If you happen to have a zucchini shortage, try yellow summer squash or of course, cucumbers for this recipe.
Recipe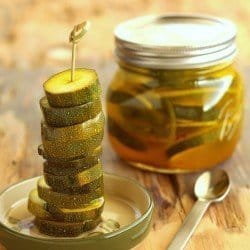 Refrigerator Zesty Zucchini Pickles
The easiest, crispy, crunchy zucchini sweet pickles
Print
Pin
Ingredients
2

cups

white vinegar

1 ½

cups

cold water

1

cup

sugar

1

tablespoon

kosher salt

or pickling salt

½

teaspoon

turmeric

½

teaspoon

dry mustard

¼

teaspoon

nutmeg

1

teaspoon

red pepper flakes

or to taste

5

medium zucchini

washed and sliced into ½-inch thick rounds

½

large sweet onion

sliced thin

4

cloves

garlic

slightly smashed
Instructions
In a medium saucepan, combine vinegar, water, sugar, salt, turmeric, dry mustard, nutmeg and red pepper flakes. Bring mixture to a boil. Reduce heat and let simmer over medium heat for 3-4 minutes. Remove from heat and let cool for 30 minutes.

While vinegar is simmering, layer vegetables and garlic cloves in two 2-quart jars (or 4 pint jars).

Using a large funnel or a soup ladle, carefully pour the hot brine over the vegetables. Cover tightly, and let the jars cool to room temperature.

Transfer pickles to the refrigerator for 24 hours. Store for up to 4 weeks in the refrigerator.
Notes
Instead of boiling the brine in a pot, use an 8-cup glass measuring cup and boil it in the microwave. The measuring cup is easier to pour out of.
Nutrition
Serving:
4
pickles
|
Calories:
54
kcal
|
Carbohydrates:
12
g
|
Protein:
1
g
|
Fat:
0.2
g
|
Saturated Fat:
0.1
g
|
Polyunsaturated Fat:
0.1
g
|
Monounsaturated Fat:
0.02
g
|
Sodium:
354
mg
|
Potassium:
137
mg
|
Fiber:
1
g
|
Sugar:
11
g
|
Vitamin A:
98
IU
|
Vitamin C:
9
mg
|
Calcium:
12
mg
|
Iron:
0.2
mg
Do you make your own pickles? If you want to experiment a bit more, this is a good resource on Homemade Pickles and Relishes from the University of Wisconsin
Eat well!