Pickled Hatch Chiles & Sweet Onions
If you're like me , when Hatch Chiles are in season, you can't get enough! These easy refrigerator pickled Hatch Chiles with Sweet Onions are a great way to stretch the season practially into winter.
Every late summer, I see recipes that call for Hatch Chiles pop up on Pinterest, and in food magazines. I've scoured the stores in the Boston area for these chiles but have never been able to find them. I guess that's because they ship them all to Arizona! Now everywhere I look, I see piles and bags of Hatch chiles. They're grown in Hatch Valley, New Mexico (AKA the chile capital of the world), and they have a very short harvest season – late July through August, which explains why they're prevalent in the southwest, but not so much in New England.
The Hatch chile is cousin to the Anaheim and they kind of look alike. Mine were just a little bit spicy, but apparently there are some varieties that are hotter. I was so excited to find them at Sprouts Market the other day --you would have think I stumbled on a gold mine, and I immediately scooped up a few bags. Of course then I realized every market in the area carries lots and lots of them this time of the year… So now it's what to do with all of my chiles?
I found out that locals from New Mexico roast, peel, seed and then freeze them, so of course I'm on that. I also decided to try pickling them with some onions, to use as a topping for tacos or grilled fish, or even to perk up some salsa or guacamole. These are refrigerator pickled, so they need to stay in the fridge, but they will last for a good month or so as long as they're tightly sealed. If you can't find Hatch chiles, you can substitute Anaheims for a milder pepper, or Seranos for a hotter pepper – or a little bit of each to meet in the middle.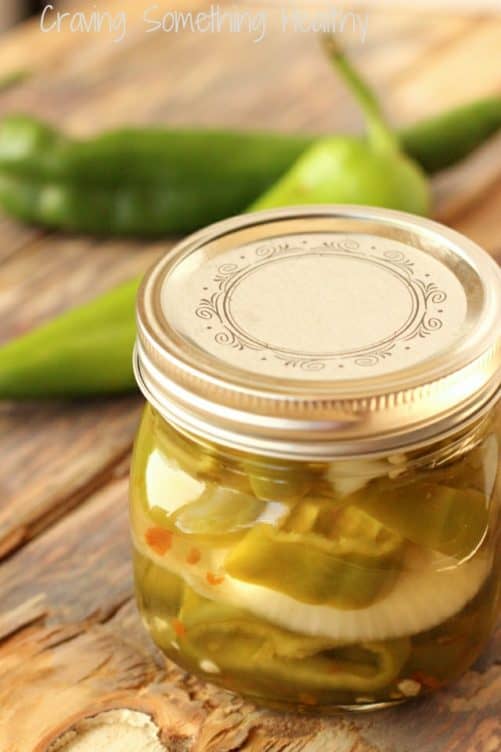 Recipe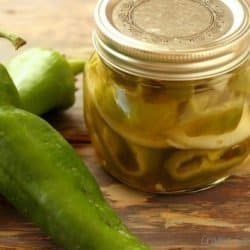 Pickled Hatch Chiles & Sweet Onions
a delicious condiment for salads, sandwiches, and more
Print
Pin
Ingredients
5

large

Hatch chiles

or any other mild or hot chile pepper

1

large

sweet onion

1

cup

water

1

cup

white vinegar

½

cup

sugar

1

tablespoon

kosher or sea salt

optional pinch or more of red pepper flakes
Instructions
Slice chiles into thin (¼- inch) rings, removing seeds and membrane if desired.

Peel onion, and slice into rings about the same width as peppers.

Toss vegetables together and place into a sterilized 16 ounce jar.

Bring water, vinegar, salt, sugar and optional red pepper flakes to a boil in a medium saucepan.

Pour hot brine mixture over vegetables and cover tightly.

Let cool, and then refrigerate at least 24 hours.

Keeps for 4 weeks in the refrigerator.
Notes
Hatch chiles can be hot or mild. Check the label or ask when you buy them. You can substitute any other green chile for this recipe. Poblano or Anaheim chiles work well. 
Store pickled chiles in the refrigerator for up to 4 weeks.
Nutrition
Calories:
22
kcal
|
Carbohydrates:
5
g
|
Protein:
0.3
g
|
Fat:
0.1
g
|
Saturated Fat:
0.01
g
|
Polyunsaturated Fat:
0.02
g
|
Monounsaturated Fat:
0.002
g
|
Sodium:
220
mg
|
Potassium:
57
mg
|
Fiber:
1
g
|
Sugar:
4
g
|
Vitamin A:
95
IU
|
Vitamin C:
21
mg
|
Calcium:
5
mg
|
Iron:
0.1
mg
Do you have Hatch chiles where you live? Do you spell it CHILE or CHILI?
Eat well!
SaveSave