Butternut Squash Brown Rice Risotto
This post is brought to you in partnership with The USA Rice Federation. Thanks for supporting the foods and brands I use and love.
Well, hello comfort food! We ALL need you now more than ever!
This butternut squash and brown rice risotto is the richest, creamiest, and most satisfyingly delicious comfort food I ever stuck my fork (or spoon) into. It's full of fabulous fall flavors like sage and nutmeg. And it has a little bit of a sweet and savory thing going on.
I adore risotto. It's one of my all-time favorite comfort foods. Traditionally, risotto is made with arborio rice. It's an Italian (although it also grows in parts of the US) variety of short-grain rice that's very high in starch. As you stir it while it cooks, it releases the starch, and that's what makes risotto so luscious and creamy. That, and lots of cheese. YUM.
Traditional risotto is always good, but sometimes it's also good to break the rules. So I decided to experiment with US-grown short grain brown rice for this butternut squash risotto recipe. And guess what? It works quite well!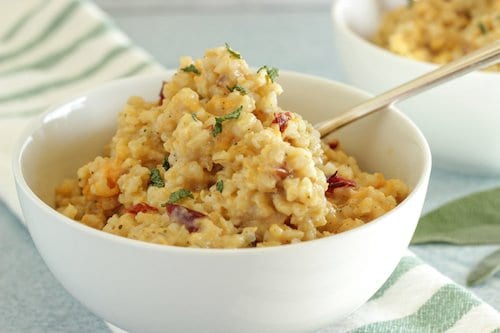 Why I Love U.S-Grown Short-Grain Brown Rice
There are so many reasons I love using US-grown short-grain brown rice here. Most importantly, it cooks up very much like traditional risotto but it's so much healthier. Here's why:
US- grown short brown rice is softer and stickier than other varieties of rice, but it still has a slight springiness to the bite. When it's cooked slowly in plenty of chicken or vegetable stock, it takes on a lovely, creamy texture.
Short grain brown rice has much more fiber than medium or long-grain rice.
It averages about 100 calories per half-cup cooked.
It's packed with complex carbs, so it provides slowly-released, long-lasting energy
It's grown in the USA! Mostly in Arkansas and California.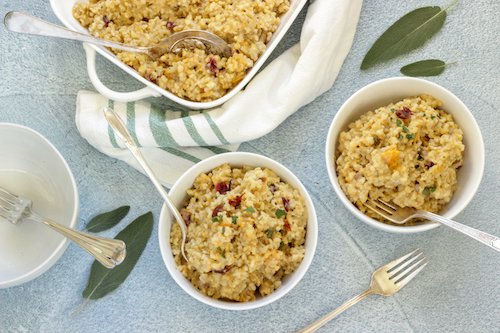 While you still have to stir your brown rice risotto pretty frequently, I think it's a bit more forgiving than arborio rice risotto. I did not stand over the pot the entire time, and that's a win in my book.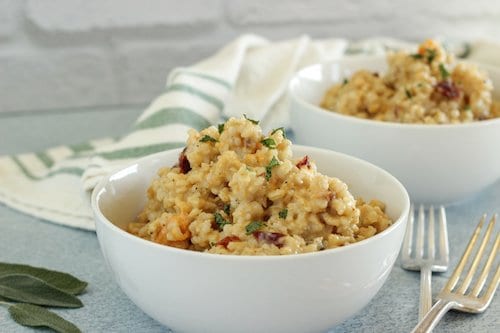 I love the combination of flavors in this butternut squash and brown rice risotto recipe. They're so totally fall-winter yummy. The butternut squash gets all creamy and perfect. And there's sage and a pinch of nutmeg and even a smattering of cranberries for color and a touch of sweetness.
And because I happen to love it, I mixed in some blue cheese at the very end. I know not everyone is a fan - so feel free to substitute Parmesan if you prefer. But, I think you're missing out!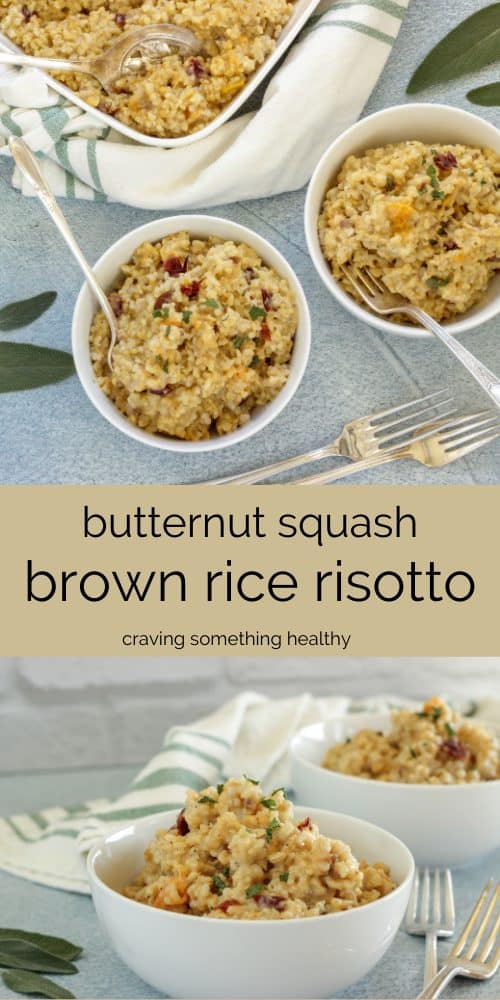 The thing to remember here is - risotto takes time to cook. About 45 minutes. While you don't have to babysit it the entire time, you should cook it slowly and stir it frequently. Patience friends!
Recipe
Butternut Squash Brown Rice Risotto
A healthier, easier version of risotto that's packed with fall flavors
Print
Pin
Ingredients
1

tablespoon

olive oil

1

large

shallot

minced

1

cup

US-grown short-grain brown rice

½

cup

white wine

6

cups

low-sodium chicken stock

or vegetable stock

10

ounce

bag frozen cubed butternut squash

or fresh (about 2 ½ cups

1

teaspoon

dried sage

¼

teaspoon

nutmeg

kosher salt

3

tablespoons

heavy cream

optional

¼

cup

dried cranberries

2

ounces

blue cheese

or ¼ cup grated Parmesan
Instructions
Put the chicken (or vegetable) stock in a saucepan and bring it to a boil. Turn the heat down to very low so the stock stays hot.

Heat the olive oil in a second large saucepan over medium-high heat. Add the shallots and saute for about 4 minutes, until light golden in color.

Add the rice, and stir for one minute to coat the grains with olive oil.

Add the white wine to the rice, and reduce the heat to medium.

Add about 2 ladles of the hot stock to the risotto, and let it come to a simmer. If necessary, turn the heat down to medium-low so it simmers, not boils. As the stock is absorbed, add another ladle or two and repeat until the rice is creamy and tender. This will take at least 40 minutes, or longer. You may not need all of the stock.

As the risotto is cooking, add the butternut squash. It will only need about 10 minutes to soften, but it's OK to cook it longer if you prefer it broken down.

Add the sage, nutmeg, and Kosher salt to taste.

Add the cream if you desire a creamier texture, along with the cranberries and cheese.

Stir well to combine and serve immediately.
Nutrition
Calories:
442
kcal
|
Carbohydrates:
59
g
|
Protein:
15
g
|
Fat:
15
g
|
Saturated Fat:
7
g
|
Cholesterol:
26
mg
|
Sodium:
316
mg
|
Potassium:
766
mg
|
Fiber:
4
g
|
Sugar:
8
g
|
Vitamin A:
7807
IU
|
Vitamin C:
15
mg
|
Calcium:
150
mg
|
Iron:
2
mg
What's your favorite comfort food? Visit ThinkRice.com for more delicious US-grown rice recipes to warm you up.
Eat well!