Garlic and Herb Marinated Bocconcini
Bocconcini (soft, fresh little balls of mozzarella cheese) marinated in olive oil infused with garlic and herbs is the perfect accompaniment for your pizza, pasta, salad, or charcuterie platter. This recipe is so easy to make, and it takes fresh mozzarella to a whole new level.
Make a batch today and keep a jar in your refrigerator. It's a lifesaver if you need a quick appetizer when friends stop by. Or for when you need a tasty snack.
Have you ever noticed bocconcini, those little mozzarella balls in plastic containers in the cheese department? They're super convenient for when you just need a little bit of fresh mozzarella for a meal or appetizer. In fact, the word bocconcini translated from Italian means morsel, or small mouthful.
But here's the thing. As much as I love to sneak a small bite of fresh mozzarella when I'm slicing it up for pizza, I think we can all agree that it's a bit bland. Plain fresh mozzarella has a lovely tender texture and freshness about it, but honestly, not much flavor.
It's great to add to pizza. And it melts beautifully in my Grilled Vegetable Parmesan Casserole. But as far as eating, it's pretty — meh.
Marinated fresh mozzarella, on the other hand, is SO good! And so easy to make. Here's everything you need to know to make these amazing Garlic and Herb Marinated Bocconcini Mozzarella Balls.
What is Mozzarella vs. Bocconcini vs. Ciliegine?
Fresh, milky, mild mozzarella cheese is formed into balls (or sometimes braids) and packaged in containers filled with water or whey. You'll usually find fresh mozzarella balls about the size of an orange. But if you search the cheese department, you might find smaller sizes.
Bocconcini are fresh mozzarella balls about the size of a ping pong ball. And even smaller are ciliegine, mozzarella balls the size of cherries.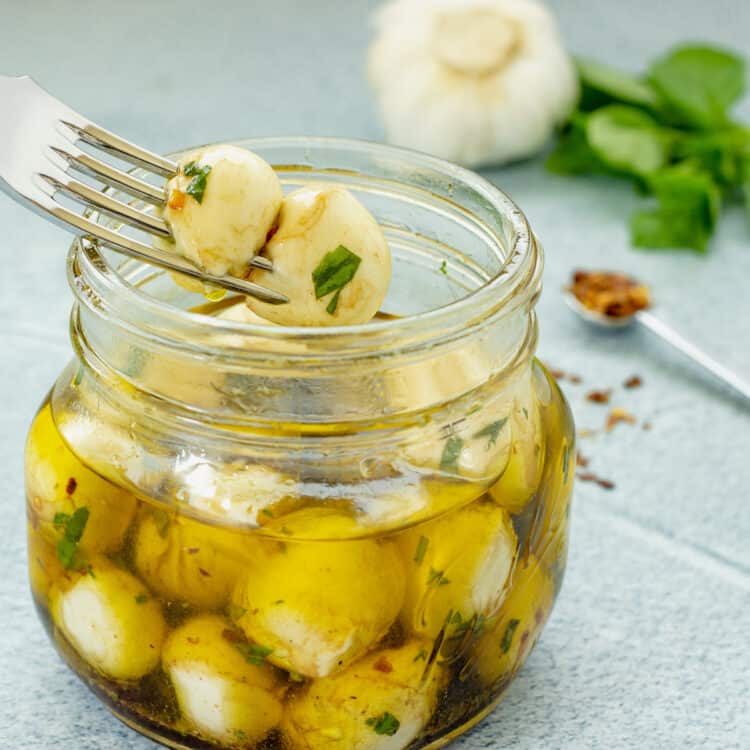 Unlike processed mozzarella cheese, which is sold tightly wrapped in plastic and has a longer shelf life, these three sizes of fresh mozzarella are sold either in a water-filled plastic container with a lid or a plastic wrap filled with water. The liquid is a mixture of water and whey (a milk protein). It helps keep the mozzarella fresh.
You can use either bocconcini or ciliegine to make this marinated mozzarella ball recipe. The best choice depends on how you'll be using your cheese. The larger size of bocconcini makes them great for slicing, while the tiny size of ciliegine makes them a perfect bite-size appetizer or snack.
I like to use marinated bocconcini for:
Ciliegine is the perfect size for making cherry tomato, fresh basil, and mini mozzarella ball skewers. Or for setting out in a small bowl along with some olives and focaccia bread for snacking. I also like using ciliegine in baked or fresh pasta dishes.
Ingredients (and Variations) for Marinated Bocconcini
The beauty of this recipe is in its simplicity. You really only need a handful of ingredients.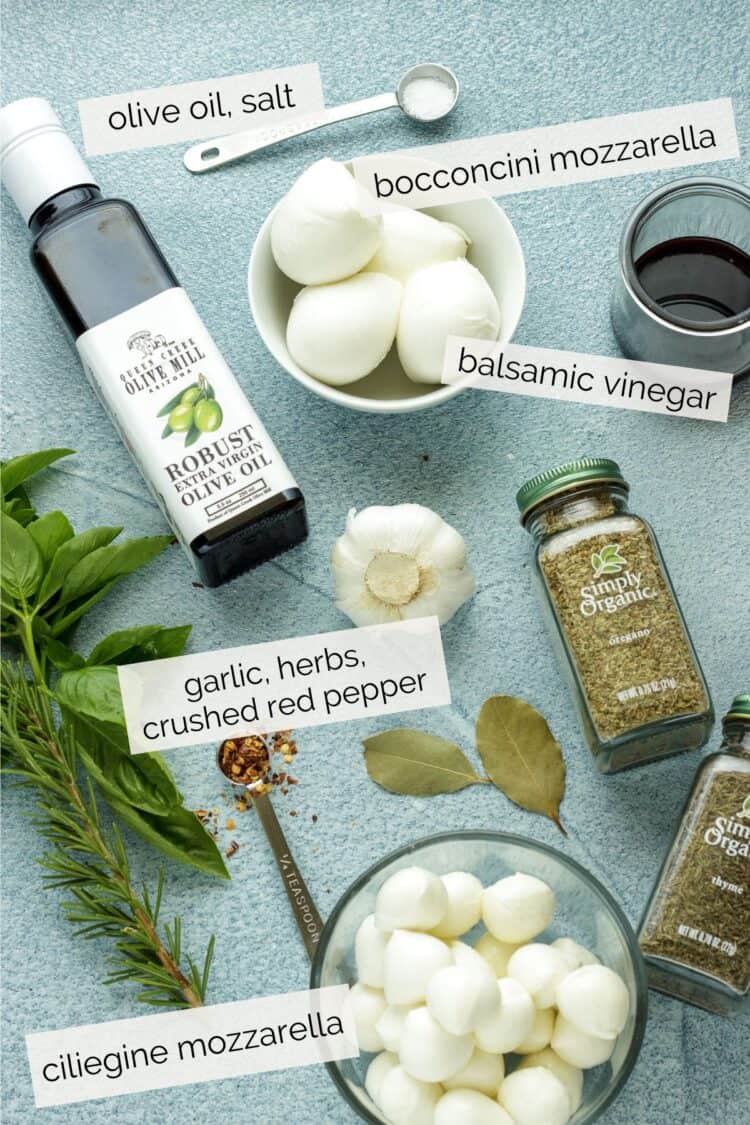 The Cheese: If you can't decide which size of mozzarella to use, make a jar of each! 8-ounces of bocconcini or ciliegine will fit into a pint-size mason jar. Try them both out. You might discover more uses for one size than another.
Olive Oil: Olive oil is a key ingredient in this recipe, so make sure you use the best quality extra virgin olive oil you can find and afford. Here's a secret about olive oil. If the price is too good to be true, it's probably not very good quality, or it's a blend of oils. I like to keep a small bottle of high-quality olive oil in the pantry for drizzling on cooked fish or vegetables or for recipes like this. Save the less expensive stuff for sauteeing and cooking.
Garlic: I love it in this recipe, but if you're not a garlic lover, skip it and add extra herbs instead. If you do use garlic, make sure it's fresh. Don't even think about garlic powder. You can substitute minced garlic from a jar if you don't have garlic cloves, but fresh garlic cloves are ideal.
Herbs and seasonings: You can use fresh or dried herbs in this recipe. My favorites are basil, thyme, rosemary, and oregano. Dried herbs are more potent, so use about one teaspoon of dried herbs for every tablespoon of fresh herbs. Sea salt or Kosher salt help enhance all of the flavors. If you like some heat, crushed black peppercorns or red pepper flakes (my favorite) are great.
Vinegar: This is optional. I like a little tang from a splash of balsamic vinegar, but the marinade is just as good without it. If you use balsamic vinegar, be aware that it will darken your mozzarella a bit. You can swap white balsamic or white wine vinegar if you prefer.
Frequently Asked Questions
Can you eat bocconcini or other fresh mozzarella when you're pregnant?
Pregnant women are advised to avoid soft cheeses because they can cause a dangerous food-borne illness called Listeriosis. Unpasteurized cheeses (as well as raw milk) can harbor Listeria bacteria. However, most soft mozzarella made with cow or buffalo milk and sold at the grocery store is pasteurized. So it's safe for pregnant women to eat in its fresh form or cooked in recipes. Just check the label to ensure your fresh mozzarella is pasteurized, and eat it by the date marked on the label.
Can you freeze bocconcini or fresh mozzarella?
You can freeze regular, processed mozzarella cheese. But all forms of fresh mozzarella are high in water, so they will form ice crystals if frozen. That doesn't make it unsafe, but it won't taste as good and the texture will be grainy.
Is bocconcini healthy?
It can be, especially if you add it to a salad or vegetable dish. Bocconcini and all other forms of fresh mozzarella have the same nutrition content. A one-ounce (28g) serving provides:
Calories: 70
Protein: 5g
Fat: 5g
Carbs: 1g
Like all cheese, it's a great source of calcium, which is important for bone health.
How can you tell if your bocconcini are spoiled?
If your fresh mozzarella container is still sealed, it should last for a few weeks (or until the date stamped on the container). Once you open it and marinate it or use it in a recipe, you should use fresh mozzarella within 5-7 days. If your bocconcini have spoiled, the jar will have a sour, off-flavor, and odor. Throw it out!
Why does my jar of bocconcini look congealed?
Olive oil will solidify when it's refrigerated. Just set your jar on the counter for 10-15 minutes, give it a shake, and it will be ready to eat. This recipe tastes better at room temperature anyway, so make sure you remove it from the refrigerator at least 15 minutes before serving.
Recipe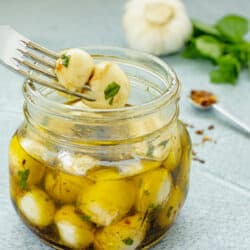 Garlic and Herb Marinated Bocconcini
Delicious garlic and herb flavored mini mozzarella balls for appetizers, salads, pizza, or pasta
Print
Pin
Ingredients
½

cup

extra virgin olive oil

4

garlic cloves

thinly sliced

1

bay leaf

¼

teaspoon

red pepper flakes

or to taste

2

tablespoons

minced fresh herbs

any combination basil, oregano, thyme, or rosemary

⅛

teaspoon

Kosher salt

or to taste

1

teaspoon

balsamic vinegar

optional

8

ounces

bocconcini mozzarella
Instructions
Heat oil, garlic, bay leaf, and red pepper flakes in a small sauté pan over medium heat for 30 seconds or until sizzling. Stir will and make sure the garlic doesn't turn brown. Remove from heat, allow to cool for a few minutes.

Add remaining herbs, salt, and vinegar (if using) to the garlic oil, and stir to combine. Let cool to room temperature for about 30 minutes.

Drain bocconcini and transfer them to a clean jar or container with an airtight lid.

When the oil and herb mixture is cool, pour it over the boccocini. Cover the jar with a lid and turn the jar to coat all of the cheese with the oil and herbs.

Refrigerate and allow to marinate for at least an hour or overnight.

Bring to room temperature before serving.
Notes
Serve bocconcini as part of an antipasto platter with salami, marinated vegetables and crusty bread. Or use the bocconcini in salads, pasta dishes, or pizza. 
If using dried herbs, use 2 teaspoons total.
If you prefer a smaller, bite-size mozzarella, substitute ciliegine mozzarella.
Store in a covered jar in the refrigerator for up to 7 days.
Nutrition
Calories:
103
kcal
|
Carbohydrates:
1
g
|
Protein:
5
g
|
Fat:
9
g
|
Saturated Fat:
2
g
|
Polyunsaturated Fat:
0.4
g
|
Monounsaturated Fat:
2
g
|
Cholesterol:
10
mg
|
Sodium:
58
mg
|
Potassium:
9
mg
|
Fiber:
0.1
g
|
Sugar:
0.02
g
|
Vitamin A:
46
IU
|
Vitamin C:
1
mg
|
Calcium:
105
mg
|
Iron:
0.1
mg
How will you eat these bocconcini?
Eat well!