Grilled Pesto Tomato Flatbread
Grilled Pesto Tomato Flatbread Pizza is restaurant-worthy pizza that's so fast and easy to whip up any night of the week.
Don't you love it when you find little treasures at the bottom of your freezer? I'm really good at saving little scraps of things that can be really useful and totally lifesaving – like Parmesan cheese rinds to perk up soup, or the ends of French bread to make fresh breadcrumbs.
And I always have a few bags of cranberries at the bottom of the freezer, and sometimes when I think there's nothing to eat, I spy a stray veggie burger that escaped its open box. Unfortunately, I'm also fairly guilty of freezer neglect, so I usually don't find those things until years later. Eeek.
Every time I clean out the freezer, I vow to have a really good organizational system – frozen produce items on the left-hand side, meat or frozen meal items on the right side, shredded cheese and bread scraps in the top basket. But inevitably, there's always something that doesn't fit into my system, and all hell breaks loose, and suddenly it's chaos in there.
While most of my treasures leftover crap eventually gets tossed, because I'm never sure how old it is, or if it's going to completely ruin a really good recipe, there is one thing that is like gold when I find it, and that's pesto. I make batches of pesto at the end of every summer when my basil is growing out of control and I know I have to use it or lose it. It's so easy to make, and it freezes beautifully. I just spoon it into ice cube trays or spread it on a sheet pan, freeze it and then transfer the pesto cubes or pieces into a freezer bag.  Nothing tastes or smells more like summer in the middle of winter (or anytime) than pesto.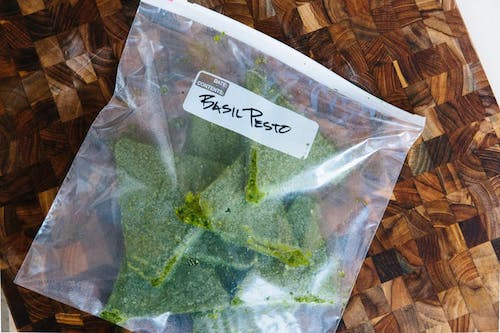 And here's a little secret — those frozen cubes of pesto will fancy up any weeknight dinner and make you the envy of all the girls on the block.
"Last night? Oh, I just threw together fettuccini with a pesto cream sauce."
"Yum, how did you make this salmon?" "Oh, I just brushed it with some homemade pesto and grilled it."
"Mmm, what am I tasting in this vegetable soup?" "It's my secret ingredient – pesto."
Even a basic turkey sandwich is zhooshed up with a pesto mayo and some fresh tomato slices. See what I mean? I don't use it often, but when I find those little pesto packets, magic happens.
One of my favorite "fast food" dinners is this Grilled Pesto Tomato Flatbread Pizza. Ridiculously easy to make – I love it grilled, but a broiler works just as well.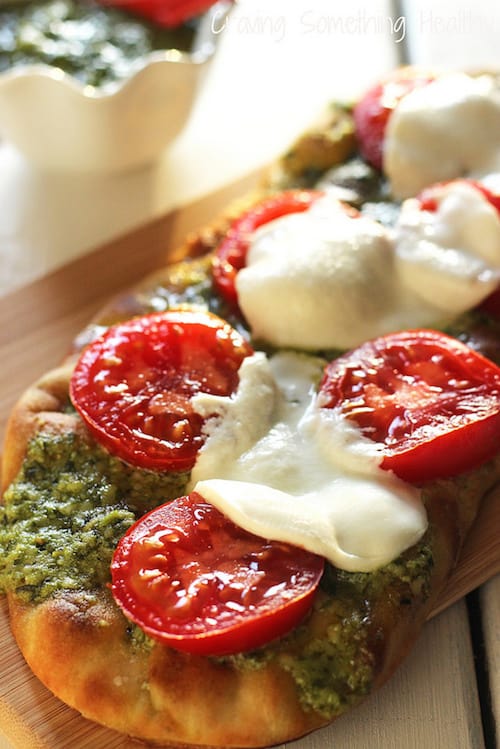 If you happen to have buffalo mozzarella in your freezer (who doesn't?) add a few slices. If not, no worries, go naked.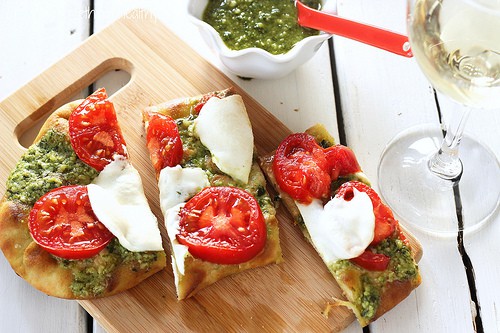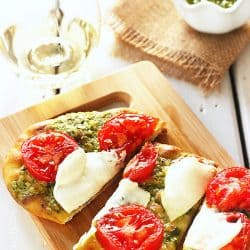 Ingredients
1

piece

of flatbread or naan bread

about 10 inches long

Olive oil

kosher salt (for brushing on bread)

1/4

cup

pesto

homemade or store bought

1

large ripe tomato

3-4

thin slices buffalo mozzarella

optional
For Pesto
4-5

cloves

garlic

peeled and quartered

4

cups

fresh basil leaves

washed and dried

1/3

cup

good quality grated Parmesan cheese

1/3

cup

toasted pine nuts

1/3

cup

extra virgin olive oil

1/2

teaspoon

kosher salt

fresh ground pepper
Instructions
Heat a grill or broiler to high.

Brush both sides of bread lightly with olive oil, and sprinkle with a pinch of salt

Grill bread lightly on both sides, or heat under the broiler just until bread starts to warm and bubble. Do not let it get to brown.

Remove bread from heat, and spread pesto on one side.

Top pesto with sliced tomatoes, and add cheese if desired.

Turn grill or broiler to low, return pizza to heat just long enough to heat ingredients through and let cheese melt. About 2-3 minutes.
For Pesto
Place all pesto ingredients in a bowl of a food processor and process until smooth. If desired, add more or less of any ingredient to taste.
What treasures do you usually find in your freezer?
Eat well!