I've never lived too terribly close to a Costco to make it worth my while to join, so whenever someone would sing its praises, I would just tune it out. Whatever. It was kind of like hearing someone going on about surfing when you live in Iowa. Not gonna happen, so who really cares?
Well… Suddenly, it seems that there's a Costco just 10 little miles from my new house. Oh my. I resisted at first, because there's only two of us now, and I've fallen prey to the membership club experience in the past.
Money saving my ass (can I say that on a blog?). "Hey where did that 100 pack of lunch snacks go?" I would ask as my teenage son and his posse wiped orange cheese powder off their faces many a night. And who doesn't totally love it when their husband drops a 50-pound jar of pickles on the kitchen floor?
So I joined.
I drank the Kool-aid, and it's pretty tasty. Best thing ever, in fact. I don't know if it's just because we're old and have no excitement in our life, but Costco has become our new adventure. Sad, I know.
Whenever I mention it, my husband's eyes light up like we're going to Europe or something. There are samples everywhere, which he thinks is the greatest, and I just love their Kirkland brand. I also totally LOVE their salmon. Normally, I wouldn't touch pre-packaged fish, but this stuff is really good. The problem, of course, is the size of the package. What in the world is one to do with three pounds of salmon?
Salmon sliders – that's what. Costco salmon is perfect for grilling one night, and making sliders the second night. The beauty of this recipe is that it freezes really well, so you don't even have to eat salmon two nights in a row if you don't want to.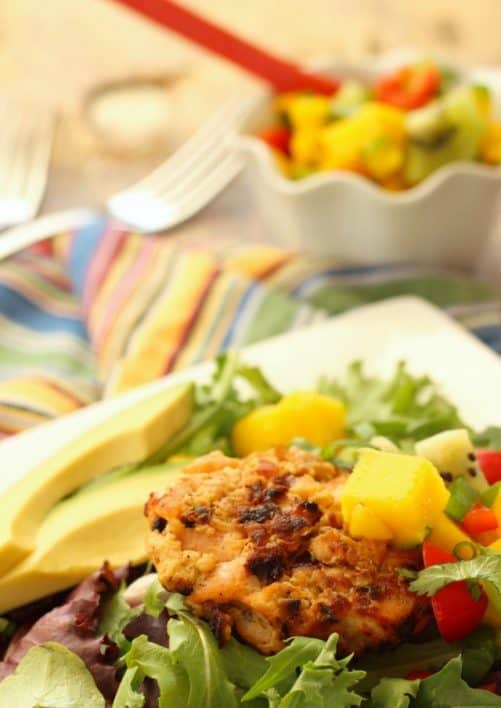 And if you don't usually like fish cakes/patties/sliders because they're too dry and bready – never fear because these are definitely not those cakes/patties/sliders.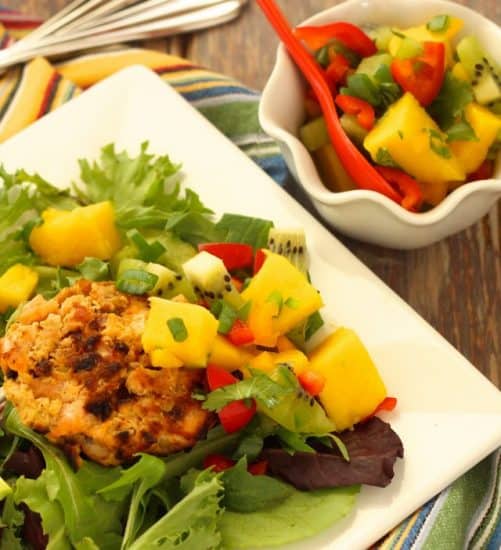 While you can eat these on a bun, I totally love these sliders on top of some salad greens topped with some mango (or any kind of fruit) salsa.
Recipe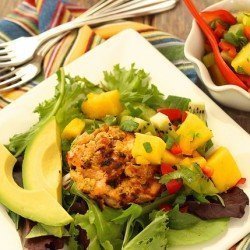 Chipotle Salmon Sliders
The best way to use up those Costco-sized salmon packages
Print
Pin
Ingredients
1

pound

fresh salmon fillet

skinned

1

cup

fresh breadcrumbs

from 2 slices whole wheat bread

1

small onion

quartered

1

tablespoon

chipotle peppers in adobo sauce

more if you like spicy

¼

cup

mayonnaise

¼

teaspoon

kosher salt ⅛ teaspoon fresh ground pepper

½

teaspoon

cumin

1

avocado

pitted and cut into ½ inch cubes

3

tablespoons

chopped cilantro
Instructions
Cut the salmon into ¼-inch cubes and set aside.

Heat a nonstick frying pan on high heat and add bread crumbs. Lightly toast the bread crumbs, just until they start to turn golden. Set aside.

In a food processor fitted with the chopping blade, place onion, chipotle peppers, mayo, salt, pepper and cumin and process until smooth.

Remove the mixture and place it in a large mixing bowl.

Place the salmon in the bowl of the food processor and pulse just about 5-6 times to break salmon down a bit. Don't over process or it will be too mushy.

Scrape out the salmon and any remaining chipotle/mayo mixture into the mixing bowl.

Add breadcrumbs and stir into the salmon and mayonnaise.

Add avocado and cilantro and an additional pinch of salt if desired. Fold avocado and cilantro into salmon mixture, keeping the avocado in chunks as much as possible.

Form salmon mixture into 8 patties, about 3-inches in diameter each.

Heat the nonstick frying pan on high heat, and gently place sliders in a single layer in the skillet (you may need to cook them in 2 batches)

Pan fry the sliders about 3-4 minutes on each side or until golden.

Serve on slider buns, or on top of greens, topped with fruit salsa
Notes
To freeze these, form into patties but don't cook them. Wrap each patty individually in plastic wrap, place them all in a freezer bag and freeze well. Thaw in the refrigerator before cooking.
Nutrition
Calories:
251
kcal
|
Carbohydrates:
17
g
|
Protein:
16
g
|
Fat:
14
g
|
Saturated Fat:
2
g
|
Polyunsaturated Fat:
6
g
|
Monounsaturated Fat:
5
g
|
Trans Fat:
0.01
g
|
Cholesterol:
34
mg
|
Sodium:
278
mg
|
Potassium:
498
mg
|
Fiber:
4
g
|
Sugar:
2
g
|
Vitamin A:
77
IU
|
Vitamin C:
4
mg
|
Calcium:
63
mg
|
Iron:
2
mg
Do you shop at Costo? Is it an adventure for you (or your husband)?
Eat well!