Heart Healthy Mediterranean Vegetable Lentil Soup
This shop has been compensated by Collective Bias, Inc. and its advertiser. All opinions are mine alone.
To be proactive about your heart health, eat better, exercise regularly, and take the right supplements. Read on to learn more about which foods and supplements I recommend.
As a dietitian, I'm a little bit obsessed with wellness and disease prevention – especially when it comes to being proactive about heart health.
Heart disease is the leading cause of death worldwide. We often think of it as a man's disease, but did you know that a woman's risk increases significantly after menopause? Once your estrogen levels decline, LDL, or bad cholesterol often goes up.
That increases your risk of heart disease. Combine it with other risk factors like being overweight, smoking, being too sedentary, and having diabetes, high blood pressure, or metabolic syndrome, and the risk goes up even more.
How to Reduce The Risk of Heart Attack and Stroke
After menopause, women are just as much at risk for a heart attack or stroke as men.
When I'm working with patients on ways to protect their heart, these are the things I recommend:
1. Know your numbers! If you're over the age of 40, have your cholesterol (AKA fasting lipid profile), blood pressure and glucose checked regularly. Knowing your numbers helps you to be more proactive if they start to go up.
Cholesterol should be below 200 mg/dL; with an LDL below 130 mg/dL (or lower if have other risk factors) an HDL above 40 mg/dL (higher is better), and triglycerides below 150 mg/dL
Blood pressure should be 120/80 mm/Hg
Fasting glucose should be less than 100 mg/dL
2. Eat more cholesterol-lowering foods. My favorites include legumes, barley, oats, nuts, seeds, apples, pears, avocados, broccoli, and jicama. These happen to be especially good sources of cholesterol-lowering soluble fiber. But - all fruits, vegetables, and whole grains have some amount of soluble fiber, so be sure to mix it up!
3. Be as physically active as you can. The recommendation for all adults is 150 minutes of cardio exercise (any kind that gets your heart rate up) plus 2-3 strength training sessions each week. It's great if you can do a little bit each day, but it's more important to just be consistent about exercise. If longer workouts on the weekend and shorter sessions during the week works better for you – do it! Regular exercise makes it easier to maintain a healthy weight, it strengthens your entire cardiovascular system, and it often helps to improve cholesterol and blood pressure.
4. Use the right supplements to support your heart health. Two that I often recommend are Nature Made® Omega-3s and Nature Made CholestOff® Plus from Walmart
Here's what I like about these heart Health Supplements:
An omega-3 supplement provides EPA and DHA – 2 essential fatty acids that your body can't make, so you must get them from your diet (fish) and/or supplements. EPA and DHA have been studied extensively for their role in supporting heart health.† They're the 2 active ingredients in fish oil that provide heart-healthy benefits.†
Everyone finds labels on omega-3 supplements confusing (even me!). So I love that Nature Made's® omega-3 products call out the amount of these two essential fats right on the label.
Cholestoff Plus provides plant sterols – compounds found naturally in plant foods that can reduce cholesterol. And in fact, Nature Made® CholestOff® Plus is clinically proven to lower cholesterol,* by reducing the amount of dietary cholesterol that's absorbed into your bloodstream.
Nature Made® makes great products. Both supplements are gluten, yeast, and starch-free. They're also free from artificial flavors, preservatives, and synthetic dyes. Bonus - they're available over the counter at Walmart, so they're cost effective too.
5. Finally, eat a whole foods, Mediterranean-style diet - and cook it yourself. Fast food and take-out meals are full of unhealthy fats and excess sodium. When you cook at home, you control exactly what's in your food, and you can pack your meals with more fruits and vegetables. They should be front and center on each and every plate.
There's a reason the Mediterranean Diet is so good for you and so helpful when it comes to reducing your risk of heart disease. It's full of fruits, vegetables, and legumes. Not only do these foods provide cholesterol-lowering fiber, but they're also full of antioxidants and important compounds that protect your heart and blood vessels from inflammation.
One of the easiest ways to pack your plate full (or bowl) full with veggies is this easy Heart Healthy Mediterranean Vegetable Lentil Soup. Each and every bite is full of flavor and color from vegetables and a rich, tomato and bone broth stock that's infused with amazing herbs and Mediterranean flavors.
This soup is my favorite way to get all the good stuff that supports your heart health in each and every bite. Your heart will love it!
Recipe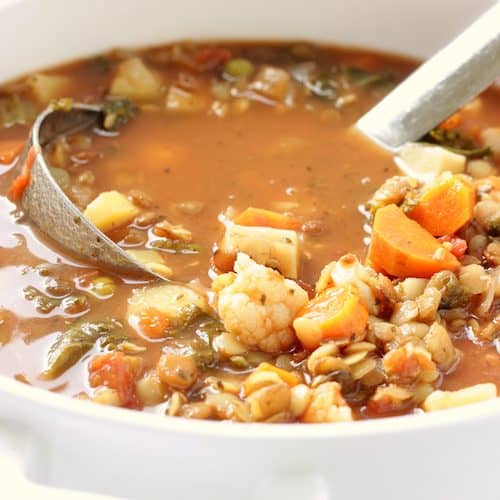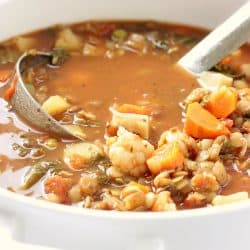 Heart Healthy Mediterranean Vegetable Lentil Soup
This hearty soup is packed with vegetables, lentils and delicious Mediterranean flavors
Print
Pin
Ingredients
2

tablespoons

olive oil

1

medium

onion

diced

2

large

garlic cloves

minced

3

medium

celery stalks

diced

5

medium

carrots

diced

1

parsnip (or 1 small potato)

diced

2

tablespoons

pesto

1

tablespoon

dried oregano

1

tablespoon

dried thyme

1

tablespoon

fennel seed

8

cups

low sodium chicken bone broth (or beef, vegetable)

1

28-ounce

can crushed tomatoes with basil

1 ½

cup

dried green lentils

1

cup

frozen sweet peas

3

cups

chopped kale (or spinach or other leafy green)

2

cups

cauliflower florets (or broccoli)

very small pieces

⅛

teaspoon

ground pepper

3

teaspoons

salt

or to taste
Instructions
Heat the oil in a stockpot over medium high heat.

Sauté the onions, garlic, celery, carrots, and parsnips for about 10 minutes or until they start to turn golden.

Add the pesto and spices and stir to combine.

Add the stock and tomatoes. Turn the heat up to high and bring the soup to a boil.

Add the lentils, peas, and kale or other greens if using. Let the soup come back to a boil, and then reduce the heat to low. Cover, and let simmer for about 40 minutes.

Add the cauliflower florets, pepper and salt to taste. Cover and continue to simmer for another 15-20 minutes until all vegetables and lentils are tender.

Taste, and adjust any seasoning with salt and additional pesto if desired.
Nutrition
Calories:
278
kcal
|
Carbohydrates:
39
g
|
Protein:
17
g
|
Fat:
7
g
|
Saturated Fat:
1
g
|
Polyunsaturated Fat:
1
g
|
Monounsaturated Fat:
3
g
|
Cholesterol:
1
mg
|
Sodium:
739
mg
|
Potassium:
1015
mg
|
Fiber:
15
g
|
Sugar:
6
g
|
Vitamin A:
9145
IU
|
Vitamin C:
58
mg
|
Calcium:
136
mg
|
Iron:
5
mg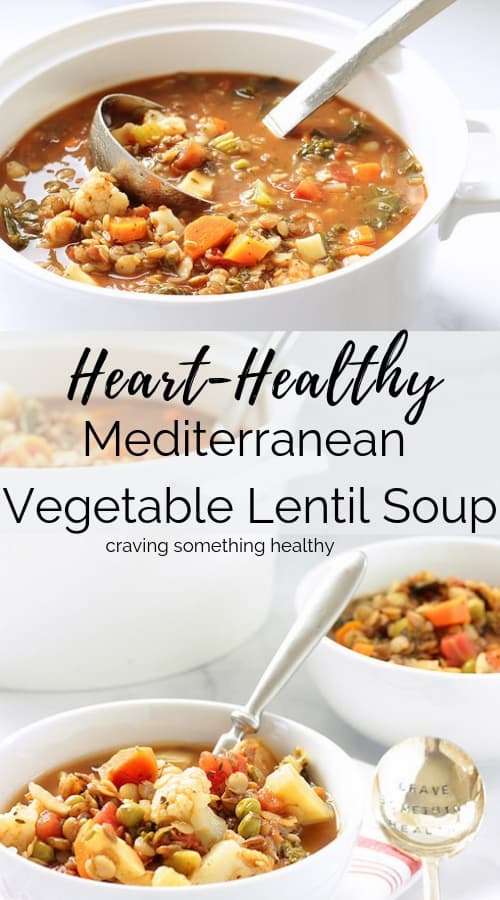 What do you do for your heart? Do you know your numbers? Eat well!
† These statements have not been evaluated by the Food and Drug Administration. These products are not intended to diagnose, treat, cure or prevent any disease.
*Products containing at least 400 mg per serving of plant sterols and Stanols, eaten twice a day with meals for a daily intake of at least 800 mg as part of a diet low in saturated fat and cholesterol, may reduce the risk of heart disease. One serving of CholestOff® Plus supplies 900 mg of plant sterols and stanols per serving for a daily intake of 1800 mg.