Spicy Lentil Cauliflower Falafel Cakes
These Spicy Lentil Cauliflower Falafel Cakes are a delicious, lightened up cross between Falafel and Fritters. Make them in the food processor and keep them in the freezer!
Thanks, Camellia Beans and Meatless Monday for inviting me to participate in this #FoodForChange Meal, and for the many pounds of beans they contributed to the Food for Change Meal participants!
It's time to come to the table to celebrate Food for Change. Today, the global Slow Food network celebrates Terra Madre, (which means Mother Earth) Day. For my part, I'm sharing a plant-based meal featuring lentils, an ingredient that's grown and produced in a climate-friendly way.
Did you know that one-fourth of global greenhouse gas emissions come from food and food production? It's something we don't often think about, but it's true. And what we eat now has a great impact on what we will be able to eat in the future. Plants are far more climate-friendly than meat or other animal foods, so incorporating more meatless meals into your week is an easy (and delicious) way to do your part to pivot towards a more sustainable food system and climate-friendly future.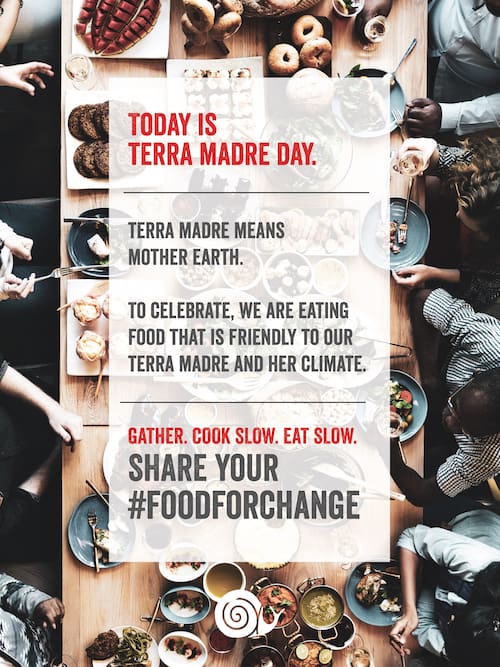 I've written quite a few posts about the benefits of eating more plant-based or meatless meals. They're good for your health, and people who eat more plants tend to have less diabetes, heart disease and cancer. Meatless meals are also so much better for the environment, so every time you skip the meat at dinner, you can pat yourself on the back because you're doing something good for the environment.
The thing I also really love about meatless meals, is that they force you to think outside the box a bit. Gone are the days of the meat, potato, and vegetable dinner plate. Today, it's all about creative veggie-based soups, vegetable and grain bowls, and colorful warm and cold vegetable and bean salads with any ethnic influence imaginable.
I think most of us are loving the color, texture and variety that meatless meals bring to the table.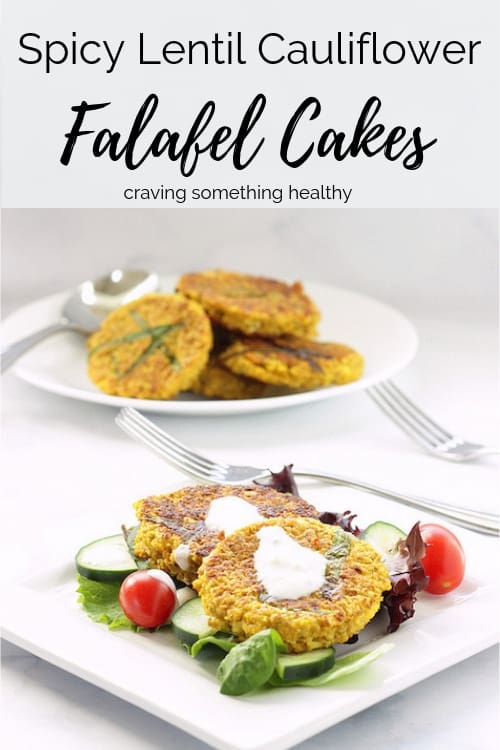 So, as I was flipping through my cookbooks and recipe clippings for some vegetarian and lentil inspiration for this recipe post, I happened on a recipe I clipped a while ago from Martha Stewart magazine, for lentil cakes. Kind of like a fritter version of falafel.
I put my own twist on it, by tweaking the spices just a bit and adding riced cauliflower. This was already a healthy recipe, but the cauliflower boosts the nutrients even more. It also lightens up the texture, and cuts the carbs a bit.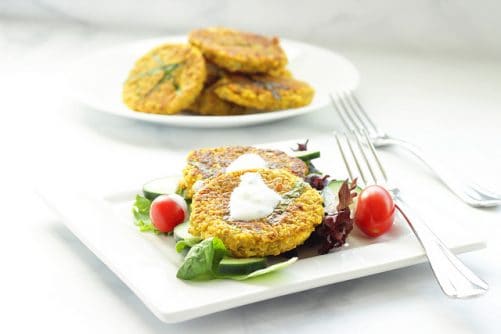 I have to confess, I've made a few veggie fritters in the past, but I've never, ever attempted falafel. I have no idea why, but I always thought it was hard.
It's not. Trust me.
You do have to soak the lentils overnight (or do a quick soak by boiling them for a few minutes and then and cooling) but once that's done, you can make this entire recipe in the food processor. Hooray for easy!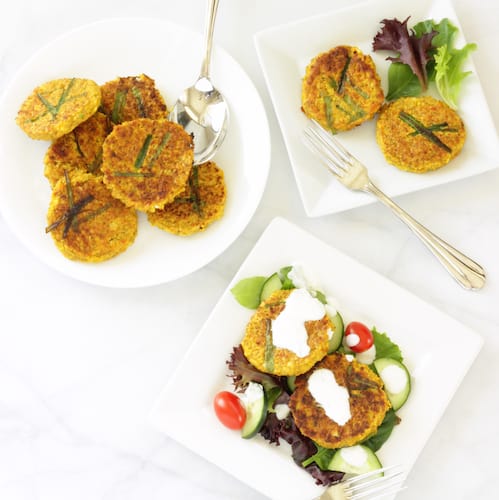 And the other great part about this dish - it's freezer friendly, so you can make a batch, keep a bunch in the freezer, and just warm up a few when you don't feel like cooking. You're welcome.
Recipe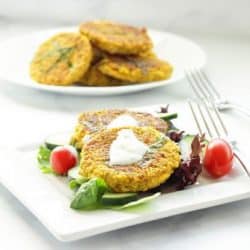 Spicy Lentil Cauliflower Falafel Cakes
Adapted from

MarthaStewart.com
An easy and delicious twist on falafel that's also freezer-friendly. Makes about 12 pieces
Print
Pin
Ingredients
1

cup

lentils

4-5

scallions

divided

1 - 1 ½

tablespoons

harissa

more or less depending on how much spice you like

½

teaspoon

turmeric

¼

teaspoon

cumin

¼

teaspoon

garlic powder

½

teaspoon

kosher salt

1

large

egg

1

large

egg white

½

teaspoon

baking powder

1

cup

riced cauliflower

4

ounces

feta cheese

divided

olive oil
Lemon Yogurt Sauce
¾

cup

plain Greek yogurt

any kind

remainder of the feta cheese

juice and zest of 1 medium lemon

¼

cup

minced or grated cucumber

1

tablespoon each

minced mint, scallion, parsley

kosher salt and garlic powder to taste
Instructions
Quick soak the lentils by placing them in a medium-size saucepan, covering with about 2 inches of water, and bringing them to a boil. Turn off the heat and let them cool.

If you prefer, you can also just put the in a bowl, cover with about 2 inches of water, and let them soak overnight.

Drain the lentils well before using.

Mince the scallions, and set 1 tablespoon aside for the sauce. If desired, slice a few of the green tips into long, thin slices to press into one side of the lentil cakes (this just makes them look pretty)

Add the harissa, scallions, turmeric, cumin, garlic powder, salt, egg, egg white and baking powder to a food processor and pulse until everything is combined.

Add the drained lentils and puree until the ingredients come together as a batter and the lentils are smooth.

Add the cauliflower and half of the feta (about ½ cup) to the bowl and pulse about 3-4 more times to combine.

Heat a nonstick frying pan on medium-high heat, and add about 1 tablespoon olive oil.

When the pan is hot, scoop out about 2 tablespoons of the lentil batter, and add it to the pan. You should be able to cook 4 falafel cakes at time. If using the scallion strips, place a few pieces on top of each cake. Gently press each cake to flatten into about a 2-inch round.

Let the falafel cakes cook for about 3-4 minutes, and when they are set and starting to turn golden brown, flip and let them cook for another 3 minutes or so on the other side. Place them on a plate lined with a paper towel to cool. Repeat with the remaining batter.

While the falafel cakes are cooling, combine the yogurt, feta, lemon juice and zest, herbs and cucumber for the sauce. Add salt and if desired, a pinch of garlic powder to taste.

Serve the falafel cakes on top of baby greens, topped with some of the yogurt sauce.

Store leftover cakes in the refrigerator for up to 2 days, or in the freezer. Reheat in a pan or microwave before serving.
Notes
Harissa is a north African chili pepper spice paste. You can find it at Trader Joe's or make your own.
Nutrition
Calories:
104
kcal
|
Carbohydrates:
12
g
|
Protein:
8
g
|
Fat:
2
g
|
Saturated Fat:
1
g
|
Cholesterol:
24
mg
|
Sodium:
248
mg
|
Potassium:
268
mg
|
Fiber:
5
g
|
Sugar:
1
g
|
Vitamin A:
185
IU
|
Vitamin C:
8.4
mg
|
Calcium:
87
mg
|
Iron:
1.6
mg
Have you ever made falafel?
Eat well!