Five Reasons To Eat A Plant Based Diet
Remember when vegetarians and vegans were thought of as tree hugging, longhaired hippies who wore Birkenstocks and hemp and got a strange satisfaction out of depriving themselves of good food? Well the times, they are a-changin'! There's been a quiet movement underway for the past few years, and it seems to me that it's really starting to gain some noise and momentum.
According to the most recent stats compiled by the Vegetarian Resource Group, almost half of all Americans eat a vegetarian meal at least once per week, and about 9 million American adults (4% of the adult population) consider themselves to be vegetarian (no meat, poultry, or fish) or vegan (no animal products at all). Whether it's a result of the Meatless Monday push, or documentaries like Food, Inc.
or Forks Over Knives, or non-hemp wearing celebrities like Bill Clinton, Brad Pitt and the amazing 90 year old Betty White, Americans seem to be embracing the plant-based diet, and good for us! Literally. Here's what, why and how to jump on the bandwagon.

What is a Plant Based Diet?
Don't panic! You don't necessarily have to go the vegan route and eliminate all animal products. Many vegetarians still enjoy dairy foods, and eggs, and some occasionally eat fish. I consider myself mostly a plant eater, but I do occasionally eat chicken and fish, and I would have a hard time living without good chicken stock or Greek yogurt or cheese. You should do what you feel is right for you. At a minimum, a plant-based diet means eating more whole plant foods, like fruits, vegetables and whole grains, and less animal products.
Why Shoule I Eat a Plant Based Diet?
Personal reasons for following a vegan or vegetarian diet vary, and range from environmental or social reasons, to cost, to health. Whether you choose to go all out, or just work on eating more fruit and vegetables, there are (at least) 5 significant reasons to choose more plant foods and less animal foods:
The health benefits are significant. Thousands of research studies show that individuals who eat less meat, and more whole grains, and whole fruits and vegetables are at lower risk of developing heart disease, high blood pressure, diabetes, and many cancers.
The more I read and learn about our food supply, the more I question the safety and quality of most of the processed foods, animal products, and even fish we eat. Did you catch the story about what's in Chicken Nuggets? Shortly after I read that one, I had a client call to ask me if it was OK to eat the burgers he just bought. He happened to look at the ingredients label and noticed that they contained "beef hearts and other organs". Yikes. Whole plant foods and grains, organic and locally grown, if you can get them, are definitely a cleaner and safer way to eat.
Animal farming and processing has a tremendous impact on our environment and is one of the leading drivers of climate change. This graphic illustrates just how much land, grain and CO2 is used to get different types of protein on your plate.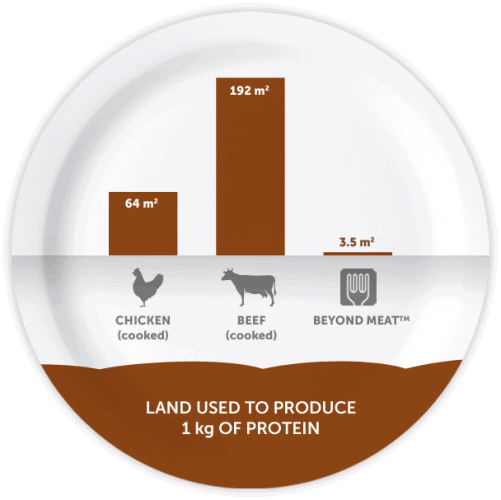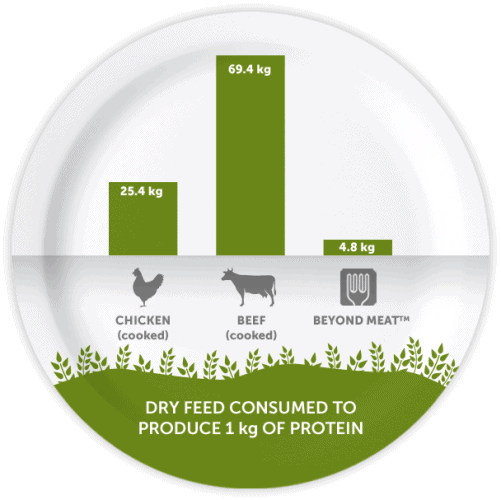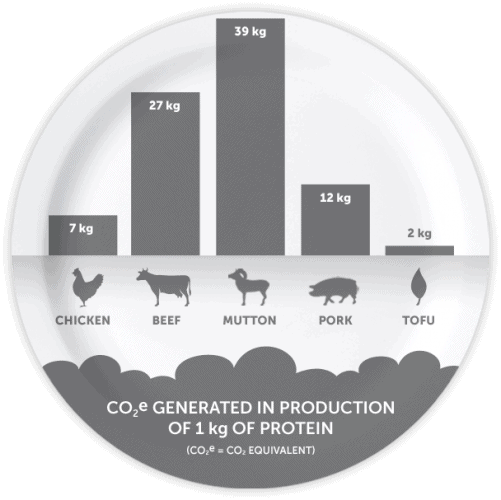 A plant- based diet is generally lower in calories and fat, which means less of you! Because plant foods are lower in calories and higher in filling fiber, Individuals who eat a vegetarian diet have an easier time maintaining a healthier weight. Healthy weight equals fewer health issues, and better quality of life. I'm not promising miracles, but it's worth a try!
Last, but definitely not least – You'll glow! Ask anyone who eats more whole plant foods and less processed foods and meats, and they'll agree. You just feel and look better. Hair, skin, nails, weight, you name it. Ask anyone who looks younger than their age and they'll tell you it's their diet.
How to Start
Start by trying some new meatless recipes, and get in the habit of making one or two each week. You'll find many ideas right here on this blog, and starting soon, I'll be doing a Meatless Monday feature at least once or twice each month. I also follow several vegetarian food bloggers, and post or pin their recipes on Facebook and Pinterest. The more vegetarian recipes you try, the more you will find you like.
Take a cooking class for inspiration. I had the pleasure of being invited to a vegan cooking class recently, at the Herbal Academy of New England, and I learned so much about vegan eating and cooking. I am actually a little bit intimidated by vegan cooking, but this group was wonderful, and they encourage all forms of healthy diet and living. The chef who taught the class was fabulous, and full of ideas and suggestions, many of which I've already tried at home. Check out the recipe we made, for a vegan version of Sloppy Joes, below.
Next, focus on ways to add in more of the healthy stuff rather than worrying about what to cut out. Every week make it a goal to fill most of your grocery cart from the produce department. Choose a variety of fruits and vegetables that you can eat for each meal and snacks. Then head over to the whole grains section, and try a few new whole grains. Try to skip the beef entirely, if you can, and when buying chicken, fish, eggs or dairy, try to stick to organic, and buy less. Before long, you'll realize the more healthy plant foods you eat, the better you'll feel, and the easier it will be.
Recipe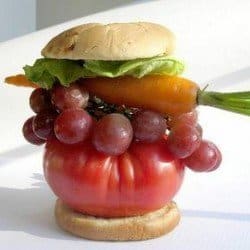 Vegan Sloppy Joe's
by Chef Lisa Kelly, blogger and teacher at the Herbal Academy of New England
Print
Pin
Ingredients
1

tablespoon

olive oil

1

cayenne pepper

minced

1

small red onion

diced

½

red bell pepper

chopped

3

cloves

garlic

minced

¼

cup

organic tomato paste

1

can organic fire roasted tomatoes

2

tablespoon

sriracha

2

tablespoon

pure maple syrup

1

tablespoon

tamari or soy sauce

2

teaspoon

paprika

2

teaspoon

cumin

1

teaspoon

dried thyme

¼

teaspoon

black pepper

8

oz

package organic tempeh

crumbled

1

cup

cooked kidney beans

1 ½

cup

cooked chickpeas

salt

to taste

8

whole grain hamburger buns
Instructions
Over medium heat, cook olive oil and cayenne pepper in a large saucepan for one minute

Add red onion, bell pepper and garlic and cook for 5 minutes

Add all remaining ingredients and bring to a boil

Reduce to a simmer and cook for 15-20 minutes, occasionally using a potato masher to break down the bean/tempeh mix until you have a fairly chunky consistency

* Serve over toasted whole wheat buns
Notes
Store leftovers in an airtight container in the refrigerator for up to 3 days. serve on toasted whole grain hamburger buns
Nutrition
Calories:
292
kcal
|
Carbohydrates:
42
g
|
Protein:
15
g
|
Fat:
9
g
|
Saturated Fat:
2
g
|
Polyunsaturated Fat:
2
g
|
Monounsaturated Fat:
4
g
|
Sodium:
547
mg
|
Potassium:
505
mg
|
Fiber:
6
g
|
Sugar:
10
g
|
Vitamin A:
682
IU
|
Vitamin C:
16
mg
|
Calcium:
119
mg
|
Iron:
5
mg
Do you eat a vegetarian or vegan diet? How did you start? If you have any tips for eating less meat and more plants, please share them!
Eat well!