Looking For Whole Grains? Think Outside the Cereal Box
Are you trying to eat more whole grains?  Chances are, even if you're not trying, you are eating more, and that's a good thing.   A few years ago, the USDA's Dietary Guidelines advised everyone to eat more whole grains by replacing at least half of our refined grains with whole grains.  As a result, food manufacturers, food service providers, and even fast food restaurants have gotten on board to create more whole grain options and help inch us toward that goal.
Why Whole Grains?
Look around at what we're buying at the grocery store, or most times when we go out to eat. The American diet has become unbalanced and way too full of refined grains like white bread (maybe not sandwich bread, but perhaps Italian bread or a white deli rolls?), pasta, donuts, muffins, and packaged cookies and treats. All of these are made with refined flour, which is stripped of fiber and healthy nutrients. Research is indicating more and more, that diets full of refined grains are at least partly to blame for the epidemic of obesity and diabetes, and maybe other chronic diseases as well.
Refined grains are milled and stripped of both the outer bran and inner germ to give them a finer texture and extend their shelf life. However, the refining process also removes fiber and many nutrients, which are found in the bran and germ of grains.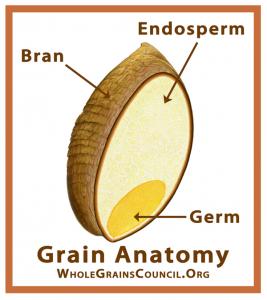 Whole grains on the other hand, are just that – grains that are whole, unprocessed, unrefined, and just as nature intended them. Whole grains are excellent sources of fiber, B-vitamins, antioxidants, and iron. Substituting a few of your refined grains for whole grains can have tremendous health benefits for everyone.
Which Foods Are Whole Grains?
A big tipoff is the word WHOLE in the label, but just to be sure, check the package for the Whole Grain Stamp, which is now on over 8.600 different products.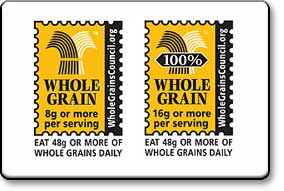 Most of us are aware that whole wheat breads, bagels, English muffins, and cereals are whole grain, but there are lots more to explore. Whole grains also include oats, popcorn, brown rice, and rye, as well as those in the not quite as well known, but worth exploring category, like barley, colored rice, buckwheat, bulgur and wheat berries. Want to really show off your awesome foodie-ness? Try some of the "new and exciting" ancient grains. These are actually grains that have been around for thousands of years, but have only recently been rediscovered as delicious and healthy alternatives to more refined starches and grains. Ancient grains include amaranth, einkorn, farro/emmer, kamut, and quinoa. Read about the history and uses of these and all grains on the Whole Grains Council website.
Quinoa is one of my favorite ancient grains. It's a bit rice-like in it's texture, but it's much higher in fiber and it has a lower glycemic index than rice, which means it won't raise your blood sugar as quickly. It's also full of fiber and a host of vitamins, and it's packed with complete protein (rare for grains), so it's perfect for a meatless Monday (or any day) meal. I often make a batch of these Quinoa Patties, which can be frozen and later heated up for a quick dinner. Top them with tomato sauce and add a salad and dinner is done! Leftovers are also great for a grab and go breakfast.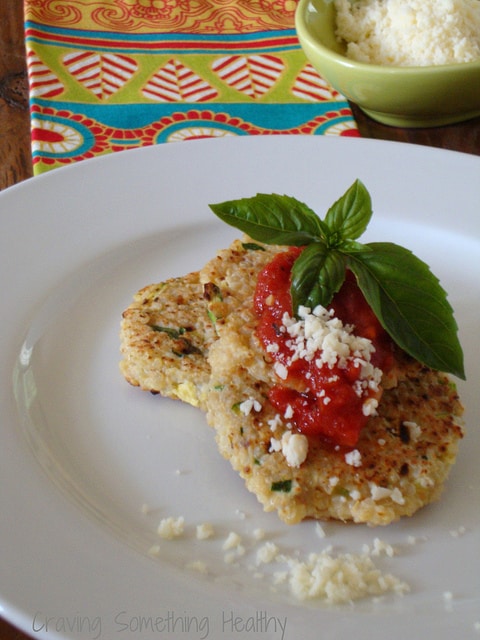 Recipe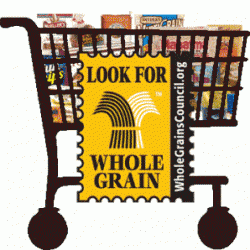 Ingredients
1

cup

quinoa

2

cups

water

½

teaspoon

salt

3

cloves

garlic

minced

½

cup

Asiago cheese

grated

4

eggs

beaten

1

cup

whole wheat bread crumbs

¼

cup

chopped fresh basil

¼

teaspoon

kosher salt

⅛

teaspoon

fresh ground pepper
Instructions
Bring 2 cups water and ½ teaspoon salt to a boil, and add quinoa. Reduce heat and simmer 15 minutes or until quinoa is tender and water is absorbed. Remove from heat, and let cool to room temperature.

Combine cooked quinoa, garlic, cheese, and eggs in a medium bowl.

Stir in bread crumbs, and let sit a few minutes so crumbs can absorb some of the moisture. Add more bread crumbs if necessary, but mixture should be fairly moist.

Season with basil, salt and pepper.

Heat a nonstick skillet on high heat.

While pan is heating, form mixture into patties (this will make approximately 20 2-inch patties)

Add patties to the skillet so they fit with some room in between them. Cook for 5-7 minutes, or until the bottoms are deeply browned. Carefully flip the patties with a spatula, and cook the other side for another 5-7 minutes, or until golden.

Remove from the skillet, and cool on a wire rack while you cook the remaining patties.
Notes
Adapted from Epicurious
Freeze leftover patties for up to 2 months. Separate each patty with a piece of parchment paper before freezing.
Nutrition
Calories:
142
kcal
|
Carbohydrates:
20
g
|
Protein:
8
g
|
Fat:
4
g
|
Saturated Fat:
1
g
|
Polyunsaturated Fat:
1
g
|
Monounsaturated Fat:
1
g
|
Trans Fat:
0.01
g
|
Cholesterol:
69
mg
|
Sodium:
340
mg
|
Potassium:
129
mg
|
Fiber:
2
g
|
Sugar:
0.5
g
|
Vitamin A:
137
IU
|
Vitamin C:
2
mg
|
Calcium:
80
mg
|
Iron:
2
mg
Do you have any favorite new whole grains? Have you ever tried any ancient grains?
Eat well!