The Ultimate Mediterranean Chopped Salad
This fast and flavorful Mediterranean Chopped Salad is perfect for a light dinner, a hearty lunch, or as a giant side salad when friends or family are over for pizza night. It's one of my favorite easy dinners because it's full of pantry staples and so ridiculously easy to make.
And it's quite the feast for your eyes. Talk about tasting the rainbow!
First, let me say, chopped salads are hands-down my favorite kind of salads. The difference between a chopped salad and a regular tossed salad, is, of course, the chopping. It takes just a few more passes with your knife, but the results... OMG it's like a party in your mouth.
This yummy salad is the ultimate way to enjoy the Mediterranean diet. If you're not familiar with this way of eating, it's time to get on board. Check out my Mediterranean Diet for Two cookbook for lots of inspiration AND to learn about the science behind it.
The Mediterranean diet emphasizes fresh, seasonal, whole foods, and limits processed foods. By eating this way, you will get the benefits of unsaturated and omega-3 fats, fiber, antioxidants, and potassium. It's great for your heart, your body, your brain, and not to mention your taste buds!
Ingredients for a Chopped Mediterranean Salad (and substitutions)
One of the things I appreciate about the Mediterranean diet is that it's flexible. Much like the ingredients in this salad. You can use all of these, some of them, or substitute other similar ingredients to your preference. Here's what I like in my Mediterranean Chopped Salad (and some substitution ideas):
Romaine Lettuce. If you prefer softer lettuce, try red leaf, or butter lettuce instead.
Radicchio. It adds a nice pop of color and a spicy bite. If you find radicchio too bitter, you can also use red cabbage.
Chickpeas. They're a Mediterranean classic and nice and firm. Cannellini or kidney beans are a good backup. Note that cannellini beans are very soft and may fall apart with too much tossing.
Roasted red peppers. I prefer the sweet, smoky flavor of jarred peppers but fresh sweet peppers are great too.
Sun-dried tomatoes. I prefer the sweetness of these over fresh tomatoes but that's probably because for some reason we never get really good tomatoes here in Arizona!
Cucumber. Use an English cucumber or 3-4 small Persian cucumbers. They have fewer seeds and their skin is thin and tender. I like to peel my cucumber in stripes so there's a little bit of skin but not too much.
Pepperoncini. Mild or hot — it's up to you! They add a nice tang.
Olives. I LOVE a good, briny olive, and they're so good for you — just like olive oil. Green Manzanilla (from Spain) or black Kalamata (from Greece) work equally well. And if you're on the fence about briny olives, try black California olives.
Red onion. Just a little bit for another pop of spicy flavor. If you prefer, you can substitute scallions or leave the onion out.
Feta cheese. Another Mediterranean classic. Get good, imported feta. If you don't like feta, substitute tiny balls of Mozzarella or skip it if you want to keep this salad vegan.
Tuna. It's optional but highly recommended because it adds so much protein and flavor. I like Yellowfin tuna because it's significantly lower in mercury than white albacore tuna. You can also substitute sardines or Mackerel from a tin.
Sunflower seeds. They add a nice, salty crunch. You can substitute pepitas (pumpkin seeds) or toasted pine nuts if you prefer.
Fresh herbs. If you have them! Keep reading for a list of my favorites.
The thing I love most (OK one of the things) about this salad is that you can make it with so many pantry staples. Even if all you have on hand is a head of lettuce, you can still pull together a tasty chopped salad with the other pantry staples.
To make this salad, you just chop, add everything to a big bowl, and toss.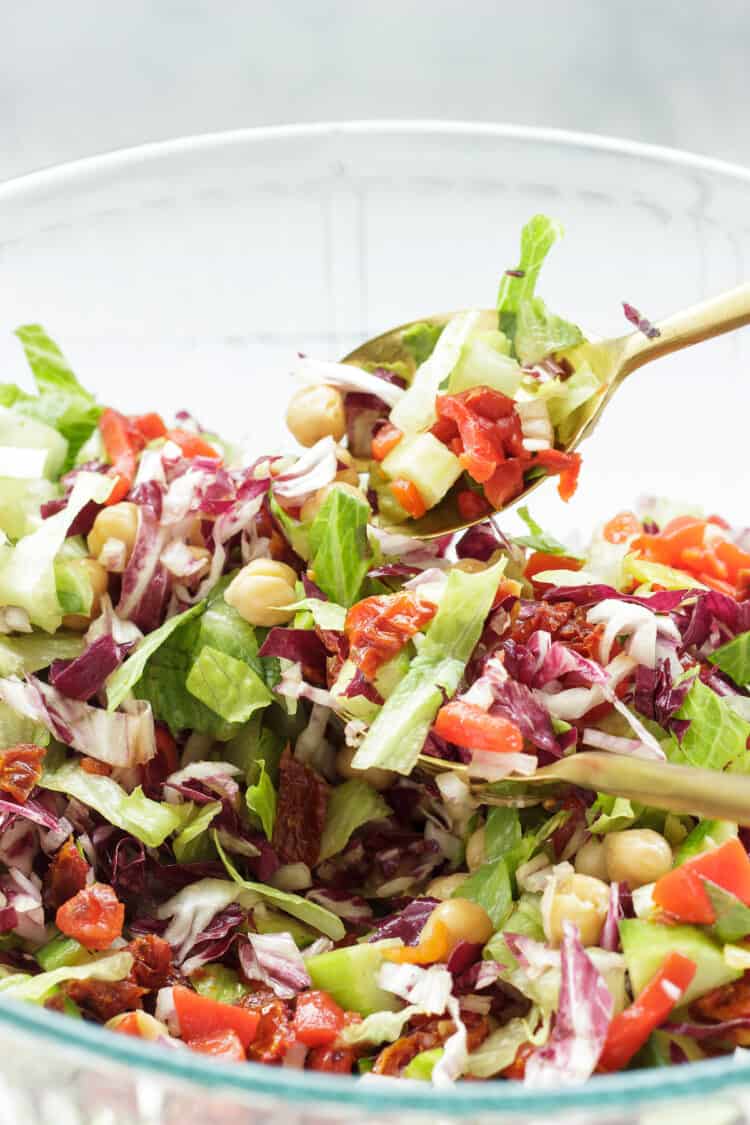 Make sure you have some nice, large bowls for serving up this salad.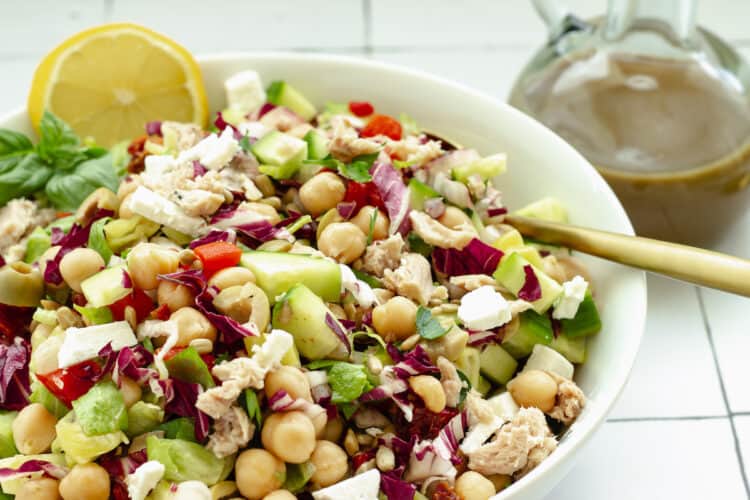 Tips for Making a Perfect Chopped Salad
Chop to a uniform size
This should go without saying, but chopping is KEY. The best-chopped salads have all of their components chopped to a similar size, although I do mince my onion smaller. And if you're using hot pepperoncini, you might want to go smaller on those.
But aim for a uniform size with your other ingredients. And not too small either. This is a salad, after all, not baby food. I aim for about ¾ inch pieces on everything, so you can get a variety of flavors on every forkful.
Dress your salad before serving
Chopped salads are no time for "dressing on the side." You don't need a lot of dressing (in fact, it's OK to completely skip it if you use marinated veggies from a jar) but it's so nice when the dressing coats every forkful. Trust me on this one.
For this salad, you can use a few tablespoons of your favorite vinaigrette. Or try a simple red wine vinaigrette with red wine vinegar, olive oil, garlic powder, salt, and pepper.
Add fresh herbs
If you make this in the summer when your herb garden is overflowing, take advantage and toss in any herbs you like. A little goes a long way, especially with herbs like mint or oregano. Tasty options include:
Parsley
Basil
Oregano
Lemon thyme
Marjoram
Mint
Chives
Tailor it to your liking
Again, the Mediterranean diet is all about flexibility. So if there's something on this ingredient list you love, add more. And if there's something you hate, skip it. All recipes are always better when you make them your own.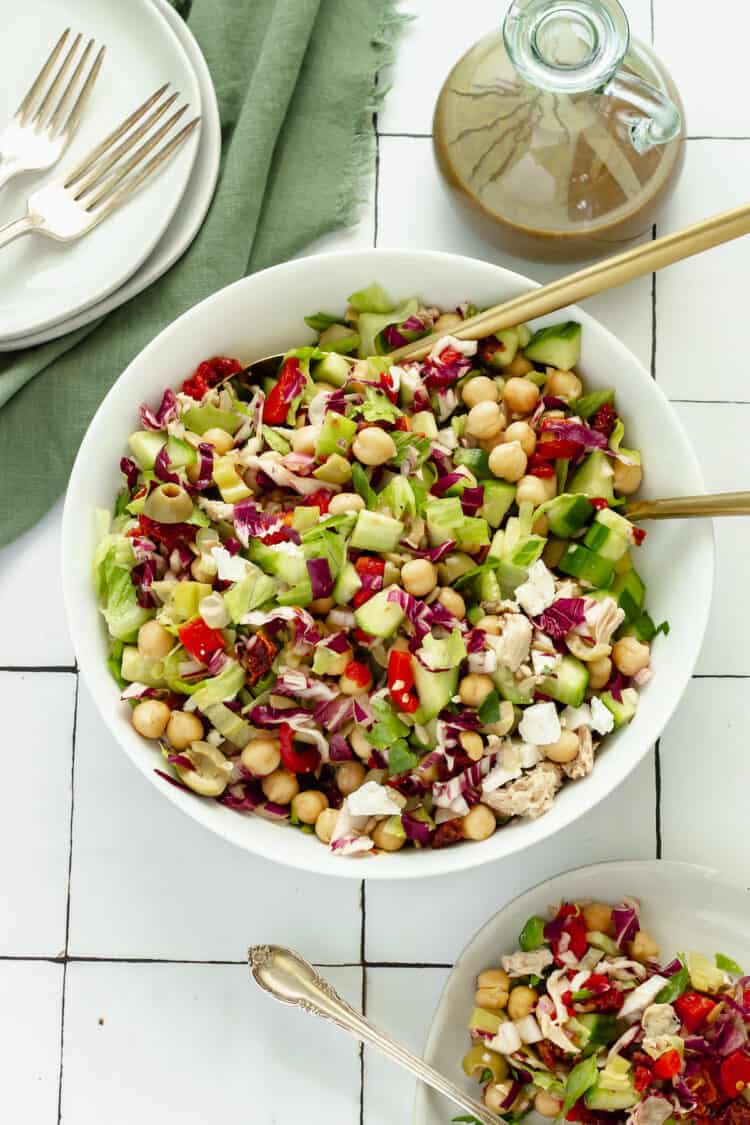 Frequently Asked Questions
Can you make this Mediterranean chopped salad ahead of time?
Yes, but I wouldn't make it too far in advance. A few hours is OK. One way is to chop all of your ingredients ahead of time and keep them in separate containers. Then, just toss everything together just before serving.

Alternatively, you can assemble the salad in layers like this: Start with chickpeas on the bottom of a large bowl, then add roasted red peppers, sun-dried tomatoes, pepperoncini, onions, olives, and tuna (if using). Lay the lettuce and radicchio lightly on top. Place large chunks of the feta over the very top. Don't toss your salad until you're ready to eat. Add the dressing, sunflower seeds, and any fresh herbs just before serving.
What if I have leftovers?
Chopped salads always taste best when they're super fresh but leftovers will keep in an airtight container in the refrigerator for a day. Just make sure you only add the dressing to the portion you'll be eating. If you add the dressing to everything, it will be soggy the next day.
What do you eat with this chopped salad?
This is pretty filling as is, especially if you add the tuna and feta. But feel free to add toasted naan bread, my Black Olive and Sundried Tomato Focaccia Bread, pita triangles, or chips, or serve it as a side for pizza night. You can also stuff this salad into pita pockets for lunch.
What dressing is best for this Mediterranean chopped salad?
You can use your favorite bottled vinaigrette, a splash of red wine vinegar, or the easy 3-ingredient dressing in the recipe below.
Recipe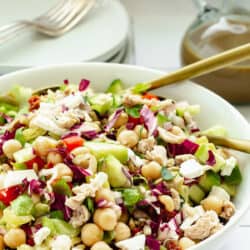 The Ultimate Mediterranean Chopped Salad
A tasty colorful salad that's easy to make with pantry staples and a few fresh ingredients.
Print
Pin
Ingredients
2

Tbs

extra virgin olive oil

2

Tbs

red wine vinegar

⅛

teaspoon

garlic powder

3

cups

chopped romaine lettuce

from 1 small head

1 ½

cups

chopped radicchio

about half a small head

2

cups

chopped cucumber

15

oz

can chickpeas

garbanzo beans, rinsed and drained

½

cup

chopped roasted red peppers

½

cup

chopped sundried tomatoes

½

cup

chopped pepperoncini

mild or hot

¼

cup

minced red onion

¼

cup

pitted black or green olives

5

ounces

tuna

2

oz

feta cheese

cubed or crumbled

2

tablespoons

roasted sunflower seeds

3

tablespoons

fresh minced herbs
Instructions
Combine the oilve oil, vinegar, and garlic powder in a small bowl and set aside.

In a large bowl, combine the lettuce, radicchio, cucumber, chickpeas, roasted red peppers, sundried tomatoes, pepperoncini, onion, olives, and tuna Toss well.

Add olive oil and vinegar dressing and toss to coat.

Add the feta, sunflower seeds, and fresh herbs. Toss lightly again.

Divide the salad into 2 large bowls and serve immediately.
Notes
If you plan to reserve part of this salad for the next day, don't add dressing to the portion you'll save. Store for up to one day in a covered container.
Since the olives, feta, and some of the other jarred vegetables are salty, don't add salt to your dressing!
Nutrition
Serving:
6
g
|
Calories:
333
kcal
|
Carbohydrates:
30
g
|
Protein:
19
g
|
Fat:
17
g
|
Saturated Fat:
4
g
|
Polyunsaturated Fat:
4
g
|
Monounsaturated Fat:
8
g
|
Trans Fat:
0.01
g
|
Cholesterol:
25
mg
|
Sodium:
816
mg
|
Potassium:
1021
mg
|
Fiber:
9
g
|
Sugar:
7
g
|
Vitamin A:
3602
IU
|
Vitamin C:
32
mg
|
Calcium:
175
mg
|
Iron:
4
mg
Do you love chopped salads?
Eat well!