The Ultimate Mediterranean Chopped Salad
This easy Mediterranean Chopped Salad is packed with color and texture from a mix of fresh vegetables and jarred or canned pantry staples like roasted red peppers, chickpeas, and tuna. Topped with a simple homemade balsamic dressing, every bite is full of flavor.
Serve it for a light dinner, a hearty lunch, or as a giant side salad when friends or family are over for pizza night. It's one of my favorite dinners because it's got something for everyone, and it's quite a feast for your eyes. Talk about tasting the rainbow!
Jump to:
Why You'll Love This Recipe
You'll love this recipe for so many reasons.
First, it's a perfect way to enjoy the flavors of the Mediterranean diet. If you're not familiar with this way of eating, it's time to get on board. Check out my Mediterranean Diet for Two cookbook for lots of inspiration AND to learn about the science behind it.
The Mediterranean diet emphasizes fresh, seasonal, whole foods and limits highly processed foods. By eating this way, you will get so many important healthy benefits from unsaturated and omega-3 fats, fiber, antioxidants, and potassium. It's great for your heart, your body, your brain, and not to mention your taste buds!
I also think chopped salads taste better because you get a little bit of everything in every bite. This Mediterranean chopped salad recipe does require some chopping, so get your knife out! But I promise, the results are well worth it.
Finally, you'll love this recipe because it's flexible, and you can tailor it to your taste and the ingredients you have on hand.
Recipe Ingredients
I've listed everything I like to add to this salad. You can use all of these, some of them, or substitute similar ingredients to your preference. Substitutions are listed in the next section.
See my recipe card below for a complete list of the ingredients with measurements.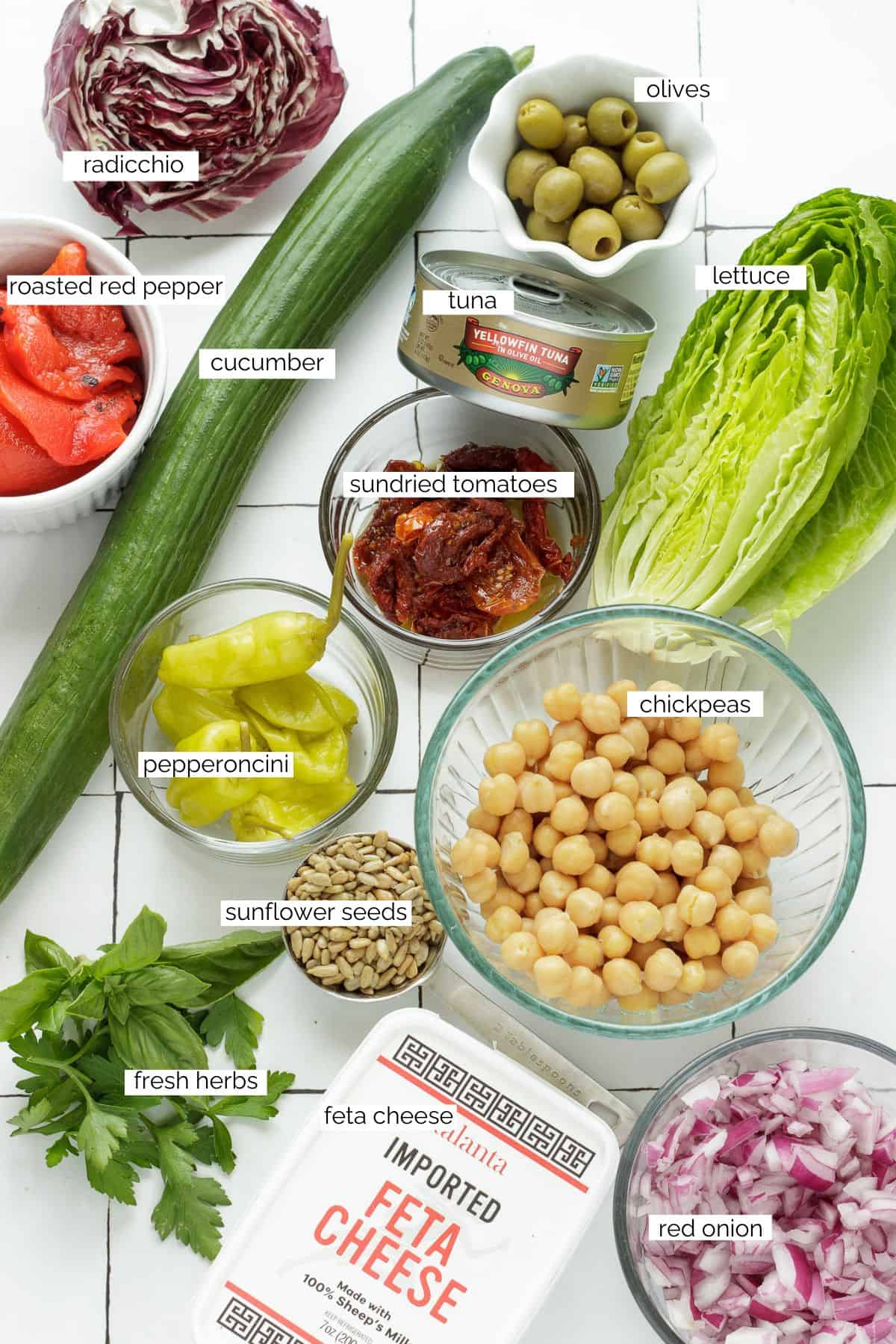 Radicchio adds a nice pop of color and a spicy bite.
Chickpeas. They're a Mediterranean classic and nice and firm so they hold up to some tossing. Chickpeas are also high in protein and fiber, which helps lower your blood sugar and cholesterol.
Sun-dried tomatoes. These add sweetness and intense flavor.
Cucumber. Use an English cucumber or 3-4 small Persian cucumbers. They have fewer seeds, and their skin is thin and tender. I like to peel my cucumber in stripes so there's a little bit of skin but not too much.
Pepperoncini. Mild or hot — it's up to you! They add a nice tang.
Olives. I LOVE a good, briny olive, and they're so good for you — just like olive oil. Green Manzanilla (from Spain) or black Kalamata (from Greece) work equally well. And if you're on the fence about briny olives, try black California olives.
Feta cheese. Another Mediterranean classic. Get good, imported feta that comes in water or brine.
Tuna. It's optional but highly recommended because it adds so much protein and flavor. I like Yellowfin tuna because it's significantly lower in mercury than white albacore tuna.
Fresh herbs. If you have them! Keep reading for a list of my favorites.
Dressing. I've included a simple recipe for balsamic vinaigrette in my recipe card below. You only need a little bit of dressing because the jarred vegetables provide so much flavor and some marinade liquid.
Substitutions and Variations
If you prefer a softer lettuce than romaine, try red leaf or butter lettuce instead. And if you don't like the spicy bite of radicchio, use thinly sliced red cabbage.
If you have fresh, sweet peppers and cherry or grape tomatoes available, you can use them instead of jarred roasted red peppers and sundried tomatoes.
Not a fan of feta? Substitute bocconcini or ciliegine, tiny mozzarella balls or skip it if you want to keep this salad vegan.
You can swap mackerel or sardines for tuna. Both are great Mediterranean diet staples. Or skip the fish if you want to keep this salad vegan.
You can use a few tablespoons of bottled vinaigrette if you don't want to make the homemade dressing. If you add some of the marinade from your vegetables, you can also skip the added dressing.
Step-by-Step Instructions
First, prepare your dressing if using homemade dressing. Combine olive oil, balsamic vinegar, mustard, and pepper in a jar. I don't add salt because there's a lot of salt in the feta cheese and jarred ingredients.
Give it a good shake, and set it aside until you're ready to dress the salad. If you're using bottled dressing, you can skip this step.
Second, Drain your canned goods. Drain and rinse the chickpeas well, and drain any excess liquid from the tuna, olives, sundried tomatoes, roasted red peppers, and pepperoncini.
Third, chop all of your vegetables to about the same size. I aim for about 1 inch, but I mince the onions smaller. Layer everything into a large mixing bowl.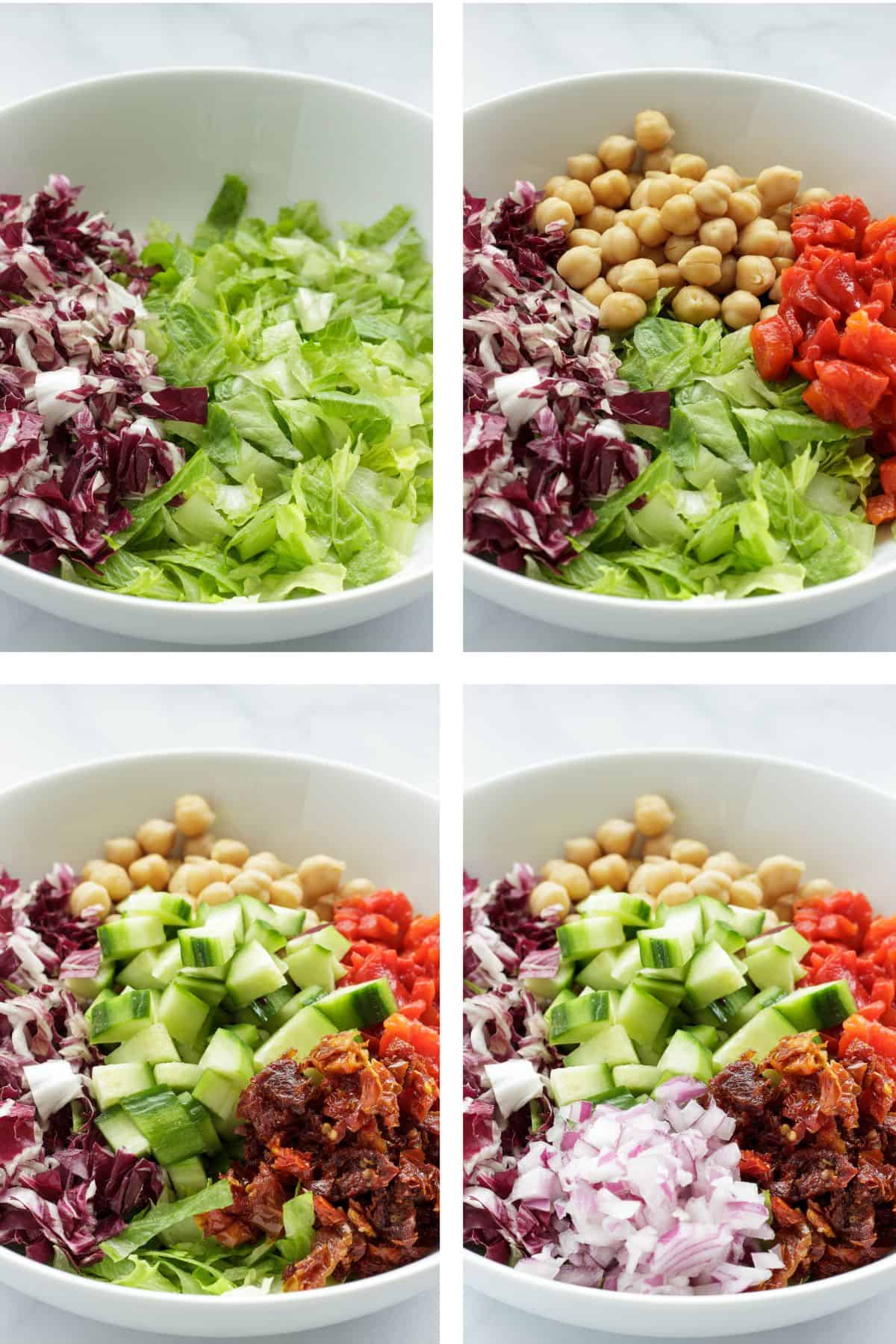 Finally, toss everything well. Add the dressing and toss again. I like to sprinkle the feta on top so it doesn't melt as you're tossing.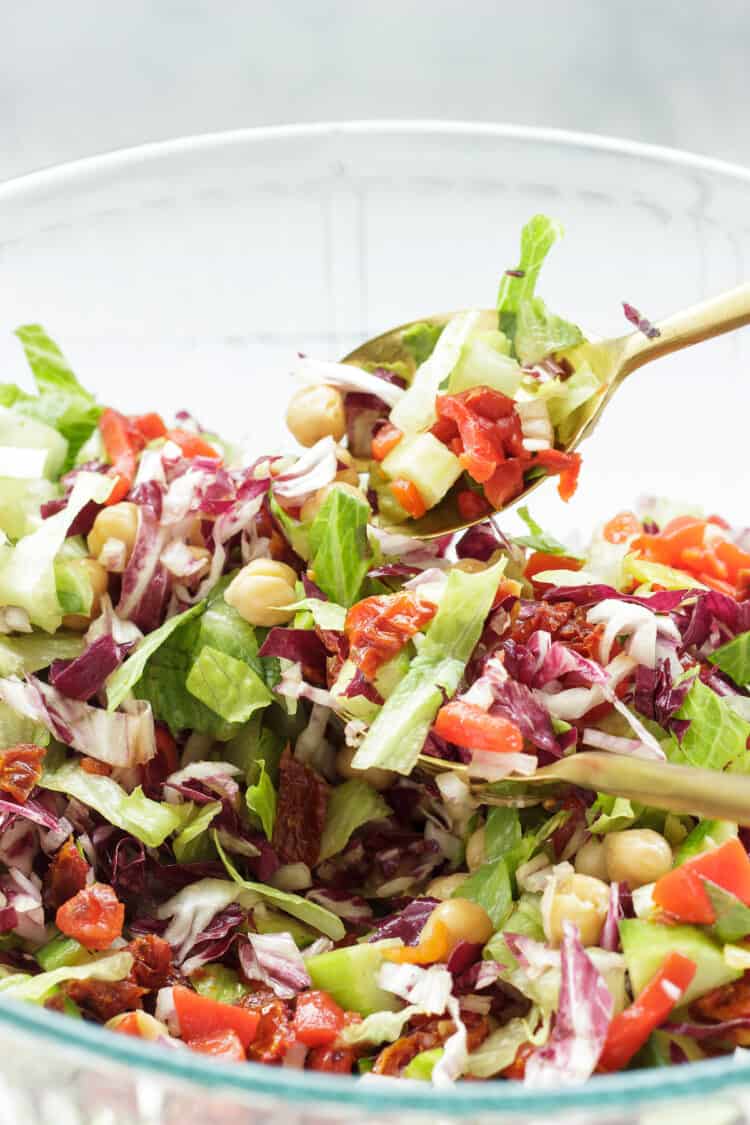 Make sure you have some nice, large bowls for serving up this salad.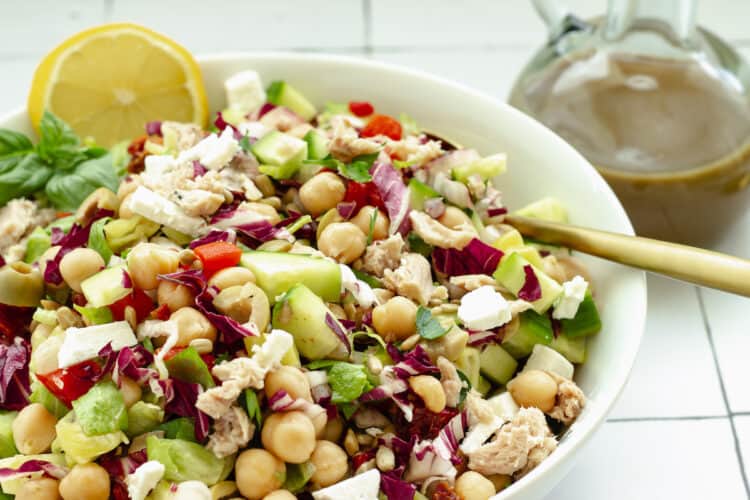 Expert Tips
Chop to a uniform size
Chopping is KEY. The best-chopped salads have all of their components chopped to a similar size, although I do mince my onion smaller. And if you're using hot pepperoncini, you might want to go smaller on those.
I aim for about 1-inch pieces on everything, so you can get a variety of flavors on every forkful.
Dress your salad before serving
Chopped salads are no time for "dressing on the side." You don't need a lot of dressing (in fact, it's OK to completely skip it if you use marinated veggies from a jar), but it's so nice when the dressing coats every forkful. Trust me on this one.
For this salad, you can use a few tablespoons of your favorite vinaigrette. Or try the simple balsamic vinaigrette in the recipe card. It's just olive oil, balsamic vinegar, mustard, garlic powder, and pepper.
Add fresh herbs
If you make this in the summer when your herb garden is overflowing, take advantage and toss in any herbs you like. A little goes a long way, especially with herbs like mint or oregano. Tasty options include:
Parsley
Basil
Oregano
Lemon thyme
Marjoram
Mint
Chives
Tailor it to your liking
This salad is all about flexibility. So if there's something on this ingredient list you love, add more. And if there's something you hate, skip it. All recipes are always better when you make them your own.
How to Eat This Mediterranean Chopped Salad
This salad is satisfying on its own for a light dinner. Any leftovers will be delicious for lunch. serve it with some toasted pita bread, or make a pan of sundried tomato and olive focaccia bread. to serve on the side.
This salad is also great for pizza night. Try it with: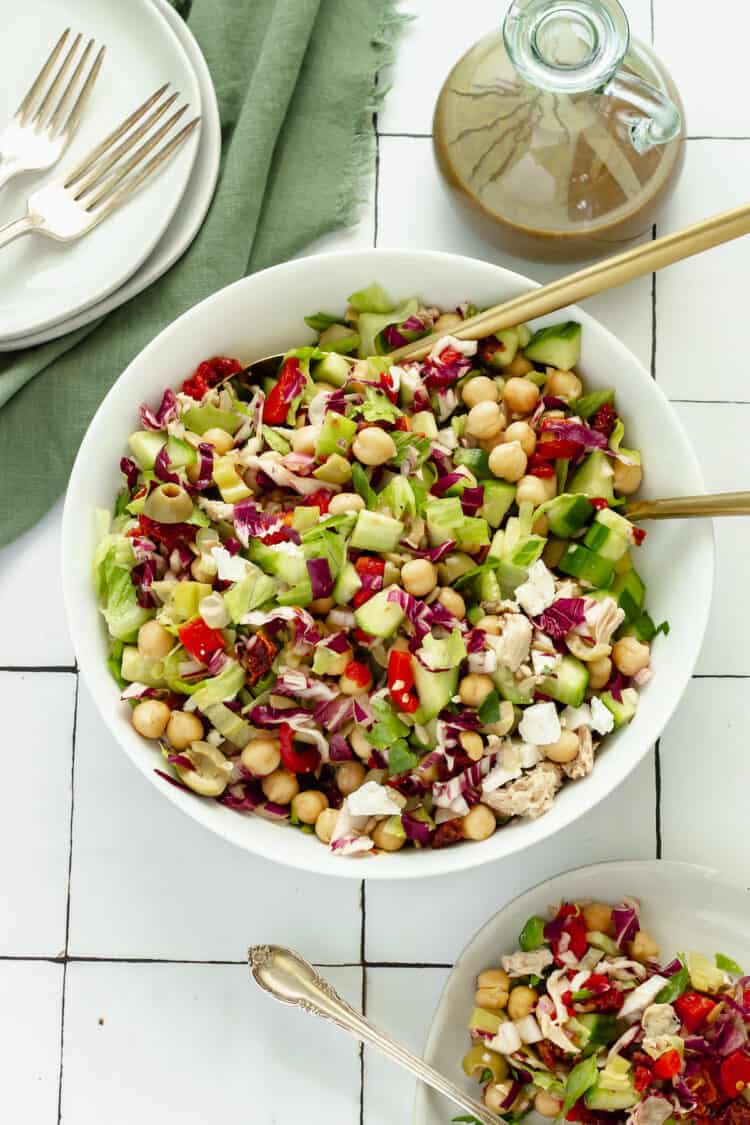 Recipe FAQs
Can you make this Mediterranean chopped salad ahead of time?
You can prep your ingredients a few hours in advance but don't add dressing until you're ready to serve it. Chop everything ahead of time and keep them in separate containers. Then, just toss everything together just before serving.
How do you store leftovers?
Chopped salads always taste best when they're super fresh but leftovers will keep in an airtight container in the refrigerator for a day. If you think you might not finish the entire portion, remove part of it and only add dressing to the portion you'll eat. If you add the dressing to everything, it will be soggy the next day.
Is a Mediterranean chopped salad the same as a Greek salad?
This salad has lots of different flavors from the Mediterranean region, and it's similar to a Greek salad. Greek salads you buy in the US typically feature lettuce, fresh tomatoes, feta, peppers, and olives, in a red wine vinaigrette, but they're not always chopped.
Related Salad Recipes
If you love this salad, don't miss these other fan-favorite salad recipes!
Love this recipe? Please leave a 5-star 🌟🌟🌟🌟🌟rating in the recipe card below & a review in the comments section further down the page.
Recipe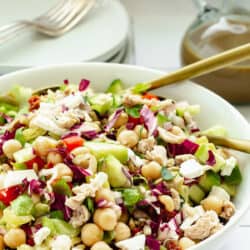 The Ultimate Mediterranean Chopped Salad
A tasty colorful salad that's easy to make with pantry staples and a few fresh ingredients.
Print
Pin
Ingredients
3

Tbs

extra virgin olive oil

2

Tbs

balsamic vinegar

½

teaspoon

dijon mustard

⅛

teaspoon

garlic powder

⅛

teaspoon

ground black pepper

pinch

3

cups

chopped romaine lettuce

from 1 small head

1 ½

cups

chopped radicchio

about half a small head

2

cups

chopped cucumber

15

oz

can chickpeas

garbanzo beans, rinsed and drained

½

cup

chopped roasted red peppers

½

cup

chopped sundried tomatoes

½

cup

chopped pepperoncini

mild or hot

¼

cup

minced red onion

¼

cup

pitted black or green olives

5

ounces

tuna

optional if vegetarian

2

oz

feta cheese

cubed or crumbled ⅛

2

tablespoons

roasted sunflower seeds

3

tablespoons

fresh minced herbs
Instructions
Combine the oilve oil, vinegar, mustard, garlic powder, and pepper in a small jar with a lid. Shake well to combine and set aside.

NOTE: I don't add salt because the feta and jarred vegetables are salty.

In a large bowl, combine the lettuce, radicchio, cucumber, chickpeas, roasted red peppers, sundried tomatoes, pepperoncini, onion, olives, and tuna Toss well.

Add olive oil and vinegar dressing and toss to coat.

Add the feta, sunflower seeds, and fresh herbs. Toss lightly again.

Divide the salad into 4 large bowls and serve immediately.
Notes
If you plan to reserve part of this salad for the next day, don't add dressing to the portion you'll save. Store for up to one day in a covered container.
Since the olives, feta, and some of the other jarred vegetables are salty, don't add salt to your dressing! 
Nutrition
Serving:
6
g
|
Calories:
370
kcal
|
Carbohydrates:
32
g
|
Protein:
19
g
|
Fat:
21
g
|
Saturated Fat:
4
g
|
Polyunsaturated Fat:
4
g
|
Monounsaturated Fat:
10
g
|
Trans Fat:
0.01
g
|
Cholesterol:
25
mg
|
Sodium:
976
mg
|
Potassium:
1029
mg
|
Fiber:
9
g
|
Sugar:
9
g
|
Vitamin A:
3602
IU
|
Vitamin C:
32
mg
|
Calcium:
177
mg
|
Iron:
4
mg