Grilled Vegetable Flatbread Pizza
So the Fourth of July weekend ended with something we've I've been wanting to do for a very long time. Clean out the garage! I know, wa wa wa, kind of a sorry way to spend a long holiday weekend. But hey, it was just a day, not the entire weekend. AND - we got it done. Everything was removed, placed in its respective pile - Toss, Keep, Donate (OK, we did have a few items on the Contemplation pile, but the rule was it couldn't stay there for more than 30 minutes), and the place was swept out and cleaned up. We've been in our home for many years, and it's amazing disgusting how much crap you accumulate. And even more disgusting how hard it is to part with the crap.
Needless to say, after a day of garage cleaning, there will be no fancy dinner cooking. That means something quick and easy, but still nutritious, is in order. For me, that's usually flatbread pizza, and since it's summer, let's make that Grilled Vegetable Flatbread Pizza. Seriously, this is so much quicker than takeout or delivery pizza. Grill up whatever combo of vegetables you have on hand, and arrange them on a slice of grilled flatbread topped with either pesto sauce or tomatoes. I love to use Naan bread for this recipe - although there really isn't a recipe.
I used a combo of grilled zucchini, mushroom, sweet onions, and red peppers, and then I added shredded baby spinach at the end - so it wouldn't burn. I love pesto, but find using it on the bread instead of tomato sauce is just a little bit too pesto-y for me. So I made a lemon pesto sauce and just drizzled it over my pizza. Feel free to let everyone in the family make their own favorite flavor!
Recipe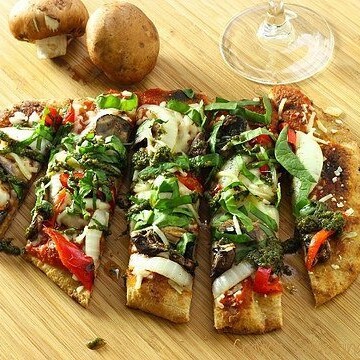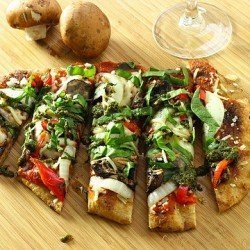 Grilled Vegetable Flatbread Pizza
A quick and easy way to satisfy your pizza craving
Print
Pin
Ingredients
3

cups

Any combination of fresh vegetables

peppers, onions, eggplant, zucchini, summer squash, mushrooms, etc cut into slices

1

tablespoon

olive oil

½

teaspoon

Italian seasoning herb blend

½

teaspoon

kosher salt

¼

teaspoon

ground pepper

1

cup

baby spinach or arugula

⅔

cup

crushed tomatoes

2

slices

naan bread

1

teaspoon

olive oil

¼

cup

grated parmesan cheese
Instructions
Heat grill to high heat.

Toss sliced vegetables, except for leafy greens, in 1 tablespoon olive oil and season with Italian seasoning blend, salt and pepper.

Grill vegetables about 7 minutes or until lightly charred on both sides.

Brush both sides of naan bread with additional teaspoon of oilive oil, and sprinkle lightly with salt.

Grill both sides of bread until lightly toasted.

Reduce grill heat to low.

Spread tomatoes over bread, and top with grilled vegetables and cheese.

Place pizza back on grill and heat for an additional 2-3 minutes, to warm vegetables and melt any cheese.
Notes
Save any leftover vegetables for a salad tomorrow.
Nutrition
Calories:
289
kcal
|
Carbohydrates:
29
g
|
Protein:
10
g
|
Fat:
16
g
|
Saturated Fat:
4
g
|
Polyunsaturated Fat:
1
g
|
Monounsaturated Fat:
7
g
|
Cholesterol:
13
mg
|
Sodium:
1145
mg
|
Potassium:
838
mg
|
Fiber:
5
g
|
Sugar:
9
g
|
Vitamin A:
2070
IU
|
Vitamin C:
45
mg
|
Calcium:
212
mg
|
Iron:
2
mg
Are you a hoarder? When is the last time you cleaned out your garage?
Eat well!