Orange Cardamom Buckwheat Pancakes
These gluten-free buckwheat pancakes are so packed with flavor – and they're much higher in fiber and protein than your average pancakes. You really should make a batch right now!
Don't get me wrong – I love fresh berries and eat them almost every day. But by November, I start to get a little antsy for something different. It happens every year, and then, magically – ORANGES! I'm seeing them all over the place, and I've missed them so much!
Nothing tastes better than a fresh, juicy orange. Don't you think?
I don't often cook with them, unless I find blood or Cara Cara oranges. Then I love to make my blood orange spiced shrub mix (so good for the holidays) or turn them into a showstopping salad. But most of the time, I prefer to enjoy oranges as a snack, just as they are.
Except that I was dreaming about these pancakes. And cardamom (have you ever used it? So fragrant). And buckwheat And, I thought fresh orange segments would be so perfect in this recipe.
I'm not a huge pancake person, because I don't like that many carbs in the morning. They just don't sit well with me. I get kind of a crash and burn hypoglycemia reaction an hour or two after eating pancakes.
But I had a bag of buckwheat flour in my fridge and I wondered how it would work in pancakes. Buckwheat flour is still carbs, but with more protein and fiber. That means it has a lower glycemic index than regular white flour. It also doesn't give you that spike in your blood sugar after you eat it.
Buckwheat is a grain (technically a pseudo-cereal like quinoa), but despite its name, it's wheat-free. Thus, it's also gluten-free.
It has a rich, nutty flavor, which I really like. Buckwheat is also quite nutritious. It's high in antioxidants and the kind of fiber that lowers your blood sugar and cholesterol, and helps keep you feeling more full for longer.
Do you have cardamom in your spice rack? If you've never used it in cooking or baking, you're in for a treat. It's delicious on baked pears or apples, and so many baked goods.
Cardamom is often used in Indian cooking, and it's and so warm, exotic, and aromatic. And, it's really good in pancake batter.
These pancakes have a hint of orange flavor from orange extract – but I like to top them with extra orange segments. If you're never segmented an orange before, it can be a bit tricky the first time. The video below explains it really well. Soon you'll want to add segmented oranges to everything!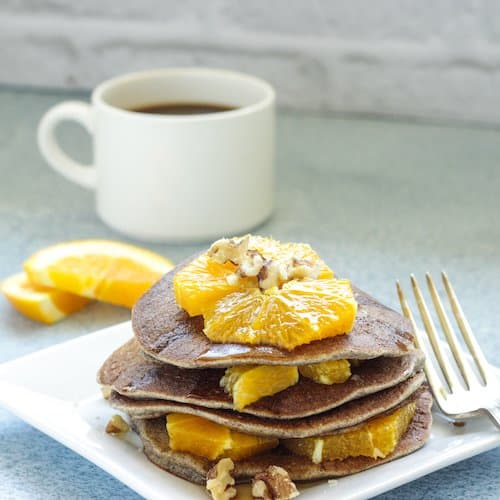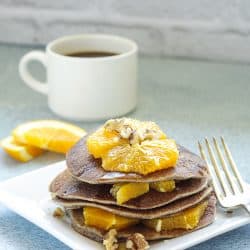 Orange Cardamom Buckwheat Pancakes
A delicious, spice-infused, gluten-free breakfast treat
Print
Pin
Rate
Ingredients
1

medium

navel orange

1/2

cup

buckwheat flour

1/2

teaspoon

cardamom

1/4

teaspoon

baking soda

1/2

teaspoon

baking powder

1/2

cup

milk

1/4

cup

plain Greek yogurt

nonfat or lowfat

1

large

egg

1/2

teaspoon

orange extract

1

tablespoon

maple syrup

optional

maple syrup, Greek yogurt, chopped walnuts

optional for topping
Instructions
With a sharp paring knife, slice the two ends off of the orange and then slice off the peel. Slice each segment from between the membranes, to segment the orange. See the video above if you're not sure how to do this!

If desired, reserve the juice and stir it into some maple syrup for topping. Set the orange segments aside.

In a mixing bowl, combine the buckwheat flour, cardamom, baking powder, and baking soda.

In another bowl, combine the milk, yogurt, egg, orange extract, and maple syrup (if using) and whisk well to combine.

Add the wet ingredients to the dry ingredients and stir until the batter is smooth.

Heat a nonstick skillet or griddle over medium heat. Test to see if it's hot enough by dropping a drop of water onto the pan. When it sizzles, the pan is ready.

Pour the batter into the pan to make four 6-inch pancakes.

Top each portion with half of the orange segments and a drizzle of maple syrup or a scoop of yogurt if desired.
Nutrition
Calories:
240
kcal
|
Carbohydrates:
42
g
|
Protein:
12
g
|
Fat:
4
g
|
Saturated Fat:
1
g
|
Cholesterol:
97
mg
|
Sodium:
213
mg
|
Potassium:
571
mg
|
Fiber:
5
g
|
Sugar:
17
g
|
Vitamin A:
424
IU
|
Vitamin C:
41
mg
|
Calcium:
212
mg
|
Iron:
2
mg
I like this recipe so much I included it in my Mediterranean Diet for Two Cookbook. Did you get your copy yet?
Eat well!