Orange Spiced Buckwheat Pancakes (Higher Protein)
If you love pancakes but not how they spike your blood sugar, you MUST try these delicious Orange Spiced Buckwheat Pancakes. Buckwheat is a naturally gluten-free, wheat-free whole grain with significantly higher fiber and protein compared to other grains like wheat or oats.
Buckwheat flour is also a great source of slowly digested, long-lasting complex carbs that won't spike your blood sugar.
The healthy carbs, fiber, and protein in buckwheat flour (plus the other protein-packed ingredients in this recipe) make these pancakes healthier, with more protein and a much lower glycemic index than regular wheat or even oat-based pancakes.
That means if you have diabetes or prediabetes or just prefer to eat lower glycemic foods, these yummy buckwheat pancakes should be OK for you (in moderation, of course)!
Of course, eggs are another healthy, low-carb option, so make sure you don't miss my egg muffin cups recipe. They're great to prep ahead of time and keep in the freezer.
Keep reading to learn more about the health benefits of buckwheat and how to make these light, fluffy, orange-flavored pancakes in minutes.
Are Buckwheat Pancakes Healthy?
Buckwheat flour used to make these pancakes is incredibly healthy because it's full of:
Prebiotic fiber that feeds your gut bacteria
Complete protein (all nine essential amino acids) to promote muscle growth
A wide range of essential vitamins and minerals
Antioxidants which protect your cells, including one called rutin, which studies show improves circulation and prevents LDL (bad) cholesterol from blocking your blood vessels.
Despite the word "wheat" in its name, buckwheat is naturally wheat-free and gluten-free. Technically, buckwheat isn't even a grain. It's a pseudo-grain (like quinoa), but because it looks, cooks, and acts like a grain, most people just call it a grain. Buckwheat grains are called "groats." You can cook them, eat them whole (like quinoa or barley), or buy them ground into flour.
You might be surprised to learn that buckwheat is actually a cousin of rhubarb. It's been grown and harvested around the world for thousands of years. It's the primary ingredient in Asian soba noodles, the Eastern European porridge called kasha, and Russian blinis (crepe-like pancakes).
Buckwheat nutrition
Unlike wheat flour, buckwheat flour is pretty much always whole grain, meaning it's not refined and stripped of its essential nutrients. Compared to regular wheat flour, buckwheat is:
lower in calories
lower in carbs
MUCH higher in fiber (12g of fiber in a cup of buckwheat flour vs 3g in a cup of wheat flour)
higher in protein
higher in healthy fats
higher in minerals like phosphorus, magnesium, copper, and manganese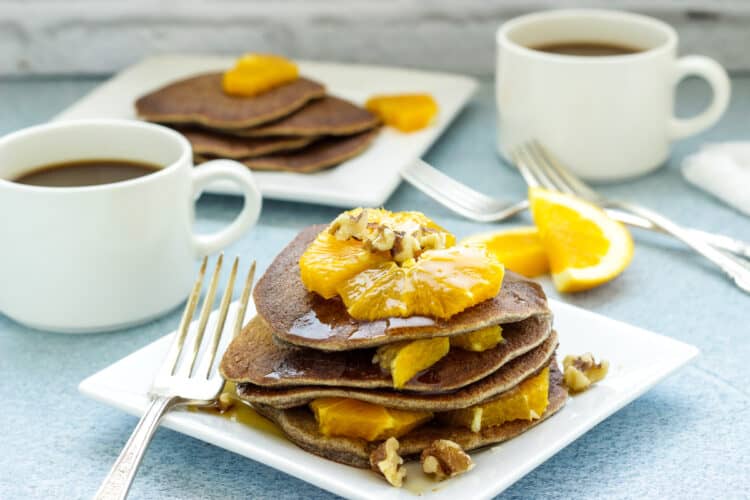 Prebiotic fiber
One of the things I like best about the buckwheat flour in these pancakes is that it's a source of resistant starch and prebiotic fiber. That helps feed the friendly bacteria living in your gut.
Resistant starch also promotes healthier blood sugar, and it's helpful for weight management. Besides buckwheat, resistant starch is also in foods like cooked, chilled potatoes (aka potato salad), jicama, and cooked cooled rice.
Because of its fiber and resistant starch, buckwheat is considered a low glycemic food, coming in at around 50 on the GI scale. That, plus the addition of the other high protein ingredients like eggs, Greek yogurt, and kefir, make these higher fiber buckwheat pancakes a low glycemic breakfast.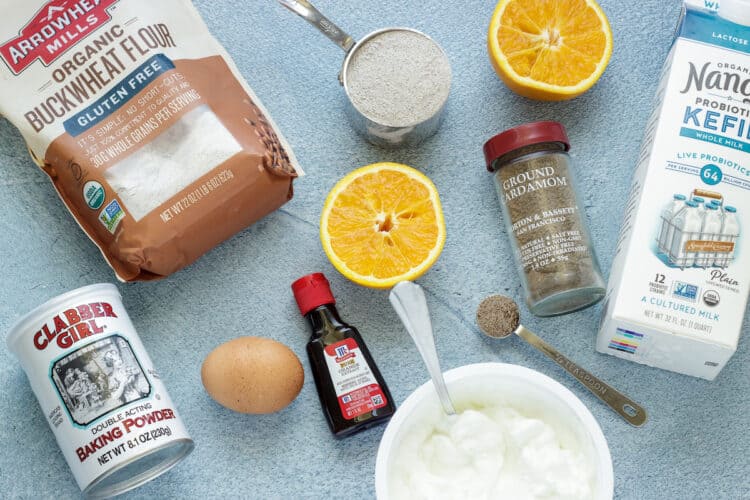 Ingredients (and Substitutions) For Buckwheat Pancakes
Some buckwheat pancake recipes use a blend of buckwheat plus other flour, but I use only buckwheat flour to get maximum health benefits. It has a darker color and deep, nutty, almost dark chocolate flavor, which I love in this recipe.
Other flours: If you prefer a lighter pancake, you can substitute white or whole wheat flour for about ⅓ of the buckwheat flour. You can also swap some almond or coconut flour if you want to reduce the carbohydrates.
Kefir: I like to use this as my liquid for the batter. Kefir is probiotic-rich yogurt milk with a nice tang. The live bacteria in kefir complement the prebiotic fiber in buckwheat because prebiotic fiber feeds the bacteria and keeps them happy and healthy. Kefir also helps boost the protein in these pancakes. But, if you're not a fan of kefir, try regular cow's milk, buttermilk, or plant milk alternative. But FYI — soy is the only plant milk that provides significant protein.
Baking powder and baking soda: Because buckwheat doesn't have gluten, these pancakes need a little boost to help them rise. I find that just a little baking powder and baking soda make them light and fluffy. You can leave it out if you don't have it, but your pancakes will be denser.
Protein: I use plain Greek yogurt and an egg to help boost the protein in this recipe. They also add moisture and structure to the pancakes. If you prefer to keep this plant-based, you can skip them and add a scoop of vegan protein powder instead. However, your pancakes will be drier.
Flavoring: These orange-flavored pancakes get their orange flavor from some orange zest and a bit of orange extract. It's so much more intensely flavored than orange juice. I love to keep an assortment of extracts on hand (lemon, maple, peppermint, almond, and vanilla) because they add such a pop of flavor. Swap any other extract and skip the zest if you want to mix things up. Peppermint extract would be fun with my Dark Chocolate Protein Pancakes.
Spices: I love the combination of orange and cardamom, so that's what I went with here. Cardamom is a warm, fragrant spice often used in Indian cooking. If you don't like cardamom or don't have any, other good choices that would work well with orange include cinnamon, nutmeg, allspice, coriander, or ginger.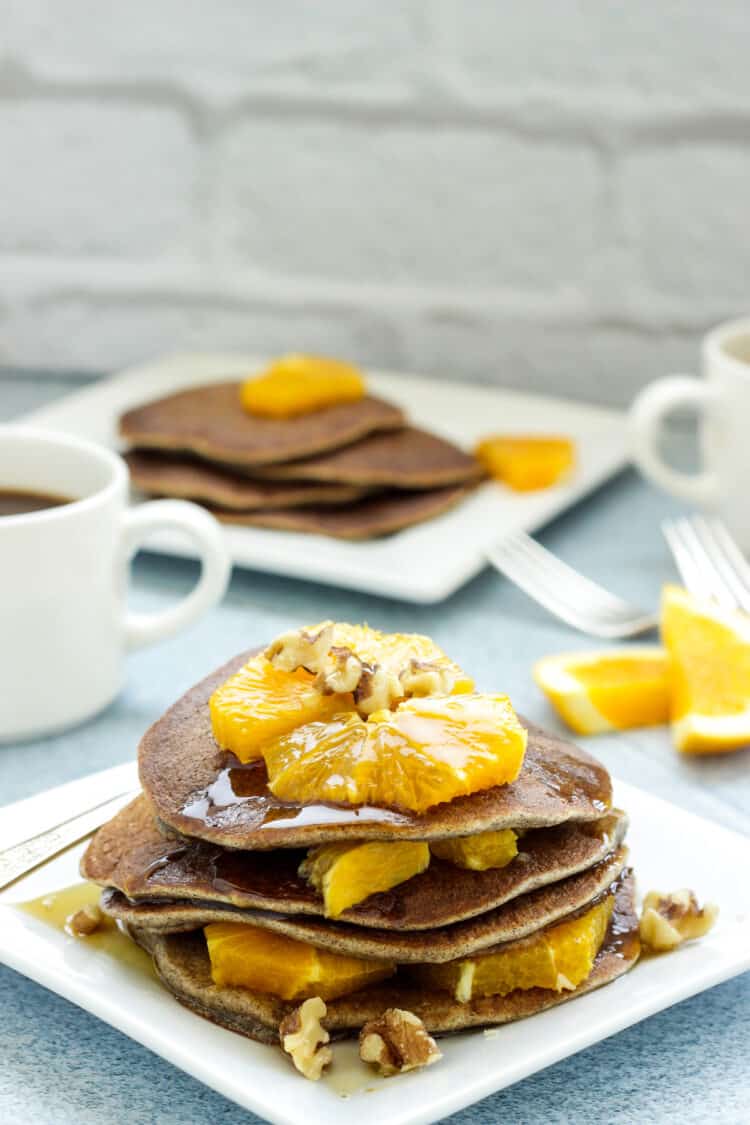 Other FAQs About Buckwheat Pancakes
Where can you buy buckwheat flour?
I find it at my regular grocery store or a natural foods store like Sprouts, or Whole Foods. It's also easy to find on Amazon. I like Bob's Red Mill brand and Arrowhead Mills brand Both are organic.
What can I top these pancakes with?
I recommend a handful of toasted walnuts and fresh orange segments if oranges are in season. If not, you can usually find clementines (tangerines) year-round. A handful of dark chocolate chips on top or mixed into the batter would also be delicious with the orange flavor. Add an extra scoop of Greek yogurt or cottage cheese mixed with fresh-squeezed orange juice and some zest for even more protein.

Go easy on the syrup, though! It's full of sugar, so you won't get these pancakes' low glycemic benefits. If you want syrup, use one that's sweetened with Monfruit, erythritol, or stevia, and add a squeeze of fresh orange juice and orange zest.
Can you freeze these pancakes?
Yes! It's so easy to make a few extra pancakes and then you'll have them for another meal. Just lay them on a cookie sheet to cool, then stack them, placing a small piece of parchment paper between each one. Keep them in the freezer for up to a month. To rewarm them, microwave for about 30 seconds each or until hot inside. Or pop them in a toaster.

Why do my first few pancakes never turn out?
That happens to me too! I believe it's because the temperature in your pan isn't quite right. Use a good nonstick or cast iron skillet. Let your pan heat up. Test the heat by dropping one drop of water into the pan. If the water jumps, your pan is ready.

Your skillet has to be not too hot or not too cool, and often, the best way to tell is by actually making a pancake. So, make just one small pancake for your first batch instead of making a whole batch and risking them being under or overcooked. That way, even if it doesn't work out, you'll only have wasted one pancake!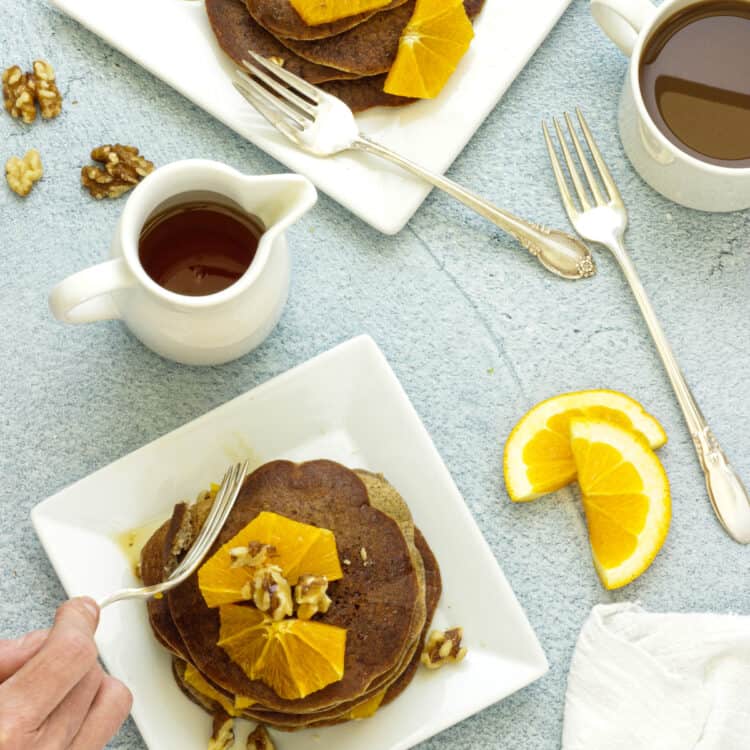 Recipe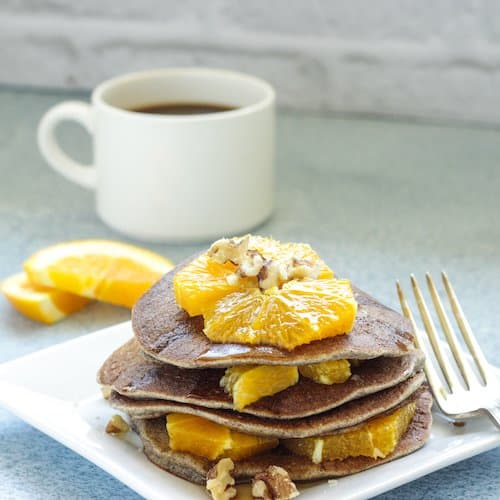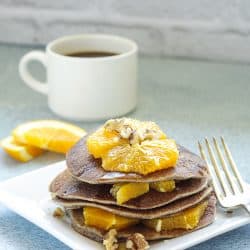 Orange Spice Buckwheat Pancakes
A delicious, spice-infused, gluten-free breakfast treat
Print
Pin
Ingredients
1

medium

navel orange

½

cup

buckwheat flour

½

teaspoon

cardamom

or substitute

¼

teaspoon

baking soda

½

teaspoon

baking powder

½

cup

plain kefir

¼

cup

plain Greek yogurt

nonfat or lowfat

1

large

egg

½

teaspoon

orange extract

1

tablespoon

maple syrup

optional

maple syrup, Greek yogurt, chopped walnuts

optional for topping
Instructions
Zest the orange and set it aside.

With a sharp paring knife, slice the two ends off of the orange and then slice off any remaining peel. Slice each segment from between the membranes, to segment the orange.

If desired, reserve the juice and stir it into some maple syrup for topping. Set the orange segments aside.

In a mixing bowl, combine the buckwheat flour, 1 tablespoon of the orange zest, cardamom (or other spice if using), baking powder, and baking soda.

In another bowl, combine the kefir, yogurt, egg, orange extract, and maple syrup (if using) and whisk well to combine.

Add the wet ingredients to the dry ingredients and stir until the batter is smooth.

Heat a nonstick skillet or griddle over medium heat. Test to see if it's hot enough by dropping a drop of water onto the pan. When it sizzles, the pan is ready.

Pour the batter into the pan to make four 6-inch pancakes.

Top each portion with half of the orange segments and a drizzle of maple syrup or a scoop of yogurt if desired. Mix any remaining zest into the maple syrup or yogurt.
Nutrition
Calories:
253
kcal
|
Carbohydrates:
42
g
|
Protein:
12
g
|
Fat:
6
g
|
Saturated Fat:
2
g
|
Polyunsaturated Fat:
1
g
|
Monounsaturated Fat:
1
g
|
Trans Fat:
0.01
g
|
Cholesterol:
102
mg
|
Sodium:
218
mg
|
Potassium:
488
mg
|
Fiber:
5
g
|
Sugar:
17
g
|
Vitamin A:
432
IU
|
Vitamin C:
41
mg
|
Calcium:
215
mg
|
Iron:
2
mg
I like this recipe so much that I included it in my Mediterranean Diet for Two Cookbook. Did you get your copy yet?
Eat well!