Light Tangy Old Fashioned Potato Salad
Do you try to stay away from potato salad because you think it's full of blood-sugar-spiking, high glycemic index starch? Well, actually, there's some good news about America's favorite cookout salad, so read on to find out why it's actually a pretty healthy choice.
But first, let's start with the obvious question. Vinegar or Mayo?
When it comes to potato salad, the camp is divided and I'm definitely team mayo. None of that French-style all-vinegar potato salad for me. I make mine with baby red bliss potatoes, skins on, some chopped hard-boiled egg, and good-quality mayo. Just like mom's potato salad. #SorryNotSorry
OK, I do lighten mine up a tad by cutting the mayo back just a bit and mixing it with some vinegar and mustard to bump up the tang factor. I also love to brighten it up with some fresh dill. I don't like it too thick and creamy, more like a light, fresh creamy dressing.   
BTW - did you know that it's really easy to make homemade mayonnaise?  Just grab some fresh egg yolks, fresh lemon juice, and olive oil and start whisking. If you prefer to buy mayo, just look for one that's made with good-quality ingredients like olive oil and organic eggs.
Since the 4th of July will be here before we know it, I thought it would be a good time to talk about potato salad. It's probably America's all-time favorite cookout salad after all.
Lots of people think potato salad is a guilty pleasure food, because - POTATOES.
Well, guess what?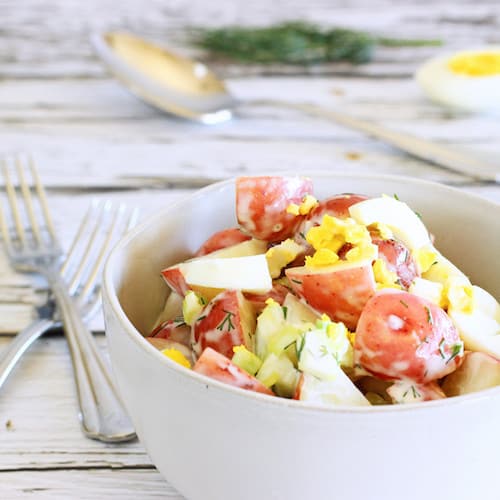 If you're gonna eat potatoes, potato salad is probably the healthiest way to eat them.
Here's why...
We all know potatoes are high in starch. Starch is a form of complex carbohydrate, and it's actually a good fuel for our body. The reason white potatoes are frequently shunned, is because they have a pretty high glycemic index. That means they raise your blood sugar higher and faster than sweet or purple potatoes.
Well, it turns out when you boil potatoes and then cool them, much of that starch changes form, and becomes resistant starch. As the name implies, resistant starch resists digestion. Instead, it serves as a prebiotic food for the healthy bacteria in our gut.
The same thing happens to rice, which means it's a great starch to add to a salad or my Chicken, Berry & Brown Rice Bowls.
But wait, there's more... Boiled and cooled potatoes have a much lower glycemic index.
Here's one more good bit of news for anyone who is worried about what potato salad might do to their blood sugar. I came across this study which found that eating cooled potatoes with a bit of vinegar sauce (kind of like my tangy mayo-vinegar mixture) reduces the glycemic response even more.
Yes indeed, potato salad is good for our gut microbiome AND it doesn't spike our blood sugar! You're welcome.
Now, that doesn't mean that you can eat all of the potato salad you can get your hands on, but by all means, enjoy a serving at your cookout, or make a batch and eat it as a side with your grilled chicken or salmon. It's a lot better for you than you thought!
Recipe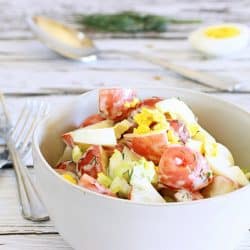 Light Tangy Old Fashioned Potato Salad
A lightened up version of your favorite classic summer salad
Print
Pin
Ingredients
2 ½

pounds

small red bliss potatoes, quartered or cut into bite-sized pieces

2

teaspoons

kosher salt

3

eggs

hard boiled

peeled and chopped

4

stalks

celery

diced

4

green onions

minced

1

cup

mayonnaise

¼

cup

white wine vinegar

2

teaspoons

Dijon mustard

1

tablespoon

sugar

¼

cup

fresh dill

minced

½

teaspoon

kosher salt

or to taste

⅛

teaspoon

ground pepper
Instructions
Place the potatoes into a pot, and cover with water. Add the 2 teaspoons of salt, and bring to a boil.

Reduce the heat to low, and let the potatoes simmer until they are just fork-tender.

When the potatoes are cooked, drain them in a colander and let them cool for about 15 minutes.

While the potatoes are cooling, prepare the vegetables and eggs as directed above.

Mix together the mayonnaise, vinegar, mustard, dill, salt, and pepper.

Add the eggs, celery, and onions to the cooled potatoes, and pour the dressing over everything. Stir gently to combine everything.

Taste, and adjust seasoning as needed.

Chill the potato salad until ready to serve. Keep any leftovers refrigerated in a covered container for up to 4 days.
Notes
Store leftovers in the refrigerator for up to 4 days.
Nutrition
Serving:
0
g
|
Calories:
243
kcal
|
Carbohydrates:
20
g
|
Protein:
3
g
|
Fat:
17
g
|
Saturated Fat:
3
g
|
Polyunsaturated Fat:
10
g
|
Monounsaturated Fat:
4
g
|
Trans Fat:
0.04
g
|
Cholesterol:
11
mg
|
Sodium:
770
mg
|
Potassium:
589
mg
|
Fiber:
2
g
|
Sugar:
3
g
|
Vitamin A:
235
IU
|
Vitamin C:
12
mg
|
Calcium:
27
mg
|
Iron:
1
mg
Do you prefer a mayo or vinegar-based potato salad? Do you make it or buy it?
Eat well!