Forget your old run-of-the-mill fruit salad! Did you know you can make a pudding out of fresh, seasonal fruit - like melons? It's true. And I did. Let me introduce you to melon pudding!
These watermelon, cantaloupe, and honeydew puddings are so fun and pretty and will impress your guests.
I had a thought the other day - whoever decided that Nutrition should be a career, must have made that decision in July. I think it went something like this… "Wow, these fresh fruits and vegetables are everywhere, and they're so sweet, colorful, and dee-licious! I think I need to teach people about why they're so good for you, and how eating them every day can keep you healthy and happy!"
You know that mind-conversation couldn't possibly have happened in January or March, right? But July was MADE for healthy eating, and it is indeed a registered dietitian's favorite month!
Everything is in season right now, and I've been pickling, creating new salads, living on juicy, ripe peaches and berries, and OH the melons! Gorgeous! So, how perfect, that this month's Recipe ReDux challenge is to show how we're using our bounty of July produce. I mean, where to begin?
I haven't been able to resist melons lately. There are so many to try – I'm loving those little personal, seedless watermelons that I see everywhere. And cantaloupe is so super sweet right now. And honeydew. Yes please! I picked up all three the other day and decided to experiment a bit with a melon pudding recipe that was inspired by Food52.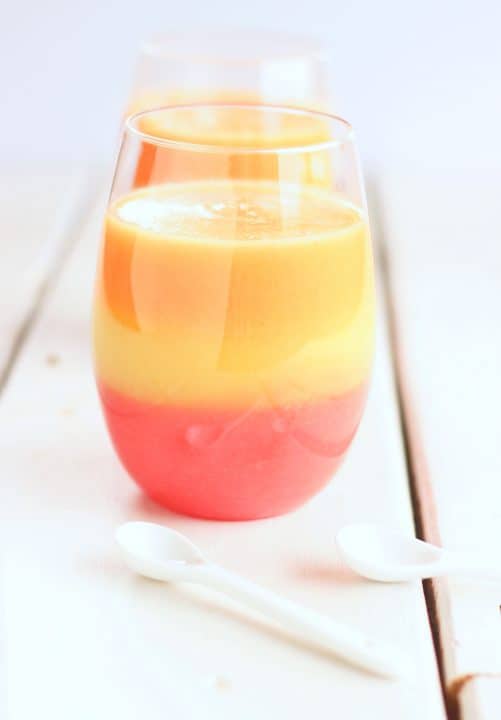 Shut the front door! Are these little melon puddings almost too pretty to eat or what? This is my grown-up version of the melon fruit salad. Everything in one bowl, but served in a new and surprising way.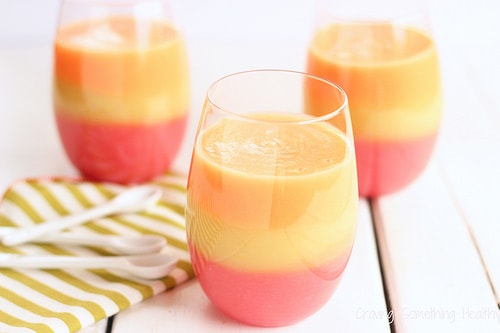 Remember the other day when I shared my Watermelon Lime Snow Bowls? I said to "reserve the watermelon juice for another purpose" and I'm sure you were thinking what purpose could watermelon juice have… Well, it's time to pull out the juice and use it to make melon pudding.
You could make this pudding with just one type of fruit (easiest), but if you're having company, or have some extra time on your hands, it's actually very easy to use several fruits and make the layers. SO pretty!
Recipe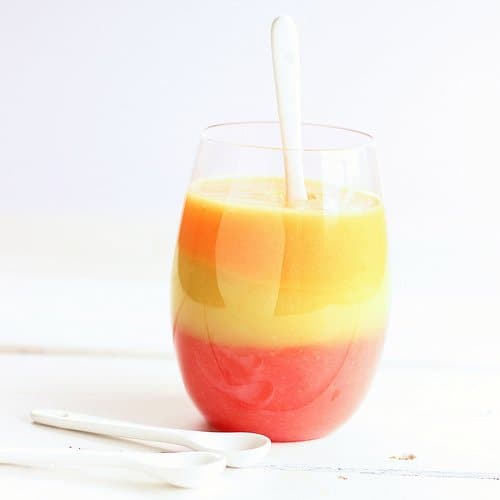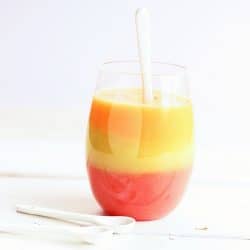 Summer Melon Pudding
A surprisingly delicious way to enjoy fresh summer melons
Print
Pin
Ingredients
4

cups

watermelon

cut into cubes

4

cups

cantaloupe

cut into cubes

4

cups

honeydew melon

cut into cubes

1

cup

organic or GMO free cornstarch

divided

6

tablespoons

sugar

divided
Instructions
To Make the Layers:
Puree one fruit at a time in a food processor or blender, until it is smooth.

Strain fruit puree through a mesh strainer to remove any pulp (save pulp to make fruit ice)

You should have approximately 2 cups of each type of fruit juice.

Mix ½ cup of each type of fruit juice with ⅓ cup of cornstarch. Whisk well to remove all lumps and add the cornstarch mixture back to the juice.

Working with one flavor at a time - place the juice/cornstarch mixture in a small saucepan set to high heat, and add 2 tablespoons of sugar (or to taste).

Stir constantly, and bring juice to a boil. Reduce heat to low and whisk well until the juice is thickened and smooth. Transfer to a 2 cup measuring cup for easier pouring, and divide the pudding evenly between 6 glasses or serving bowls.

Let the pudding cool in the freezer for about 10 minutes and then repeat with the remaining fruit layers.

Chill in the refrigerator for at least 2 hours and serve.
Notes
Recipe inspired by Food52
Nutrition
Serving:
0
g
|
Calories:
235
kcal
|
Carbohydrates:
58
g
|
Protein:
2
g
|
Fat:
1
g
|
Saturated Fat:
0.1
g
|
Polyunsaturated Fat:
0.2
g
|
Monounsaturated Fat:
0.05
g
|
Sodium:
55
mg
|
Potassium:
540
mg
|
Fiber:
2
g
|
Sugar:
36
g
|
Vitamin A:
4241
IU
|
Vitamin C:
40
mg
|
Calcium:
24
mg
|
Iron:
1
mg
What's your favorite summer produce (can you even pick just one?!)
How do you eat it?
Eat well!
SaveSave
SaveSave
SaveSave
SaveSave
SaveSave
SaveSave
SaveSave
SaveSave
SaveSave
SaveSave
SaveSave