Watermelon Lime Snow Bowls
Here's that the dictionary says about Dessert:
des·sert
dəˈzərt/
noun
the sweet course eaten at the end of a meal.
"a dessert of chocolate mousse"
Did someone say chocolate mousse? Yes please! I'm definitely one of those people who likes something sweet after dinner. Not lunch. Just dinner. For me, it's definitely a mental thing. If I have cake, cookies, ice cream or maybe I really struck gold and have chocolate mousse in the house, it MUST be eaten after dinner. However, if I have nothing "dessert-y" in the house, I'm good with a piece of fruit. Because I'm a good little nutritionist, I usually have fruit. Sigh...
Well, a piece of fruit is B-O-R-I-N-G, and summer melons are here! They're super sweet, refreshing (cause they're so full of water), and a great source of vitamin C, beta-carotene, potassium and lots of healthy antioxidants.
Because of their high water content, melons (especially watermelons) make for a delicious frozen treat - kind of like snow cones, but I eat mine in a bowl. So much more fun than a piece of fruit!
If you have an ice cream maker
, throw the watermelon puree right in, turn it on, and eat dinner. By the time you're finished (and maybe clean up a bit), you'll have perfectly semi-frozen watermelon slush. If you don't have an ice cream maker (why not???) never fear. Just start this a bit earlier, because it will take a few hours to freeze.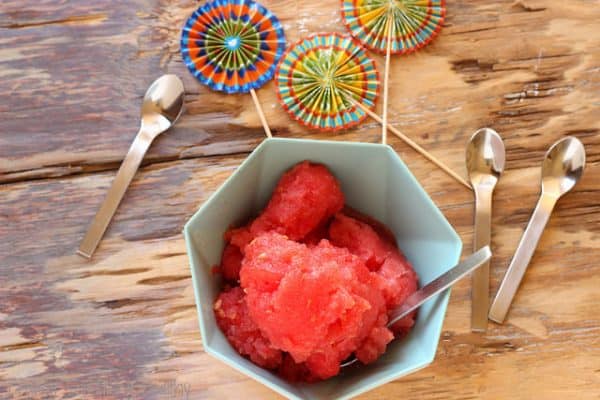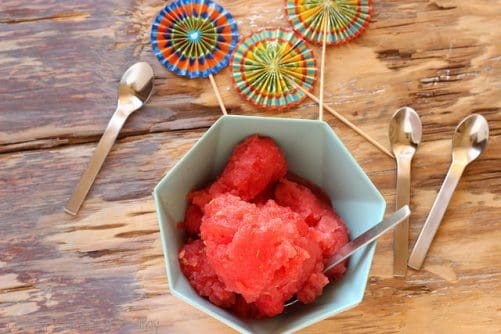 This tastes like a grown-up snow cone. To make it even better for grown ups, consider adding some rum to the mix. Whaat? You DID NOT hear that from me 🙂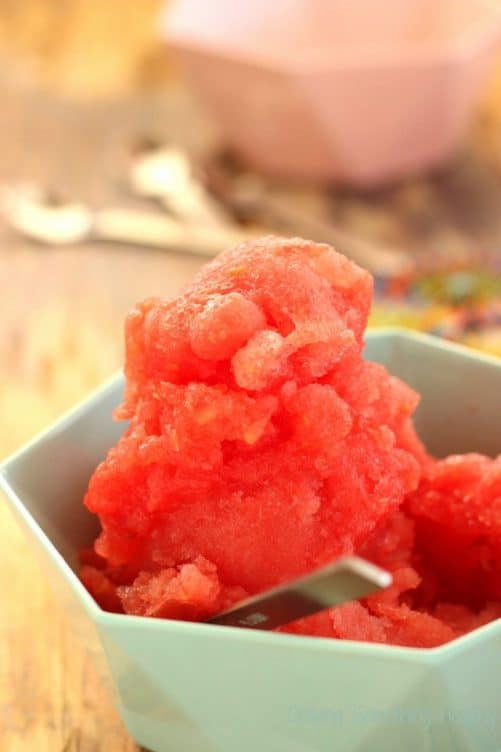 Recipe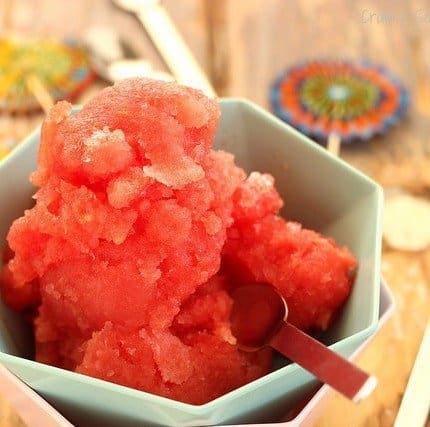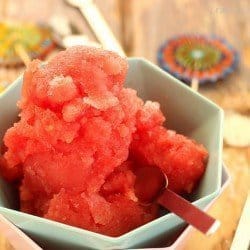 Ingredients
12

cups

seedless watermelon

cubed, from 1 medium watermelon

½

cup

sweetener

sugar, honey, maple syrup

zest and juice of 1 lime
Instructions
Puree the watermelon in batches, using a food processor or blender.

Pour the puree into a mesh strainer to separate the liquid from the pulp.

Save the pulp, and if desired, reserve the juice for another use.

In a large mixing bowl, add sweetener to taste (if your melon is very sweet, you may need less), along with lime juice and zest. You will have approximately 6 cups of watermelon pulp.

Mix well, and pour contents into the frozen bowl of an ice cream maker.

Churn for about 30 minutes, and serve.

If you don't have an ice cream maker, pour the contents into an 8 x 8 metal baking pan and freeze for about 1 hour. Remove from the freezer and break up any frozen parts with a fork. Cover with foil, and return the pan to the freezer for about 1 ½ more hours.

Store any leftovers in a covered container in the freezer. Before serving, let sit out for 20 minutes or microwave for 20-30 seconds so ice is easier to break apart and serve.
Notes
Recipe adapted from Bon Appetit. 
Freeze leftovers. Let thaw for about 20 minutes for easier serving.
Nutrition
Calories:
91
kcal
|
Carbohydrates:
40
g
|
Protein:
2
g
|
Fat:
0.5
g
|
Saturated Fat:
0.05
g
|
Polyunsaturated Fat:
0.2
g
|
Monounsaturated Fat:
0.1
g
|
Sodium:
3
mg
|
Potassium:
340
mg
|
Fiber:
1
g
|
Sugar:
19
g
|
Vitamin A:
1730
IU
|
Vitamin C:
25
mg
|
Calcium:
21
mg
|
Iron:
1
mg
Do you have to have something sweet after a meal? What's your fave sweet?
Eat well!