Summer Green Bean Salad with Grilled Halloumi
This summer green bean salad is the best way to enjoy those late summer green beans and tomatoes. Pair them with some salty grilled Halloumi cheese and a sprinkle of bacon and dinner is done!
Oh hi, and happy end of summer!  I know technically summer doesn't end for a few more weeks, so why does Labor Day weekend always feel like it's over?  If you're a gardener, you're probably knee deep in amazing tomatoes, and maybe some green beans?  Not me, unfortunately, because with temps still in the low 100s, it's just too hot for those veggies.
I did, however, run into my old friends green beans, tomatoes, and Halloumi the other day when I was at Whole Foods, and we decided to have a lovely late summer salad for dinner.
Have you ever had grilled Halloumi?  If you're not quite sure what I'm talking about, I'll explain, because I remember the first time I ever saw it on a menu and thought, WT (heck) and I just jumped in and tried it.  I ordered it in a restaurant and honestly, I thought maybe it was a type of fish... I didn't want to appear un-foodie-like, so I just went with it, and pretended I've eaten it all of my life.  Turns out it's cheese.
Greek cheese, which is just kind of cool, 'cause, Greece.  And it's got this crazy-firm texture, so it doesn't really melt when you grill it.  It just gets a lovely, deep, smokey, salty flavor which is so totally divine that you just want one more piece.  Please run right out the the cheese department of your nearest slightly upscale grocery store and try it.  You will be pleasantly surprised.
Oh, and green beans.  They're so hard to judge.  Nothing worse than tough and rubbery green beans, so take advantage of summer beans, and pick the ones that are a bit thinner and nice and crisp looking, and just enjoy them while you can.
I'm still weeding through my recipe clipping files, and this Green Bean and Tomato Salad with Grilled Halloumi was inspired by a recipe from Food & Wine.  It's really quick and easy, and the lemon-buttermilk dressing that tops it is so lovely, light and summery.  With the grilled Halloumi and a bit of crumbled baco,n if you dare, this really is a meal-salad.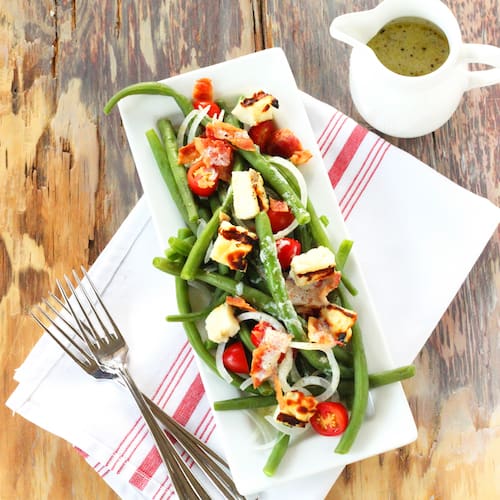 Enjoy the last of these long, lazy days of summer, and stay out of the kitchen by eating more fresh and colorful salads! You'll glow so much from healthy stuff, your suntan will last until winter. If you have them, please use really ripe tomato slices.  Heirloom would be so gorgeous, don't you think?
Recipe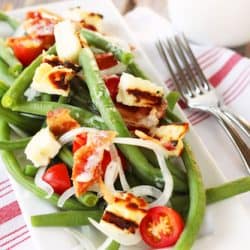 Summer Green Bean Salad with Grilled Halloumi
A perfect side dish or meal to enjoy those fresh off the vine veggies
Print
Pin
Ingredients
1

pound

very fresh green beans

any tough ends trimmed off

4

ounces

of Halloumi cheese

sliced into ½ inch thick slices

1

cup

cherry or grape tomatoes

halved

¼

cup

very thinly sliced sweet onion

4

slices

nitrate-free bacon

cooked crisp and crumbled
Dressing
½

cup

low fat buttermilk

1

tablespoon

olive oil

1

tablespoon

fresh lemon juice

½

teaspoon

onion powder

¼

teaspoon

garlic powder

pinch

of salt and fresh ground pepper to taste

do not over salt because the cheese and bacon are already salty
Instructions
Fill a medium size pot with about 1-inch of water, and add the green beans. Cover and let steam for about 3-4 minutes, or just until beans are tender. Do not overcook. Drain beans and immediately rinse with cold water, or submerge them in ice water so they retain their bright color.

Set the green beans aside to cool.

Heat the grill to high heat, and spray with cooking spray or lightly oil the grate.

Place the slices of halloumi cheese on the hot grill, close the lid, and let the cheese grill without touching it. Check for grill marks after 2-3 minutes and flip the slices. Grill for another 2-3 minutes on the second side. Remove cheese from the grill, and let cool.

When it is cool enough to handle, slice the cheese into cubes (about 1-inch square)

Place the green beans, tomatoes, sliced onion, and halloumi in a large mixing bowl and toss to combine..

To make dressing, combine all ingredients in a small jar or measuring cup and whisk well.

Drizzle dressing over the salad and toss well to combine. Sprinkle bacon over the top.

Serve immediately.
Notes
This recipe was adapted from Food & Wine
Nutrition
Calories:
272
kcal
|
Carbohydrates:
12
g
|
Protein:
12
g
|
Fat:
19
g
|
Saturated Fat:
8
g
|
Cholesterol:
15
mg
|
Sodium:
529
mg
|
Potassium:
423
mg
|
Fiber:
3
g
|
Sugar:
6
g
|
Vitamin A:
980
IU
|
Vitamin C:
24.8
mg
|
Calcium:
364
mg
|
Iron:
1.5
mg
Do you cook much in the summer, or do you prefer salads?  Or does everyone just scrounge and fend for themselves?
Eat well!