Warm and Loaded Spinach Salad
This is my favorite way to eat spinach salad. It's a little bit warm, and a whole lot loaded up with bacon, hard boiled eggs, onions, mushrooms and cheese. It's way more than a salad - it's a meal!
I love a good spinach salad any time of the year, but the spinach salad I crave when the weather gets cool is a very different creature than the one I prefer in the summer. Summer is for berries and a sweet poppyseed dressing on top of my baby spinach. Cooler nights mean I have a bit more time for fussing, and they call for a much heartier salad that I can also call a meal.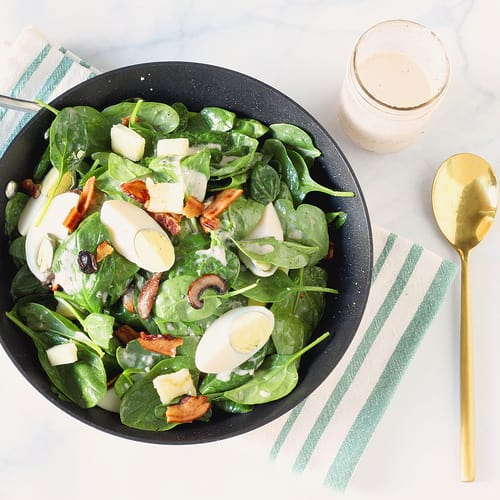 Even though this version of spinach salad is a bit more work than tossing a handful of berries onto my greens, it's so worth it. And - pretty much everything can be done in one frying pan.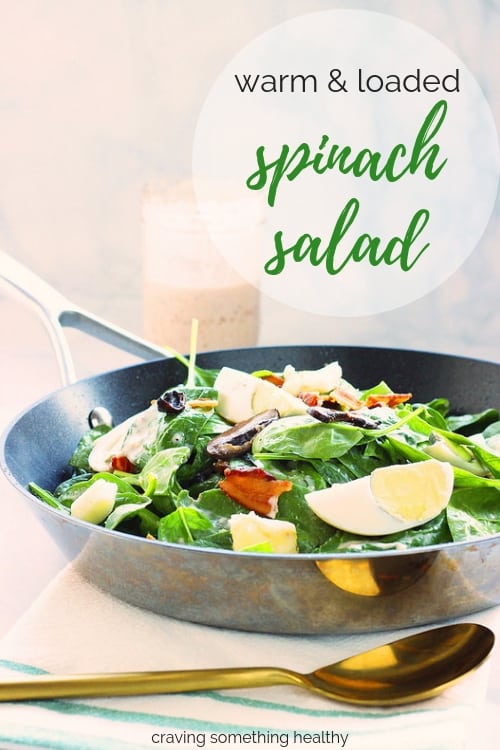 Here are my three favorite things about this spinach salad:
1. The dressing is to die for. I lightened it up just the tiniest bit by cutting back the mayo, but I didn't even try to swap out the mayo. You shouldn't either because it makes it so luscious. Especially when you add the Parmesan cheese and dijon mustard. Yum.
2. It's packed with protein, so not only do you get all the veggies. You're also full afterward.
3. It's warm. Spinach is one of those greens that stands up to a little bit of heat without turning into mush. I love the combination of texture and warm greens with sweet caramelized onions and the saltiness from the bacon and warm Halloumi cheese.
There's also something strangely fun (for me, anyway) about cooking up salad ingredients in the pan, and getting the temperature just right so that when you add the greens, they're just ever so slightly warm and on the verge of wilting, without actually crossing over to becoming cooked spinach. OK. I just realized I sound like a total loser who needs some serious excitement in her life.
Recipe
Warm and Loaded Spinach Salad
So much more than a salad, this is a meal!
Print
Pin
Ingredients
Dressing
¼

cup

mayonnaise

3

tablespoons

olive oil

3

tablespoons

red wine vinegar

2

tablespoons

sugar

2

teaspoons

dijon mustard

3

tablespoons

grated Parmesan cheese

salt and fresh ground pepper

to taste
Salad
3

strips

organic, nitrate free bacon

1

tablespoon

olive oil

½

medium

sweet onion

sliced into thin strips

6

crimini mushrooms

sliced

3

ounces

Halloumi cheese

5

cups

baby spinach

2

hard boiled

eggs

peeled, sliced in half or chopped
Instructions
To make the dressing, combine all of the ingredients in a jar. Cover and shake well. Set aside.

Cook the bacon in the microwave for about 3-4 minutes or until crisp. Set aside to cool. Crumble the bacon when it is cool enough to handle.

Heat the oil in a nonstick frying pan over medium-high heat. Add the onions and let them cook until wilted.

Add the mushrooms to the pan with the onions. Reduce the heat to medium, and let the vegetables cook until the onions are golden brown and caramelized. Stir the vegetables occasionally.

When the onions and mushrooms are cooked, move them to the sides of the pan, and add the cheese in the middle. Turn the heat up a bit and let the cheese cook for about 3 minutes on each side. It should be just lightly golden brown and starting to melt.

While the cheese is grilling, add the spinach to a large mixing bowl and toss it with as much of the dressing as needed. You may have dressing leftover.

Remove the pan from the stove, and add the dressed spinach. Toss everything in the pan, or if preferred, add everything back to the mixing bowl and toss to combine with the dressing.

Garnish the warm salad with the crumbled bacon and sliced/chopped eggs.
Nutrition
Calories:
596
kcal
|
Carbohydrates:
12
g
|
Protein:
18
g
|
Fat:
53
g
|
Saturated Fat:
16
g
|
Cholesterol:
34
mg
|
Sodium:
968
mg
|
Potassium:
752
mg
|
Fiber:
2
g
|
Sugar:
7
g
|
Vitamin A:
7065
IU
|
Vitamin C:
21
mg
|
Calcium:
552
mg
|
Iron:
2.4
mg
Do you like your salads loaded with everything, or more on the plain and simple side?
Eat well!