StoveTop Chocolate Peanut Butter Cookies
When you need a chocolate peanut butter cookie fix and you need it NOW, these no-bake cookies will save the day. They really do cook in minutes, on the stovetop - no oven required. Just be careful, because it's hard to eat only one! Luckily, they're sugar-free.
I don't usually keep sweets around my house, because I like them too much. Especially cookies. I know all about portion sizes and portion control. But when it comes to sweets, that all goes out the door, and I know I'm not alone here!
Scientists have done lots of research on why some people have no control over sweets. It turns out sugar (or just the sweet taste) pushes our dopamine buttons. It actually lights up the pleasure centers in our brains much like addictive drugs. Thus, even though we know it's not a good idea - we keep coming back for more
That's probably not the best intro for a blog post about a cookie recipe! But, it's a little background about why you don't see many cookie recipes here. I mostly limit cookie baking to my all-time-favorite Cranberry Orange Almond Slice and Bake Shortbread Cookies.
But I recently had a recipe for "Boiled Peanut Butter Cookies" pop up in my Facebook feed. It's from Food52, which always has great recipes, and it sounded so interesting - I had to try it.
And, of course, I had to tweak it to make it my own. This recipe is a much healthier version. And - the entire recipe only makes 16 cookies. You can easily double it, but I'm trying really hard to help with portion control here!
These lovelies are SO rich and decadent, and almost a cross between a chocolate peanut butter cookie and a candy. Unlike other no-bake cookie recipes I've tried, they don't have that raw dough texture. They taste like they've been baked - but you 100% mix them up on the stovetop.
And - it literally takes less than 5 minutes.
What I Love About These Chocolate Peanut Butter Cookies
Besides their rich, chocolatey flavor, here's what they've got going for them:
They're full of rich, chocolatey flavor from real dark cocoa powder - so there are lots of antioxidants.
The fat in these cookies comes from peanut butter and coconut oil, so it's all plant-based.
I cut the sweetener back by half and added some raisins for natural sweetness. There was A LOT of sugar in the original recipe, but I made these with Swerve sweetener. And they're so much more guilt-free!
If you're not a fan of the coconut flavor, you can absolutely swap the coconut oil for butter. It's just as delicious.
I really love the chocolate, peanut butter, coconut, and raisin combo. You can also add some chopped nuts, or use chunky peanut butter. Or if you don't do peanuts, I'm sure these would work with almond butter or even sunflower butter. SO, MANY. OPTIONS!
Recipe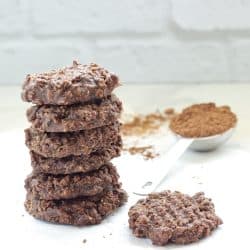 Stovetop Chocolate Peanut Butter Cookies
There's no baking required for these crispy-chewy chocolate peanut butter cookies
Print
Pin
Ingredients
1 ½

cups

Old Fashioned Oats

¼

cup

creamy peanut butter

½

teaspoon

vanilla

¾

cup

raisins

¼

cup

coconut oil

¼

cup

almond milk

1

cup

Swerve granulated sweetener

or Lakanto, or sugar

¼

cup

unsweetened cocoa powder

¼

teaspoon

salt
Instructions
Lay a sheet of parchment paper over your countertop next to the stove, or on two cookie sheets - It should be large enough to hold 16 cookies.

In a food processor, combine the oats, peanut butter, and vanilla, and pulse about 10 times until they're combined.

Add the raisins, and pulse about 5 more times.

In a medium saucepan, combine the coconut oil, almond milk, sweetener, cocoa powder and salt. Whisk well over medium-high heat. Continue to whisk for about 2 minutes, or just until the mixture comes to a full boil.

As soon as the chocolate sauce comes to a boil, add the oat-peanut butter mixture and stir well with a spatula to combine everything.

Turn off the heat, and working quickly, spoon the batter onto the parchment paper using a generous tablespoon of batter for each cookie. The batter will harden up quickly so it's important to do this quickly!

If desired, press each cookie with a fork to flatten them. Let them cool for a few minutes before eating. They'll harden as they cool.

Store any leftover cookies in an airtight container in the refrigerator or freezer.
Notes
Recipe adapted from Food52.com
Nutrition
Calories:
106
kcal
|
Carbohydrates:
23
g
|
Protein:
2
g
|
Fat:
6
g
|
Saturated Fat:
4
g
|
Sodium:
63
mg
|
Potassium:
130
mg
|
Fiber:
2
g
|
Sugar:
1
g
|
Vitamin C:
1
mg
|
Calcium:
14
mg
|
Iron:
1
mg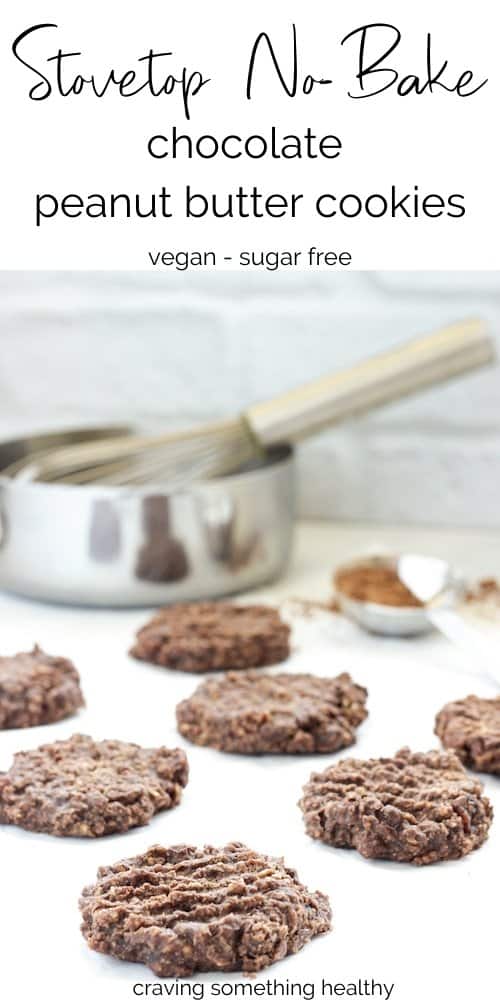 Have you ever made stovetop cookies like these? The original recipe was described as a Southern classic!
Eat well!