Loaded Granola Skillet Cookie
Soooo, how do you feel about skillet cookies?  There's a pizza place we love when we visit Scottsdale.  It's called Oregano's, and they make a pizza cookie – a cookie "partially baked" in a pizza pan.  Other than that, I'd never seen one, until recently on Pinterest, and now I'm seeing them all over the place.  Well, mainly just on Pinterest. But really… All over Pinterest.
The delicious thing about a skillet cookie (besides the fact that it's an entire batch of cookies baked into one pan and served like slices of pie) is that it's often "partially baked".  Yup, that wonderful place between raw cookie dough and the softest baked cookie you can imagine.  Makes me want to whip up some cookie dough right now.
So I remembered a cookie recipe I love from White on Rice Couple, for granola cookies.  These lovelies are full of everything good and healthy – dried fruit, oats, nuts, dark chocolate and peanut butter chips.  I love them as cookies, but I have to be honest here – I die for raw dough even more.  Yes, I know all about raw eggs, no need to call the food safety police.
Yessiree.  As I suspected, they made the perfect skillet cookie.  I tucked most of the fruit, nut and chocolate and peanut butter chip filling deep inside the batter, so it was cooked (for anyone who's afraid of the egg thing) but still gooey inside.  This skillet cookie is amazing, and even though it's made with lots of good for you ingredients, it is of course to be enjoyed in moderation.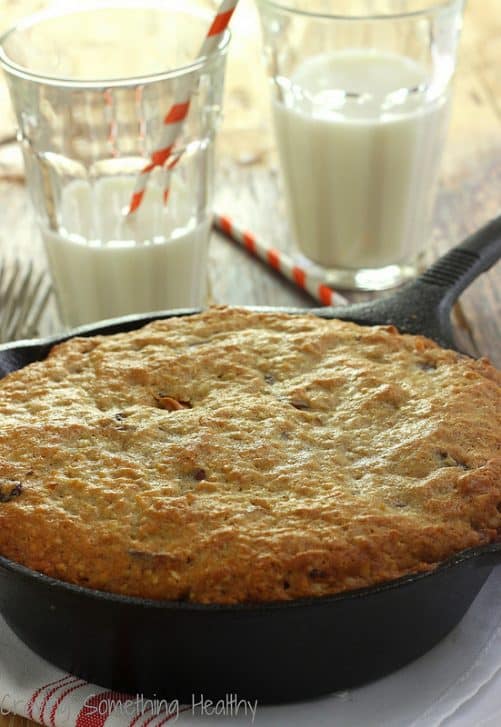 If you made a batch of Bourbon Vanilla Extract around the holidays, this would be a really good time to use it.  And did I ever tell you about the vanilla salt from Joy the Baker?  Oops, I think I forgot.  Quickly order some vanilla beans
 from Amazon, and get cracking on that.  You'll have it to sprinkle on top the next time you make this 🙂
Hopefully you have a nice cast iron skillet
 for this recipe, but if you don't you can use a regular oven proof skillet.  Or maybe even a pie dish.  A cast iron skillet is always a good thing to have though…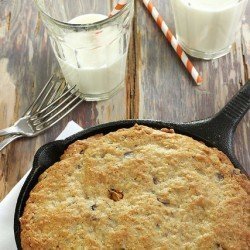 Ingredients
1/2

cup

dried apricots

chopped into 1/2-inch pieces

1/2

cup

dried cranberries

1/2

cup

dates

chopped into 1/2-inch pieces

1/2

cup

toasted pecans

chopped

1/2

up toasted almond slices

chopped

3/4

cup

dark chocolate chips

3/4

cup

peanut butter chips

natural

1 1/4

cups

flour

1

teaspoon

baking soda

1/2

teaspoon

Kosher salt

2

cups

Old Fashioned oats

3/4

cup

unsalted butter

softened

1 1/4

cups

brown sugar

packed

2

eggs

1

teaspoon

vanilla extract
Instructions
Preheat the oven to 325 degrees and set the rack to the middle position.

Lightly grease a 9-inch cast iron pan with canola oil.

Mix the fruit, nuts, chocolate and peanut butter chips together in a bowl and set aside.

In a bowl, whisk together the flour, baking soda and salt. Stir in the oats. Set aside.

In a mixer, beat the butter and brown sugar until light and fluffy, about 2-3 minutes. Add eggs and vanilla, scraping down the sides of the bowl as necessary. Add in the flour-oat mixture, and mix well to combine.

Add about 1/3 of the fruit, nut and chips mixture and stir well to combine.

Place half of the cookie dough into the bottom of a cast iron pan and pat in well to cover the bottom of the pan.

Spread remaining 2/3 of the fruit, nut, chips mixture evenly over the layer of dough.

Top with remaining half of the cookie dough and gently press (using damp fingers if necessary) dough evenly over to cover filling.

Bake for about 15-20 minutes, or until cooked as desired.
Notes
Recipe adapted from White on Rice Couple.
Feel free to use any combination of fruit and nuts you prefer.
If you have more dough than needed for your pan, form any extra into 1 1/2 inch balls and freeze for cookies later.
If desired (who am I kidding? Definitely) serve with a scoop of good vanilla ice cream.
Eat well!
This post contains affiliate links.  If you make a purchase through one of my Amazon or affiliate links, I will receive a small percentage of the sale, which I use to offset the expenses of this blog.  Thanks for supporting me 🙂
The post Loaded Granola Skillet Cookie first appeared on Craving Something Healthy