No Bake Fruit and Nut Bars
These healthy, chewy no-bake fruit and nut bars are packed with wholesome ingredients and have no added sugar. They're so easy and come together in minutes. Plus (bonus) — you don't have to bake them. Just put everything in your food processor, pulse, and press them into a pan.
Keep a batch in your freezer and throw one in your bag to eat after a workout or during a hike. Or just enjoy one as a guilt-free afternoon sweet treat.
Chewy, homemade energy bars and bites are so easy to customize with any fruits, nuts, or flavors you have on hand.
When my lemon tree is overflowing, I make my Lemon Coconut Flaxseed Protein Balls. And when I'm craving something sweet and dessert-like (but healthy), I'll whip up a batch of my German Chocolate Protein Bars.
I love to make these fruit and nut bars when I've scored lots of dried fruits and nuts from my latest Trader Joe's or Costco run.
Jump to:
Here's Why This Recipe Works
These bars are packed with so many wholesome ingredients like dried fruit, nuts, almond butter, and pumpkin seeds. And a few scoops of protein powder balances out the nutrition and macros.
They're super easy to make with no baking required. AND they're completely customizable based on the ingredients you have on hand or your personal preferences.
Recipe Ingredients
Here's what I use for these fruit and nut bars (plus the health and nutritional benefits of the key ingredients):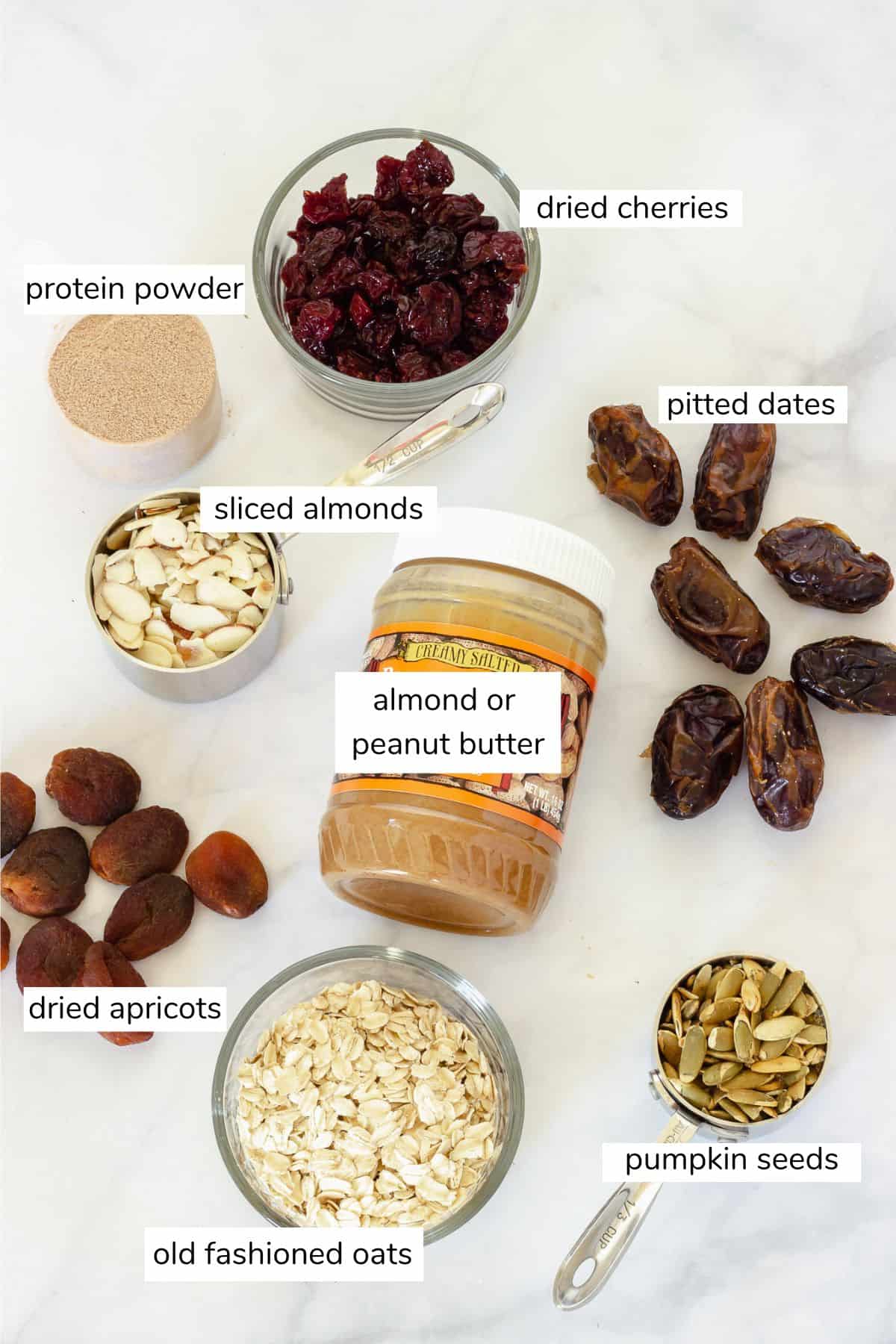 Dried dates: They are so naturally sweet that you don't need any added sugar in these energy bars. Make sure your dates are very fresh. Old dates (while still edible) tend to try out on the outside and they don't process as smoothly. If your dates are a little on the dry side, put them in a bowl, cover with warm water, and soak them for 15 minutes to soften.
Oats: Use Old Fashioned, not steel cut. Steel-cut oats are too hard and won't soften in this recipe. Also, I advise not using quick oats because they don't add much body. Plus, they're more processed and have a higher glycemic index.
Nut butter: I like the healthy fats it provides and it also helps bind the ingredients together.
Nuts and seeds: These add more healthy fat and a little bit of protein. I love slivered or sliced almonds and pumpkin seeds, but walnuts, pecans, pistachios, sunflower seeds, hemp seeds, etc., all work.
Dried fruit: Tart cherries are tasty, and they're natural inflammation-fighters if you're eating these as a post-workout snack. Dried fruit often has significant added sugar, so check the label!
Protein powder: Add it if you want to balance the macros. I usually use chocolate protein powder in this recipe, but vanilla works too. Or if you just want the fruit and nut flavor to come through, use unflavored protein powder.
Regardless of which type of protein powder you use, choose one with minimal ingredients. It should have some type of protein, stevia or monk fruit as a sweetener, and cocoa powder or vanilla as a flavor.
See my recipe card below for a complete list of the ingredients with measurements.
Recipe Substitutions
You can swap peanut butter or any other nut butter for almond butter. For a nut-free option, try sunflower butter.
Instead of dried cherries (or in addition to them), try chopped, dried apricots, cranberries, blueberries, or strawberries. They're all packed with antioxidants.
Experiment with different types of protein. To keep this recipe vegan, use a plant-based protein powder. For more muscle-building power, use whey protein (learn the major differences between plant and animal-based protein powder in this article). And for a yummy way to get your glow on for healthy skin and nails, try collagen.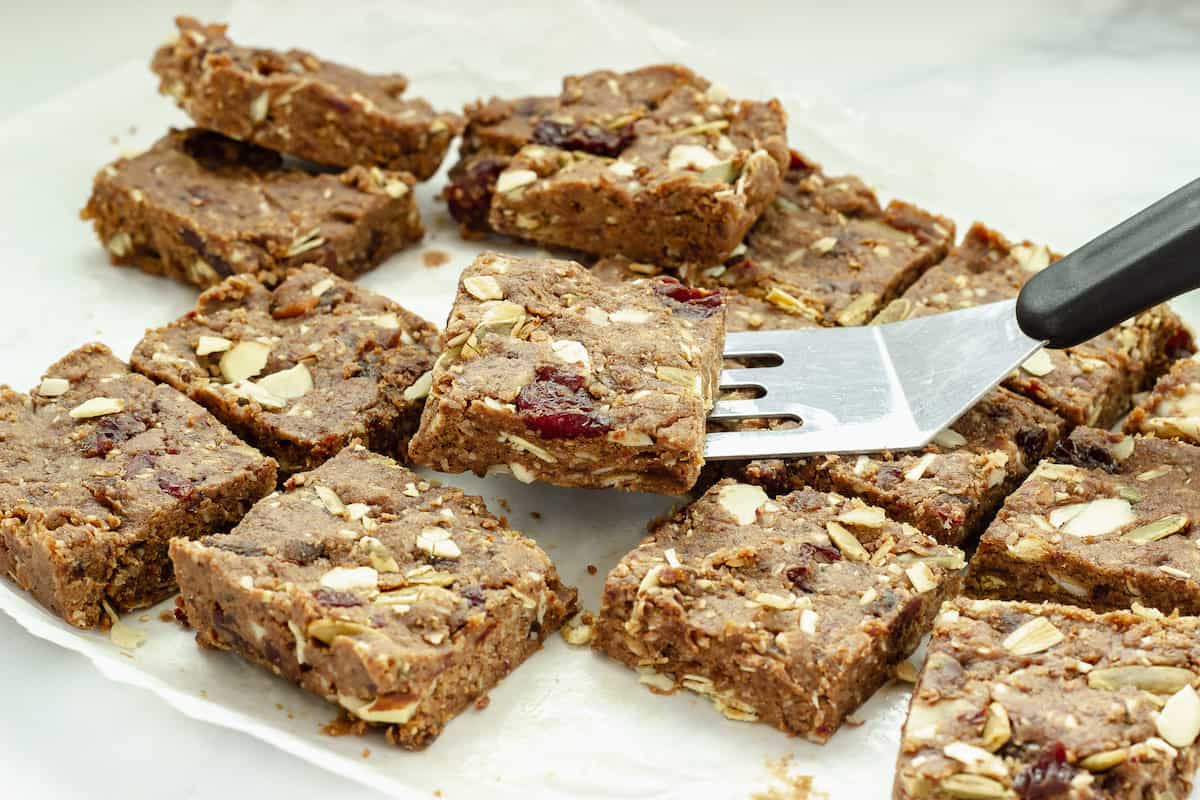 How to Make Fruit and Nut Bars
These seriously couldn't be any easier, but you do need a food processor. Just put your ingredients in and hit the pulse button until you have a nice, sticky dough.
That said, I do find it helps to add your ingredients in a certain order and one by one. I like to see chunks of nuts, seeds, and fruit, so I generally add those last and just pulse once or twice or stir them in by hand.
First, add the dates and nut butter to the bowl of the food processor and process until smooth — about 30 seconds. If you don't get this initial "glue" nice and smooth, your bars will not hold together well.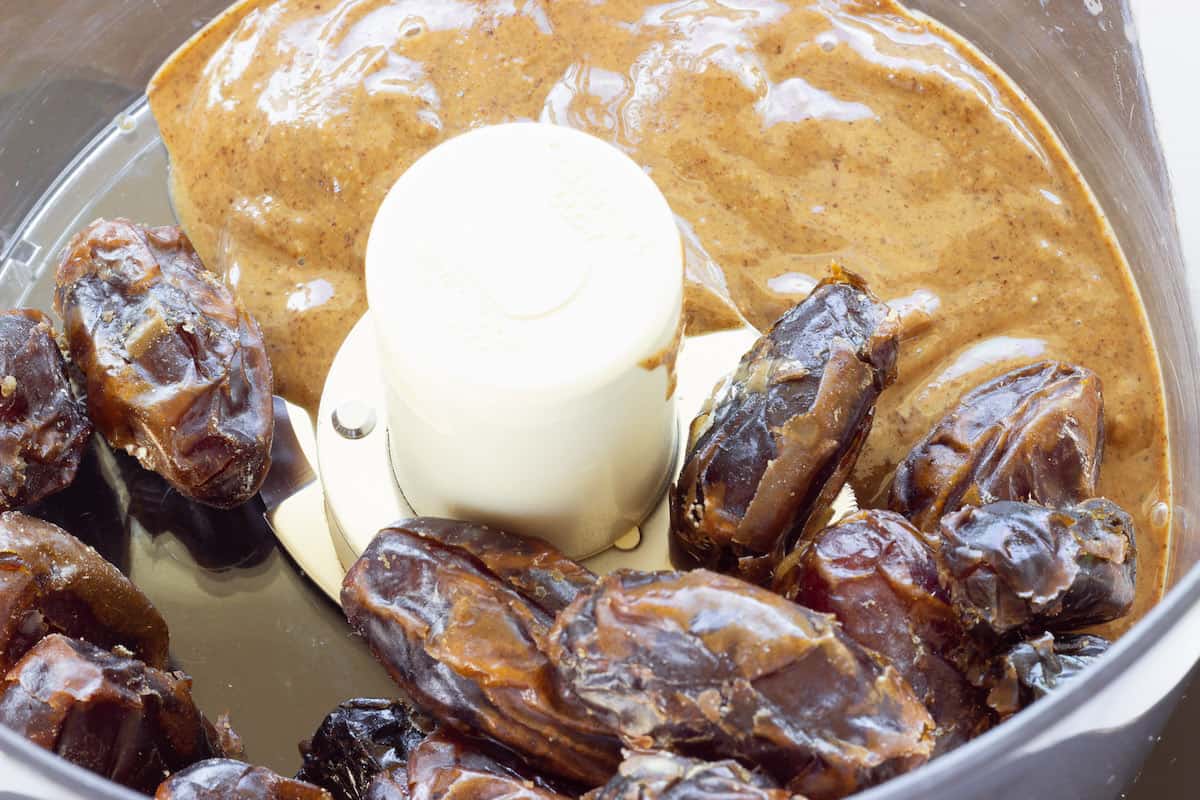 Next, add the protein powder and pulse until it's incorporated. Then, add the oats and process for another 30 seconds. The oats will break down, but you'll still see some pieces.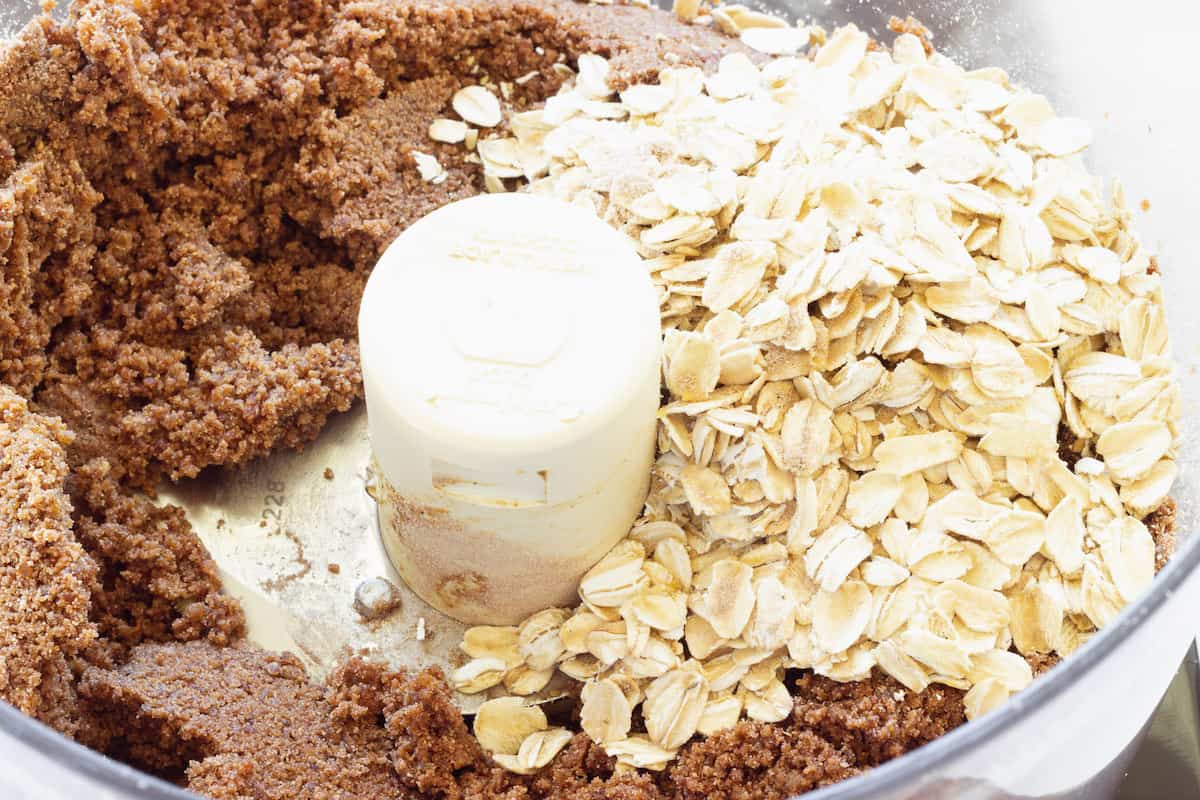 At this point, feel the dough. It if seems too crumbly (it probably will), add water, about 2 tablespoons at a time. Pulse and check the dough again. It should be sticky and hold together when you squeeze it in your hands.
If it gets too wet, add more oats. If it's too dry, your bars won't hold together, so add a little more water.
When the consistency feels right, add your nuts and seeds and pulse about 10 times to combine everything. It should look like this: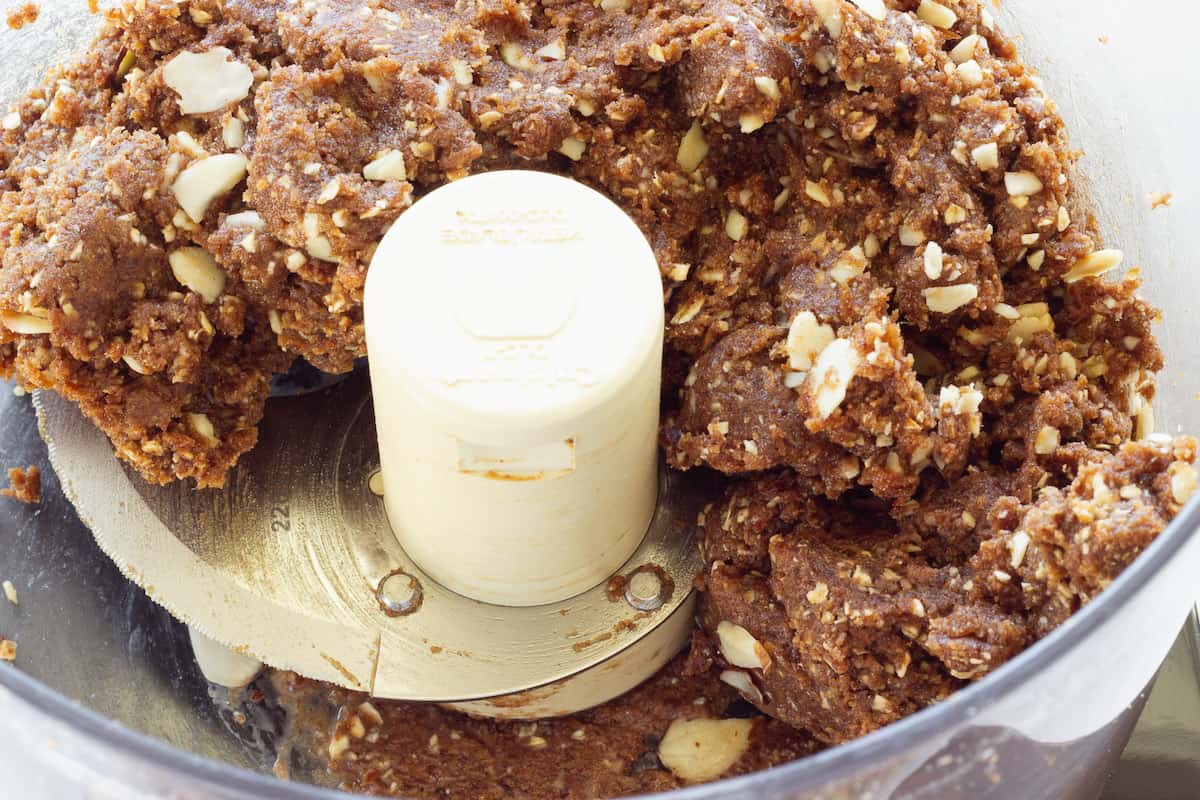 The last step is to add your dried, chopped fruit. You can add it to the bowl of the food processor and pulse another 10 times if you want very small fruit pieces.
Or, if you prefer larger chunks of fruit, transfer the dough to a large mixing bowl and stir the fruit in by hand. You might need to get your hands in there to really combine it.
When everything is combined, place it into an 8x8 baking pan, press it into place, and chill your bars in the refrigerator or freezer. I like to line the pan with parchment paper so I can just lift the entire thing out and place it on a cutting board to cut it into squares.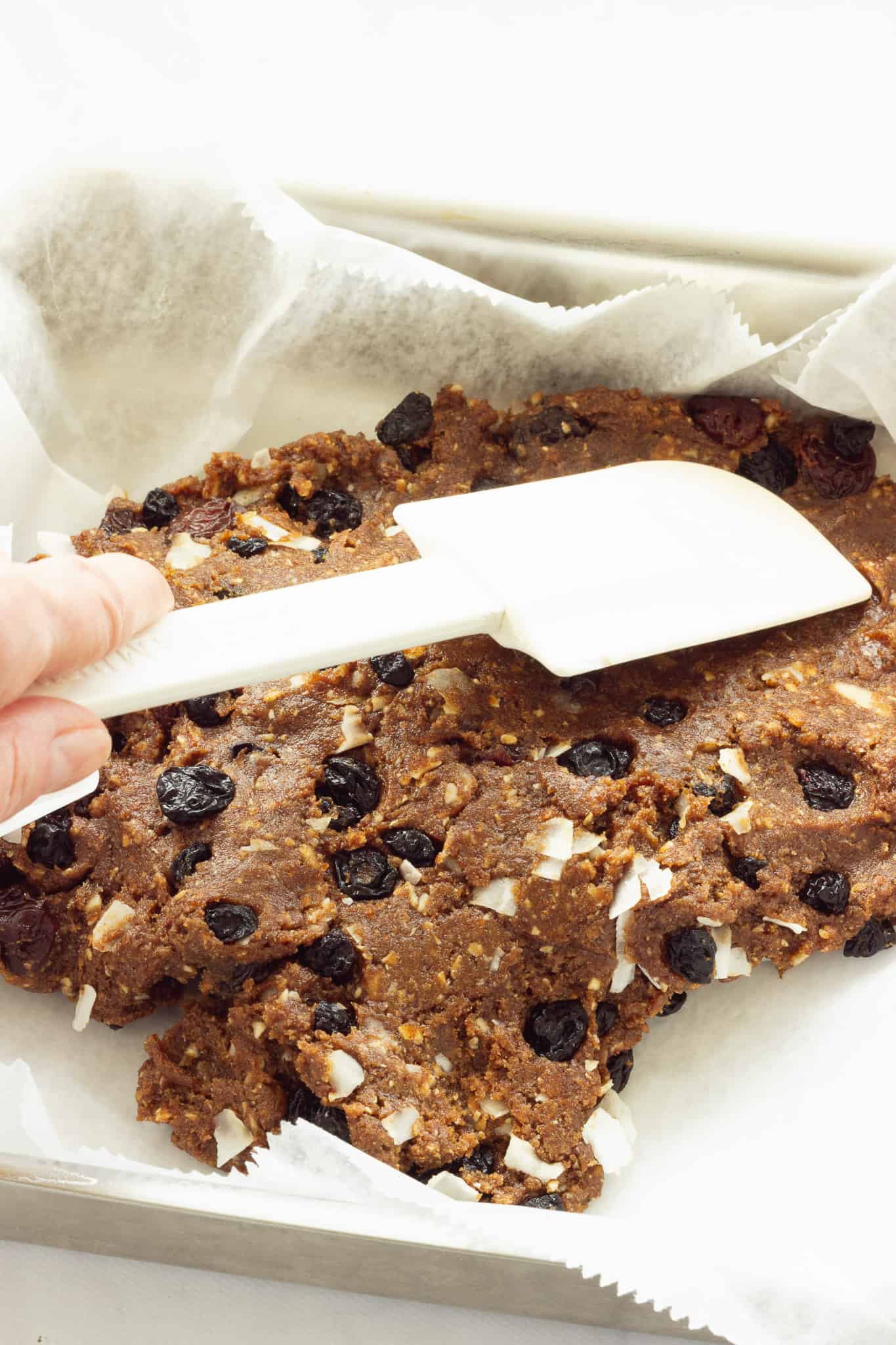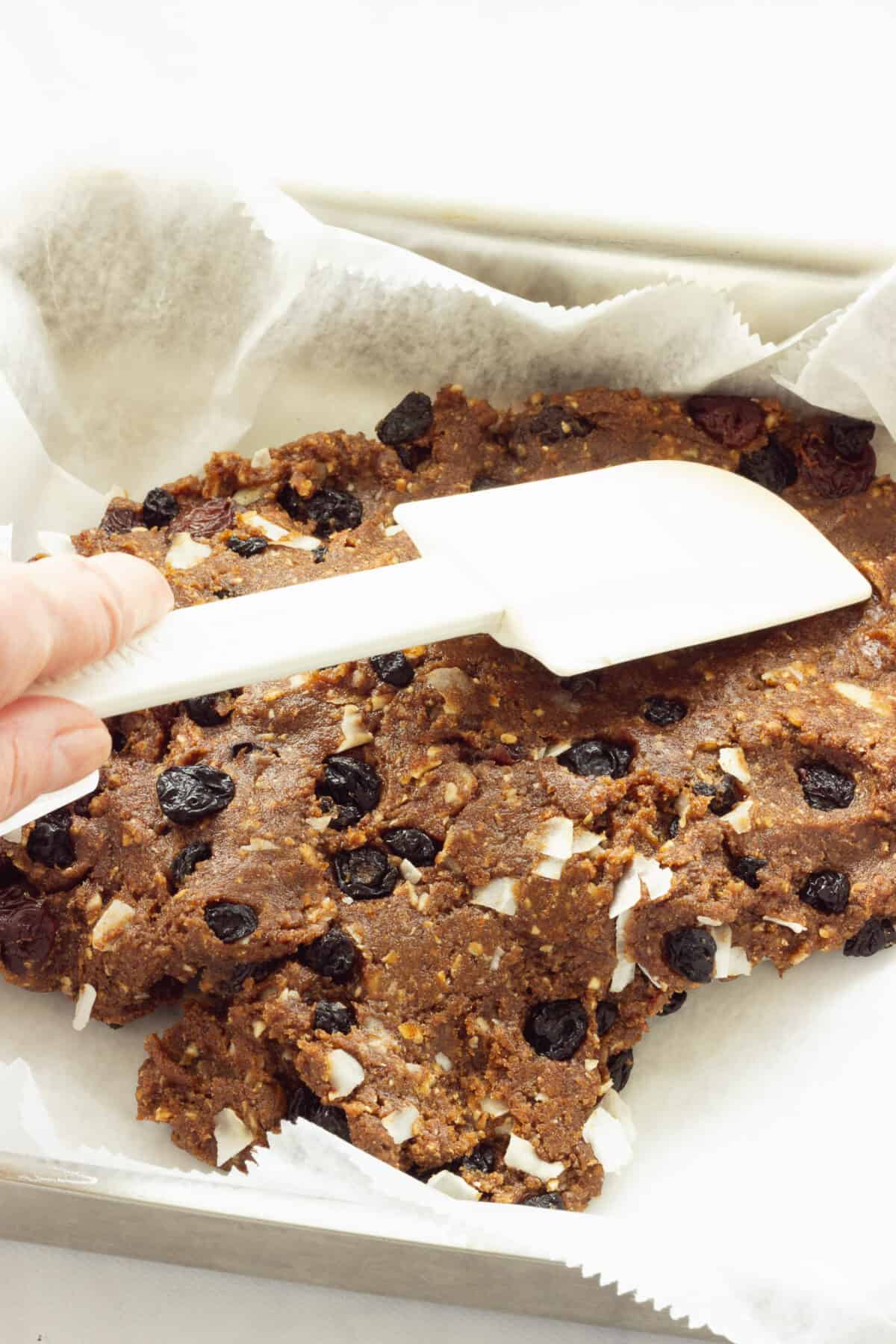 Recipe FAQs
Are fruit and nut bars healthy?
Some fruit and nut bars are healthy, while others not so much. It really depends on the ingredients, which is why I prefer to make my own. Bars with added sweetener (even honey) will probably be higher in calories. Bars with no protein might be too high in carbs for someone on a low or moderate-carbohydrate diet.
How do fruit and nut bars compare to trail mix?
These can vary a lot depending on the ingredients. Trail mix tends to have mainly dried fruit and nuts, but it can have coconut, chocolate chips, and granola. Often, trail mix tends to be higher in calories than fruit and nut bars. You might also eat a larger portion of trail mix because it's not portioned out for you like bars are.
What other flavor variations are good for fruit and nut bars?
The sky is the limit with these bars. Try: mini dark chocolate chips with walnuts and cocoa powder. Or macadamia nuts with dried pineapple and coconut. Or dried strawberries and blueberries with white chocolate.
Why are some fruit and nut bars crunchy and others chewy?
Fruit and nut bars come in all different textures. Those that are crunchy, or more like a granola bar are baked until crispy. Others are slightly chewy with some crunch, like a Kind® bar. They are soft-baked. Fruit and nut bars like the ones in this recipe are very chewy because they're held together by pureed fruit (dates) and nut butter.
Other Related Fruit and Nut Recipes
Love this recipe? Please leave a 5-star 🌟🌟🌟🌟🌟rating in the recipe card below & a review in the comments section further down the page.
Recipe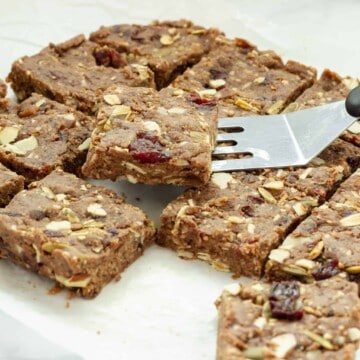 No Bake Fruit and Nut Bars
Chewy and delicious energy bars for a healthy snack.
Print
Pin
Equipment
food processor

baking pan

measuring cups

spatula
Ingredients
1

cup

pitted dates

½

cup

almond butter

or other nut butter if you prefer

½

cup

chocolate protein powder

or vanilla or plain if you prefer

½

cup

old fashioned oats

⅓

cup

salted pumpkin seeds (pepitas)

½

cup

sliced almonds

⅔

cup

dried cherries

chopped

½

cup

dried apricots

chopped
Instructions
In the bowl of a food processor fitted with a chopping blade, combine the dates and almond butter. Process the mixture for about 30 seconds or until the dates are smooth, scraping down the bowl as needed. Add the protein powder and process for another 30 seconds or until everything is smooth and a dough forms.

Add the oats to the food processor and process for another 30 seconds to combine, scraping down the bowl as needed.

Add the almonds and pumpkin seeds to the food processor and pulse about 10 times until they are evenly dispersed.

Check the dough with your fingers or a spoon. If the mixture is too dry, add 2 tablespoons of water and process again. Add another tablespoon of water if needed. The dough should be smooth and sticky but stiff. If the dough gets too wet, add extra oats, 1 tablespoon at a time.

Add the chopped apricots and cherries and pulse about 10 more times until the fruit is dispersed.

Transfer the dough to a parchment paper lined 8x8 baking pan and press the dough in place using your fingers or a spatula.

Chill the dough in the refrigerator for an hour, or the freezer for 30 minutes, and then slice it into bars.

Wrap each bar in plastic wrap, and store them in a freezer bag in the freezer for up to 2 months.
Notes
If your dates are dry, soak them in about 1 cup of water for 15 minutes before processing. 
I like to get 12 bars from this recipe, but you can cut them smaller or larger.
To freeze, wrap each bar in plastic wrap and keep them in a freezer bag or air-tight container. They'll last for two months. Let them soften at room temperature for 5 minutes before eating.
Nutrition
Serving:
1
g
|
Calories:
204
kcal
|
Carbohydrates:
23
g
|
Protein:
9
g
|
Fat:
10
g
|
Saturated Fat:
1
g
|
Polyunsaturated Fat:
3
g
|
Monounsaturated Fat:
5
g
|
Trans Fat:
0.003
g
|
Cholesterol:
8
mg
|
Sodium:
18
mg
|
Potassium:
306
mg
|
Fiber:
4
g
|
Sugar:
16
g
|
Vitamin A:
465
IU
|
Vitamin C:
0.1
mg
|
Calcium:
81
mg
|
Iron:
2
mg
Do you eat energy bars after you work out or as a snack?
Eat well!
SaveSave