Homemade Baked Honey Nut Clusters
I love to keep a jar of these Homemade Honey Nut Clusters on hand. They're SO good sprinkled on my oats in the morning or on my salad at dinnertime. They also really satisfy my craving for a sweet-savory treat in the afternoon. And they're always a hit served as part of a cheese or antipasto platter.
Clearly, I can eat these all day long!
Nuts are so good for you. And as long as you're not eating a whole pound in one sitting, they're pretty much a guilt-free snack.
These are slightly sweet, not heavily sugared like glazed nuts. They have just the right amount of salt and if you like, you can add some heat. Plus, can we talk about how much better nut clusters are than individual nuts?! Kind of like granola clusters.
All you need to make these honey-roasted nut clusters are nuts, seeds (like pumpkin or sunflower seeds), sea salt, and honey. If you have some of my 2- ingredient hot honey on hand, this recipe is a perfect use for it.
You can use any variety of nuts here, but I hate to play favorites. All nuts are good nuts in my book.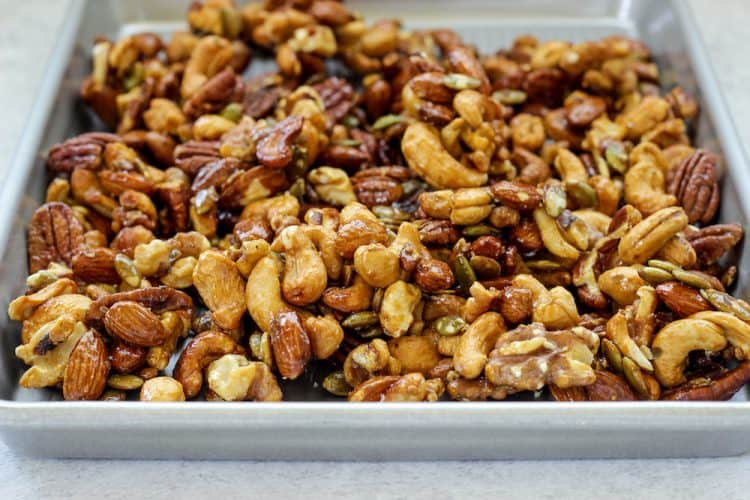 Each type of nut has its health benefits, so I like mixing them up. That way I get a little bit of everything.
Which Nut is Healthiest?
Much like my sweet children, it's hard to choose a favorite nut because each one has its own unique characteristics and health benefits.
I buy large packages from Costco, and I honestly keep a half-gallon mason jar of each variety in my pantry. My daughter says the reason I'm always broke is that I have thousands of dollars of nuts in my pantry.
But even more than the different flavors and textures of all those nuts, I really like to get a variety of health benefits. I'm like that with herbal, black, and green tea too.
Generally, a 1-ounce serving (a good handful) of any type of tree nut has about 160 calories, most of which come from heart-healthy unsaturated fat. Nuts are all pretty low in carbs and have about 2-4 grams of fiber. But when you look closely at their nutrient profiles, there are a few nutritional differences between different types of nuts.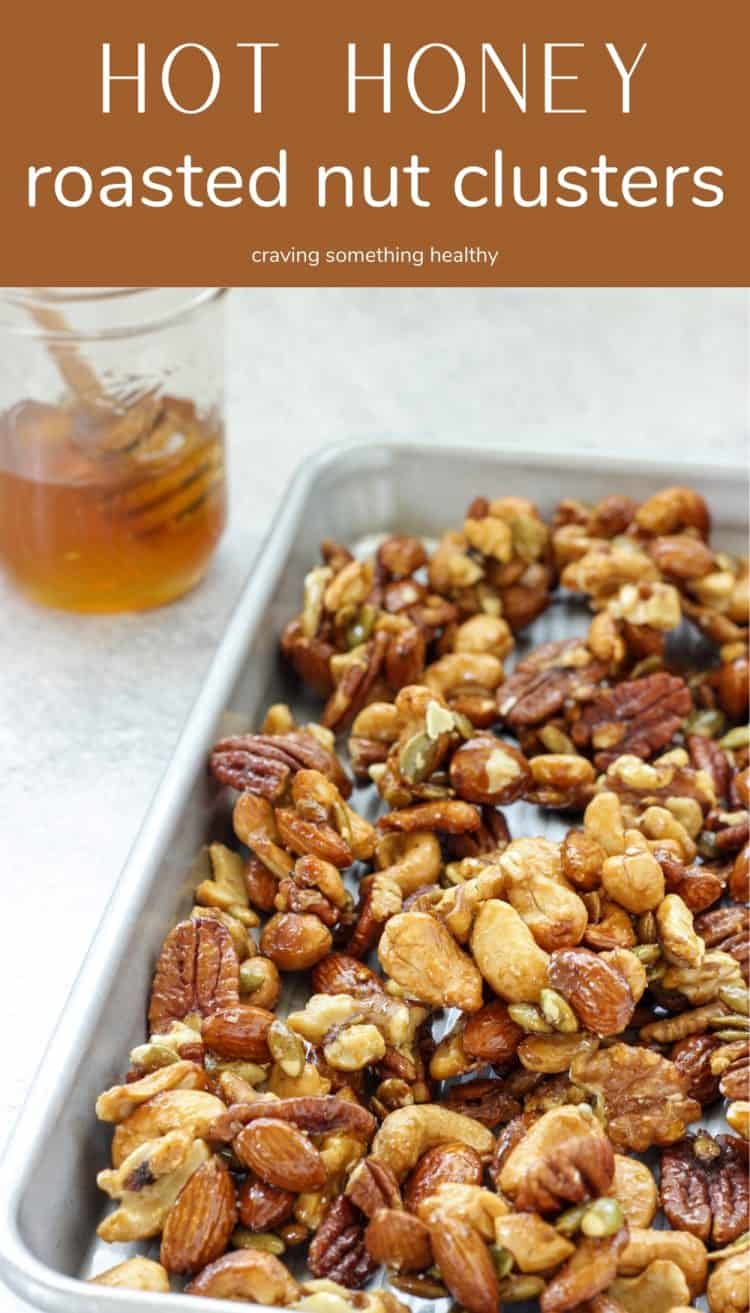 Here are some nutrition facts about some of my favorite nuts:
Walnuts are especially high in polyunsaturated fats. In fact, they're the only tree nut that's a significant source of ALA, a plant source of omega-3 polyunsaturated fat. Eating more omega-3 fat is linked to a lower risk of heart disease, and less inflammation. That's good if you have arthritis or any inflammatory conditions.
Almonds are significantly higher in calcium and vitamin E than all other tree nuts. If you're looking for non-dairy calcium foods, don't overlook almonds. They're also a bit higher in fiber than other nuts, with 4 grams per 1-ounce serving. And almonds are slightly higher in protein.
Pecans are quite high in monounsaturated fats - the same kind of fat that's in olive oil. Monounsaturated fats can help reduce your cholesterol. And speaking of cholesterol, pecans are also a source of plant sterols, which can reduce cholesterol, and antioxidants, which can prevent oxidative damage to your cells.
Cashews are highest in zinc (great for your immune system) and iron (essential for healthy red blood cells) compared to other tree nuts. They're a bit higher in carbs than other nuts, with about 9 grams per 1-ounce serving. Most other nuts have 4-6 grams of carbs, but that's still considered a low-carb snack.
Pistachios are packed with potassium. That's an important mineral for better blood pressure control. They're also a good source of antioxidants to keep your blood vessels and cells throughout your body happy and healthy. Pistachios are also higher in protein than most other nuts, with 6 grams per 1-ounce serving
Macadamias are highest in calories and fat (that's why they taste so delicious and buttery!), but they're also highest in cholesterol-lowering monounsaturated fat.
Brazil nuts are hands down the winner for selenium. This antioxidant mineral plays an essential role in thyroid health. It's especially important if you have Hashimoto's hypothyroid. Just one Brazil nut meets your daily selenium requirement.
Recipe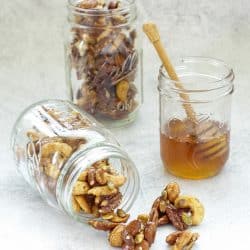 Baked Honey Nut Clusters
Delicious for snacking or sprinkling and so healthy for you!
Print
Pin
Ingredients
4

cups

shelled raw nuts

unsalted

4

tablespoons

pumpkin seeds

unsalted

¼

cup

plain or hot honey

click the link for recipe

⅛

teaspoon

sea salt

or more to taste
Instructions
Preheat the oven to 300°F and set the rack to the middle position. Line a sheet pan with parchment paper for easy cleanup.

In a large mixing bowl, combine the nuts, pumpkin seeds and hot honey. Mix well to combine and coat everything with the honey.

Roast the nuts for 20-25 minutes, stirring every 10 minutes.

Remove the nuts when they start to turn golden.

Sprinkle with sea salt to taste.

Store in an airtight container in the refrigerator.
Nutrition
Calories:
244
kcal
|
Carbohydrates:
14
g
|
Protein:
7
g
|
Fat:
20
g
|
Saturated Fat:
3
g
|
Polyunsaturated Fat:
4
g
|
Monounsaturated Fat:
12
g
|
Trans Fat:
1
g
|
Sodium:
23
mg
|
Potassium:
238
mg
|
Fiber:
3
g
|
Sugar:
4
g
|
Vitamin A:
6
IU
|
Vitamin C:
1
mg
|
Calcium:
27
mg
|
Iron:
2
mg
See? They're all so good for you! I used cashews, pecans, walnuts, and almonds in this Honey Nut Clusters recipe. But any or all would work.
Do you have a favorite nut?
Eat well!