Chocolate Peppermint Slice 'n Bake Christmas Cookies
These easy Christmas cookies not only taste delicious, but they're also a snap to make! The dough keeps in the freezer. Just slice and bake as needed.
It's beginning to smell a lot like Christmas!  No, it's not the tree – it's been fake for a while now.  It's not from the roaring fire – it's gas, and it's not from the hot chocolate – I'm just a coffee drinker.  It's from the Christmas cookies, people!!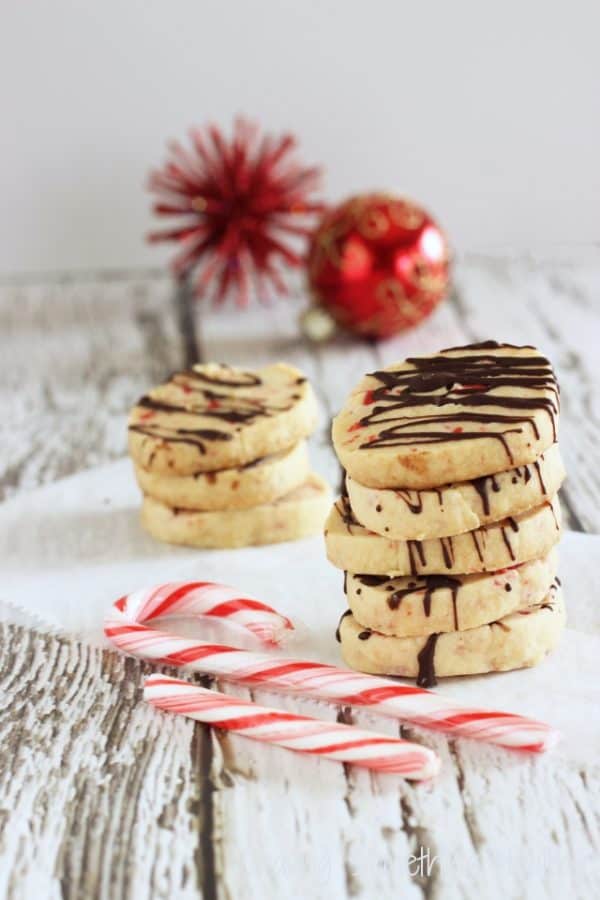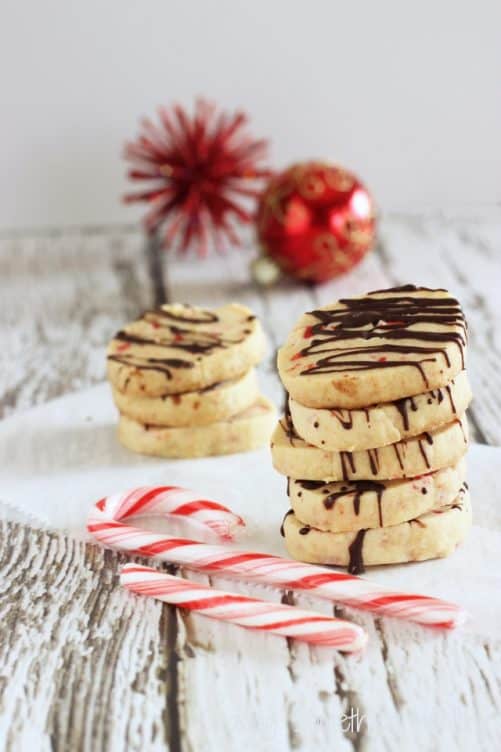 Now that I'm an empty nester, I really don't have much reason to bake anymore. So it's kind of nice to have the oven going, and the mixer mixing, and flour all over the place, and all of those fruity, pepperminty, Christmassy smells in the house.
A few years ago, I posted my all-time favorite Christmas cookie recipe, Cranberry Orange Almond Shortbread cookies. They're a hit year after year with my friends and family, and also it seems they're popular in lots of other homes as well.  That recipe has gotten almost 500k pins on Pinterest, and over 100 Thank You comments from readers.  Nothing makes me happier!  
Well, actually if it was a healthy recipe that would probably make me happier, but hey, I'm not complaining 🙂 .  If you haven't tried those cookies yet, wadda you waiting for?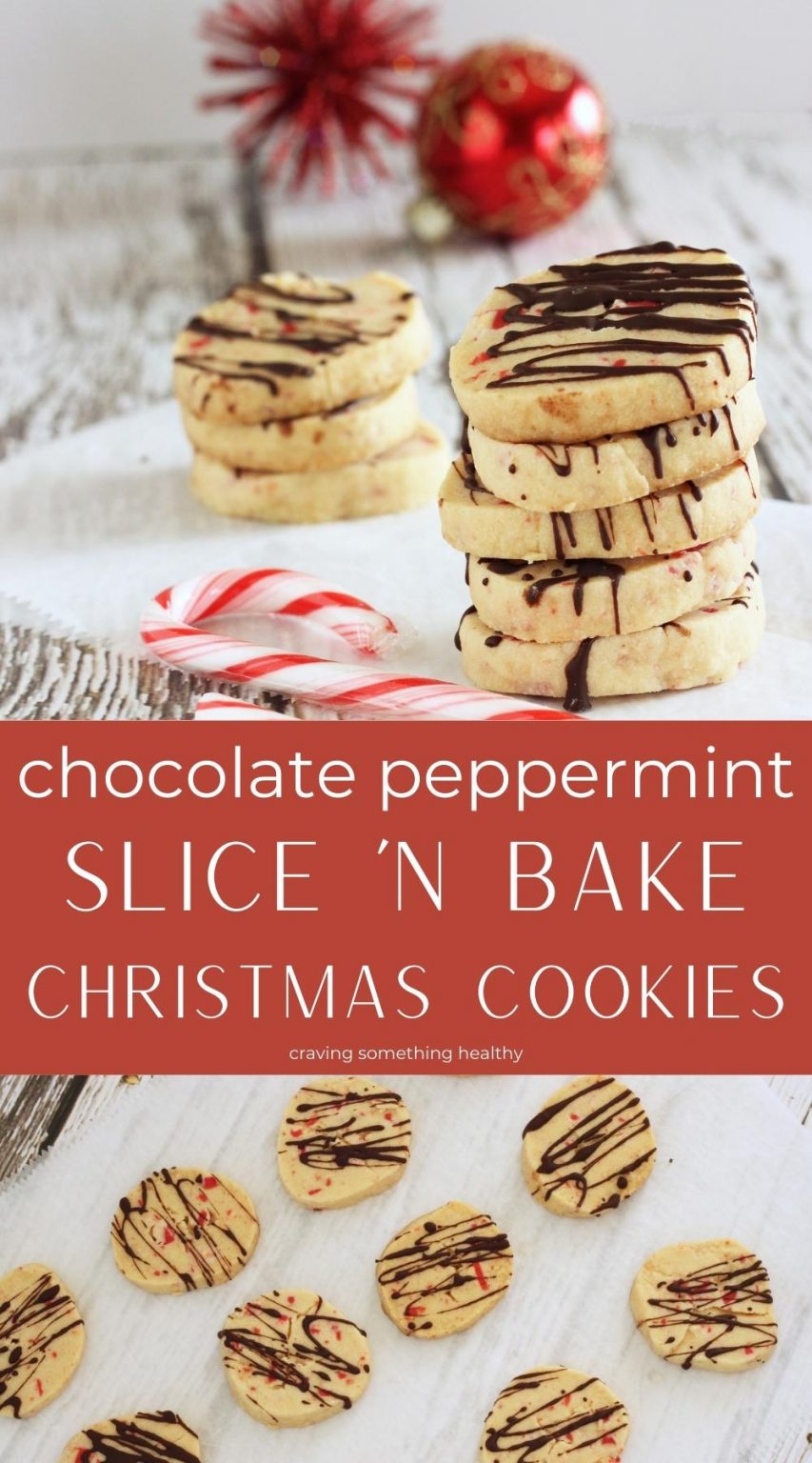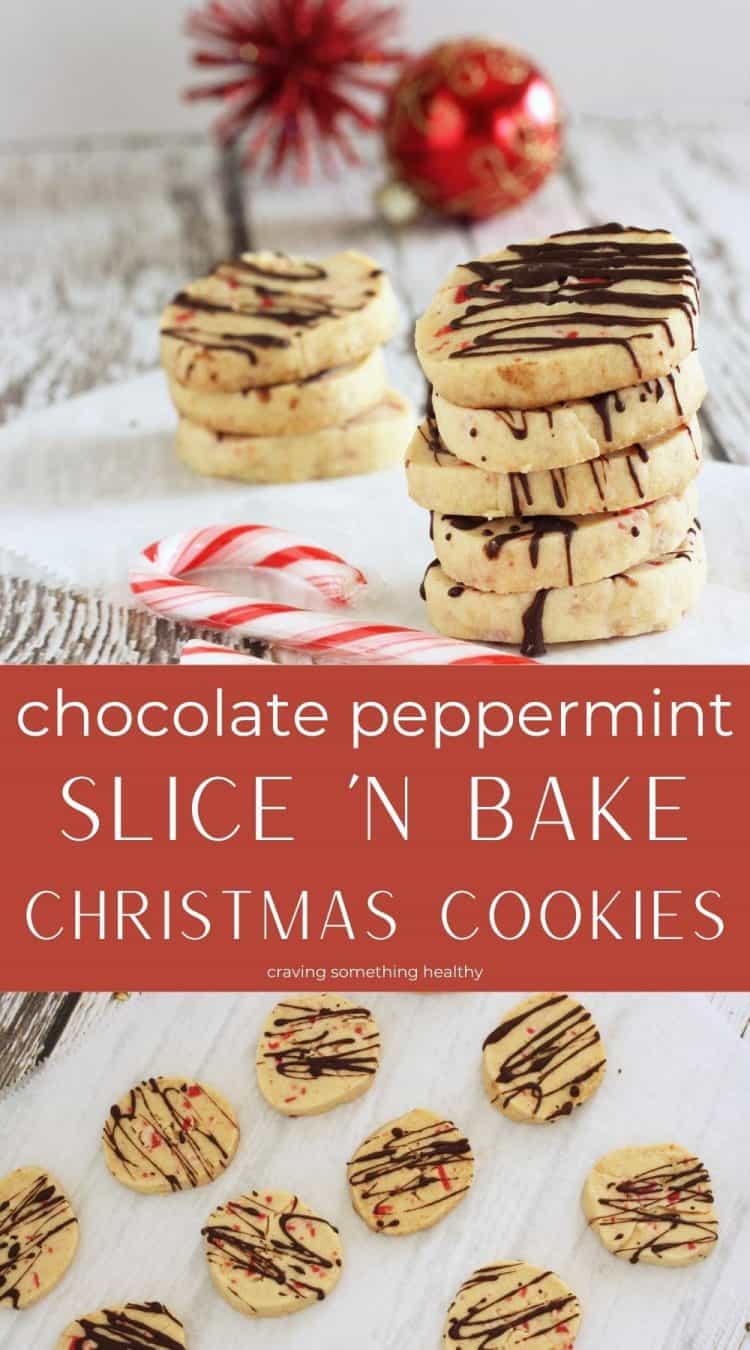 The best part of that recipe is that you can make them ahead, freeze them if you like, and just slice them and bake as needed.  What could be better?!  Well… How about chocolate peppermint slice and bake Christmas cookies, friends?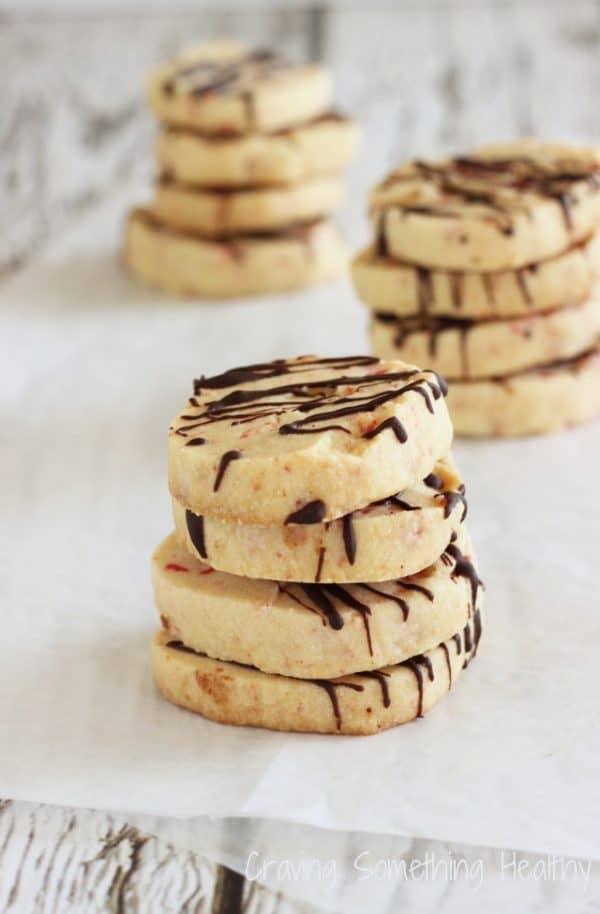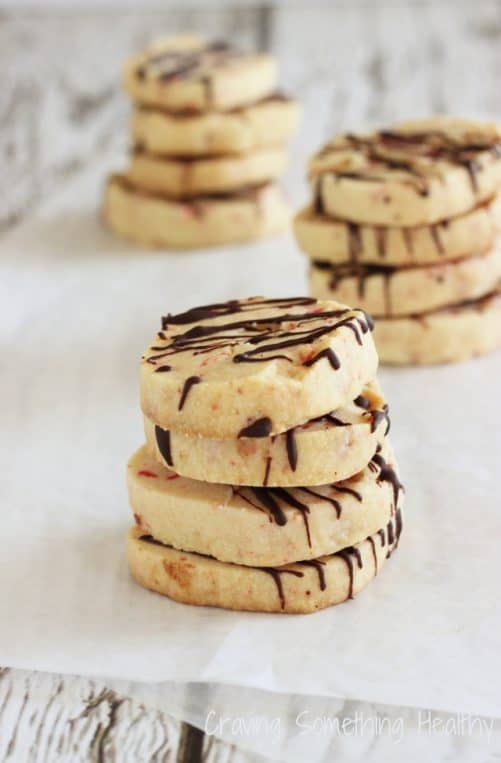 Grab a cup of hot chocolate, coffee or tea, and let's admire these beauties.  Another ultra-easy, and super pretty (if I do say so myself), Christmas cookie recipe.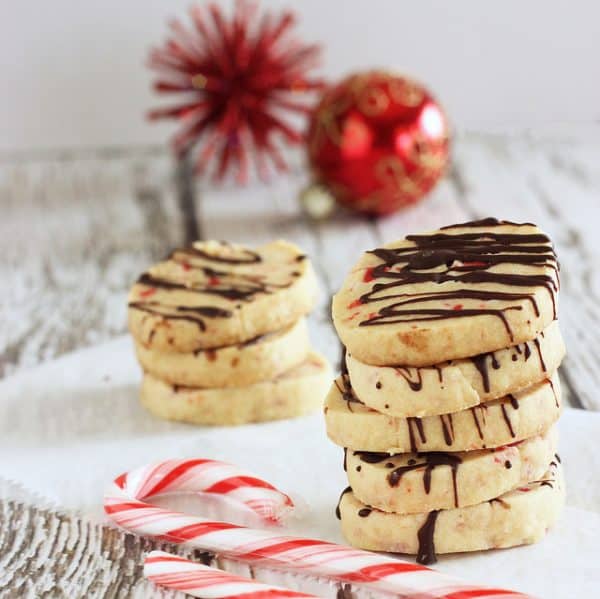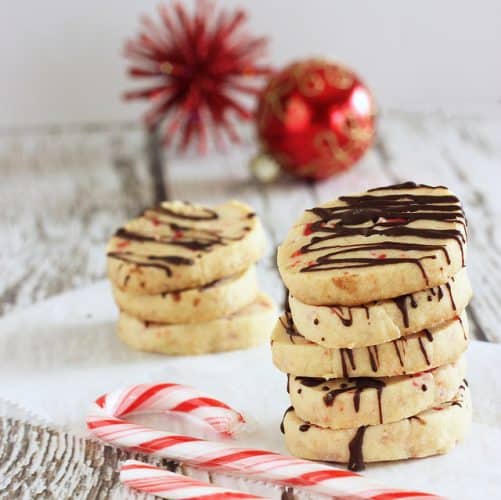 These would be very delicious without the chocolate, but it's so easy to melt some dark chocolate and drizzle it with a spoon, why would you want to skip it?  You could also be more adventurous and dip half of each cookie in the chocolate.  They almost become thin mints that way!
I'm trying really, really, hard to NOT open the freezer right now.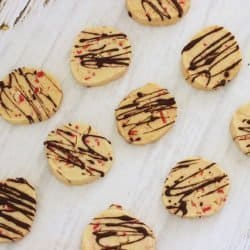 Ingredients
1

cup

unsalted butter

softened

3/4

cup

confectioner's

powdered sugar

1/2

teaspoon

vanilla extract

1/2

teaspoon

peppermint extract

1/2

teaspoon

salt

2

cups

flour

3/4

cup

crushed peppermint candies

2

ounces

of dark chocolate
Instructions
Preheat the oven to 325 degrees

Line a cookie sheet with parchment paper or a Silpat baking mat

Place the butter, powdered sugar, vanilla and peppermint extracts and salt in the bowl of a stand mixer, or in a large mixing bowl if using a hand mixer.

Beat on medium speed until smooth, about 4 minutes. Turn mixer to low and gradually add flour, and then peppermint candies. Mix until a dough forms.

Pat the dough into a ball, and then form into a log shape – approximately 2-inches in diameter, by 16 inches long.

Wrap the log in plastic wrap, and refrigerate until firm, about 2 hours.

Remove the dough from the refrigerator, and slice into 1/4-inch thick slices.

Place on prepared cookie sheet, at least 1-inch apart. Bake for about 15 minutes, or until the bottoms just start to turn golden. Check them after 10 minutes, as ovens can vary!

Let cool for about 5 minutes before removing from the tray.

Melt the chocolate in a glass bowl or measuring cup, in the microwave, about 30-45 seconds.

Drizzle chocolate over the cooled cookies, and let set at room temperature.

Store cookies in a covered container in the freezer.
Notes
Dough can be shaped into a log, wrapped tightly, and frozen for up to 3 months. If frozen solid, let it thaw slightly before slicing.
Ho ho ho – have you started your baking yet?
Eat well!