Cranberry Orange Almond Shortbread Cookies
These slice and bake shortbread cookies are the Best. Cookies. Ever.  And they're ridiculously easy.  Make some for Christmas!
When my kids were young, we always did lots and lots of Christmas cookies.  They took them to school, we did neighborhood cookie swaps, and they loved arranging them in cookie tins and giving them out to their friends.  I really miss those days, but since I don't need to have so many sweets sitting around looking at me longing to be eaten each day, I've really scaled back.  Now, I do just a few, and my favorites are Spiced Dark Chocolate Dipped Orange Slices (not actually a cookie at all) and these Cranberry Almond Shortbread Cookies.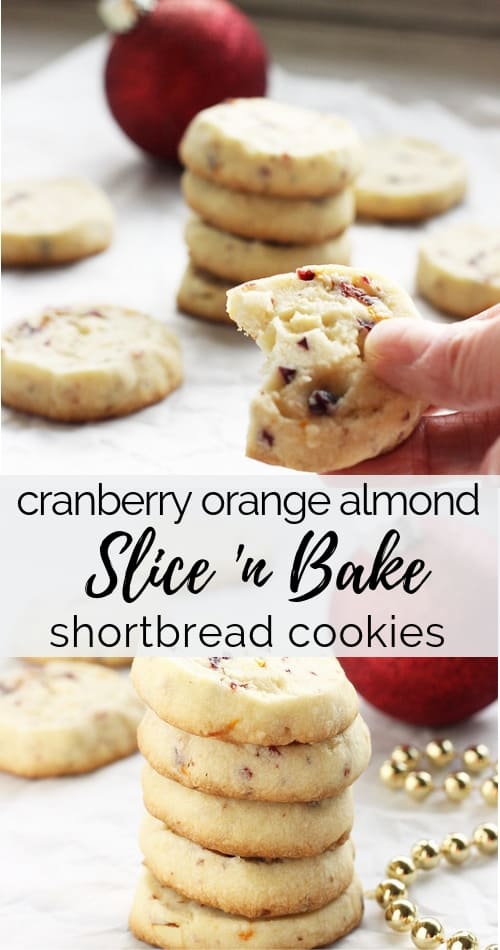 I've narrowed it down to these two for a reason – and yes, this is probably silly, but I feel better that they both have healthy ingredients – fruit, and chocolate in the orange slices, and fruit and nuts (ahem, let's just ignore the butter and sugar) in these shortbread cookies.
Plus, these are just ridiculously easy, deliciously melt-in-your mouth buttery, AND, the batter freezes really well.  That means, make it, roll it up, freeze it, and just slice them up and bake them as needed.
Ingredients
1

cup

unsalted butter

softened

1

cup

confectioner's

powdered sugar

3/4

teaspoon

almond extract

1/2

teaspoon

salt

2

cups

flour

1

tablespoon

orange zest

2/3

cup

sliced almonds

toasted

1/3

cup

dried cranberries

chopped
Instructions
Preheat oven to 325 degrees. Spray a cookie sheet or line with a silpat baking liner.

Place butter, powdered sugar, almond extract and salt in the bowl of a stand mixer, or in a large mixing bowl if using a handheld mixer.

Beat until smooth, about 3 minutes. Turn mixer speed to low, and gradually add flour and orange zest. Mix until a dough forms.

Stir in almonds and cranberries with a spatula.

Pat dough into a ball, and then form into a log shape, about 2-inches in diameter.

Wrap the log in plastic wrap, and freeze until firm, at least an hour.

Remove the dough from the freezer and slice into 1/4-inch thick slices.

Place on cookie sheet, at least 1-inch apart. Bake for about 15 minutes, just until the edges start to turn golden. Check them after 10 minutes as ovens can vary!

Let cool for about 5 minutes before removing from the cookie sheet.
Notes
Adapted from Martha Stewart. Dough can be kept frozen for up to 3 months. If frozen solid, let the dough thaw for about 20 minutes before slicing.
Are you baking this holiday season?  What's your favorite cookie?
Eat well!
SaveSave
SaveSave
SaveSave