Freezer-Friendly Egg Muffin Cups
This post is sponsored by The USA Rice Federation. Thanks for supporting the foods and brands I love and use!
These easy egg muffin cups are like mini frittatas full of yummy Gruyere cheese, spinach, mushrooms, and my secret ingredient — California-grown wild rice. They're a perfect bite-sized egg dish for a brunch. Or grab a few from the freezer for a protein-packed breakfast on the go.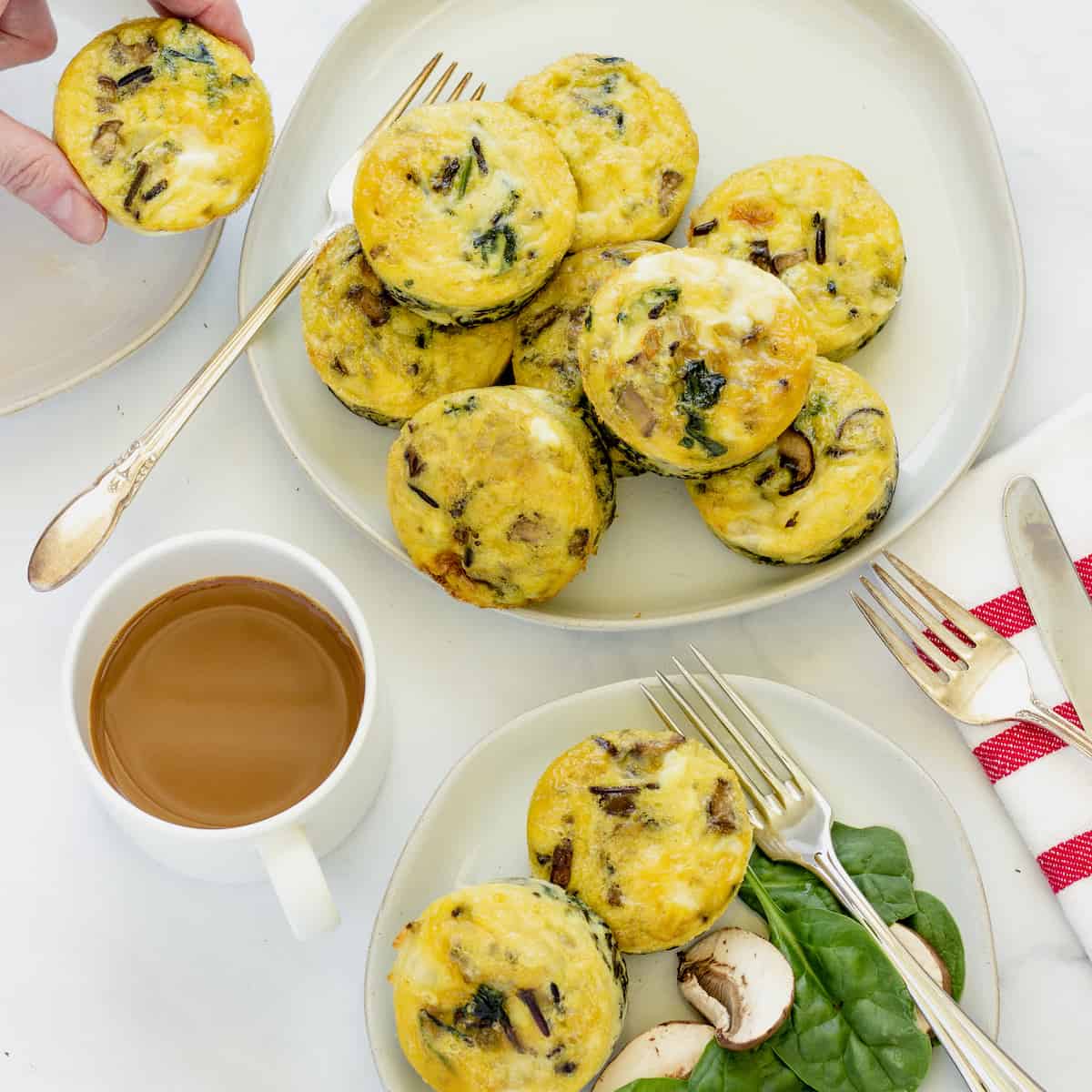 I know all too well that it's easy to skip breakfast or grab something less than healthy when rushing out the door in the morning. That's why meal prep is so important.
We all know I'm a fan of overnight oats or baked oatmeal. But sometimes, it's nice to have a savory option. And these freezer-friendly egg muffin cups are sure to satisfy your craving.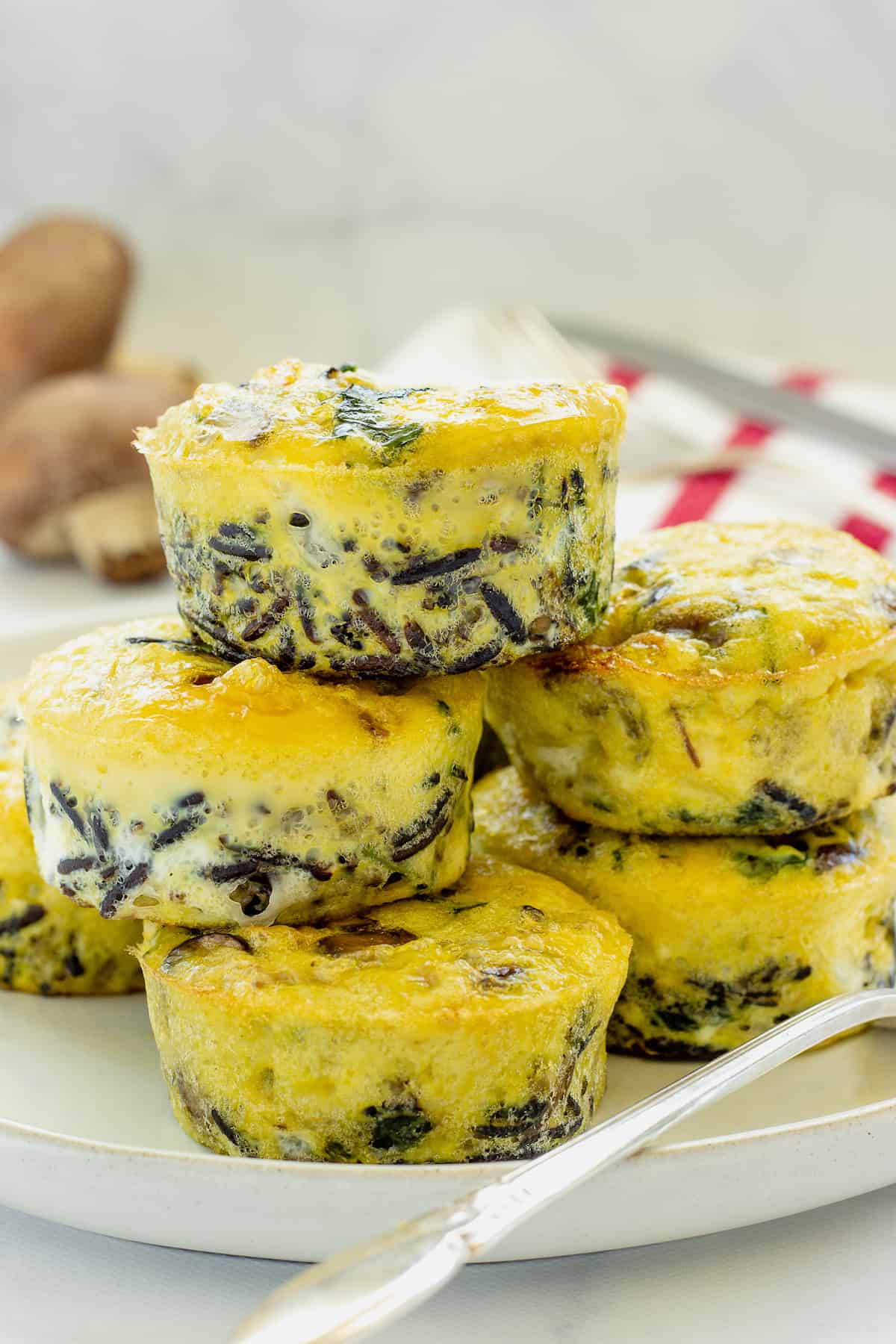 Each egg bite is packed with vegetables, chewy and satisfying wild rice, and a sprinkle of cheese for an incredibly tasty and perfectly balanced breakfast. Or lunch, or snack, if you prefer. They're perfectly poppable.
Ingredients and Variations for Egg Muffin Cups
This recipe is so easy to make, and it has just a handful of ingredients. Here's what I used and some variations. You can make these with whatever vegetables, cheese, or rice you have on hand.
I added California-grown wild rice to these bites for a few reasons.
Most importantly — I need some carbs with my eggs. For some reason, eggs alone don't satisfy me. So wild rice adds some complex carbs and fiber to balance out the protein here. If you prefer, you can swap brown rice. You'll still get your fiber and complex carbs.
I also happen to love the nutty flavor and chewy texture of wild rice (BTW, did you know wild rice is technically not rice but semi-aquatic grass?). This recipe is a great way to use up any leftover wild rice I have on hand.
Plus, it's September, which is National Rice Month, a celebration of the U.S. rice industry.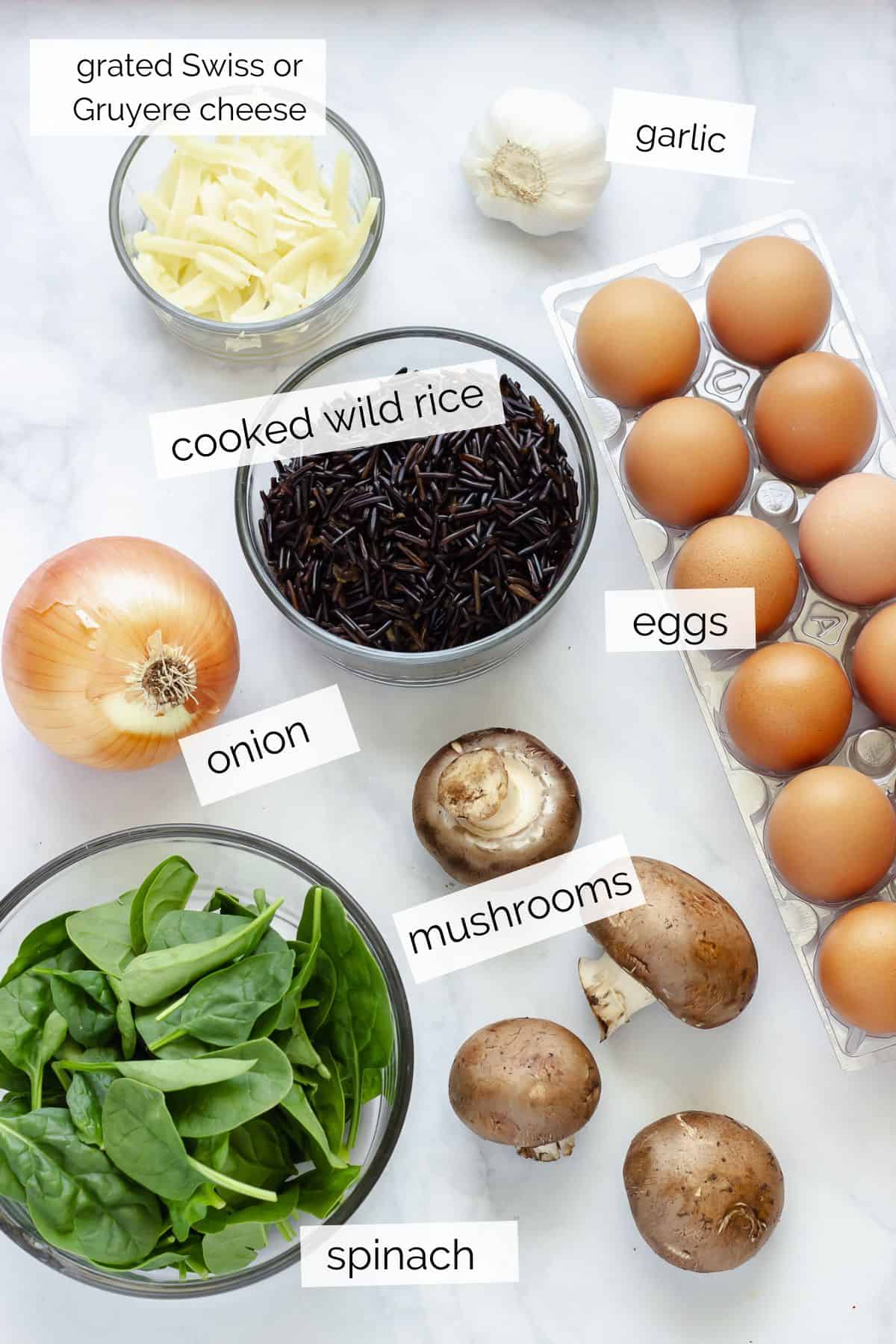 For the vegetables, a little minced onion and garlic provide a nice rich flavor in the background. I also added spinach and mushrooms because I love that flavor combo and the little pop of green color from the spinach. Other vegetables that would be delicious in this recipe include kale, broccoli, chopped asparagus, or sweet red pepper.
Cheese gives these egg muffins a nice creamy richness. I love the rich, nutty flavor of Gruyere (or Swiss), but sharp cheddar or Parmesan would also work well. If you prefer a non-dairy version, you can skip the cheese.
Other add-ins: For more variety, add some cooked sweet or spicy turkey or chicken sausage, crumbled crispy bacon, or prosciutto. You can also add some fresh herbs to your vegetables. Basil, thyme, or oregano would be delicious!
Cooking Tips and Tricks
These helpful tips will ensure you get perfectly tender egg muffin bites that won't stick to your pan.
Saute your vegetables
I highly recommend sauteeing your vegetables before adding them to your eggs. Not only will you fit lots more vegetables into the egg batter, but also, your egg muffin bites won't be soggy because you'll have cooked off the liquid from the vegetables.
It looks like way too many vegetables, but I promise, they will cook down nicely. Caramelizing your vegetables also intensifies their flavor and makes these egg bites absolutely delicious!
See? This is all you end up with once your vegetables are cooked.
Cool your vegetables
Make sure you let your vegetables cool for a few minutes before adding them to your eggs. About 5 minutes should be fine. You just don't want your eggs to scramble from the heat of the vegetables.
Use a ladle to portion your eggs
Give everything a good whisk, and then use a ladle to pour the egg mixture into the muffin tin. It's hard to pour whisked eggs from a bowl or measuring cup because they all want to come out together. With a ladle, you can just scoop out the amount you need and add it to each muffin pan well.
Don't overfill your muffin pan
The egg cups will puff up as they bake, so don't fill them all the way to the top. They'll deflate after the cool, but leaving a little space at the top makes less of a mess on the outside of your pan.
Use a silicone muffin pan
The biggest complaint everyone has about egg muffin bites is that they stick to the muffin pan. Not only does that ruin your egg bites, but also it's a major pain to clean your pan. That's why I highly recommend investing in a silicone muffin pan. The one I have has a steel frame, so it's nice and sturdy. Your egg muffins will lift right out when you push up the bottom of each hole.
Frequently Asked Questions About Egg Muffin Cups
How long do you cook egg muffin cups?
Most silicone and regular mini muffin pans hold 2 ounces of egg mixture and take 20-25 minutes to bake at 350ºF. If you use a 1-ounce super-mini muffin tin, they will cook faster, in about 15 minutes.
How do you store egg muffin cups?
You can keep them in an airtight container in the refrigerator for 2-3 days or freeze them for up to 3 months.
Can you microwave these egg bites?
These taste best if you bake them in the oven first, but you can reheat them in the microwave. If they've been refrigerated, they only need about 30 seconds in the microwave, but microwaves can vary. If they're frozen, microwave them for about 1 1/2 minutes. Be careful not to overcook them in the microwave because they may become rubbery or dry. You can also eat these cold or at room temperature.
Why are my muffin cups soggy or spongy?
If you don't saute your vegetables until their liquid has cooked off, your egg muffin cups may be soggy or spongy.
Are egg muffin cups healthy?
Yes! They're high in protein from the eggs, and these have some fiber from the wild rice and vegetables. They're also low-carb. Each muffin cup has about 140 calories, 10 grams of protein, and about 4 grams of carbs. I think 2 muffins make a nice serving size.
How do you cook wild rice?
Combine one part wild rice with 3 parts water. Bring the rice to a boil, and then cover and reduce the heat to low. Let the rice simmer for about 45 minutes or until it's tender.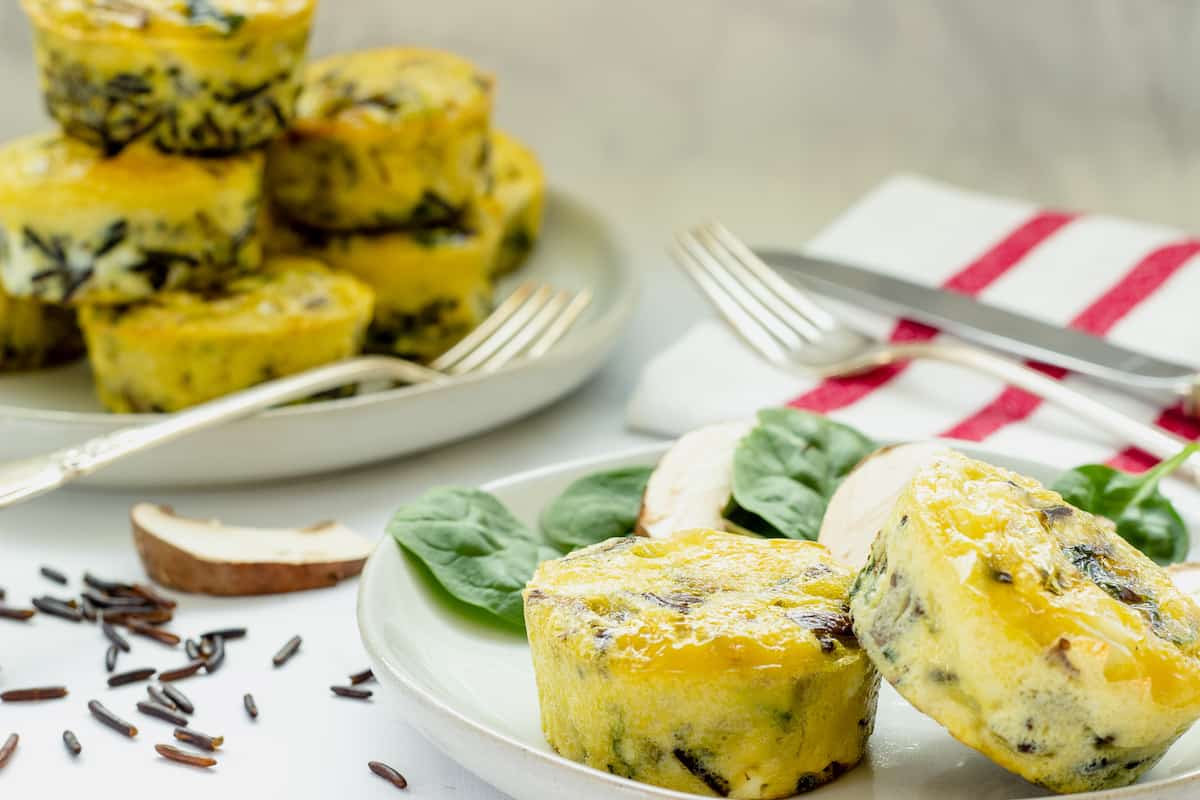 Don't Miss These Other
Egg Recipes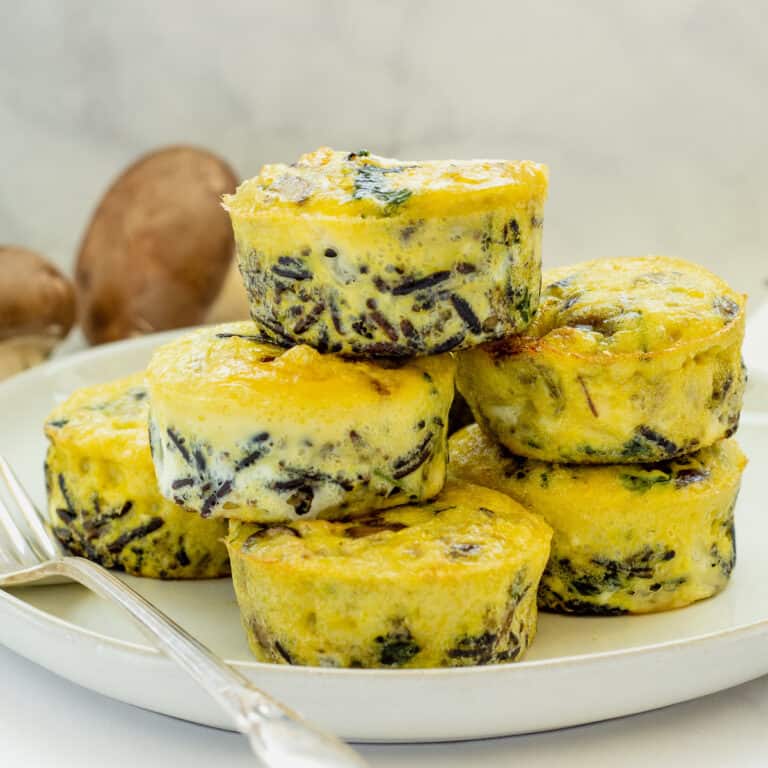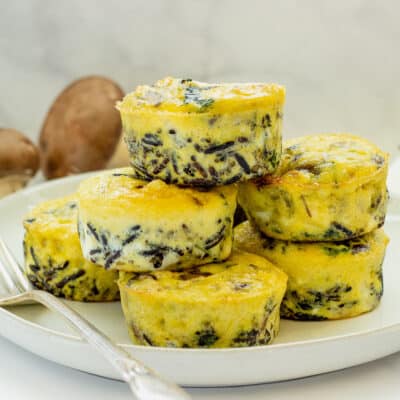 Freezer Friendly Egg Muffin Cups
A tasty, prep-ahead breakfast or brunch
Print
Pin
Equipment
1 12-cup mini muffin pan (with 2 ounce wells)

I recommend a silicone muffin pan with a steel frame.
Ingredients
1

tablespoon

olive oil

1

cup

baby Bella mushrooms, diced

1/2

cup

minced onion

2

cloves

garlic, minced

1 1/2

cups

baby spinach, chopped

1/2

teaspoon

salt

more or less to taste

10

large

eggs

2

tablespoons

milk

regular or non dairy

1

cup

cooked California-grown wild rice

1

cup

shredded Gruyere cheese

or Swiss cheese
Instructions
Heat the over to 350ºF and set the rack in the middle position. Spray your muffin pan with cooking spray or line each well with a parchment muffin liner.

Heat the oil in a large saute pan over medium-high heat. Add the mushrooms, onion, garlic, and spinach. Saute for 3-5 minutes or until the vegetables are caramelized, and all of their liquid has evaporated.

Remove the vegetables from the heat and let them cool for at least 5 minutes.

In a mixing bowl, whisk the eggs and milk. Add the rice and cheese, and then the vegetables. Whisk everything well.

Using a ladle, fill each well of the muffin pan, leaving at least 1/2 inch of headspace so the muffins can expand.

Bake the egg muffin cups for 20-25 minutes or until they are set.

Let the muffin cups cool for about 10 minutes before removing them from the pan.
Notes
Serve warm, at room temperature, or cold.
Store leftover egg muffin cups in an airtight container in the refrigerator for 2 days or in the freezer for up to 3 weeks.
Nutrition
Calories:
272
kcal
|
Carbohydrates:
9
g
|
Protein:
19
g
|
Fat:
18
g
|
Saturated Fat:
7
g
|
Polyunsaturated Fat:
2
g
|
Monounsaturated Fat:
7
g
|
Trans Fat:
0.03
g
|
Cholesterol:
334
mg
|
Sodium:
479
mg
|
Potassium:
285
mg
|
Fiber:
1
g
|
Sugar:
2
g
|
Vitamin A:
1373
IU
|
Vitamin C:
4
mg
|
Calcium:
289
mg
|
Iron:
2
mg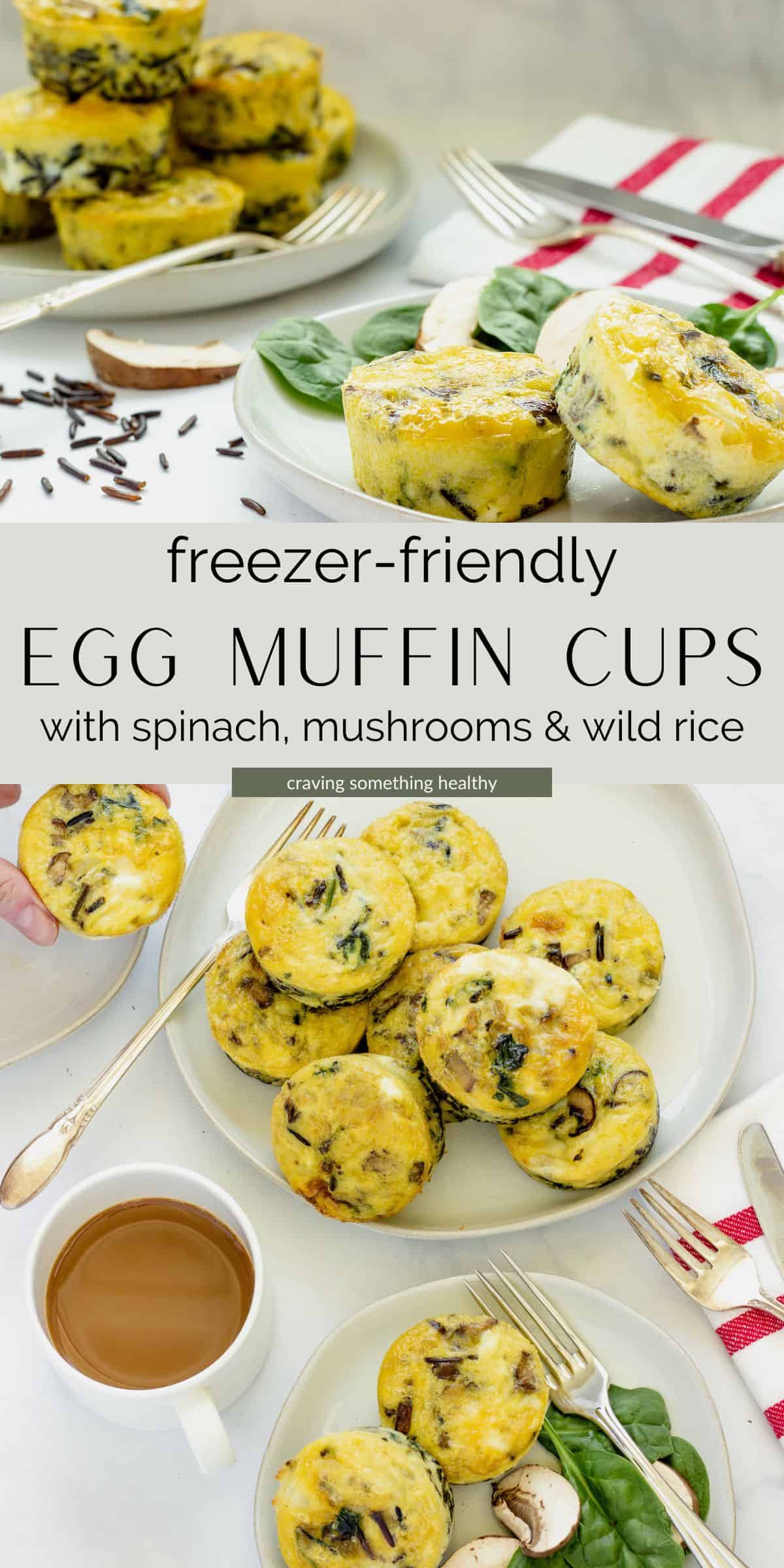 Do you ever eat rice with eggs? If not, it's time to try it!
Eat well!