Creamy Pumpkin Pasta Sauce
Note: I originally developed this recipe for the National Pasta Association in partnership with the Healthy Aperture Blogger Network. I retested and updated it to make it even more delicious!
Creamy pumpkin pasta sauce is the stuff that pasta dreams are made of. This super-easy sauce is full of pumpkin, sage, nutmeg, garlic, onion, and sweet Italian sausage. It clings to your pasta and coats every bite with the most delicious combination of fall flavors.
Of course, this is delicious during the fall for pumpkin season, But if you have a can of pureed pumpkin in the pantry (who doesn't?!), you can make it whenever you're craving a creamy pasta dish that's good for you too. Because pumpkin is packed with antioxidants from a boatload of beta-carotene.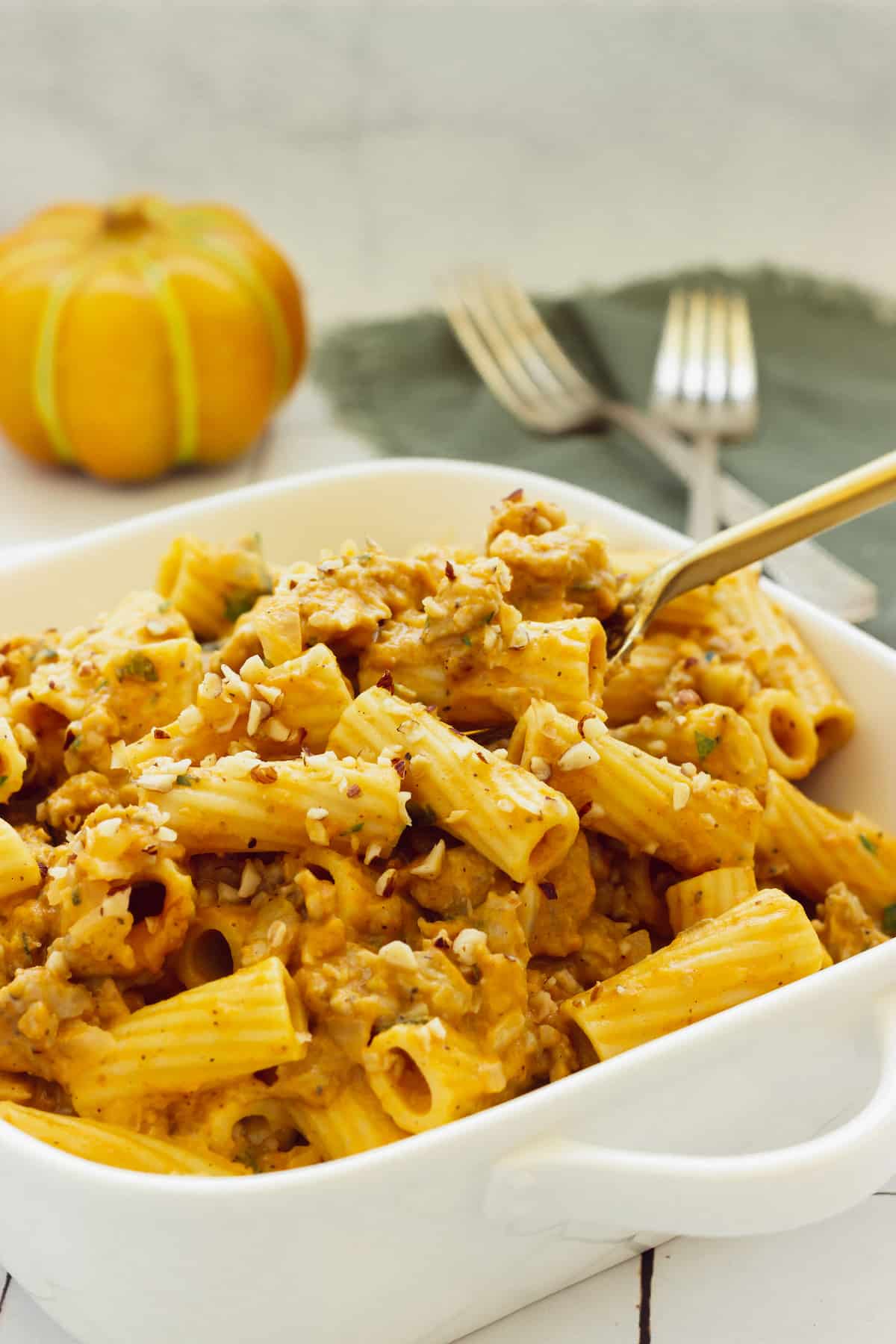 My inspiration for this recipe was a dish I had in Florence, Italy, many years ago. And we all know what pasta is to Italy. I still remember that dish that featured fresh sweet sausage, a creamy blue cheese sauce, and pasta tubes. I thought I had died and gone to heaven.
SO. Good. My then-teenage son actually ordered a second portion.
I don't think I'd even heard of pumpkin pasta sauce until then, but it's a thing in Tuscany. You can find jarred pumpkin sauce here in the U.S. every once in a while, but this one is seriously so easy to make there's no need to buy it.
And as much as I love my 3-ingredient homemade pasta sauce, this pumpkin sauce is a nice (and surprising) change from red sauce, pesto sauce, or even creamy cheddar or alfredo cheese sauce for pasta night. Trust me.
Don't miss these other
Pasta Recipes
Ingredients and Variations for This Pumpkin Pasta Sauce
You only need a handful of ingredients to make this delicious sauce. Canned pureed pumpkin is a must, and fortunately, you can find it year-round in the grocery store. If you're reading this in October when everything pumpkin is on sale, stock up on a few cans. they'll last for well over a year in your pantry.
Here are the key ingredients I use to make this recipe and some ideas for substitutions.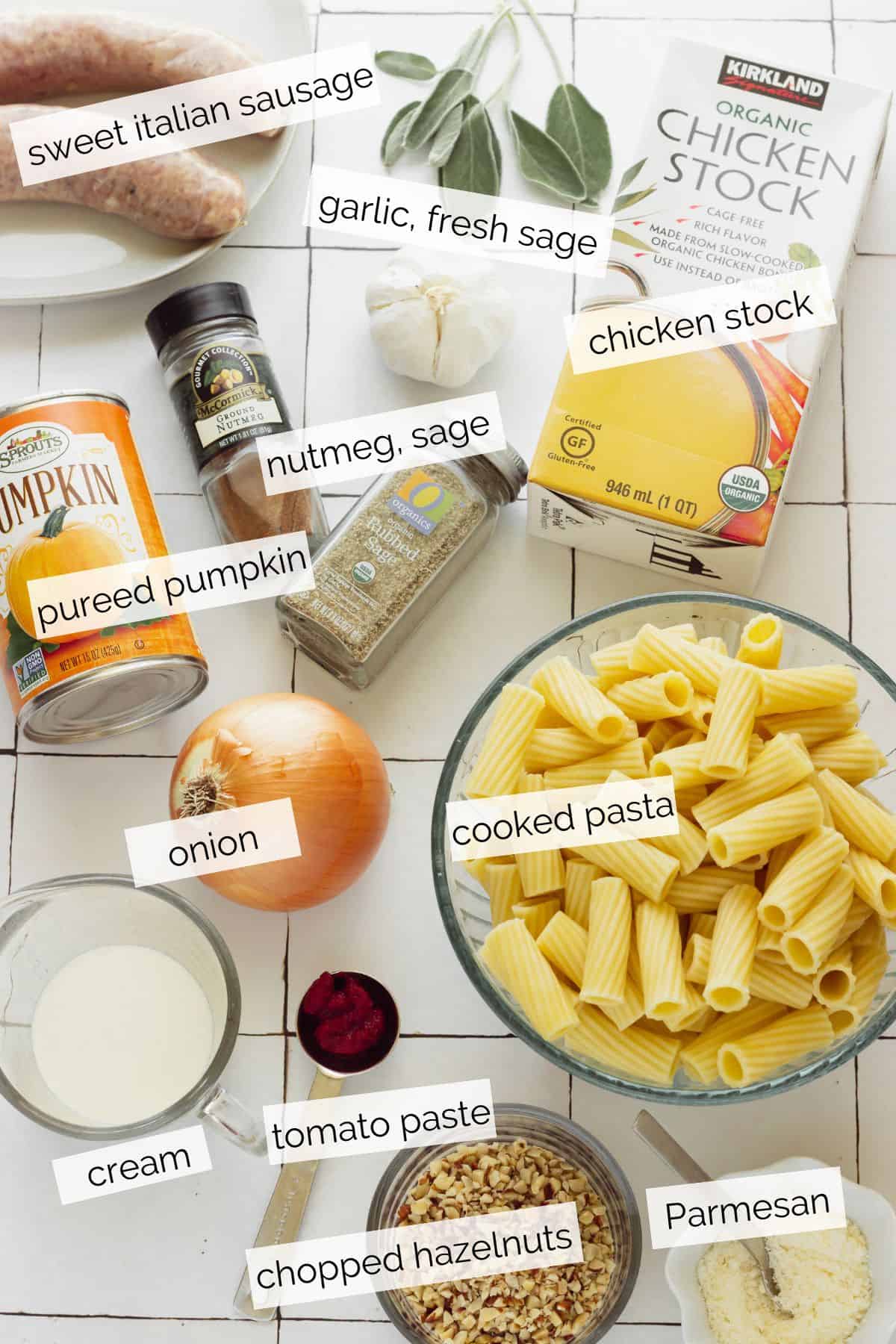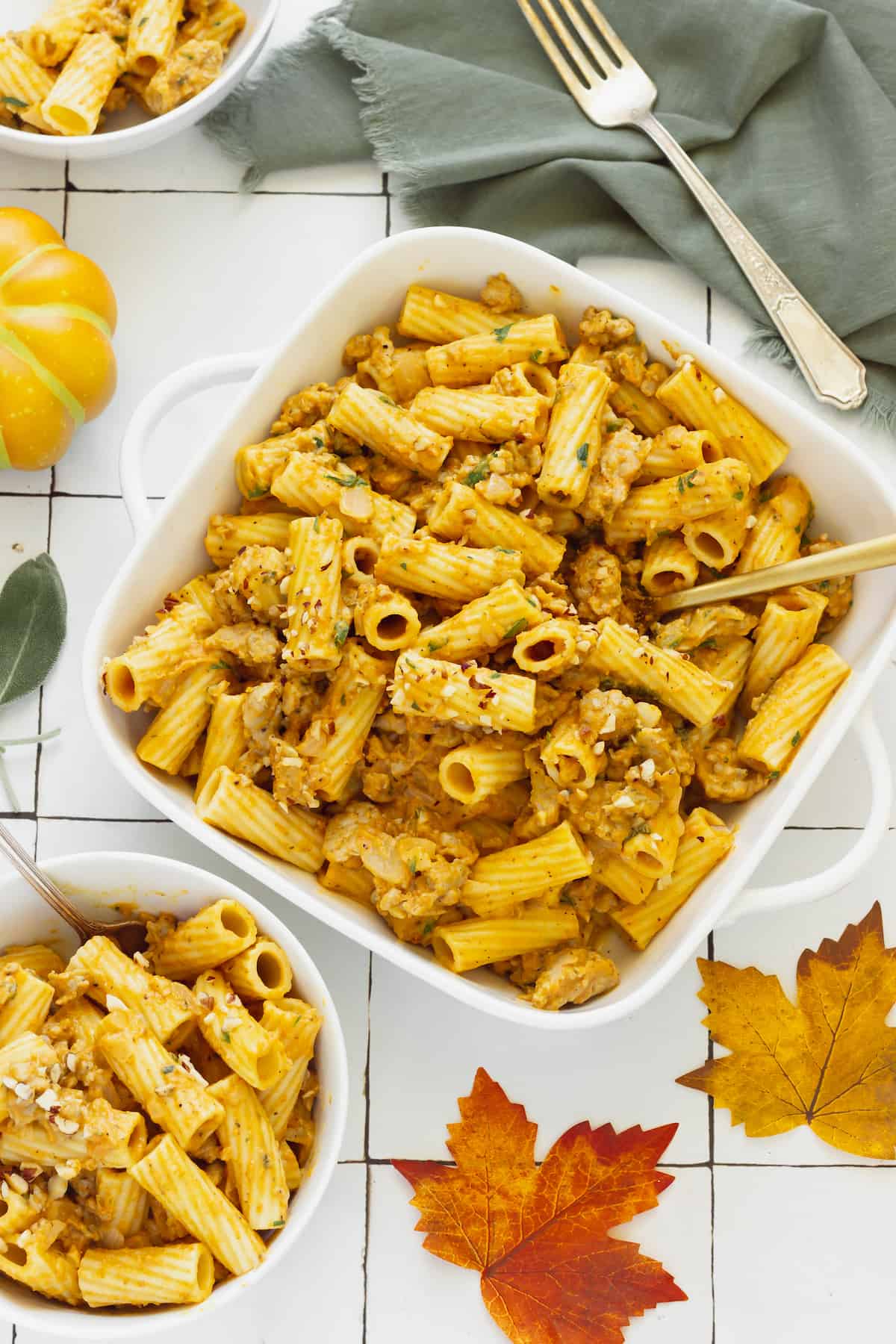 What Pasta Shapes Go With This Sauce?
Pretty much any shape of pasta will work with tasty pumpkin pasta sauce. But I highly recommend a pasta shape that will catch lots of sauce.
I often use rigatoni for this recipe because the sauce clings to the outside and inside of the tubes. Ziti would work well, too, as would farfalle (bowtie pasta), or shells. If you prefer flat noodle pasta, try pappardelle or fettuccini.
One important tip is to not overcook your pasta. Aim for al dente, which means "to the tooth" in Italian. Your pasta should be tender on the outside but with a bite or firmness on the inside.
The only way to tell if your pasta is al dente is to taste it. Try to grab a taste before you think it's done. That way, you can keep a close eye on it, so it doesn't overcook. Your pasta will continue to cook for another minute once you add it to your sauce, so aim for al dente, and you'll avoid soft, gummy pasta.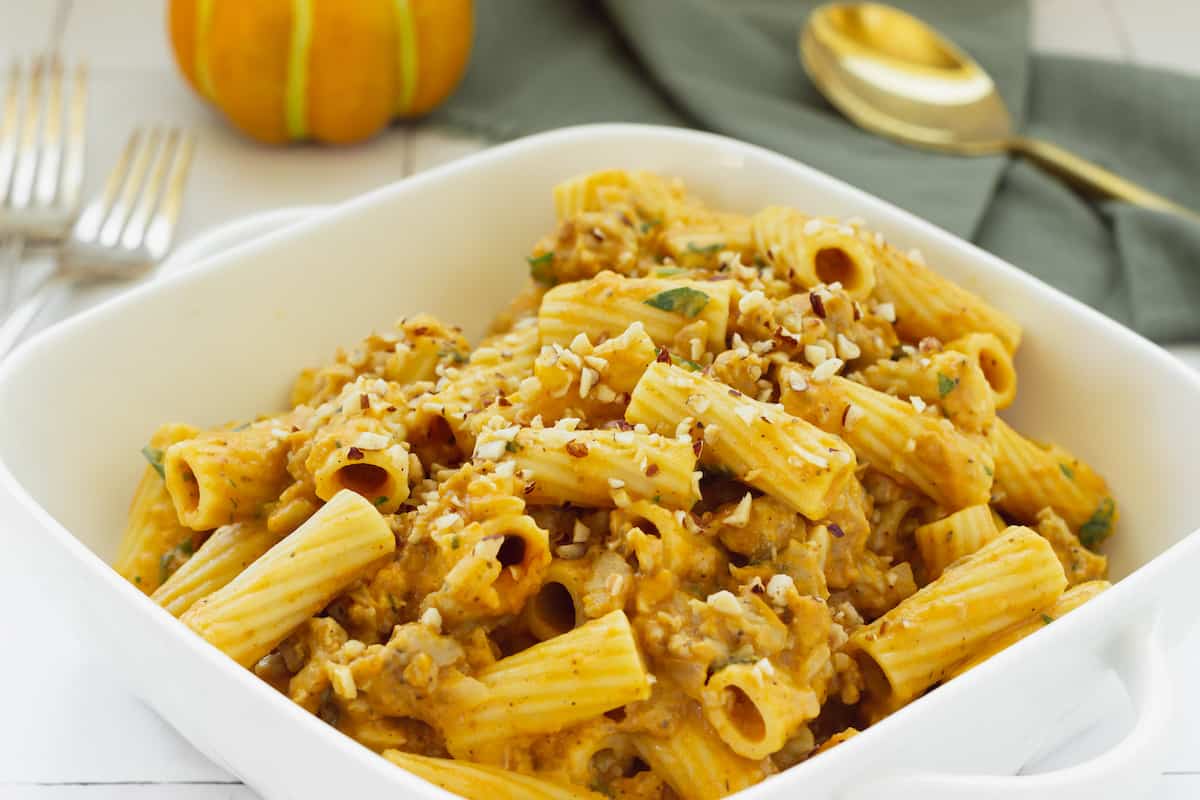 Questions and Tips
What does pumpkin taste like?
Pumpkin is a cousin to other orange winter squash. Most people are used to tasting pumpkin all spiced up with cinnamon, nutmeg, and allspice. But plain pumpkin tastes like a cross between a plain sweet potato and butternut squash. It has a slightly sweet, earthy flavor.
Can you swap squash for canned pumpkin?
Yes, you can use butternut squash if you prefer. If you find pureed squash in a can, use that. Otherwise, an easy option is frozen butternut squash cubes. Just steam them and puree them in a food processor or blender.
Can you make this recipe ahead of time? How do you reheat it?
You can make the creamy pumpkin pasta sauce ahead of time and cook the pasta in advance. But don't combine the sauce with the pasta until you're ready to serve.

Keep the sauce in the refrigerator and reheat it in a large saucepan when ready to serve. It will thicken up a bit as it sits in the refrigerator so add a little extra chicken stock to thin it. Put the cooked pasta in a colander and run it under hot water to warm and moisten it.
Can you freeze this pasta sauce?
You can freeze it for up to three months in an airtight container. Freeze only the sauce, not the pasta with the sauce. When you're ready to use it, thaw it in the refrigerator and gently heat it in a saucepan over medium heat until it starts to bubble. Add extra chicken stock or cream if it seems too thick or thin.
What meat goes with creamy pumpkin pasta sauce?
Instead of Italian sausage, try shredded chicken or beef. You can also leave the meat out of the sauce and serve it with meat-filled ravioli.
Craving Pumpkin Recipes?
Stay a while longer and try some of my favorite pumpkin recipes.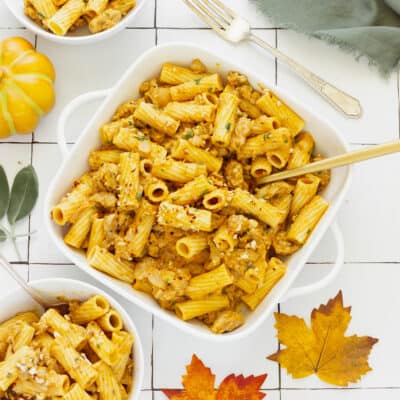 Creamy Pumpkin Pasta Sauce
A delicious, creamy, savory pasta sauce full of fall flavors
Print
Pin
Ingredients
8

ounces

pasta

1

tablespoon

olive oil

1

cup

chopped onion

2

large

garlic cloves

minced

1/2

pound

sweet Italian sausage

chicken or turkey

1

teaspoon

tomato paste

1/2

teaspoon

dried sage

1/4

teaspoon

nutmeg

1

cup

chicken stock

low sodium

1

cup

can pumpkin puree

1/4

cup

heavy cream

2

tablespoons

grated Parmesan cheese

and extra to serve if desired

kosher salt

to taste

2

tablespoons

chopped hazelnuts

toasted

2

tablespoons

minced fresh sage and parsley
Instructions
Bring 2 quarts of water to a boil in a large saucepan and cook the pasta according to package directions. Drain the pasta and set it aside as you prepare the sauce.

Heat the oil in a large saute pan on medium-high heat.

Add the onion and saute for 3-4 minutes until light golden brown. Add the garlic.

Remove the sausage from the casings, add it to the pan and break up with a spatula. Cook sausage until browned and no longer pink.

Reduce the heat to medium, and add the tomato paste, dried sage, and nutmeg. Stir to combine.

Add the chicken stock and pumpkin puree. Stir the sauce to combine. Add the cream and stir again. Let the sauce heat through until it starts to bubble.

Turn off the heat and add the 2 tablespoons of Parmesan cheese. Add salt to taste.

Fold in the pasta, and if the sauce needs to be loosened a bit, add extra chicken stock, a few tablespoons at a time until you reach the desired consistency.

Top the pasta with chopped toasted hazelnuts, minced fresh sage and parsley. Serve with additional Parmesan cheese if desired.
Notes
Make sure to use plain pumpkin puree, not pumpkin pie filling.
If making this in advance, prepare the sauce and refrigerate it, and cook the pasta and refrigerate it. Don't combine them until ready to serve because it will be too dry.  Reheat the sauce gently over medium heat. If it's too tight, add extra chicken stock.
Nutrition
Calories:
376
kcal
|
Carbohydrates:
16
g
|
Protein:
13
g
|
Fat:
30
g
|
Saturated Fat:
10
g
|
Polyunsaturated Fat:
3
g
|
Monounsaturated Fat:
14
g
|
Cholesterol:
58
mg
|
Sodium:
765
mg
|
Potassium:
631
mg
|
Fiber:
4
g
|
Sugar:
7
g
|
Vitamin A:
9991
IU
|
Vitamin C:
12
mg
|
Calcium:
104
mg
|
Iron:
3
mg
How do you love your pasta?
Eat well!