One Pot Pappardelle Pasta Primavera
This One Pot Pappardelle Pasta Primavera recipe checks all the boxes when you're craving comfort food that's also easy, healthy and vegetarian. It features rich, wide pappardelle pasta, lots of fresh vegetables, and a light, lemony cream sauce.
The best things about this recipe are that it's easily customizable, based on what vegetables you have in the fridge, AND it's crazy fast and easy to make. It takes less than 30 minutes, and everything cooks in one pan.
Learn how to make this easy one-pan pasta dish and how easy it is to customize the vegetables to your taste.
Jump to:
What is Pappardelle Pasta?
Oh, if you haven't met pappardelle, it's TIME! Pappardelle is a thick, wide, flat pasta noodle. It looks like ribbons and is often sold with pasta strands wound into cute little nests.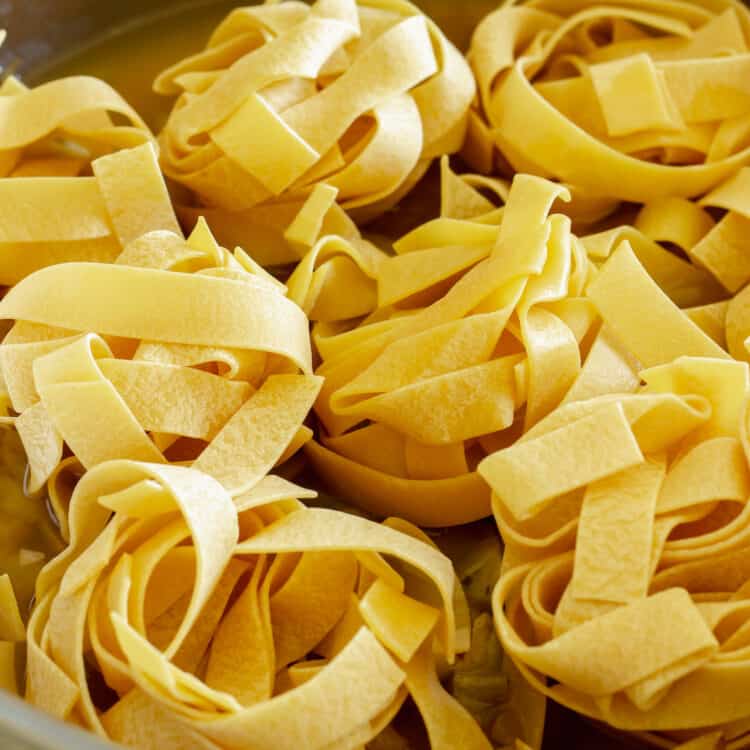 Pappardelle is wider than fettuccine or tagliatelle — usually about 1-inch wide. It's also thick and has a nice chewy bite. The size and texture of these noodles make them heavenly and the epitome of comfort food (in my book, anyway).
Pappardelle comes from the Tuscany region of Italy. Interestingly, the word pappardelle comes from the verb pappare which means to gobble up. That's exactly what you'll want to do with this pappardelle pasta primavera recipe. But I suspect gobble up also refers to the way this cut of pasta holds onto meats, vegetables, shrimp, and any type of sauce you want to pair it with.
Traditionally, pappardelle pasta is paired with bolognese (a meat ragu) sauce. It's also amazing with mushroom sauce, and I couldn't live without it in my Skillet Tarragon Chicken with Noodles.
I love to pair pappardelle with a thick, hearty sauce because the noodles help scoop up every delicious bite of your sauce.
Recipe Tips
Where can you buy pappardelle pasta?
There's no need to go to Tuscany because you can usually find pappardelle at the grocery store. I love Trader Joe's brand and often stock up when I'm there. As much as I love fresh pasta, dried pappardelle is quite good.
How much pappardelle per person?
An 8-ounce package easily feeds four people, especially if your sauce has lots of vegetables, meat, or shrimp. Estimate 2-ounces (uncooked) per person.
Is there egg-free pappardelle pasta?
Most brands are made with eggs, but you can find egg-free pappardelle pasta. Garofalo brand and Colavita brand are egg-free — although it's always best to check with the manufacturer because sometimes ingredients change.
How long does pappardelle pasta take to cook?
It cooks in about 7-10 minutes.
How hard is it to make homemade pappardelle?
Homemade pasta is a lot easier than you might think, especially if you have a pasta maker. But even if you don't, all you need are flour, eggs, salt and a rolling pin. If you have extra time on a rainy Saturday, there is nothing more satisfying than making a huge batch of homemade pasta. You can dry it and keep it in the freezer. This article by Masterclass walks you through the steps.
What is Pasta Primavera?
Pasta primavera isn't authentically Italian, but it's still delicious. It's an American recipe that features pasta (often pappardelle, but also fettuccine or spaghetti), a variety of vegetables, and usually a butter-cream sauce. Sometimes, the primavera sauce also has lemon (like this one) and Parmesan cheese.
One nice thing about pasta primavera is that there's no rule about which vegetables you have to use. It's nice and flexible, so you can use whatever you have in the refrigerator. When you cook it using my one-pan method, it's perfect for a quick meatless, weeknight dinner.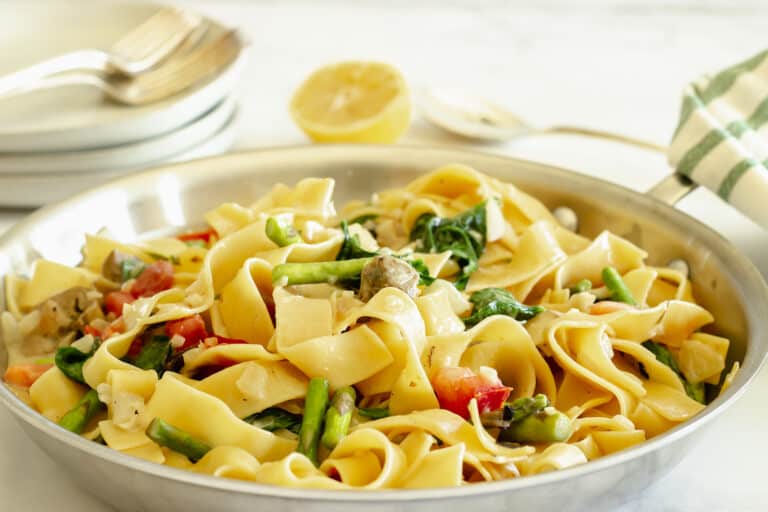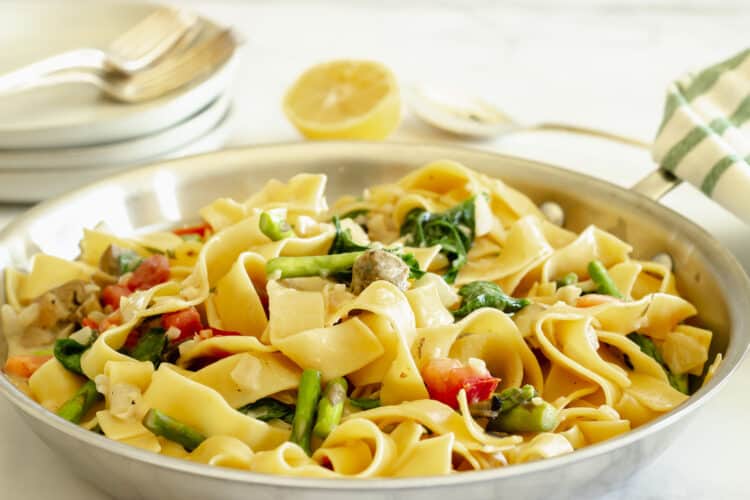 Ingredients and Variations
There are so many ways to make Primavera, but here's how I do it and some of my favorite variations.
Pasta: My preference is always pappardelle, but if you don't have any, my next choice would be fettuccine, followed by linguine. A wider or thicker pasta works best because it holds the sauce and vegetables better. Regardless of which pasta you use, stick to 8 ounces if you're doing the one-pan cooking method. With too much pasta, your sauce will be dry, and with too little pasta and you'll have too much sauce.
Garlic and onion: These are essential because they help flavor your sauce. Leeks or shallots are a good substitute because their flavor is a cross between garlic and onions.
Chicken stock: You need a generous 2 ½ cups of liquid to cook your pasta and serve as a base for your sauce. I use chicken stock because it makes a tasty base for the sauce and flavors the pasta nicely. If you want to keep this recipe vegan, you can use vegetable stock or water.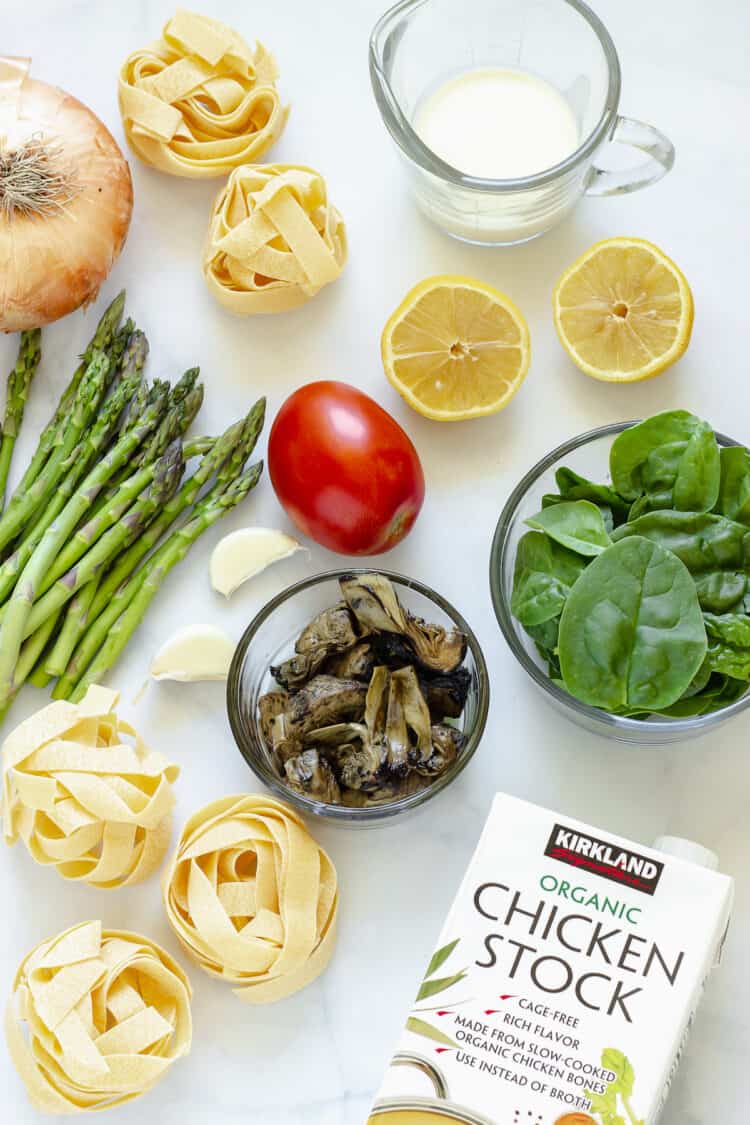 Vegetables: My favorite combo is:
Asparagus
Baby spinach
Tomatoes (Roma tomatoes hold their shape well)
Artichokes (I love the roasted, quartered artichoke hearts from Trader Joe's, but you can use marinated or plain canned ones too.
Other vegetables that would work in this recipe include:
Mushrooms
Broccoli
Sundried tomatoes
Kale (or other leafy greens)
Roasted red peppers
Zucchini or yellow squash
Peas
Cream: I use about ¼ cup of heavy cream in this recipe. It makes this recipe luscious and works out to only about 3 teaspoons per serving. You can skip it if you're watching your fat or want to keep this recipe vegan. If you skip the cream, add about ¼ cup more water or stock when cooking your pasta.
Lemon: I love a fresh, creamy, lemony sauce with the asparagus-tomato-spinach-artichoke combo. I also think lemon works with most of the vegetables listed above. But if you don't like lemon, feel free to omit it.
Protein: This recipe is quite filling, so it doesn't need protein. But feel free to top it off with cooked shrimp or grilled chicken. It's a great way to use up those leftovers or stretch this recipe to feed more people.
Cheese: It's optional. If you love cheese, grate some Parmesan or Romano over the top before serving.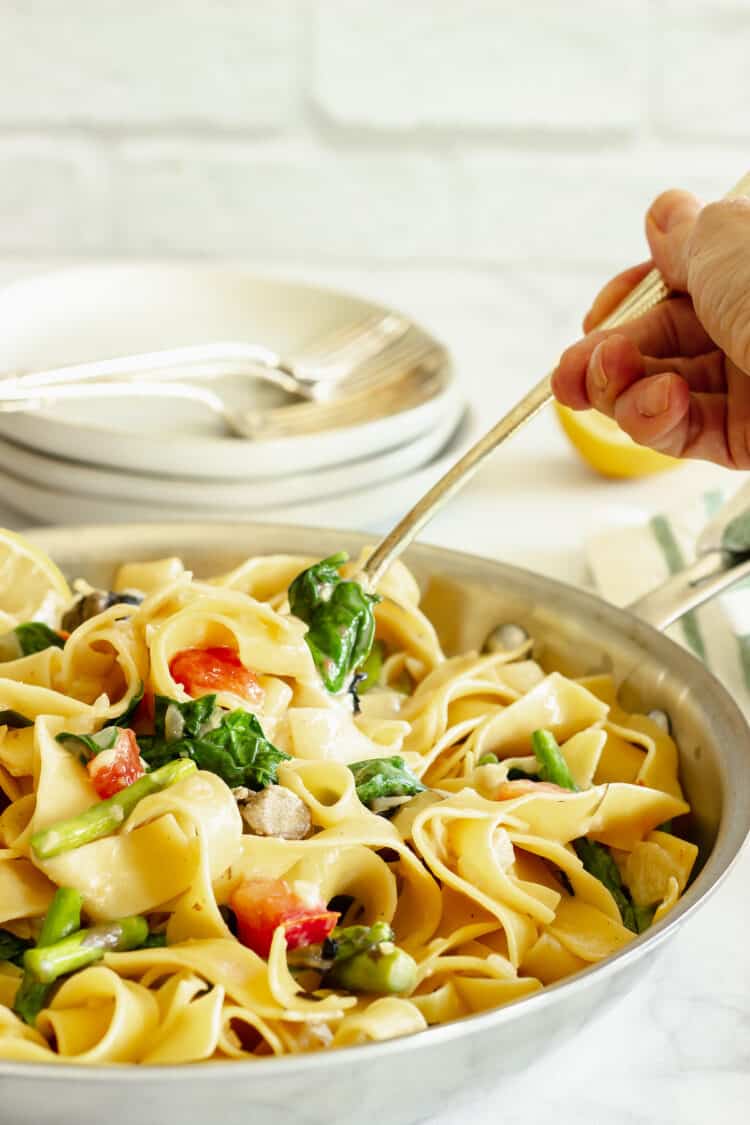 About the One Pot Pasta Cooking Method
One-pot pasta is a MIRACLE method and pretty much the only way I cook pasta these days. Why dirty multiple pots and pans when you can do everything in one pan?
The key to one pot pasta is to add your ingredients to the pot in the right order and use the right proportion of pasta to liquid. You also need a decent size saute pan with a tight-fitting lid. To make this recipe (or any other one-pot pasta recipe):
First, saute your onions and garlic. If you're using sundried tomatoes, you can saute them with the onions and garlic.
Next, add your stock or water to the same saute pan and bring it to a boil. Then, add your pasta. It's essential to have 2 ½ cups of liquid to 8 ounces of dry pasta. The pasta will absorb most of the liquid, and you'll have a little bit left over for your sauce.
Reduce the heat and cover the pan, letting the pasta cook. Give it a stir occasionally to make sure the pasta doesn't stick together.
When the pasta is almost done, pile your veggies on top and cover the pan again. If you have any vegetables that take longer to cook, feel free to add them a minute earlier, so they have more time to cook. The combination I use only needs about 2-3 minutes to soften and wilt.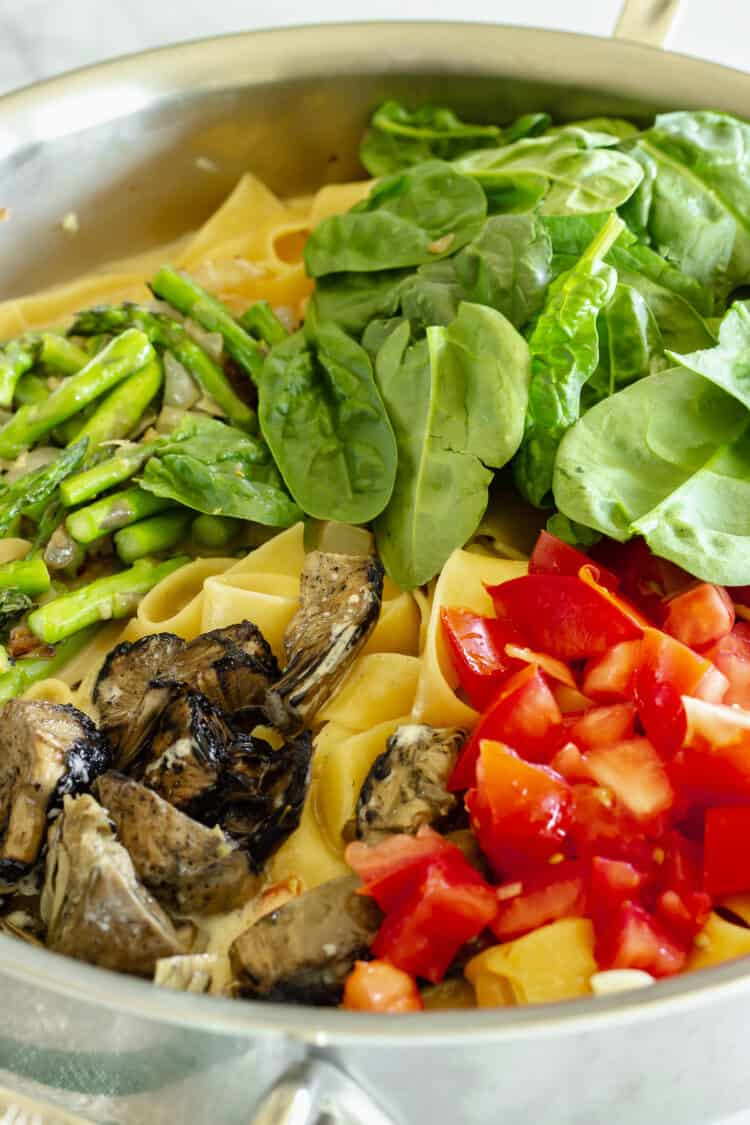 When everything is cooked, stir it together and add additional water, stock, or cream if your sauce is too stiff. Season it up, and dinner is done!
Don't miss these other
One Pot Pasta Recipes
Recipe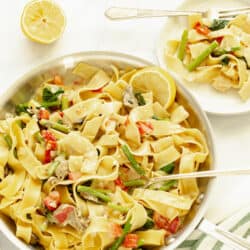 One Pot Pappardelle Primavera
A quick and easy vegetarian pasta recipe
Print
Pin
Ingredients
1

tablespoon

olive oil

1

cup

minced onion

about ½ medium onion

2

cloves

garlic, minced

1

teaspoon

lemon zest

2

tablespoons

fresh lemon juice

2 ½

cups

low sodium chicken stock

or vegetable stock, or water

¼

cup

heavy cream

8

ounces

dry pappardelle pasta

kosher salt

to taste

4

ounces

thin asparagus

tough ends snapped off and cut into 1 ½-inch pieces

1

roma tomato

seeded and cut into 1-inch pieces

½

cup

quartered artichoke hearts

drained

2

cups

baby spinach

grated Parmesan cheese

optional
Instructions
Heat the oil in a large saute pan over medium-high heat. Add the onion and garlic and saute for about 4 minutes or until light golden.

Add the lemon zest, lemon juice, and chicken stock. Bring the liquid to a boil. Add the pasta. Stir to break up the pasta and add the cream. Stir everything well.

Reduce the heat to medium-low, and cover with a lid. Let the pasta cook for about 8 minutes, or until almost al dente. Taste the sauce and pasta and season it with salt to taste.

Add the asparagus, tomatoes, artichoke hearts, and spinach on top of the pasta, and cover again to finish cooking - about 2-3 more minutes. Stir it occasionally to incorporate the vegetables into the pasta.

When the pasta is cooked to your liking, taste and add extra salt and grated Parmesan cheese if desired.

If the sauce seems too stiff, add additional stock, cream, or water, up to ¼ cup. The sauce will stiffen up as the pasta cools.
Notes
Feel free to substitute 8 ounces (dry) of any other type of pasta as desired.
Nutrition
Calories:
358
kcal
|
Carbohydrates:
52
g
|
Protein:
14
g
|
Fat:
11
g
|
Saturated Fat:
4
g
|
Polyunsaturated Fat:
2
g
|
Monounsaturated Fat:
5
g
|
Trans Fat:
0.04
g
|
Cholesterol:
60
mg
|
Sodium:
319
mg
|
Potassium:
527
mg
|
Fiber:
5
g
|
Sugar:
5
g
|
Vitamin A:
1952
IU
|
Vitamin C:
15
mg
|
Calcium:
69
mg
|
Iron:
3
mg
Do you ever use the one-pot pasta cooking method? What do you make?
Eat well!