Black Olive and Sun-Dried Tomato Focaccia
I received free samples of California Ripe Olives mentioned in this post. By posting this recipe I am entering a recipe contest sponsored by California Ripe Olives and am eligible to win prizes associated with the contest.
California black ripe olives have always been one of my favorite snack foods. Really. Since I was little. I was one of those kids who put one on the tip of each finger and just munched away. I've always loved their mild fruity, briny flavor, and texture. I never gave much thought to whether they were good for me or not. I just knew I really liked them.
Fast forward about a hundred years, and now that I know more about olives, I pop open a can every chance I get! Most people are aware that olive oil is part of a healthy Mediterranean diet – well, guess where that oil comes from? Yep – olives, and they're super-healthy too!
When I work with clients to help them to eat better, I prefer to focus on foods to add more of to their diet, rather than foods to take away. I love the look of surprise and delight when I mention olives as a healthy addition to their diet. Them: "What? I thought olives were so bad for you?!" Me: "Nope. They're really, really good for you."
A serving of four California ripe olives has about 25 calories, and while it's true that most of those calories come from fat, it's the heart-healthy, monounsaturated kind that helps to improve your cholesterol.
California ripe olives also provide vitamins, minerals, and phytochemicals that work in other ways to keep you healthy. Although they're grown in California, these black olives sit right alongside other healthy and delicious foods like nuts, cheese, yogurt, fruits, vegetables, and even wine, as part of the Mediterranean-style diet, that promotes longer and healthier lives.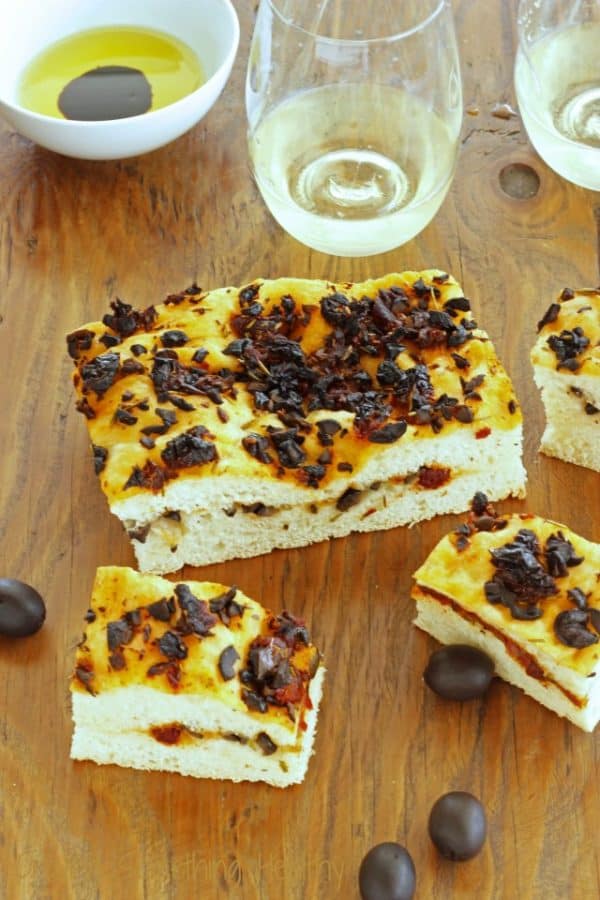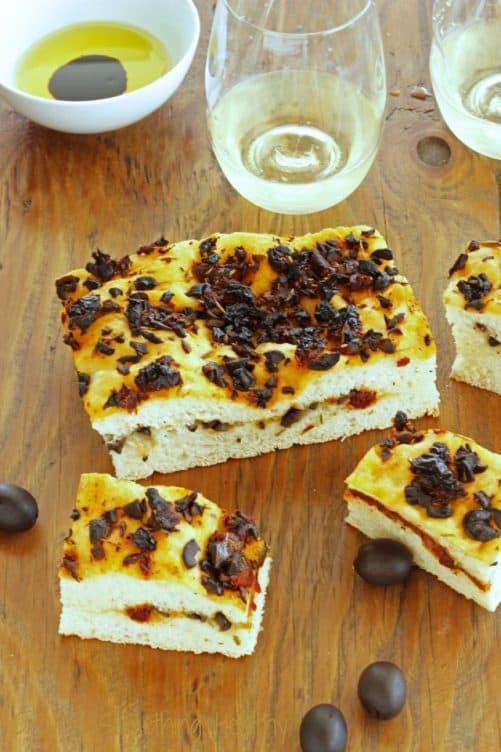 Black olives are a versatile food to use in salads, sandwiches, tapenade spread, or even in cooking and baking. I paired them with some of my favorite Mediterranean flavors: sun-dried tomatoes, fresh rosemary, Parmesan cheese, and olive oil, to make this focaccia bread. Thank heavens it's so quick and easy to make, because it disappears in minutes!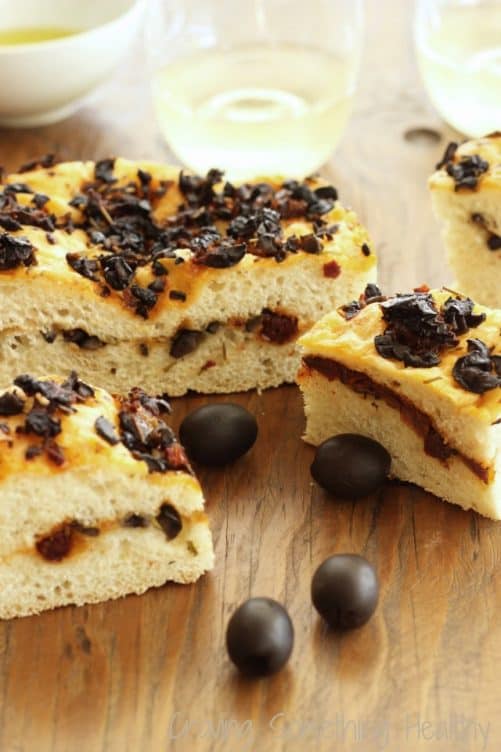 While you certainly can make your own pizza dough for this recipe, it is perfectly acceptable, and I completely encourage you to use pre-made pizza or bread dough for this recipe. I would be lost without a few packages in my freezer.
My local Safeway bakery has the most amazing french bread dough, but it's behind the bakery counter and you have to ask them for it (don't tell them I told you!) 🙂
Recipe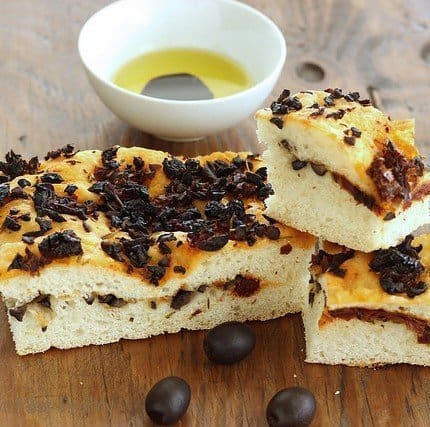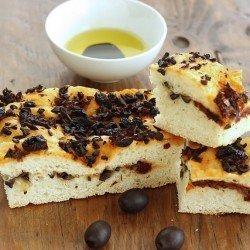 Black Olive and Sun-Dried Tomato Focaccia
An easy and delicious homemade Italian foccaccia bread
Print
Pin
Servings:
8
1 pound loaf of bread (about 12 servings)
Ingredients
1

pound

package of pizza or bread dough

thawed.

1

cup

California ripe black pitted olives

½

cup

sun dried tomatoes

in olive oil, with herbs

3

tablespoons

of the oil from the sun dried tomatoes

1

large sprig of fresh rosemary

⅓

cup

of grated Parmigiano-Reggiano cheese

Olive oil with balsamic oil for dipping

optional
Instructions
Generously spray or oil an 8 x 10 baking pan

Mince the black olives, drained sun dried tomatoes, and rosemary, and mix together in a small bowl.

Roll the pizza or bread dough out into a rectangle, about 6" wide x 16-18" long.

Spread about ⅔ of the olive, tomato, herb mixture over one half of the dough.

Sprinkle parmesan cheese over the olive, tomato mixture.

Fold the plain half of the dough over the half with the filling, and lightly pinch closed.

Place the dough in the oiled pan, and let rise for about an hour, until it fills the pan.

Preheat the oven to 425 degrees

When the dough has risen and is puffed, make indentations throughout the top with your fingers.

Lightly brush 3 tablespoons of the oil from the sundries tomatoes over the dough.

Sprinkle the remaining olive and tomato mixture over the top of the dough.

Bake for about 20-30 minutes, or until the bread is golden and pulls away from the sides of the pan.

Let cool, and cut into squares.

If desired, serve with olive oil with a bit of balsamic vinegar for dipping.
Notes
Wrap leftover bread in foil. To serve later, heat the wrapped bread at 350 degrees F for about 10 minutes.
Nutrition
Calories:
244
kcal
|
Carbohydrates:
32
g
|
Protein:
7
g
|
Fat:
11
g
|
Saturated Fat:
2
g
|
Polyunsaturated Fat:
1
g
|
Monounsaturated Fat:
6
g
|
Cholesterol:
3
mg
|
Sodium:
747
mg
|
Potassium:
247
mg
|
Fiber:
2
g
|
Sugar:
6
g
|
Vitamin A:
159
IU
|
Vitamin C:
3
mg
|
Calcium:
66
mg
|
Iron:
2
mg
Eat well!