Garden Stuffed Sweet Peppers
Freezer meals are a perfect way to save some of those late summer veggies, and this vegetarian stuffed pepper recipe make good use of lots of summer vegetables.
I have more freezer-safe plastic containers than I know what to do with, and of course I have a FoodSaver
 complete with every assorted accessory and bag size. I used to store everything from leftover hunks of cheese, to fresh breadcrumbs made from the ends of baguettes, to soups, stews and of course, those huge family packs of chicken and beef.
I've stopped doing it now that my kids are grown and moved out, and it's just the two of us – and often just me.
But guess what. Freezer meals aren't just for moms and busy families – they're totally for everyone who eats, including empty nesters! I can't tell you how many times I just don't feel like cooking dinner, so it's salad or grilled tortillas with guac and Pickled Mexican Vegetables.
If only I had a delicious meal in the freezer... So I'm officially back in the freezer game – and I'm starting with this recipe that features my favorite late summer vegetables in each bite.
I always find huge bags of bell peppers in the late summer or early fall, and of course the zucchini, corn and tomatoes are everywhere and overflowing. My basil is also 3 feet tall – so everything went into these peppers, and they're perfect. Just like summer.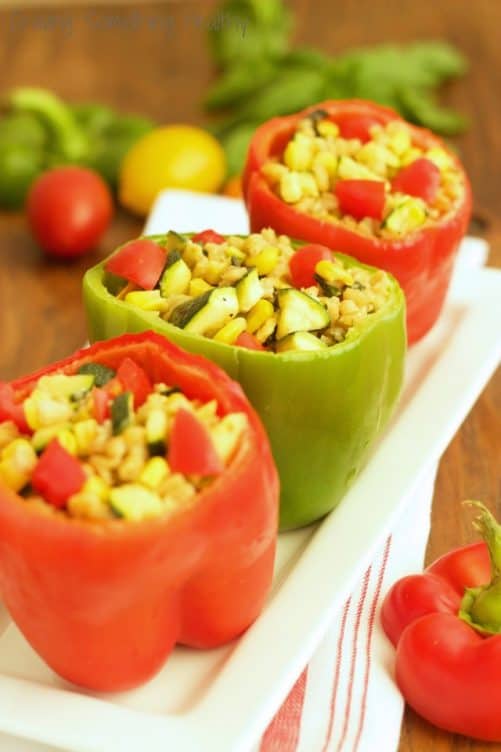 A few tips for making freezer meals:
You're bound to lose a little bit of quality when meals are stored in the freezer, so make sure your produce is super-fresh
Invest in a FoodSaver

! It vacuum seals your freezer bag, so food stays fresher longer

.
Always cool hot foods like soups and stews in the refrigerator before transferring them to the freezer. It's a good chance to skim off any fat that has collected on the top of stews, and it will keep your food safer
Portion out your foods before freezing, especially if you're making freezer meals for one or two, so they're faster and easier to thaw and reheat
Label your containers with the name of the dish and date prepared. Don't forget to check your freezer for forgotten meals that get pushed down to the bottom!
Check out this article on Freezing Cooked Foods for Future Meals for some helpful info on food safety and quality, and just how long you can keep different foods in the freezer
Recipe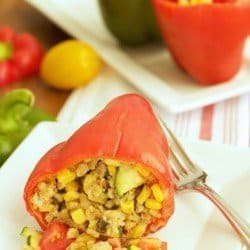 Garden Stuffed Sweet Peppers
These stuffed peppers make use of those late summer vegetables and herbs
Print
Pin
Ingredients
½

large

sweet onion

diced

2

cloves

garlic

minced

2

tablespoons

olive oil

2

cups

reduced sodium chicken or vegetable broth

¾

cup

of barley

6

medium bell peppers

2

small zucchini

diced

1

cup

corn

cut from the cob, or frozen

½

cup

grated parmesan cheese

1

cup

cherry tomatoes

quartered

¼

cup

fresh basil

sliced into thin shreds (chiffonade)

salt and pepper to taste
Instructions
Heat oil in a saute pan over high heat. Sauté onion until light golden, and then add garlic. Sauté for about 1 more minute.

Add broth and bring to a boil. Reduce heat to medium-low and add barley. Cover and cook until barley is tender (about 45 minutes or according to package directions). Pearled or quick cooking barley will cook faster.

While barley is cooking, cut the tops off and remove the cores from the peppers. Set them in a microwave-safe dish with about 1 inch of water in the bottom. Lightly cover with plastic wrap, and microwave the peppers for 3-4 minutes or until just tender. Let them cool for a few minutes before removing the plastic wrap, and then drain off any water.

When the barley is tender, add the zucchini, corn, tomatoes, cheese, and basil. Stir to combine, and let the vegetables heat through. Season with salt and pepper to taste.

Stuff ⅙ of the barley and vegetable mixture into each of the peppers.

Serve immediately, or let the stuffed peppers cool in the refrigerator.

Portion the peppers as desired, and freeze each portion in an airtight container for up to 3 months.

To serve if frozen, let peppers thaw in the refrigerator, and then reheat in the microwave for about 5 minutes (stirring the filling once or twice), or in a 350 degree oven for about 20 minutes.

If reheating in the microwave, cover lightly with plastic wrap, and if in the oven, cover lightly with foil.
Notes
Freeze leftover stuffed peppers in an airtight container for up to 3 months.
Nutrition
Serving:
1
g
|
Calories:
255
kcal
|
Carbohydrates:
37
g
|
Protein:
11
g
|
Fat:
9
g
|
Saturated Fat:
2
g
|
Polyunsaturated Fat:
1
g
|
Monounsaturated Fat:
4
g
|
Cholesterol:
7
mg
|
Sodium:
281
mg
|
Potassium:
888
mg
|
Fiber:
8
g
|
Sugar:
8
g
|
Vitamin A:
4365
IU
|
Vitamin C:
183
mg
|
Calcium:
119
mg
|
Iron:
2
mg
Do you make freezer meals? What are some of your favorites?
Eat well!
This post contains an affiliate link to Amazon. If you visit Amazon and make a purchase, I will receive a small commission. Thanks for supporting Craving Something Healthy!