OK – raise your hand if you've ever had a new dish at a restaurant that totally moved you to bits and you thought about it all that night and the next day, and then you got right to work to recreate it right in your own kitchen.  Some people might have no idea what I'm talking about – they're the ones who would just go back to the restaurant to eat it again, and be fine with that.  But, the rest of us – dare I say, the foodies of the world – know EXACTLY what I'm talkin' about!  We've been there.  Done that!  Sometimes you've just gotta make it yourself.
One of my favorite restaurants in town is a tiny Mexican place called Sofritas.  The chef has been working on adding some new light and healthy items to the menu, and recently, he created a new zucchini noodle salad, which has been quite a hit with all of us.  It's actually not very Mexican tasting at all, but we love it just the same.  My friend Diana decided to recreate it, and she shared her version of the recipe with us.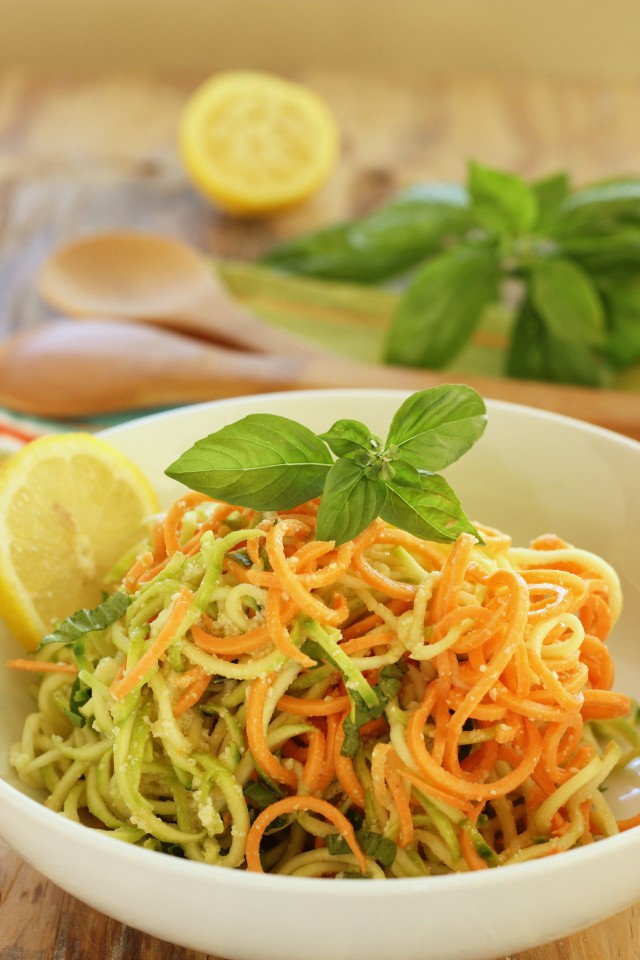 You can easily make this with a julienne peeler, or a mandoline fitted with the julienne blade, but I highly recommend a Spiralizer
 if you don't have one.  Christmas is coming after all…(in case you need a gift idea), and a spiralizer is a super-fun kitchen toy that can be used year-round and it gets everyone eating more veggies.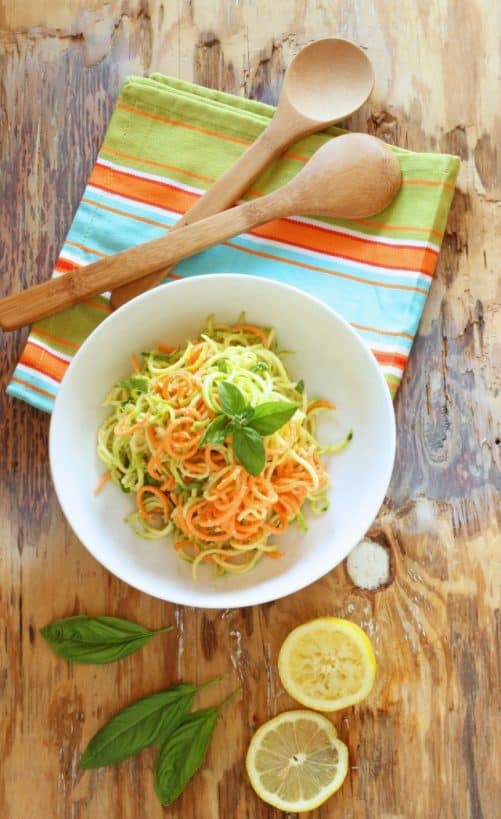 I did put a slight twist on Diana's recipe.  I added a bit of garlic powder to the dressing, and some fresh sliced basil to the "zoodles".   I do happen to know that sheloves all things Italian, so I'm hoping she won't mind too much:)   This salad is so ridiculously easy to make, and whether you eat it yourself for dinner, or serve if to guests as a side salad, it's so pretty and fun to eat, it will be gobbled up in an instant!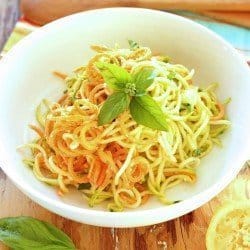 Lemon Parmesan Zucchini Noodles
Ingredients
2

medium zucchini squash

peeled and ends cut off

2

medium yellow summer squash

peeled and ends cut off

2

sweet potato

peeled and ends cut off

1/2

cup

fresh basil leaves
Dressing
1/2

cup

fresh lemon juice

1/4

cup

olive oil

1/2

cup

good quality grated parmesan cheese

3

tablespoons

white wine vinegar

1/4

teaspoon

garlic powder

kosher salt and fresh ground pepper to taste
Instructions
With a Spiralizer, julienne peeler or mandolin fitted with the julienne slicing blade, slice zucchini, summer squash and sweet potato into thin "noodles". Toss all vegetables in a large mixing bowl.

Slice basil into thin slices (chiffonade) and add to the vegetables.

In a measuring cup or small bowl, whisk together lemon juice and olive oil. Add parmesan cheese and whisk to combine. Add white wine vinegar and garlic powder.

Add salt and pepper to taste.

Pour dressing over noodles, and lightly toss to combine.

Refrigerate for about 15-30 minutes to let flavors blend, and serve.
Notes
Recipe adapted from Sofritas restaurant, Fountain Hills, AZ
Have you ever made "zoodles"?  How do you eat them?
Eat well!