Lemon Herb Kefir Salad Dressing
Not only will your salad love this creamy Lemon Herb Kefir Salad Dressing, but your gut will thank you too! It's is full of fresh flavors and packed with gut-friendly probiotics.
There's a famous quote that's attributed to Hippocrates. Apparently, way back in the day, he said: "All diseases start in the gut."
Fast forward a few thousand years, and you know what scientists have discovered? Well, maybe not all, but an amazing number of diseases DO seem to be linked to the gut.
I'm not just talking about constipation and diarrhea, friends. I'm talking about diabetes, heart disease, fatty liver disease, autoimmune diseases, allergies, depression, anxiety, and even your weight.
Your gut microbiome is the massive collection of healthy bacteria that live in your digestive tract. Together, they regulate so many of your metabolic functions and they work to keep you healthy.
However, those bacteria are like a garden. If you don't tend to them, weeds, (or bad bacteria) start to take over. On the other hand, if you feed and nurture your garden of bacteria, they'll thrive. Happy bacteria will help keep things running smoothly throughout your body.
If you want a closer look at what really goes on in your gut, and how to best feed and nurture your microbiome, check out my post on What Really Goes On Inside Your Gut.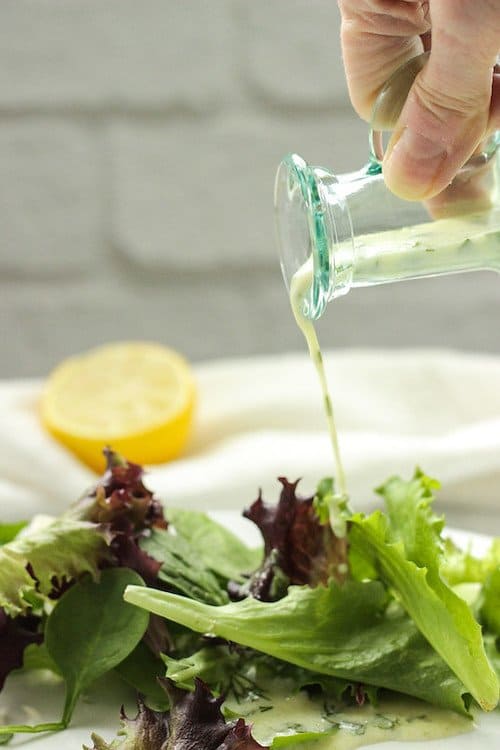 There are many things you can do to help keep your microbiome happy and thriving. And yes, it starts with your diet. Probiotic-rich foods are at the top of the list. They introduce more of those disease-fighting, health-promoting beneficial bacteria that you might be lacking.
Yes, you can take a probiotic supplement, but it might not have a huge variety of probiotic strains. Plus, wouldn't you rather eat some food???
One of my favorite probiotic foods is kefir. It's a yogurt-like drink, except it usually provides at least 12 different probiotic strains. Most yogurts only have two or three. When it comes to healthy bacteria, more variety is better, because each strain has different benefits.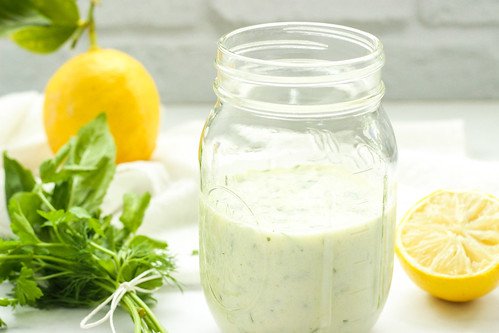 Sooo... That's why I made this Lemon Herb Kefir Salad Dressing for you today. I often add kefir to my overnight oats, or to my Wild Blueberry Smoothie Bowl. I love the tangy flavor it adds to both, so I thought, why not a kefir salad dressing? Cause sometimes greens like a little tang.
This kefir salad dressing is a perfect way to use preserved lemons. Don't worry if you don't have preserved lemons - you can stick to fresh lemon zest and a squeeze of lemon juice. But, if you happen to find a bunch of nice, fresh, organic lemons, why not preserve a few? You'll have them on hand to use in recipes for months.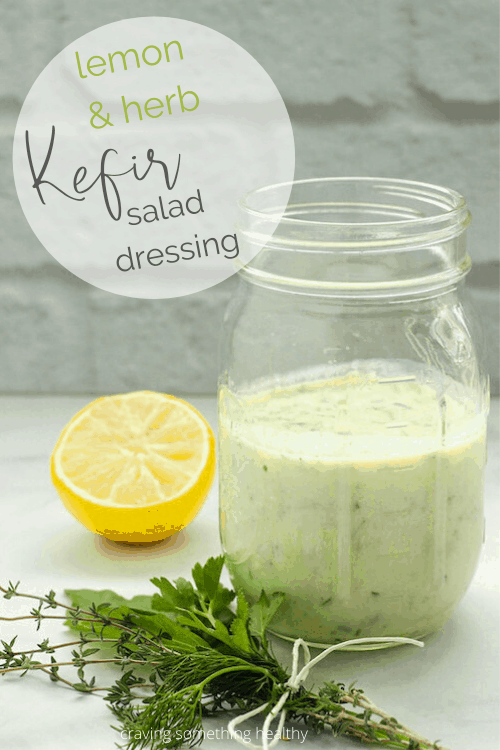 I also think homemade salad dressings are a delicious way to use fresh herbs. Everyone should have an herb garden because all food tastes better with fresh herbs that you just plucked from your garden. Don't you think?
Recipe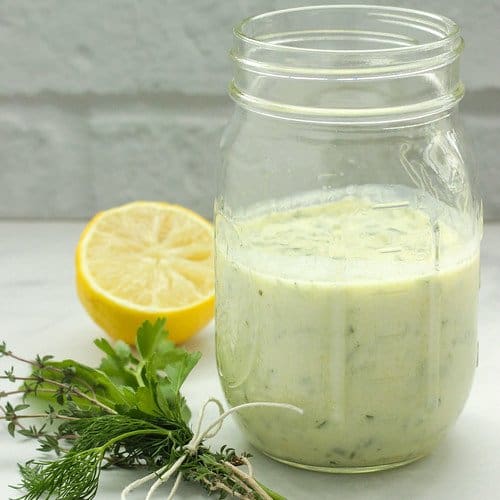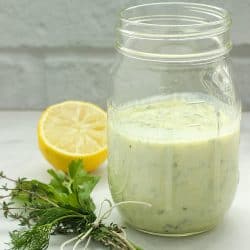 Lemon Herb Kefir Salad Dressing
A bright, tangy, and probiotic-rich salad dressing
Print
Pin
Ingredients
½

medium avocado

½

cup

plain kefir

3

tablespoons

white wine vinegar

1

tablespoon

olive oil

2

tablespoons

preserved lemons (or zest of 1 lemon plus 2 tablespoons lemon juice)

minced

2

teaspoons

fresh parsley

minced

2

teaspoons

fresh dill

minced

2

teaspoons

fresh basil

minced

1

teaspoon

fresh thyme

minced

2

teaspoons

fresh chives

minced

¼

teaspoon

garlic powder

¼

teaspoon

sea salt

1-3

tablespoons

water

as needed to thin

salt and ground pepper

to taste
Instructions
Combine the avocado, kefir, vinegar, olive oil, herbs, garlic powder and ½ teaspoon salt in a blender or food processor and puree until smooth.

Add water to thin as needed.

Taste and add additional salt, and fresh ground pepper to taste.
Notes
This recipe makes about ¾ cup and can be doubled. Keep any leftover dressing in a covered jar in the refrigerator for up to 3 days.
Nutrition
Calories:
96
kcal
|
Carbohydrates:
5
g
|
Protein:
2
g
|
Fat:
8
g
|
Saturated Fat:
2
g
|
Cholesterol:
4
mg
|
Sodium:
164
mg
|
Potassium:
132
mg
|
Fiber:
2
g
|
Sugar:
2
g
|
Vitamin A:
144
IU
|
Vitamin C:
8
mg
|
Calcium:
41
mg
|
Iron:
1
mg
Do you use kefir? How do you use it?
Eat well!