Slow Roasted Grape Tomatoes
Once you taste these intensely sweet and flavorful slow-roasted grape tomatoes, you'll never want to be without them.
Sweet grape tomatoes, roasted with olive oil, garlic cloves, and herbs, are heavenly. They're also the most versatile tomatoes to have in your refrigerator or freezer. You won't believe how easy it is to make this recipe and how many ways you can use these roasted grape tomatoes.
Jump to:
Why Roast Tomatoes?
Like all vegetables, tomatoes have some natural sugar. If you grow your own, you've probably noticed a hint of sweet flavor when you eat one fresh off the vine.
When you roast tomatoes slowly, their sugar starts to caramelize, turning grape tomatoes (or any tomatoes, for that matter) into little nuggets of sweetness.
And as they roast, their flesh becomes buttery soft — so you can spread these slow-roasted grape tomatoes on thick slices of bread, stir them into Caprese pasta, or use them as a base for homemade spaghetti sauce.
Roasting tomatoes with olive oil also provides important health benefits. Tomatoes are an excellent source of lycopene, an antioxidant that may protect you from prostate cancer and other types of cancer. Cooking tomatoes increases their lycopene, and olive oil helps your body to absorb and use those antioxidants better.
This recipe is the best way to use any late-summer tomatoes from your garden. But it's also easy to make year-round because grape tomatoes are always available at the grocery store.
Recipe Ingredients
This recipe couldn't be easier, with just a handful of ingredients. The most important thing is to use fresh, ripe tomatoes. Don't let them sit around until they get wrinkly!
I also highly recommend an entire head of garlic (read below for a fast and easy way to peel the cloves) and a few sprigs of fresh herbs.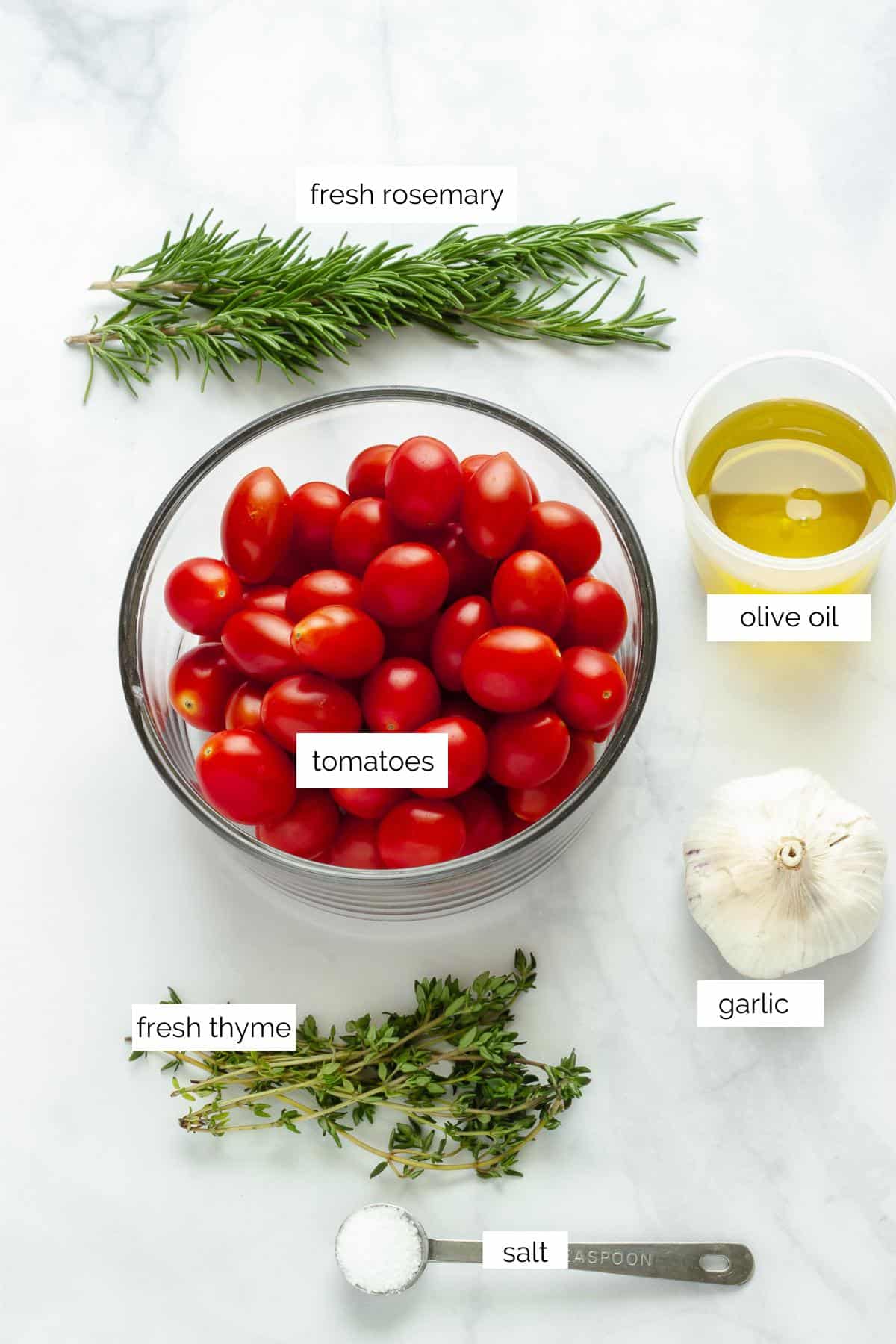 See my recipe card below for a complete list of the ingredients with measurements.
Other Kinds of Tomatoes to Substitute
I love using grape tomatoes for this recipe because they're naturally sweet, available year-round, and their quality is always good. Large-size tomatoes from the grocery store are often not as ripe and tasty, especially in the winter.
If you prefer, you can substitute these other types of tomatoes:
Cherry tomatoes work very well in this recipe
Mini heirloom tomatoes (usually a mix of golden, brownish, greenish, and red tomatoes)
Campari tomatoes (these are often sold "on the vine")
Roma tomatoes (oblong-shaped tomatoes)
These are my favorite roasting tomatoes, but if you happen to have a bumper crop of any other kind, feel free to use them. You really can't go wrong with any type of fresh, vine-ripe tomatoes.
Step-By-Step Instructions
Step 1: The hardest part of this recipe is peeling the garlic cloves, but here's a great tip that I learned from Food52 (and a few other food sites) to make that task super-simple. First, put the head of garlic on a cutting board and smash it with the flat bottom of a mixing bowl to loosen the cloves.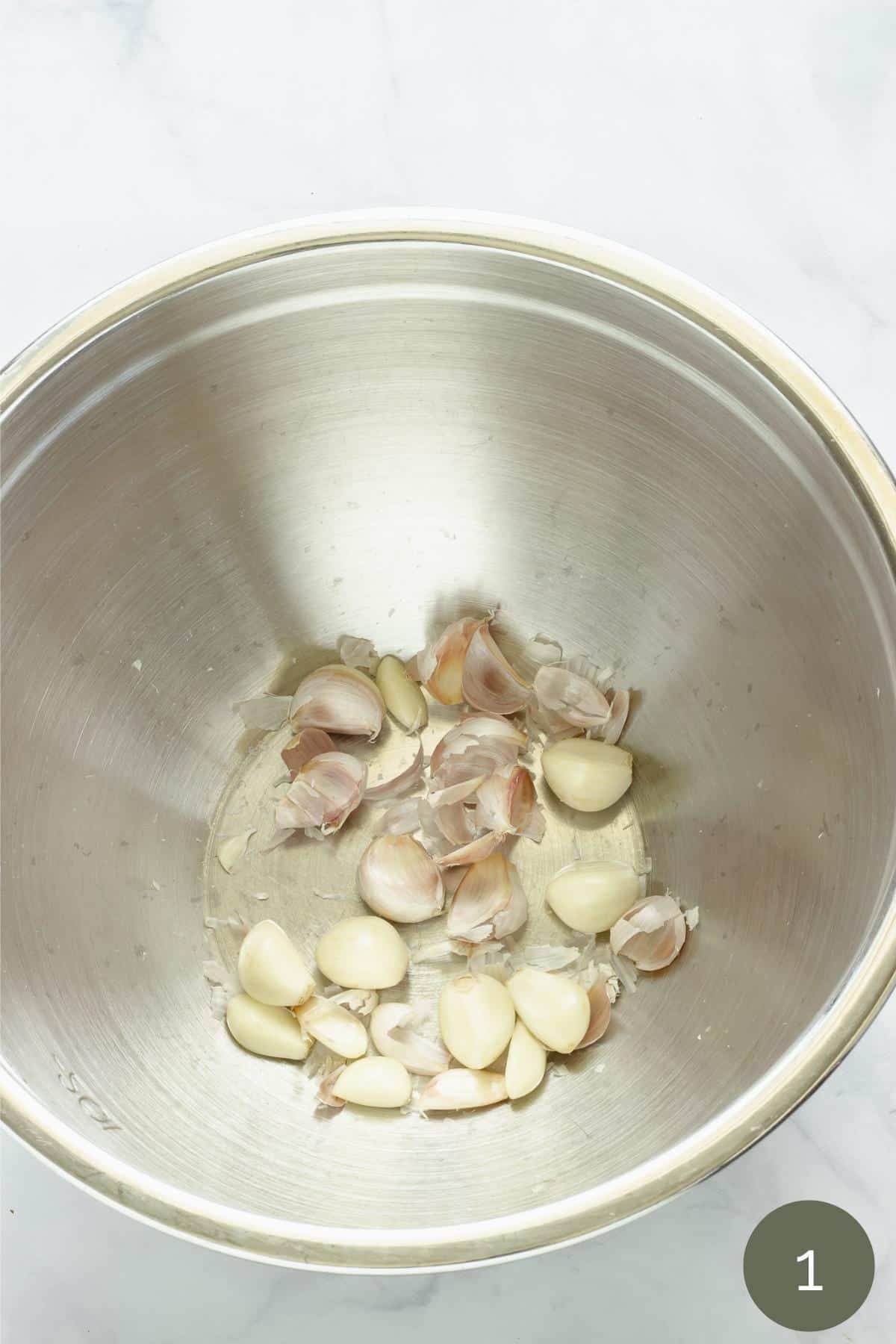 Then, put all of the cloves in the bowl, cover it with a plate or another bowl and shake vigorously for about 30 seconds. The papery skins will literally fall right off. If some are still attached, give it another 30-second shake.
Step 2: Rinse and dry your tomatoes and place them in a baking dish along with the peeled garlic cloves. I recommend a casserole or baking dish instead of a sheet pan because the tomatoes will give off quite a bit of tasty liquid. You'll have a mess on your hands with a sheet pan.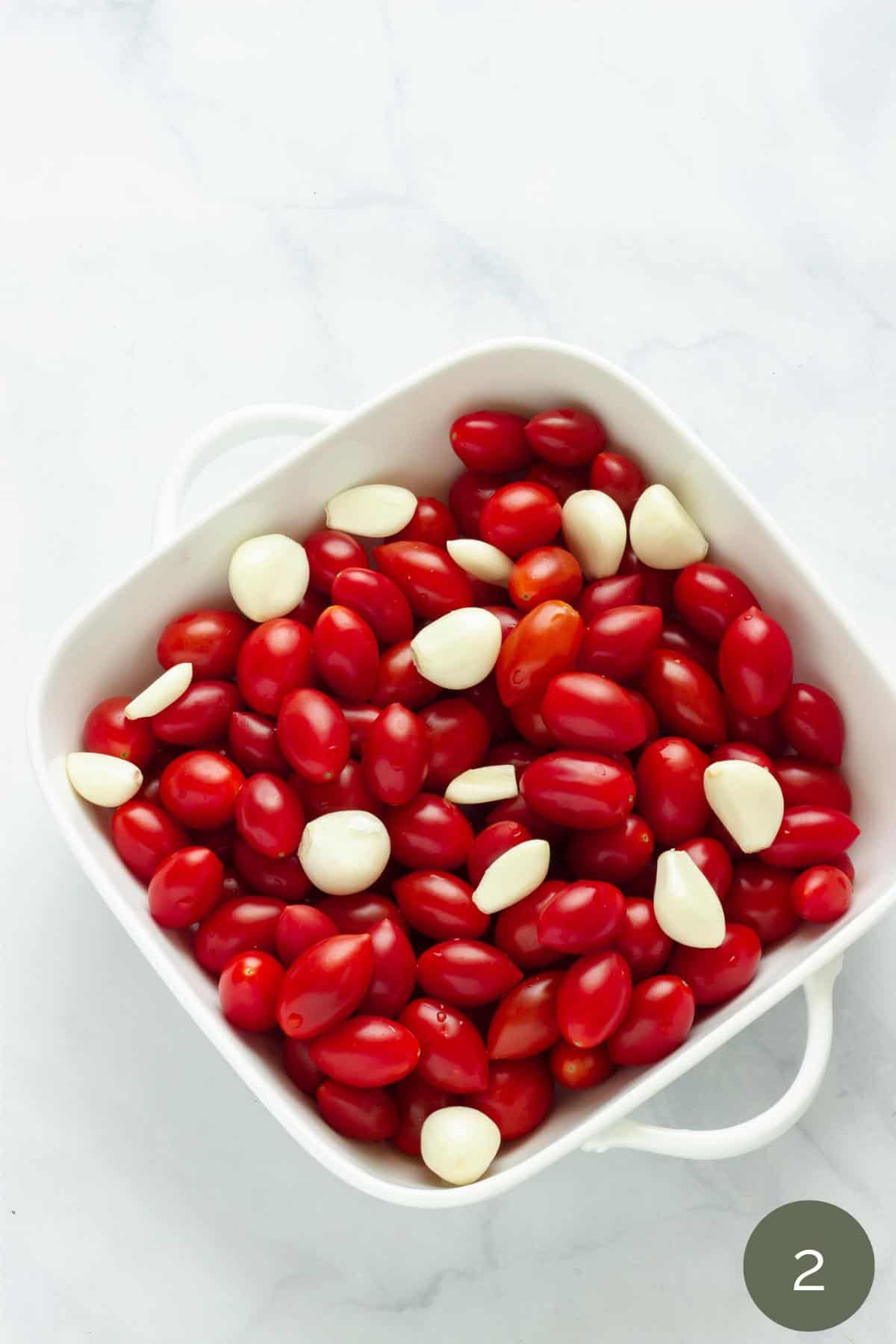 Step 3: Drizzle olive oil over the tomatoes and garlic and sprinkle with salt. Using your hands or a spatula, toss the tomatoes and garlic to coat with the oil and salt. Lastly, nestle a few sprigs of fresh rosemary and thyme around the tomatoes. Then pop the dish in the oven for about an hour, stirring occasionally.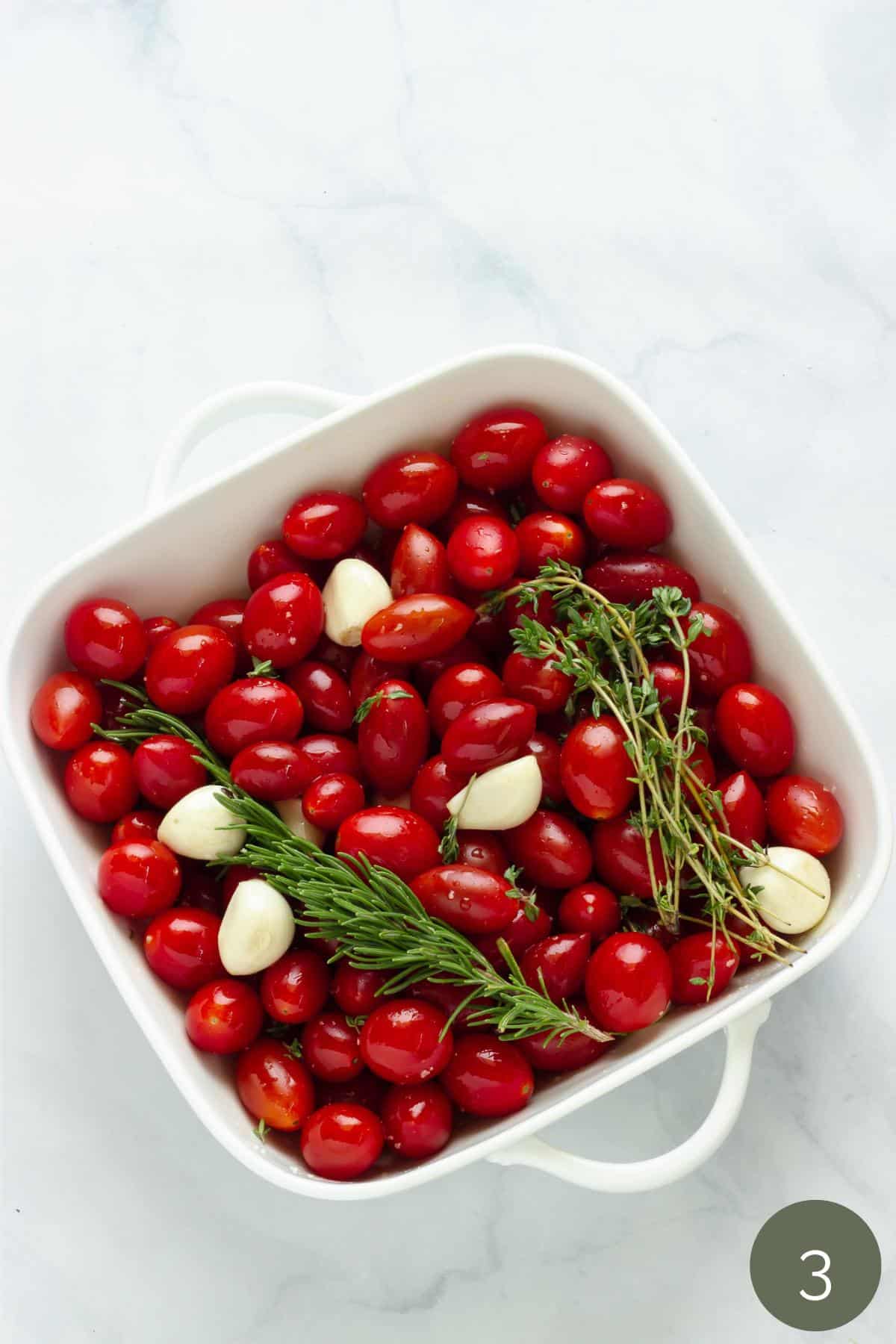 Step 4: Let them roast for about an hour at 350ºF. At that point, the tomatoes are mostly broken down, and the garlic is buttery soft. If you prefer your tomatoes more firm, remove them from the oven earlier. Some of the herbs will have fallen away from the stems. Leave these, but remove the woody stems and discard them.
You can drain off the olive oil and liquid from the tomatoes, but it's absolutely delicious, so I recommend keeping and using it.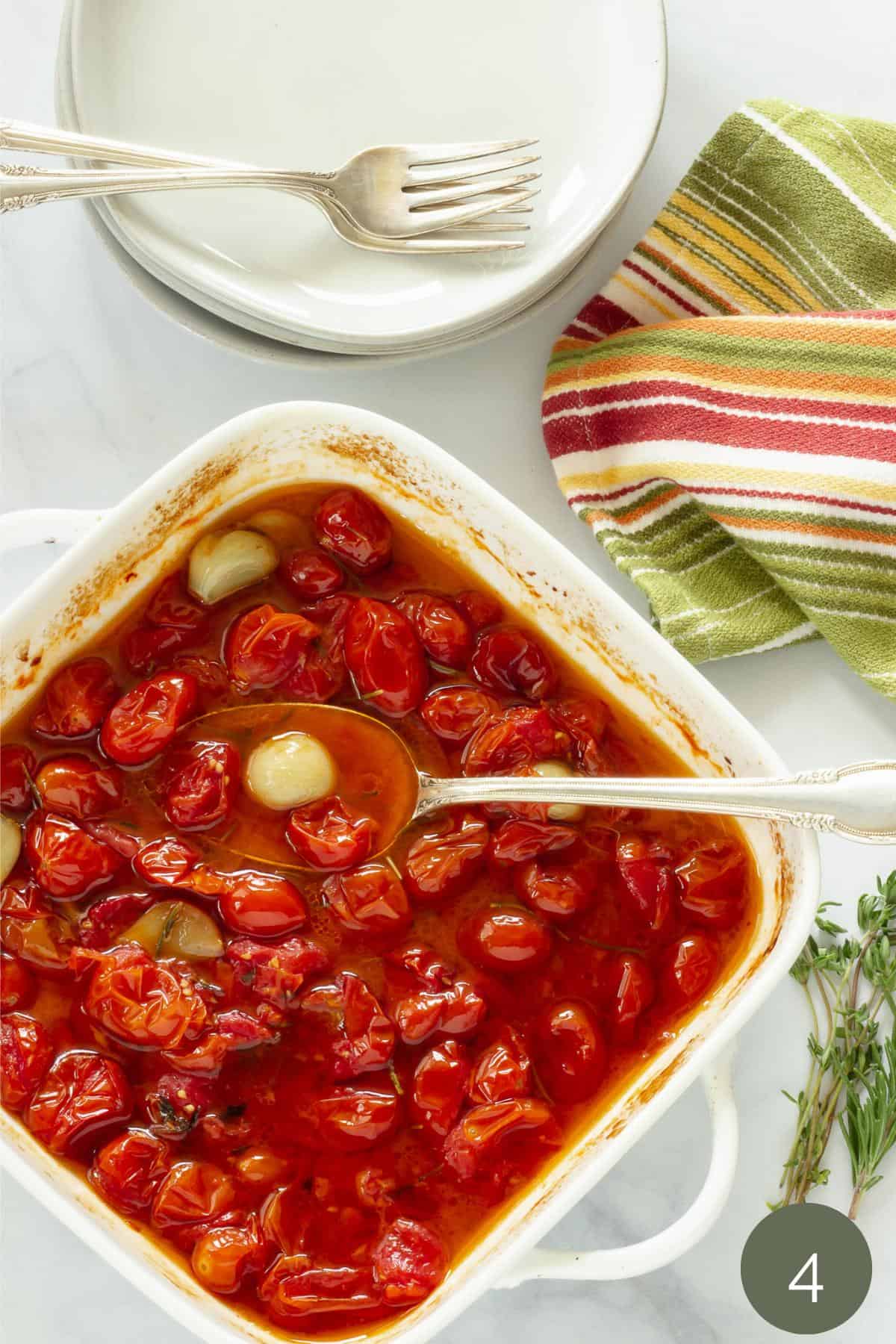 What to Serve With Roasted Grape Tomatoes
You'll use these roasted tomatoes in so many different ways! Here are a few suggestions:
Expert Tips
These tips will ensure you have perfect roasted grape tomatoes every time:
After washing your tomatoes, place them on a clean dish towel and pat them dry. Leaving too much water will cause them to steam in the oven rather than roast in the dry heat.
If you use larger tomatoes, like Roma or Campari, cut them into quarters and try to make the tomato pieces the same size so they roast evenly.
You can roast the woody herbs, like rosemary and thyme (or try oregano, too), along with the tomatoes. If you want to add soft, leafy herbs, like basil or parsley, add them after the tomatoes are roasted and cooled. These softer herbs will burn in the oven.
Some recipes call for roasting tomatoes at 425ºF for 15-20 minutes, but I recommend a slower roast at 350ºF for this recipe because the garlic will burn.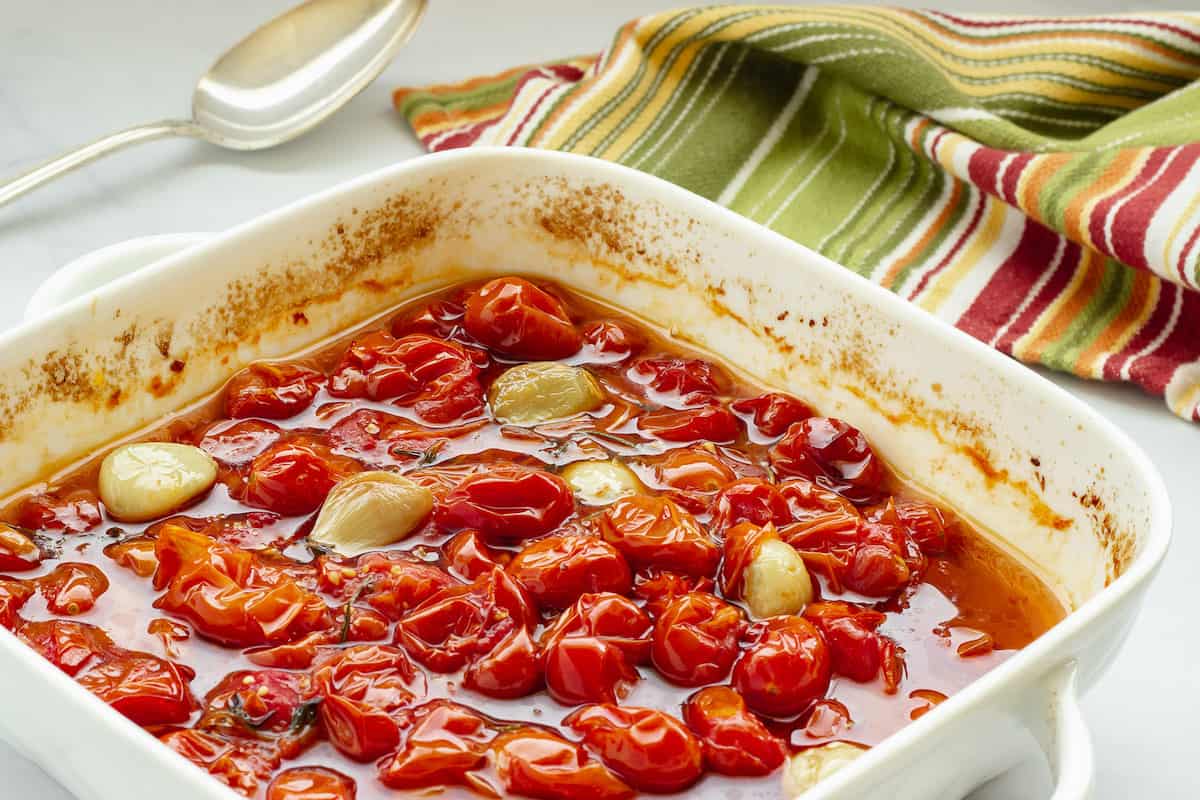 Recipe FAQs
How do you store roasted tomatoes?
These roasted tomatoes will keep in a covered container in the refrigerator for 3 days. You can also freeze them in a freezer-safe container or freezer bag for up to 3 months.
Do you have to remove the skins when roasting tomatoes?
There's no need to remove the tomato skins. They become very soft when roasted.
Are roasted tomatoes the same as sun-dried tomatoes?
No, sun-dried tomatoes are dehydrated to remove all of their water. They're quite dry and leathery and usually need to be softened in liquid or olive oil. These roasted tomatoes still retain some moisture in the tomatoes themselves and in the olive oil-infused sauce.
Related Tomato Recipes
Love tomatoes? Try these other tasty tomato recipes.
Love this recipe? Please leave a 5-star 🌟🌟🌟🌟🌟rating in the recipe card below & a review in the comments section further down the page.
Recipe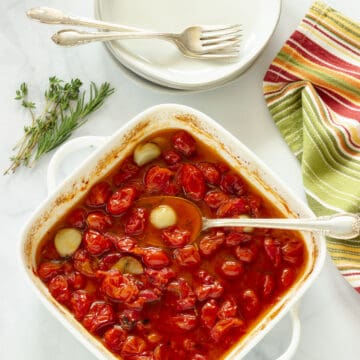 Slow Roasted Grape Tomatoes
A delicious topping for pasta, pizza, or bread
Print
Pin
Ingredients
2

pints

grape tomatoes

or cherry or other (see substitution notes)

1

head of garlic

cloves separated and skins removed. See the note below for an easy tip.

1

sprig of rosemary

2

sprigs of thyme

⅓

cup

olive oil

½

teaspoon

kosher salt

or more to taste
Instructions
Wash the tomatoes and pat them dry with a clean towel.

Toss tomatoes, garlic cloves, oil, and salt in a baking dish.

Nestle the herb sprigs in and around the tomatoes.

Roast the tomatoes until they are soft and caramelized, about an hour. Stir them occasionally as they roast. Try to keep the herbs submerged in the oil or under the tomatoes to prevent burning.

Let the cooked tomatoes cool slightly, and remove herb stems before serving.

With a fork, lightly mash some of the garlic cloves to infuse garlic flavor into the olive oil. Taste and season the tomatoes with additional salt if needed.
Notes
To easily remove the papery skins from the garlic cloves, place the cloves in a bowl, cover it with a plate or another bowl, and shake vigorously for about 30 seconds.
These roasted tomatoes are delicious tossed with pasta or on top of pizza. Or serve them warm with focaccia and fresh mozzarella.
Keep them in the refrigerator for up to 3 days or freeze for 3 months.
Nutrition
Calories:
102
kcal
|
Carbohydrates:
5
g
|
Protein:
1
g
|
Fat:
9
g
|
Saturated Fat:
1
g
|
Polyunsaturated Fat:
1
g
|
Monounsaturated Fat:
7
g
|
Sodium:
152
mg
|
Potassium:
284
mg
|
Fiber:
1
g
|
Sugar:
3
g
|
Vitamin A:
1001
IU
|
Vitamin C:
17
mg
|
Calcium:
14
mg
|
Iron:
0.4
mg
What do you do with your late summer tomatoes? Are there any summer foods you really miss come September?
Eat well!