Shirataki Noodles: the Pasta That's Great For Diabetes
Have you tried shirataki noodles? Have you ever heard of them? Also known as Miracle Noodles or Konjac noodles, this is hands-down the best pasta for diabetes. These healthy noodles are becoming quite popular because they're carb-free and have only about 10 calories per serving! I've been getting questions about shirataki noodles and how they fit into a low-carb eating pattern.
So I dug into the research, and yes — shirataki noodles are a great option for anyone with diabetes, prediabetes, or those who just want to limit carbs. And it's not just because they're carb-free. They also have quite a few health benefits worth noting.
But since you can only get those health benefits if you eat them, I was most curious to see what they taste like, and how to cook with them. I tasted them plain and used them in the sauteed garlic shrimp and tomato recipe below. Here's my review and a low-carb shirataki noodle recipe:
First, let me be clear. These are called "noodles" or "pasta" but they're not made from any type of grain or rice. They're made from a vegetable. However, they're closer in taste and texture to angel hair pasta or thin rice noodles than zucchini noodles or other spiralized veggie noodles.
Shirataki noodles are made from the konjac plant, an Asian root vegetable also known as elephant yam. They've been part of Japanese cuisine for centuries, and the konjac plant has been part of traditional Eastern medicine for thousands of years.
Facts About Konjac Fiber
The "miracle" in these miracle noodles comes from konjac fiber. It's also known as glucomannan or konjac glucomannan. Konjac glucomannan is a soluble fiber that binds with water and forms a gel in your digestive tract.
That means the fiber in shirataki noodles is similar to the soluble fiber in foods like beans, oats, barley, and apples. It has health benefits for your blood sugar and throughout your body. It's great for cholesterol, weight management, and gut health.
Konjac fiber is also a type of resistant starch. That means you can't break it down in your digestive tract. Instead, it finds its way to your large intestine, where it's fermented by the trillions of bacteria and microbes living there. Resistant starch has additional benefits for blood sugar and your digestive tract. Plus, it helps feed the cells in your colon and it keeps them healthy.
The konjac glucomannan fiber in shirataki noodles makes them a healthy pasta or noodle option for everyone — but especially those who have diabetes or are at risk. Here's why: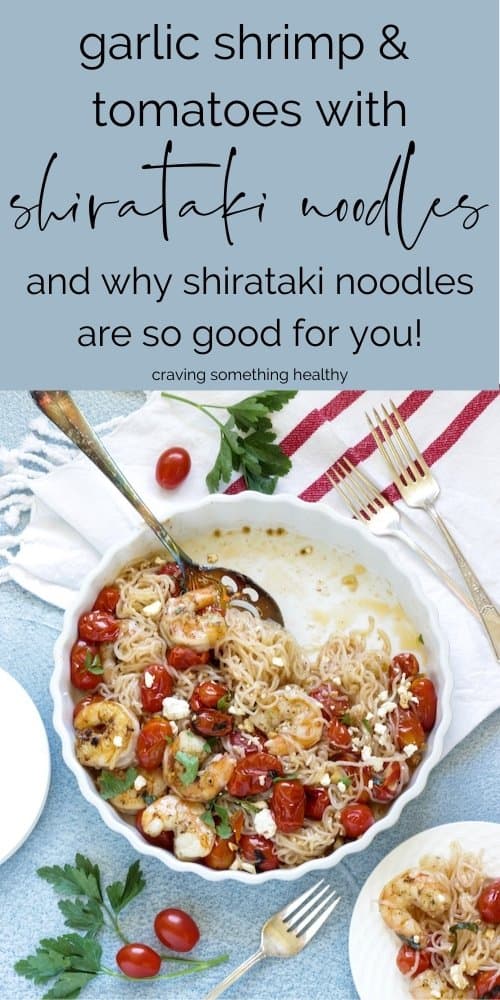 This post contains Amazon affiliate links.  That means if you purchase something through the link, the price will be the same, but I will earn a small commission from Amazon.  Thanks for supporting Craving Something Healthy!
Health Benefits of Shirataki Noodles
I tried this Miracle Noodle brand of shirataki noodles*. They come in angel hair/spaghetti shape or fettuccine. They also make Shirataki Rice, also known as Miracle Rice. I didn't try the rice, but I imagine it's very similar in taste and texture to the noodles.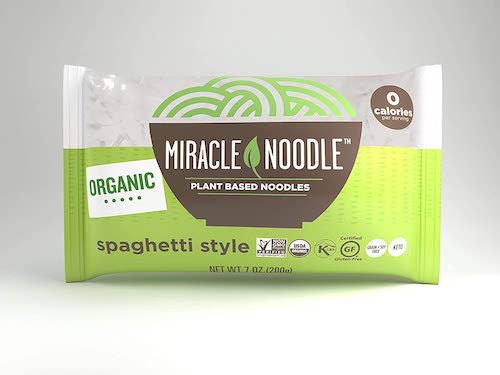 They may help you lose weight
Adding them to your meal will make it much easier to eat fewer calories, which can help with weight loss (if that's a goal) That's because these noodles are filling! Even though a serving has about 10 calories, and no digestible carbs, somehow they really fill you.
The fiber in shirataki noodles also helps slow your digestion, so you'll feel full for longer. Pair them with some protein and lots of vegetables, and you'll be full and satisfied for hours at a very low calorie cost.
If you're overweight and your blood sugar is creeping up, losing a few pounds will most certainly bring it down.
They can help balance blood sugar
They're carb-free, so they're an extremely low glycemic food. Plus, research published in the journal Diabetes Care showed that people who ate a test food enriched with konjac glucomannan fiber had lower fasting blood sugars than those who ate a food that contained a comparable amount of wheat fiber.
Other studies on people with diabetes or insulin resistance show that eating shirataki noodles can lower A1C and insulin levels as long as you eat them regularly.
They'll lower your cholesterol
Having diabetes increases your risk of also having a heart attack or stroke. A lot. That's why your doctor keeps a close eye on your cholesterol and blood pressure. But adding these noodles to your diet can help here too.
Quite a bit of research shows that the fiber in these noodles can lower your LDL (bad) cholesterol by about 10%. Again, you have to eat them regularly. But imagine if you mix them into your diet with other cholesterol-lowering foods like oats, beans, and barley.
They'll feed your gut bacteria
The resistant starch in konjac glucomannan fiber isn't broken down in your digestive tract. Instead, it passes into your large intestine, serving as food for your microbiome (the trillions of friendly bacteria that live there).
And as crazy as it might sound, your gut microbiome is important for more than your digestive tract. It also helps regulate things like your weight and blood sugar. So it pays big time to keep those good bugs well-fed and happy.
How to Eat Shirataki Noodles
Of course, to get all of these benefits, you have to eat shirataki noodles – or use glucomannan fiber supplements,* on a regular basis. So here's what you need to know about prepping, cooking, and eating them:
Shirataki or konjac noodles have a somewhat rubbery texture, but they soften up a bit and are closer to rice or wheat noodles if you prepare them correctly before cooking with them.
They come packaged in a liquid that smells strangely like fish sauce. Don't worry! Put them in a colander, drain, and rinse them under cold water for about 2 minutes. Toss them around to get all of the liquid out. They'll have NO flavor when you're finished.
Next, put them in a pot of boiling water for about 3 minutes. No need to salt or season the water.
After they've boiled for a few minutes, drain them, pat them dry with a paper towel, and return them to the dry pot. Don't add oil or butter or anything! Turn the heat to medium-high and toss the noodles around for about 8-10 minutes, or until they're nice and dry.
Now you're ready to add them to any recipe. They'll absorb the flavors of any sauce or broth, so experiment!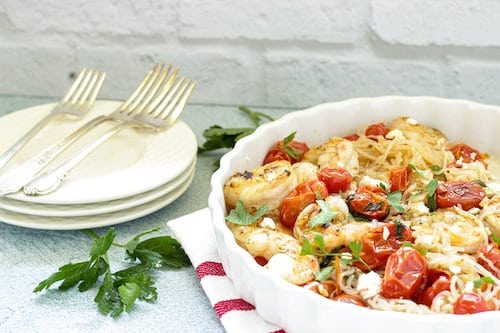 I was craving shrimp scampi, so I used them in place of angel hair pasta. And I wanted some vegetables, so I added a pint of cherry tomatoes to my scampi. And I was pleasantly surprised that these noodles worked quite well here!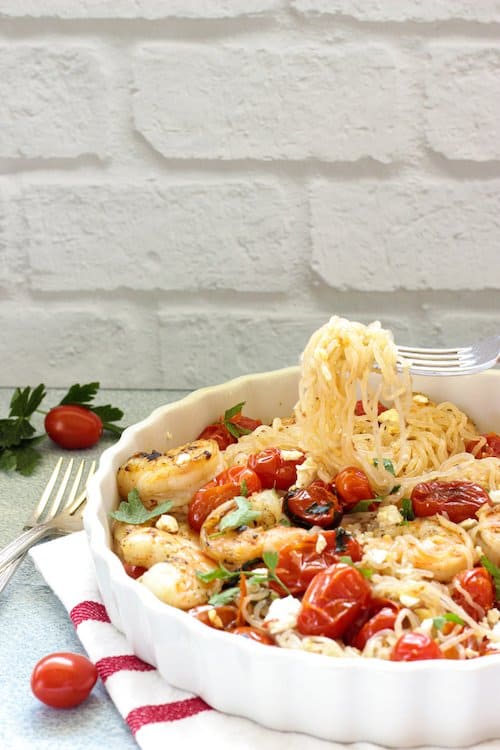 The texture does take a little bit of getting used to, but it's not bad. It's definitely more "noodle-y than zucchini noodles. I'm going to try these with some Asian flavors (I'm feeling some peanut sauce) next.
I also think they would work well in a Ramen dish or soup.
Recipe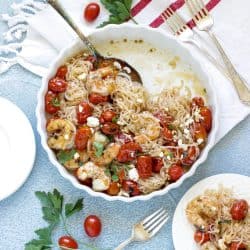 Garlic Shrimp and Tomatoes with Shirataki Noodles
An easy low carb shirataki noodle recipe to lower your blood sugar
Print
Pin
Ingredients
8

ounces

shirataki noodles

½

pound

large shrimp

peeled and deveined

salt and pepper

4

tablespoons

olive oil

divided

1

pint

grape tomatoes

4

cloves

garlic

minced

1

ounce

feta cheese

optional

1

tablespoon

minced fesh parsley

1

tablespoon

minced fresh basil
Instructions
Drain the package of shiratake noodles in a colander and rinse the noodles well for about 2 minutes under cold running water.

Bring a large saucepan of water to a boil. Add the rinsed noodles to the boiling water, and let them boil for 3 minutes. Drain the noodles and pat them dry with a paper towel.

Return the noodles to the empty pot, and heat them on medium-high heat for 8-10 minutes, tossing them as they heat. Let them cook until they are completely dry. Set the noodles aside.

Season the shrimp with salt and pepper.

Heat 2 tablespoons of the olive oil in a saute pan on medium-high heat, and saute the shrimp for 1 minute on each side, or just until they turn pink. Remove them from the pan and set them aside.

Add the grape tomatoes to the pan with the oil. Let them cook for 8 minutes, or until they start to break down and turn brown in spots. I usually pierce them with a sharp knife so they give off thier juice and don't pop.

When the tomatoes are just about finished, add the garlic and the remaining olive oil. Saute for 1 more minute.

Add the shrimp and shirataki noodles to the pan with the tomatoes and garlic. Toss everything well to combine. Sprinkle with feta cheese if using, and top with the minced parsley and basil. Serve immediately.
Notes
nutrition information is without feta cheese
Nutrition
Calories:
471
kcal
|
Carbohydrates:
14
g
|
Protein:
29
g
|
Fat:
33
g
|
Saturated Fat:
6
g
|
Cholesterol:
298
mg
|
Sodium:
1054
mg
|
Potassium:
699
mg
|
Fiber:
3
g
|
Sugar:
7
g
|
Vitamin A:
2252
IU
|
Vitamin C:
42
mg
|
Calcium:
274
mg
|
Iron:
4
mg
FAQs about Shirataki Pasta Noodles
Where can I buy Shirataki Noodles?
Most grocery stores carry them and you can certainly get them on Amazon! I found them at Safeway/Albertsons, Sprouts, and Whole Foods. Surprisingly, they were the cheapest at Whole Foods! Look for them in the refrigerated section near the tofu. Some brands are shelf-stable in the Asian foods section.
Why do they smell fishy when you open the package? Is there any fish in them?
There's no fish in shirataki noodles. Raw konjac flour has a slightly fishy odor and leaches into the liquid the noodles come packaged in. Once drained and rinsed, the noodles have no flavor or odor.
What happens if you eat a huge portion of shirataki noodles?
Because of the fiber in these noodles, you'll probably have gas, bloating, and some GI distress. Don't overdo them!
Have you ever tried shirataki noodles? What's your opinion of them?
Eat well!