Sugar-Free Strawberry Rhubarb Jam
Guys, is there anything better than strawberries, rhubarb, and spring! Whenever I see rhubarb at the grocery store, I know those first giant, gorgeous, bright red strawberries of the season aren't far behind! I'm so over those anemic winter strawberries.
And today is the day — they're both here! Of course, I was dying to make strawberry rhubarb pie. WIth vanilla ice cream. But, since I'm all alone to eat it, I decided it wasn't a smart decision.
Instead, I made a batch of sugar-free strawberry rhubarb jam. Although technically, since strawberries have some natural sugar, it should be called a no-sugar-added jam.
There's a reason jams and jellies have a fair amount of sugar. Yes, it does make them taste delicious, but sugar also helps it to gel and hold together. Without sugar, your jam or jelly can be too soft and runny.
So I have a secret ingredient.
It's called Pomona's Pectin. It's an all-natural, vegan, GMO-free citrus pectin that allows you to make perfect jams and jellies with little or no sugar.
Why Does Jam Need So Much Sugar?
Regular, traditional jam recipes call for nearly equal parts fruit and sugar. And you might need even more sugar than fruit depending on the type of fruit you're using. Sugar helps the natural pectin molecules in the fruit, or the pectin you add, stick together. In a sense, it activates the pectin.
Pectin is a type of fiber fruit that forms a gel. It's also super healthy because it's soluble fiber — the kind that lowers your blood sugar and cholesterol.
If you use less sugar when making jam, or a sugar-free sweetener, the pectin won't get as firm, and your jam will be soft and runny.
With Pomona's pectin, the gelling process happens easier because it also involves some calcium. The calcium activates the pectin instead of sugar. Plus, you get the bonus of having a higher calcium jam!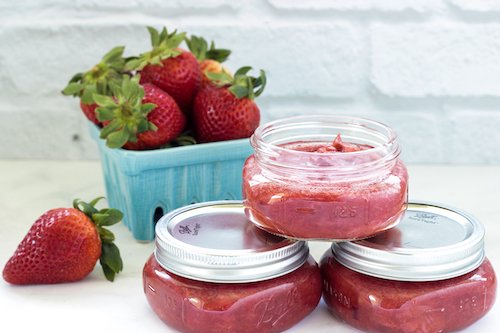 Another benefit of using this type of pectin is that your jam or jelly requires minimal cooking. Just a few minutes to bring everything to a boil. Regular pectin, or no pectin recipes take at least 30 minutes on the stove. That's a win for me because it's already hot here in Arizona!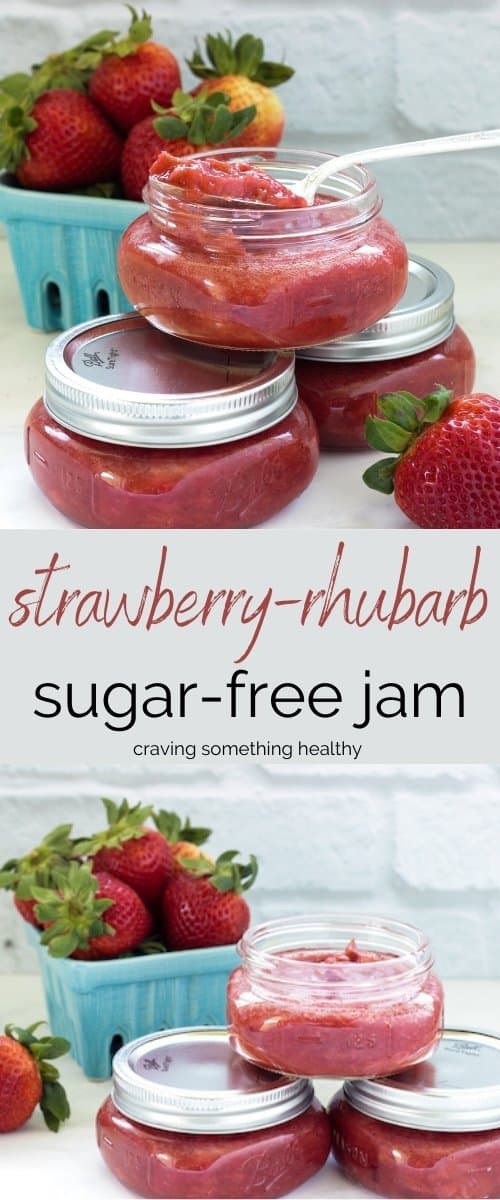 I love to keep this jam on the chunky side, so I don't cook it for very long before adding the pectin. If you want the fruit mostly broken down, bring the strawberries and rhubarb to a simmer for 10 minutes or until everything is soft.
And for a sweetener, I like monk fruit or a monk fruit blend. I think it taste more sugar-like than stevia, and they're a much healthier option (at least as far as we know) than aspartame or sucralose. Two brands I use are Lakanto and Swerve. Both come in a variety of options (granular, powdered, brown sugar substitute, etc) so they're great to have on hand.
One important thing to know about low or no sugar jam is that it has a shorter shelf life after it's opened. Sugar actually acts as a preservative, so without it, you should eat this within a week or so after you pop the lid.
I put it in 8 oz. jars so I don't have to worry about finishing a whole 3 cups of jam at once.
Recipe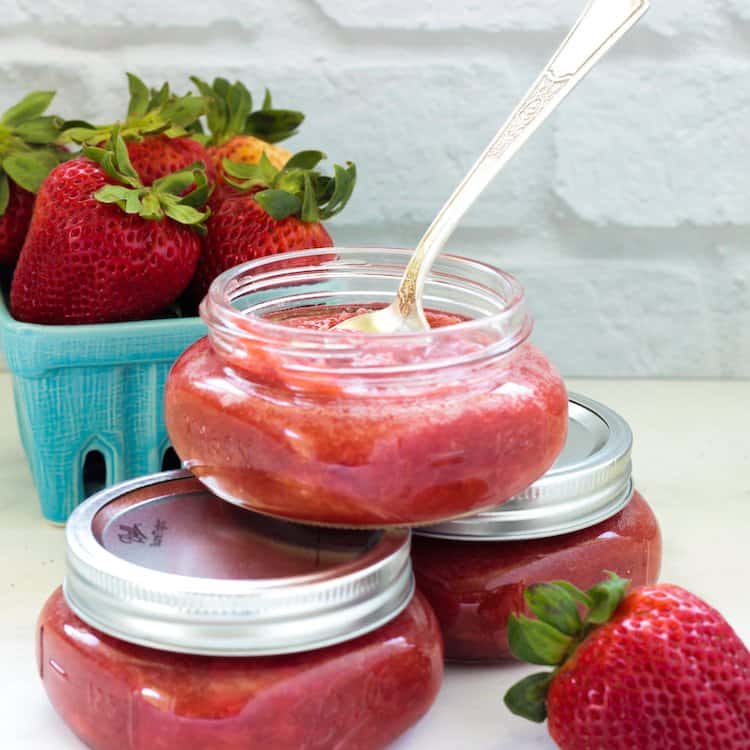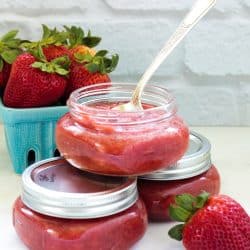 Sugar-Free Strawberry Rhubarb Jam
This flavorful jam is every bit as delicious as the full-sugar version.
Print
Pin
Equipment
3-8 ounce canning jars with 2 piece lids

1 large pot of water if canning these
Ingredients
3

cups

hulled and chopped strawberries

1

cup

finely chopped rhubarb

1

package

Pomona's Universal Pectin

1

tablespoon

Lakanto or Swerve sweetener

or more to taste
Instructions
Place the strawberries, rhubarb, and ¼ cup water in a medium saucepan and bring them to a boil. Cover, reduce the heat to medium, and cook for about 10 minutes, or until the fruit is as broken down as desired.

While the fruit is simmering, prepare the calcium water from the Pomona's Pectin package by combining ½ teaspoon of the calcium powder with ½ cup water in a lidded jar. Cover and shake well to combine. Set it aside.

Prepare the pectin by combining 1 teaspoon of the Pomona's Pectin powder with ⅓ cup boiling water. The powder is hard to dissolve, so I blend it with an immersion blender for a few seconds and that does the trick. Set it aside.

Once your fruit is softened and ready, add just 1 teaspoon of the calcium water to the fruit (Store the leftover calcium water in the refrigerator for later), plus the pectin mixture and the sweetener. Bring the fruit back up to a boil, stirring for 1 minute while it comes to a boil and thickens. Remove it from the heat.

Taste the jam, and add additional sweetener to taste.

Pour the jam into 3-8 ounce jars, leaving about ¼" of space on top. Screw the 2-piece lids on tightly.

You can store this in the refrigerator and use it within about 3 weeks. Alternatively, you can put the filled jars in boiling water to cover, and boil for 10 minutes to can them. Check the seals and make sure the lids are sucked in.
Nutrition
Calories:
36
kcal
|
Carbohydrates:
9
g
|
Protein:
1
g
|
Fat:
1
g
|
Saturated Fat:
1
g
|
Sodium:
12
mg
|
Potassium:
113
mg
|
Fiber:
2
g
|
Sugar:
2
g
|
Vitamin A:
20
IU
|
Vitamin C:
29
mg
|
Calcium:
20
mg
|
Iron:
1
mg
Eat well!
Some of the links in this post are affiliate links. That means I earn from qualifying purchases and no extra cost to you. Thanks for supporting this website!