Sprouted Brown Rice & Tuna Stuffed Pepper Salad
This post is brought to you in partnership with the USA Rice Federation, but as always all opinions are my own. Thanks for supporting the foods and products I use and love!
Have you hopped on board the sprouted grain train yet? I'll admit I'm still a newbie, but I've been experimenting with US-grown sprouted whole-grain brown rice. It's delicious and hearty in my Buffalo Chicken and Rice Bowls.
Here, I added it to a Mediterranean-inspired tuna salad and stuffed the delicious mixture into crispy sweet peppers. I'm SO in love with this recipe for an easy lunch idea or a light dinner.
If you're not familiar with sprouted brown rice, read all about it.
What Are Sprouted Grains?
All sprouted grains (including US-grown rice) are 100% whole grains that are soaked until they just start to sprout. The sprouting process (AKA germination) breaks down some of the starch in the grains of rice. That makes the percentage of the other nutrients in every single grain higher.
The Health Benefits of Sprouted Brown Rice
Sprouting brown rice not only increases the overall percentage of nutrients. but also, it breaks down phytates. Phytates are naturally-occurring antioxidant compounds in grains.
The thing about phytates is that they bind to minerals like iron, zinc, magnesium, or calcium. That prevents your body from absorbing some of the nutrients in whole grains. However, when phytates are broken down, the micronutrients in brown rice are more bioavailable. That means they're easier for your body to absorb. So sprouted brown rice provides even more minerals than regular brown rice.
Another bonus: Research shows that after germination, brown rice is higher in several antioxidants, vitamin E, protein, healthy fats, and fiber compared to regular brown rice. It also has a lower glycemic index. So it's better for your blood sugar.
In fact, some early studies on sprouted brown rice and diabetes suggest it might have some anti-diabetic properties.
Note: if you want to try sprouted brown rice, I suggest you buy it already sprouted in a bag. It's important to sprout rice (or any grain) under controlled temperature and humidity conditions, so it doesn't spoil. Better to let the manufacturer deal with that.
About USA-Grown Rice
Did you know many types of rice are grown in the USA? The sprouted medium-grain brown rice I used in this recipe comes from California. It also grows in Texas, Louisiana, Arkansas, and Missouri. Personally love that I can buy rice that's not imported.
And whether it's sprouted or not, all US-grown brown rice is good for you too! It provides more than 15 different vitamins and minerals, along with fiber and lots of complex carbs that keep you full for hours. All for about 120 calories per half-cup cooked serving.
Why I Love this Sprouted Brown Rice Tuna Salad
Spring is here. And as much as I love my soups and stews, I'm craving something healthy and lighter. This recipe 100% satisfies. The addition of brown rice and my favorite Mediterranean ingredients and flavors really takes basic tuna salad to a new level. It's full of chopped olives, cucumbers, grape tomatoes, and parsley. And instead of mayo - hummus for some yummy, garlicky, flavor.
It's got all the stuff.
And let's not forget about the benefits of using cooked and cooled rice. The starch turns into resistant starch - a kind of starch that resists digestion. It has an even lower glycemic index, and it's so good for the healthy bacteria in your gut.
Recipe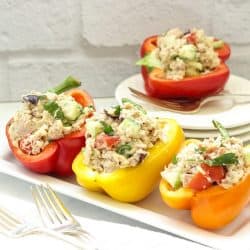 Sprouted Brown Rice & Tuna Stuffed Pepper Salad
A quick, easy, and healthy lunch or light dinner idea with Mediterranean flavors
Print
Pin
Ingredients
1

cup

water

½

cup

sprouted brown rice

½

teaspoon

salt

6

ounces

tuna

drained

½

cup

chopped cucumbers

peeled and seeded

½

cup

grape tomatoes

halved

2

tablespoons

black or green Greek olives

chopped

2

tablespoons

minced parsley

½

cup

hummus

2

large

sweet peppers
Instructions
Add the water, rice, and salt to a medium saucepan, and bring it to a boil. Reduce the heat to medium-low, cover the pot, and let the rice simmer for 20-30 minutes, or until the water is absorbed and the rice is tender and fluffy.

When the rice is cooked, transfer it to a mixing bowl and let it cool in the refrigerator for at least 30 minutes. You can also cook the rice the day before if desired.

When the rice is cooled, add the tuna, cucumbers, tomatoes, olives, parsley, and hummus to the bowl of rice. Mix well to combine.

Slice each pepper in half lengthwise, and remove the core and seeds.

Stuff each half of the peppers with the rice and tuna filling. Serve immediately.
Nutrition
Calories:
211
kcal
|
Carbohydrates:
29
g
|
Protein:
14
g
|
Fat:
5
g
|
Saturated Fat:
1
g
|
Cholesterol:
15
mg
|
Sodium:
584
mg
|
Potassium:
459
mg
|
Fiber:
5
g
|
Sugar:
4
g
|
Vitamin A:
2954
IU
|
Vitamin C:
110
mg
|
Calcium:
43
mg
|
Iron:
2
mg
Have you tried US-grown sprouted brown rice? Look for it at the grocery store!
Eat well!
Sources:
1.Trending Now: Sprouted Grains. Harvard Health Publishing.
2. Antidiabetic properties of germinated brown rice: a systematic review. Evid Based Complement Alternat Med.