Mediterranean Stuffed Peppers with Turkey, Lentils and Feta
When sweet peppers are on sale, or overflowing in your garden, stock up and make these delicious Mediterranean-style stuffed peppers. If you like, you can do these in a slow cooker,.They're easy, healthy, and freezer-friendly!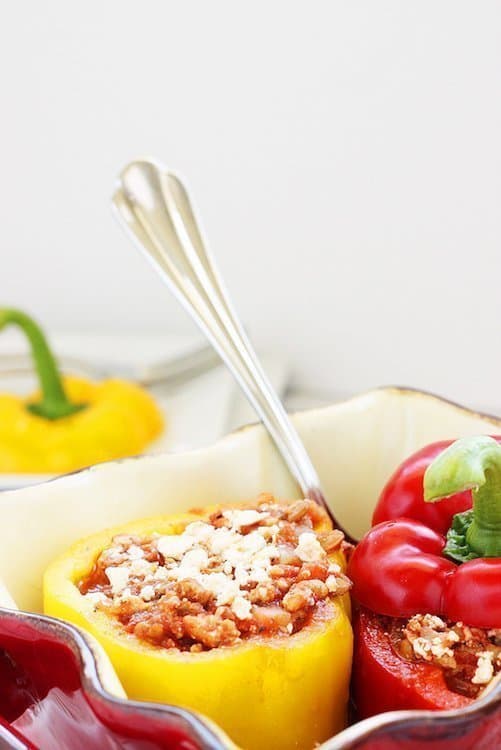 I've been spotting the most beautiful, HUGE, and colorful sweet peppers at the grocery store lately, which has had me craving stuffed peppers.
Truth be told, I was always on the fence about stuffed peppers when I was young. I loved the tomato-y meat and rice filling but hated the pepper part. Then one day I tried them again but instead of green bell peppers which my mom always used, I used red peppers. I was in love.
I always thought a bell pepper was a bell pepper. Not true at all my friends! Just like squashes, or leafy greens, they all have their own characteristic flavor. I am definitely partial to the sweetness of red peppers, with orange next in line, followed by yellow. I can't say exactly why, but green peppers still come in last place for me.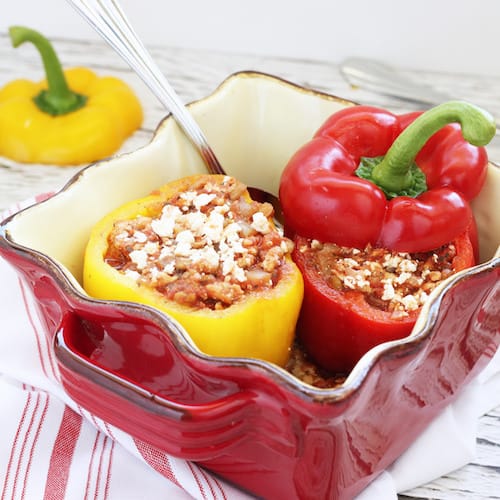 What I Love About These Stuffed Peppers
First, they're a bit lighter and healthier than the traditional ground beef, rice, and sweet tomato version that I grew up with (did they originally call for canned tomato soup??). These have very lean ground turkey breast in place of ground beef, and lentils. They get a nice boost of protein and fiber that way.
Second, there's fennel seed. Just because I love the flavor of fennel and I was thinking about how much I miss my Chunky Italian Turkey Fennel Soup. It will be months before the temps cool down enough in Arizona to even consider eating a bowl of soup.
Third, when I learned how to make stuffed peppers (back in the day), they were such a project. Core the peppers, bring a ginormous pot of water to a rolling boil, and stand over it while you try to submerge all of those peppers so they soften just a bit, but not too much. Then, fish them out, let them drain and cool so you can put them into a baking dish, stuff them and then bake them. Too. Much. Work. and waaaay too much of a hot mess when it's 110 degrees outside.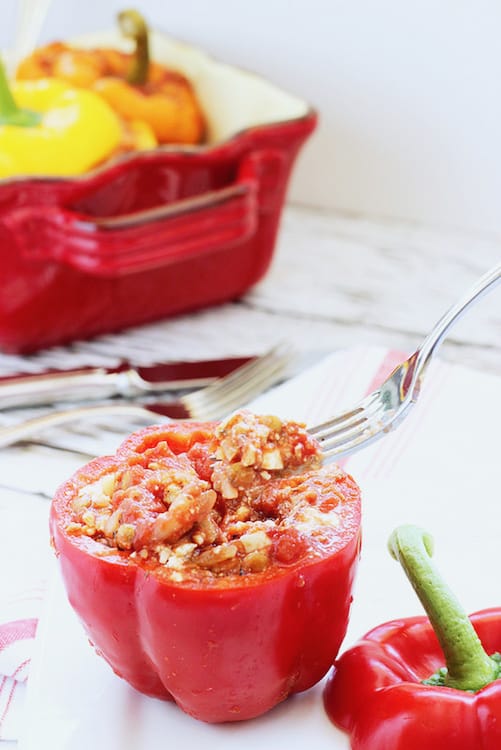 So, here's the solution. Crockpot. Or do you call it a slow cooker? I never jumped on the Instant Pot trend – I'm still a fan of slow cooking.
You can certainly do it the old fashioned way if you're making them for a crowd, but if you're doing just a few, pull out the crockpot and keep the kitchen cool, friends. Slow cooking them in a crockpot means you can totally skip the boiling the peppers part.
If your crockpot isn't large enough to hold this entire batch of peppers, you can still cook them in a casserole or baking pan. Add a little water or sauce to the bottom of your pan and cover them with foil so the peppers can steam.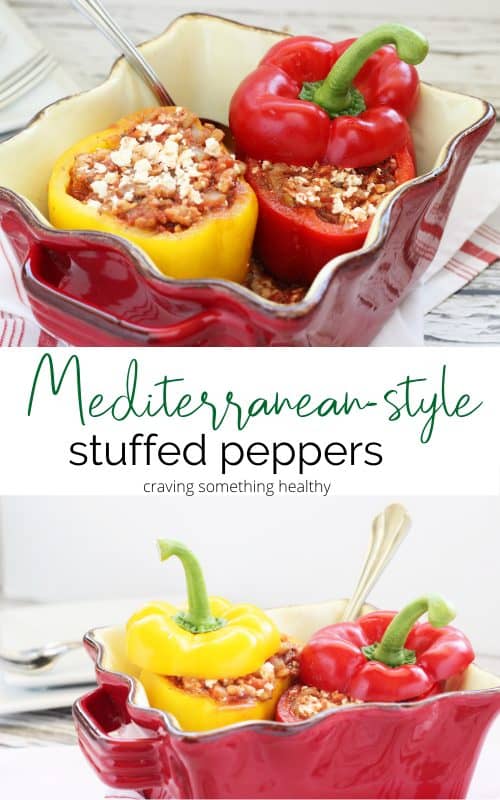 Last, but definitely not least, once they're cooked, these peppers are totally freezer-friendly. If you do make a big batch, portion one or two into containers, and when you don't feel like cooking, pop one in the microwave for an instant dinner.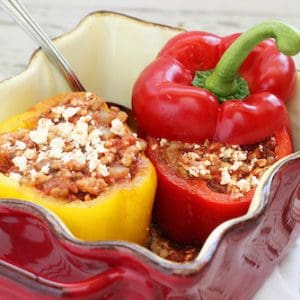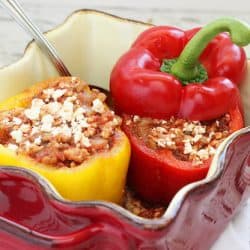 Mediterranean Stuffed Peppers with Turkey, Lentils and Feta
This healthy, easy, protein-packed meal can be made in the crockpot, and it's freezer-friendly.
Print
Pin
Ingredients
6

medium

bell peppers

tops sliced off, cored and seeded

2

tablespoons

olive oil

1

large

onion

chopped

3

cloves

garlic

minced

1

pound

ground turkey breast

1

tablespoon

dried basil

2

teaspoons

fennel seeds

or less to taste

1

teaspoon

kosher salt

1

28 ounce can

crushed tomatoes

1

tablespoon

Worcestershire sauce

sugar

optional, if tomatoes are too acidic

1/4

cup

dried lentils

3

ounces

crumbled feta cheese

divided
Instructions
Wash the cored peppers, and tops if using them. Lightly salt them if desired. Place the bottoms of the peppers in a large crockpot.

Heat a saute pan to medium-high. Add the olive oil, onions, garlic, and turkey. Cook until the onion is softened and the turkey is no longer pink.

Add the basil, fennel seeds (to taste),salt, tomatoes, and Worcestershire sauce. Stir well to combine. Taste the sauce, and if it is too acidic, add up to 1 teaspoon of sugar.

Add the lentils. Stir well to combine everything, and bring the mixture to a simmer.

Let the meat, lentil mixture simmer for about 15 minutes, and then stir in half of the feta cheese.

Spoon the meat-lentil filling into the bell peppers. Sprinkle the remaining feta cheese over the top of each pepper and p

lace the tops on the peppers if using them.

Cover the crockpot and let the peppers cook on low for about 3 hours, or until the peppers are tender.

Cool any leftover peppers and place them in freezer bags or plastic containers to store in the freezer for up to 2 months.

NOTE: if you prefer to bake these in a casserole dish or baking pan, just put about 1/2 inch water in the bottom of the pan, cover the container with a lid or foil, and bake them for about 1 hour.
Nutrition
Serving:
0
g
|
Carbohydrates:
0
g
|
Protein:
0
g
|
Fat:
0
g
|
Saturated Fat:
0
g
|
Polyunsaturated Fat:
0
g
|
Monounsaturated Fat:
0
g
|
Trans Fat:
0
g
|
Cholesterol:
0
mg
|
Sodium:
0
mg
|
Potassium:
0
mg
|
Fiber:
0
g
|
Sugar:
0
g
|
Vitamin A:
0
IU
|
Vitamin C:
0
mg
|
Calcium:
0
mg
|
Iron:
0
mg
Do you like sweet peppers? How about the green ones?
Eat well!