Breakfast Style Pork Fried Rice
This post is sponsored by the USA Rice Federation. Thanks for supporting brands and foods I use and love!
Friends, this breakfast-style pork fried rice is NOT the kind that you eat cold out of the carton because it's leftover from your Friday night take-out dinner. It's a fun and delicious brunch recipe packed with apples, sage, and breakfast sausage flavors.
And if you have some leftover long-grain brown rice, it takes all of 15 minutes to whip up. Yes, you read that right!
Pork fried rice probably isn't your first thought for breakfast or brunch. Unless, you're recovering from a wild night out – which definitely never happens at my age anymore!
But this is pork fried rice with a healthy twist and lots of breakfast-y flavors. It features U.S.-grown long-grain brown rice and sweet apples. That means it's full of complex carbs and fiber. And lean ground pork and eggs give it a good punch of protein.
This breakfast-style pork fried rice is tasty, satisfying, and so good for you. Pair it with a fruit salad, some sparkling cider, and your guests will be delighted!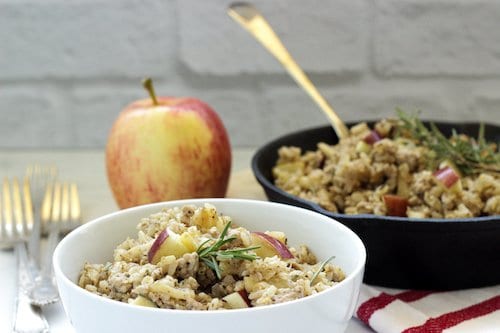 I love this recipe because it smells and tastes like fall. It's full of apples, cinnamon, maple, sage, and rosemary, which I crave this time of the year. It's also ridiculously quick and easy to make, which means less time in the kitchen and more time with family and friends.
This recipe is also timely for September, because it's National Rice Month. This year marks 30 years of celebrating the farmers, producers, and manufacturers of the U.S. rice industry. Did you know rice grows in California, Louisiana, Mississippi, Missouri, Arkansas, and Texas? Let's eat U.S.-grown rice and support those farms!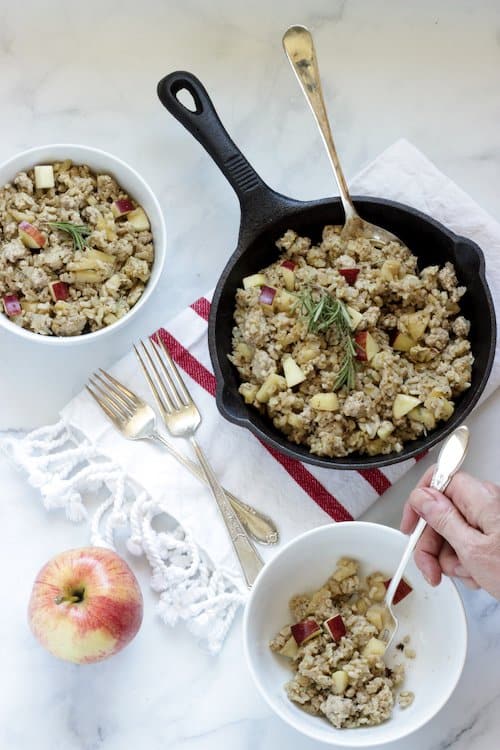 The key to keeping this (and SO many other recipes) quick and easy is to always have some cooked U.S.-grown rice in your refrigerator or freezer. Just one-half cup of cooked rice turns any soup or salad into a hearty meal. And, of course it's always a delicious side dish.
And if you follow my blog, you already know that cooked and cooled rice is more than convenient. It's also healthy for you because much of the starch turns into resistant starch. That's the kind of starch that helps lower your blood sugar and keeps your gut healthy.
Some Facts About U.S.-Grown Rice:
It averages about 100 calories per half-cup cooked serving.
It's sodium, cholesterol, GMO, and gluten-free
Whole grain rice is a complex carb. It's digested slowly and provides long-lasting energy for your body.
Rice provides more than 15 different vitamins and minerals to nourish your body.
I used U.S-grown long-grain brown rice for this fried rice recipe. It has a light, fluffy texture that works well in stir-fry dishes like this. Plus, it's got antioxidants, and who can't use more of those?
Recipe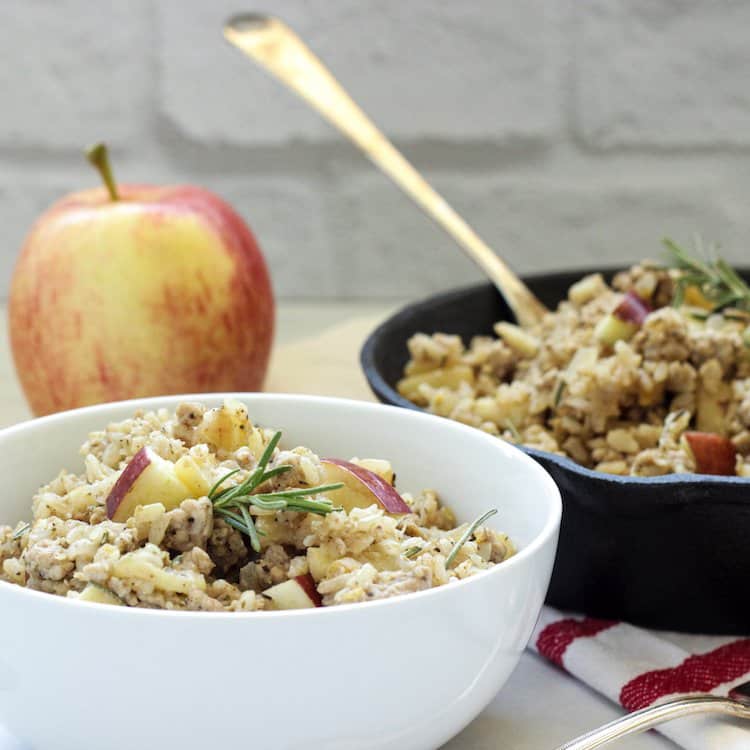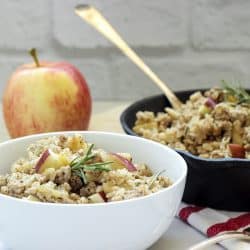 Breakfast Style Pork Fried Rice
Fried Rice that's full of apples, cinnamon, and delicious breakfast sausage flavors.
Print
Pin
Ingredients
¾

cup

U.S.-grown long-grain brown rice

1 ½

cups

water

1

tablespoon

olive oil

1

medium

apple

peeled, diced

1

small

onion

minced

½

pound

lean ground pork

1

teaspoon

cinnamon

1

teaspoon

dried sage

1

teaspoon

minced fresh rosemary

1

teaspoon

maple extract

¾

teaspoon

salt

or to taste

2

large

eggs

beaten

diced apple, fresh sage, fresh rosemary

optional garnish
Instructions
Bring the rice and water to a boil in a large saucepan. Reduce the heat to low, cover the pot, and let the rice simmer for 40 minutes or until the rice has absorbed the water and it is tender. You can do this step the day before if desired. Keep it in the refrigerator in a covered container.

Heat the olive oil in a saute pan over medium high heat. Add the apple and onions and saute for about 4 minutes or until golden.

Add the pork and stir to break it up. Cook the pork until it's no longer pink.

Add the cinnamon, sage, rosemary, maple extract, and salt. If the mixture starts to stick, add a few tablespoons of water and reduce the heat to medium.

Move the meat mixture to the edges of the pan and add the eggs to the center. Gently stir them so they cook and start to scramble.

Add the rice and stir everything well to combine. Taste and add extra salt or spices as desired.
Nutrition
Calories:
289
kcal
|
Carbohydrates:
35
g
|
Protein:
18
g
|
Fat:
8
g
|
Saturated Fat:
2
g
|
Cholesterol:
130
mg
|
Sodium:
510
mg
|
Potassium:
412
mg
|
Fiber:
3
g
|
Sugar:
6
g
|
Vitamin A:
160
IU
|
Vitamin C:
3
mg
|
Calcium:
39
mg
|
Iron:
2
mg
Did you know rice is grown in the U.S? What's your favorite kind of rice?
Eat well!