Mediterranean Lentil and Barley Salad
Recently, I gave a nutrition talk to a women's church group. I brought along this salad as an example of ancient foods from the bible that have major health benefits. It was such a hit with everyone, and I had so many requests for the recipe, that I thought I'd post it here. When I created this recipe, I was trying to include as many foods that are mentioned in the bible as possible. However, as I was preparing it, it struck me how every single ingredient in this salad (which really is hearty enough to stand alone as a meal), also fits perfectly into the Mediterranean diet.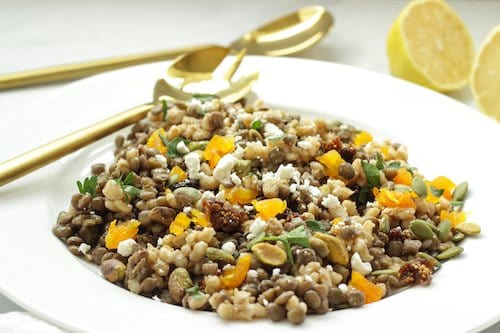 I guess they really knew something back then. The Mediterranean diet is a long-term way of eating - as opposed to a quick fix, fad diet. It's been around for thousands of years for good reason. It works. It's one of the healthiest ways you can eat. No matter how you combine the foods traditional to that part of the world, they always work together to promote better health. Because it's a non-diet approach to eating, the Mediterranean is also very freeing. There's no counting calories, macros, fat grams or carbs. It's just about eating more whole foods and cutting back on highly processed packaged foods and sugar.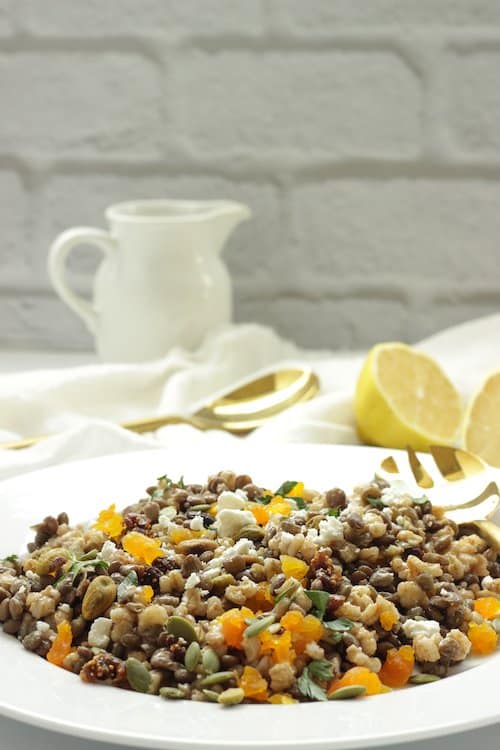 So many health benefits
This Mediterranean Lentil and Barley Salad can help to lower your cholesterol, blood sugar and weight. It can also help reduce inflammation in your body and reduce your risk of cancer. Even though it's not low in carbs, every ingredient has a
low glycemic index
, so it's a super blood-sugar friendly salad, side, or meal. And, even though it's not low in fat, the fat in the nuts, seeds, and olive oil all help to reduce inflammation in your body.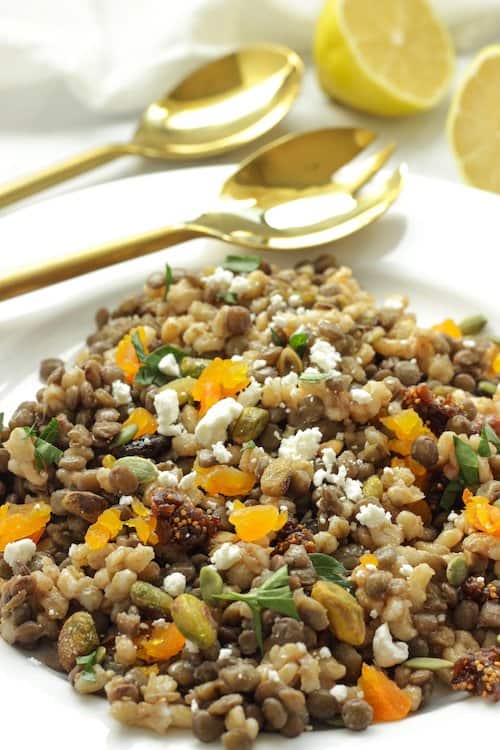 Barley is one of my favorite grains. It's a low GI grain that's packed with soluble fiber- the kind that lowers your cholesterol and blood sugar.
Because the barley is cooked and cooled before it's eaten, much of the starch turns to resistant starch, which helps feed your healthy gut bacteria.
Lentils are one of the best sources of plant protein and another excellent source of fiber. Adding about ½ cup to your diet a few times each week promotes better gut health and can even help you lose weight.
Cinnamon is one of the spices in this salad, it helps reduce blood sugar.
Dried apricots are one of the lowest GI fruits, and they're full of the antioxidant beta-carotene.
The pumpkin seeds, pistachios, and olive oil are all heart-healthy fats. They reduce LDL (bad) cholesterol and inflammation throughout your body.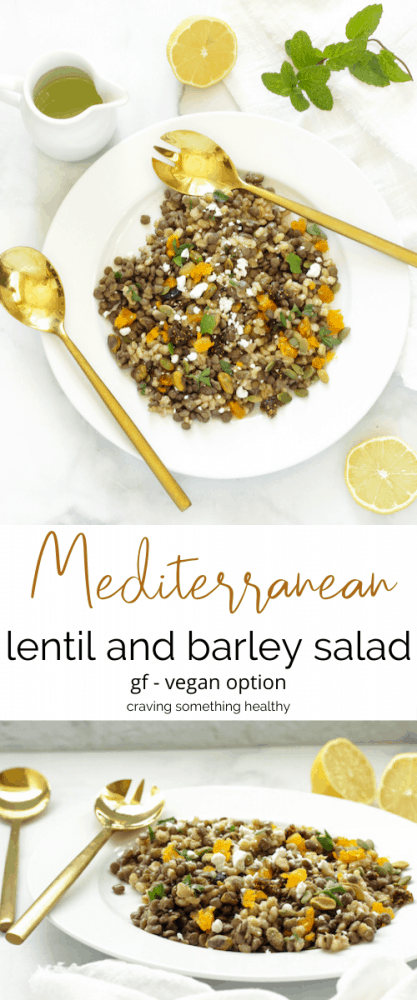 Oh, and did I mention it tastes great too? That's my favorite part of the Mediterranean diet. There's no lack of delicious flavors.
Recipe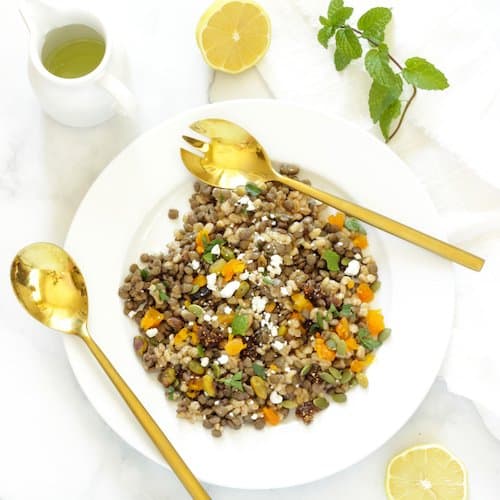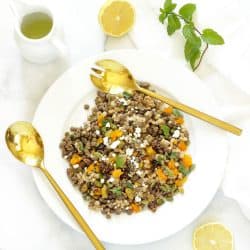 Mediterranean Lentil and Barley Salad
A delicious salad or vegetarian main dish that's packed with flavor and health benefits
Print
Pin
Ingredients
1

cup

water

½

teaspoon

cinnamon

1

teaspoon

salt (divided)

½

cup

barley

½

cup

brown lentils

¼

cup

shelled pistachios

2

tablespoons

roasted pumpkin seeds

¼

cup

chopped dried apricots

¼

cup

chopped dried figs

¼

cup

minced fresh parsley

⅓

cup

minced fresh mint

⅓

cup

crumbled goat cheese (optional)

3

tablespoons

fresh lemon juice

3

tablespoons

olive oil

1

tablespoon

honey

1

teaspoon

lemon zest

salt and ground pepper
Instructions
Combine the water, cinnamon, ½ teaspoon salt, and barley in a large saucepan and bring it to a boil. Reduce the heat to medium-low, cover the pot, and let the barley simmer for 30 minutes or until it's tender.

Put the lentils and ½ teaspoon salt in a second pot, and cover the lentils with about 2-inches of water and bring them to a boil. Reduce the heat to medium-low, cover the pot and let the lentils cook for about 15 minutes or until tender.

When both are cooked, drain off any remaining liquid, and rinse them well in a colander under cold water.

Place the lentils and barley in a large mixing bowl. Add the pistachios, pumpkin seeds, apricots, figs, parsley and mint. Toss lightly to combine.

Add the goat cheese (or skip it if you want to keep this recipe vegan)

To make the dressing, combine the lemon juice, olive oil, honey, lemon zest, and salt and pepper to taste. Shake it or whisk well. Pour the dressing over the salad and toss lightly to combine.

Refrigerate the salad for at least 30 minutes, or up to 2 hours to let the flavors combine.
Notes
This recipe serves 4 as a dinner portion, or 6-8 as a side dish. Nutrition facts are for 4 servings, with goat cheese.
Nutrition
Calories:
440
kcal
|
Carbohydrates:
46
g
|
Protein:
17
g
|
Fat:
23
g
|
Saturated Fat:
5
g
|
Cholesterol:
9
mg
|
Sodium:
682
mg
|
Potassium:
618
mg
|
Fiber:
14
g
|
Sugar:
11
g
|
Vitamin A:
995
IU
|
Vitamin C:
13
mg
|
Calcium:
78
mg
|
Iron:
5
mg
Do you try to follow the Mediterranean Diet? What's your favorite part of it? Eat well!