This recipe is brought to you as part of a sponsored partnership with Nasoya products. My spicy and delicious Mexican Tofu and Black Bean Scramble is packed with so much flavor and protein from plants. It's like a party in your mouth, and a perfect way to celebrate National Vegetarian Awareness Month. I promise, you'll never miss the meat!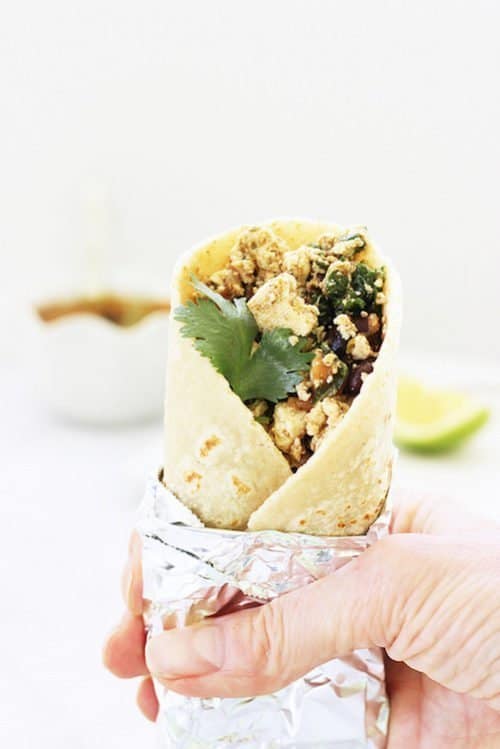 I totally grew up in a meat and potatoes family. Did you? It's so funny to think about it now, but back in the my day, my dad got off the train from the city at 5:45pm every day, so we always ate as a family at 6pm sharp. Dinner always included a meat, often steak, roast beef, or some type of chicken dish that was delicious because it was swimming in a cream of chicken or mushroom soup sauce. Oh, we had a salad or vegetable too, but never, ever, were they the star of the plate. It was all about the meat.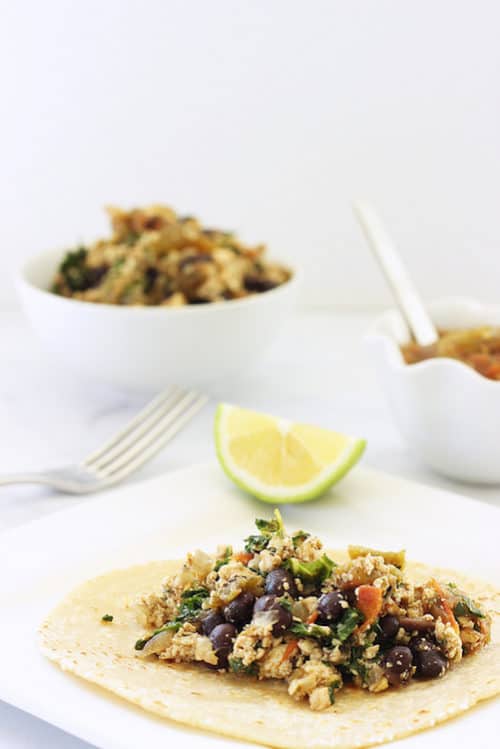 Fast forward about 100 years (well, maybe 40+ years) and I can't remember the last time I ate steak or roast beef. Now, it's chicken and fish occasionally, and vegetarian meals the other 90% of the time. As a dietitian, I'm obviously aware of the health benefits of eating this way, and the environmental benefits, of raising and eating less meat, but here's a major confession: Vegetarian meals are SO. Much. Easier.  There's no thawing, or waiting for the grill to heat up, or having to turn on the oven when it's still 98 degrees at dinnertime.  #DesertLivingProblems.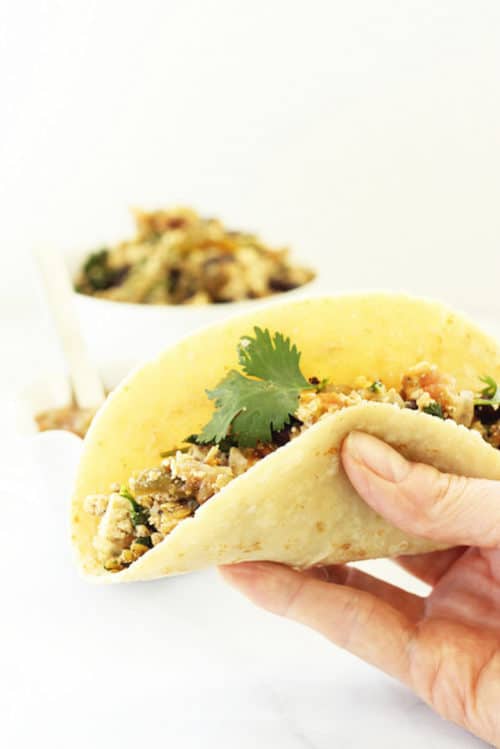 If you're on the fence about incorporating more veggie meals into your week, read my post about 5 Reasons to Eat a Plant Based Diet. I swear, once you get a few quick and easy vegetarian meals in your back pocket, you'll never miss the meat.  And imagine how impressed your kids will be when you serve them a creative tofu or tempeh dish next time they come for dinner. I use Nasoya organic tofu in this Mexican Tofu Scramble, and it literally takes 15 minutes to pull together, and just a quick saute.  Another bonus for me is the leftovers – they taste even better the next day, and I get a night off from cooking.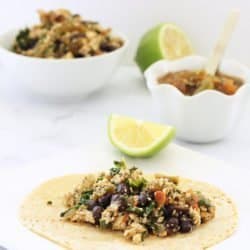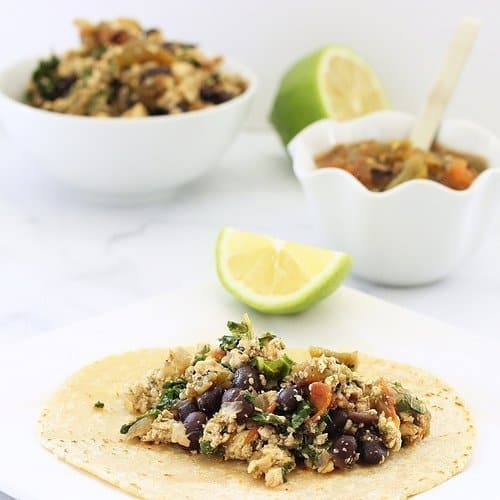 Mexican Tofu and Black Bean Scramble
Ingredients
1

tablespoon

olive oil

1

small

onion

diced

1

clove

garlic

minced

1/2

jalapeno

seeded, and minced

1

teaspoon

kosher salt

1

teaspoon

cumin

2

teaspoons

chili powder

1

14 ounce package

Nasoya organic, extra firm tofu

drained well and crumbled

1

15 ounce can

black beans

drained and rinsed

1

cup

chopped kale leaves

1/2

cup

crushed, fire roasted tomatoes

1/4

cup

cilantro

chopped

3

scallions

chopped

8

small (6-inch)

toasted corn tortillas
Instructions
Heat the oil in a saute pan over medium high heat. Add the onions, garlic, and jalapeno, and saute for about 5 minutes, or until softened.

When vegetables are soften, add the salt, cumin and chili powder, and stir for about 30 seconds.

Reduce the heat to medium. Add the crumbled tofu, and black beans, and stir to combine and heat through.

Add the kale and tomatoes, and stir for another 2-3 minutes until the kale wilts.

Remove from the heat, and stir in the cilantro and scallions.

Spray both sides of each tortilla with cooking spray, and if desired, lightly sprinkle with kosher salt.

Heat the tortillas in a separate non-stick pan, on medium high heat, just until they puff and begin to turn brown.

Serve about 1/2-3/4 cup of the tofu scramble per tortilla. Leftover tofu mixture will keep in a covered container for 3-4 days in the refrigerator.

Do you try to incorporate more vegetarian meals into your week?  If not, start today!
Eat well!