Jamaican Jerk Grilled Vegetables
Jamacain Jerk Grilled Vegetables are a perfect combo of sweet and spicy. These are so easy to make on the grill, and a perfect accompainment to meat or fish.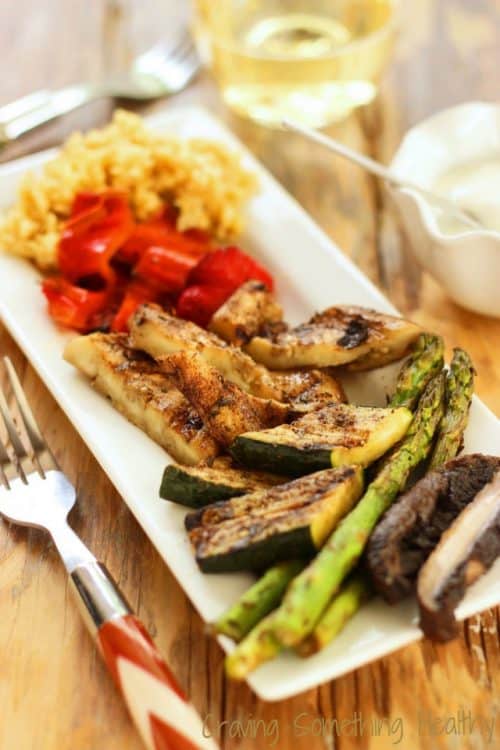 I'm still making my way through my massive file of recipes I've clipped or saved from magazines and websites over the years, and I came across this one from Food & Wine, that I've gotta share!
We all know how good vegetables are for you, right?  And we all agree that we need to work on eating more, right?  Well here's a great grilled vegetable recipe that makes a TON of veggies, and the leftovers taste better each day, so you can eat them all week.
If you've never had Jamaican Jerk seasoning, you must make some ASAP.  It's a dry rub mix that's both sweet and spicy, and usually features a mix of allspice, nutmeg and other warming spices along with garlic, onion and a kick of hot pepper.
I've had it on chicken and fish, but for some reason I've never thought to use it on vegetables, and apparently I've been missing out.  I am in LOVE with this recipe, which can be adapted to use any type of vegetables you like.  It calls for grilling, but if you prefer, I think roasting would work just as well.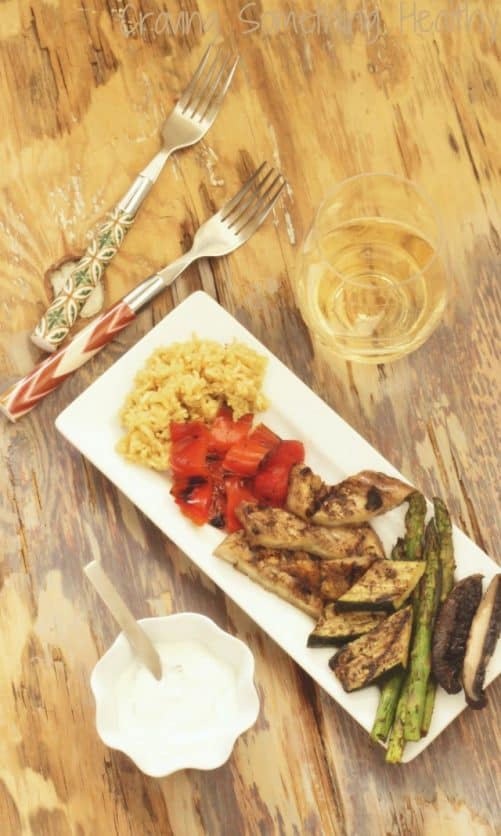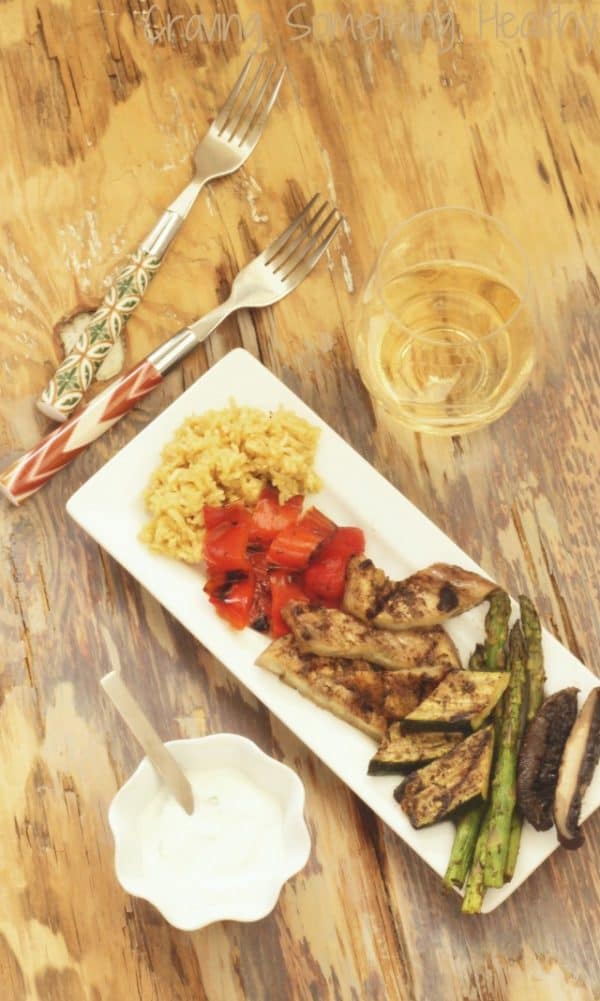 I used a mix of red pepper, pink striped eggplant (so pretty!), Portabello mushrooms, zucchini and asparagus, but feel free to experiment with corn on the cob, fennel, sweet onions, green beans, or anything else that catches your eye this time of the year.
Let's serve it with brown basmati rice and a cool Greek yogurt sauce to tame the spiciness just a bit, and call that dinner.
[bctt tweet="You'll be more likely to eat your #vegetables if they're cooked and ready when you are. "]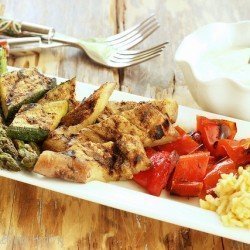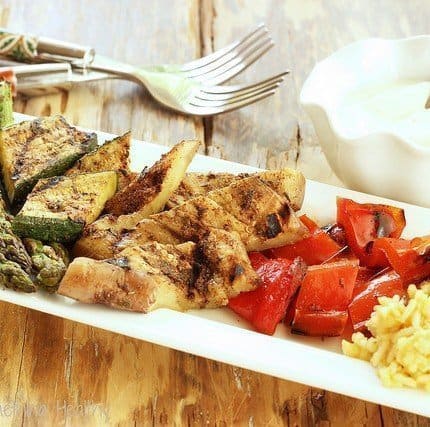 Ingredients
Jerk Seasoning
1

tablespoon

ground allspice

1

tablespoon

onion powder

1

teaspoon

ground nutmeg

1

teaspoon

ground ginger

1/2

teaspoon

garlic powder

1/2

teaspoon

cayenne pepper

1 1/2

tablespoon

dried thyme

1/2

tablespoon

kosher salt

1/2

tablespoon

fresh ground pepper
Vegetables
1

medium eggplant

sliced lengthwise

2

medium zucchini

sliced lengthwise

2

portabello mushrooms

stems removed

2

red bell peppers

cored and sliced in half

1

pound

of thin asparagus

tough ends snapped off

2-3

tablespoons

olive oil
Yogurt Sauce
2

cups

plain nonfat Greek yogurt

1/4

cup

fresh lime juice + zest of 1 lime

1/2

cup

minced scallions
Instructions
For the spice blend, mix all spices, salt and pepper together in a small bowl.

Wash and prepare vegetables as directed. Place vegetables in a very large mixing bowl and drizzle with olive oil. Toss gently to coat with oil.

Sprinkle spice mix over vegetables and gently toss and rub spice mix into vegetables. Let coated vegetables sit for 10-15 minutes.

Preheat a grill to medium-high heat.

Working in batches as necessary, grill vegetables until tender and lightly charred on each side, about 8-10 minutes per batch.

Let vegetables cool slightly, and then slice into serving pieces.

For yogurt sauce, mix together Greek yogurt, lime juice, zest and scallions. Season with a pinch of salt if desired.

Serve with yogurt sauce, and brown basmati rice if desired.
Notes
Store any leftover vegetables and yogurt sauce in the refrigerator for 3-4 days.
Recipe adapted slightly from Food & Wine
Are you better about eating your vegetables when they're cooked ahead of time? Do you like grilled vegetables?
Eat well!
SaveSave
SaveSave