Mediterranean Farro Bowls
Is a salad the same thing as a Bowl? Or is A Bowl hot food? Or broth-y food? I'm pretty sure it's not soup.
I'm not talking about the kind of bowl that you serve something in. I'm referring to the new fast-casual food trend called "The Bowl" that's totally having a moment. Bowls are making the rounds at casual restaurants everywhere, led by Panera, Chipotle, and my personal new fast-casual fave - Flower Child, here in Scottsdale. I'm not really sure if there are specific rules about how to make a Bowl (i.e. hot or cold, soupy or saucy or not), but they all seem to have certain elements in common - a whole grain base, lots of vegetables, and a protein on top. Zhuzh it up with sauce, broth, dressing, serve some of it sauted, some of it cold, all of it hot...
I totally love the idea of bowls, and I guess I was ahead of the curve - or maybe they all got the idea here???? I've been making Warm Lentil Salad Bowls, Miso Tofu Noodle Bowls, and Slow Cooker Asian Chicken Salad Bowls FOREVER 'cause everything tastes better out of a bowl. Don't you think? All the easier to stir it all up.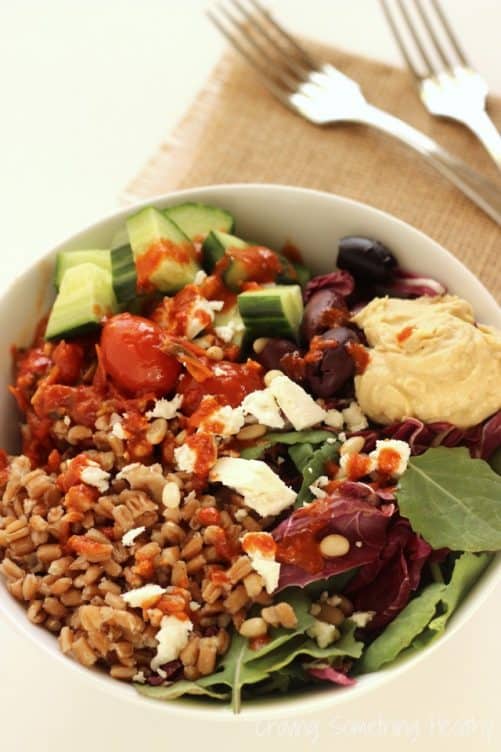 Today it's Mediterranean Bowls. Let's start with Farro, all chewy and nutty. Add some greens, and reds (radicchio), chop some crispy cucumbers and salty olives, spoon up some roasted cherry tomatoes with garlic and herbs, and then top it with hummus and a sprinkle of feta cheese if you like. Oh - I almost forgot the roasted red pepper sauce. Hello. Beautiful.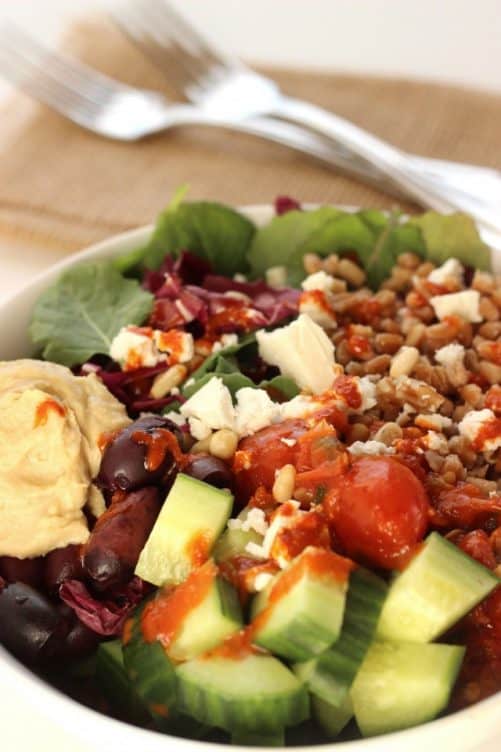 Yes, the Bowl is beautiful, but you will be too once you eat it 🙂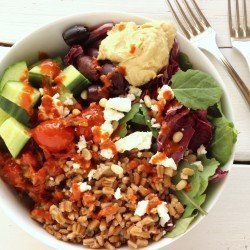 Ingredients
Roasted Red Pepper Sauce
1 7

oz

jar roasted piquillo peppers

drained well

1

small shallot

¼

cup

balsamic vinegar

2

tablespoons

honey

2

tablespoons

olive oil

¼

cup

water

as needed

salt and pepper to taste
For each bowl:
½ -¾

cup

cooked farro

prepared according to package directions

1

cup

packed baby greens

½

cup

chopped arugula

½

cup

chopped seedless cucumber

½

cup

roasted cherry tomatoes

2

tablespoons

chopped pitted Nicoise olives

3

tablespoons

prepared hummus

2

tablespoons

feta

optional
Instructions
To make the sauce/dressing, combine all ingredients except for water, salt and pepper in the bowl of a food processor. Process until smooth. Add water as desired to thin out to the desired consistency. It can be thick like a sauce, or thinner like a salad dressing.

Taste and season with salt and pepper. Set aside.

For each bowl, layer ingredients in a large individual serving bowl, or on a plate.

Drizzle roasted red pepper sauce over the ingredients.

Serve immediately.

Store extra red pepper sauce in a covered jar in the refrigerator.
Notes
Roasted Red Pepper sauce adapted from Sarasota's Roasted Red Pepper Vinaigrette
Do any of your favorite restaurants serve bowls? What's your favorite? Hot or cold?
Eat well!