Summer Slow Cooker Asian Chicken Salad Bowls
Oh baby – it's hot outside! And who wants to heat up the stove or oven when you could be playing at the beach instead? Grilling is always a good answer to the summer "what's for dinner" question, but let's be honest, it starts to get old after a while. Have you thought about dusting off your favorite winter kitchen accessory – the slow cooker AKA crock-pot for some summer fun? I know, the thought of beef stew or a hearty soup probably isn't terribly appealing in July, but how about a cold Asian noodle bowl, or barbecued pulled chicken sandwiches? Now, we're talking.
My rule is – summer food has to be easy. And since the temps have been topping 113 for the past two weeks in Arizona, for me, summer food also has to be cool. No ovens, minimal time on the stovetop, and preferably nothing I have to cool down before it goes in my mouth.
I gave my crock-pot away years ago, but it's hot enough here, that turning on the oven for most of the year also means cranking up the air conditioning, and I'm pretty cheap that way. So one of the first things I bought for the kitchen in my new house is a new Cuisinart Slow Cooker
, and the The Healthy Slow Cooker Revolution
 cookbook from America's Test Kitchen. And I've gotta say, they're an amazing life-changing team!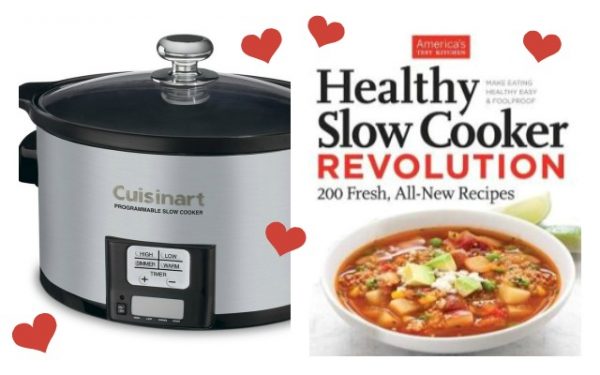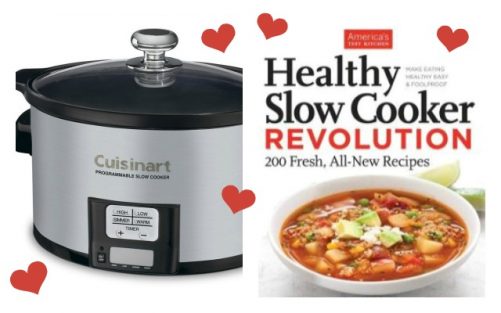 Sometime after lunch, I throw everything in, set it to low, and sit by the pool at my desk. A few hours later, dinner's done, kitchen is completely cool, and I'm often done cooking for the week. Yep, you read that right. I love to do a few pounds of chicken breast in the slow cooker. Once it's done, I shred it, and use it for various chicken salads, pulled chicken sandwiches, chicken tacos — you name it. When you get tired of chicken, freeze the leftovers for another week.
Chili or beans are also great as a side for veggie burgers, and work well in a slow cooker. And how about dessert please?! Slice up peaches, nectarines, or fresh strawberries, or go really crazy and throw them all in, add some ginger or a vanilla pod, and a pinch of sugar, and serve it over ice cream. Or yogurt the next morning. Do you see where I'm going with this slow cooker thing? You've gotta get one!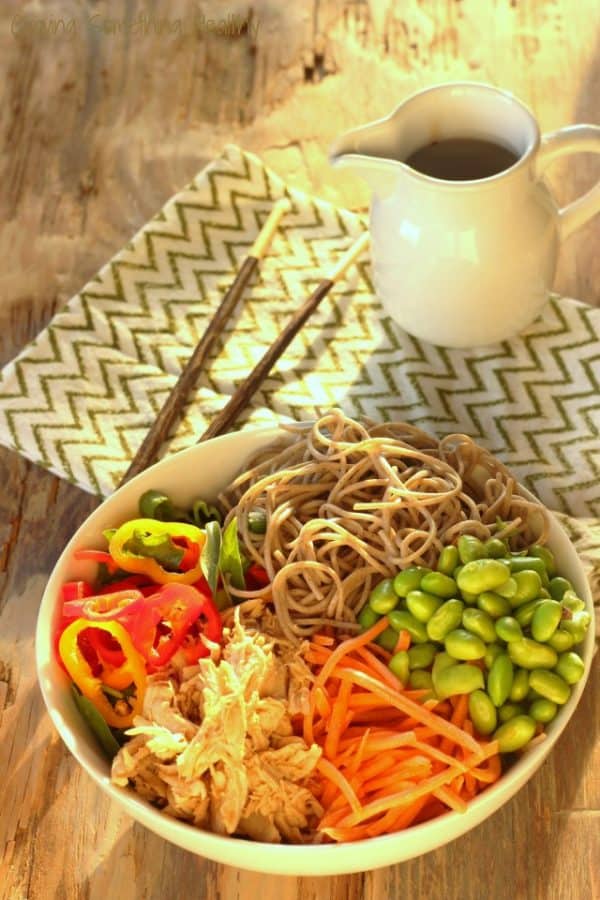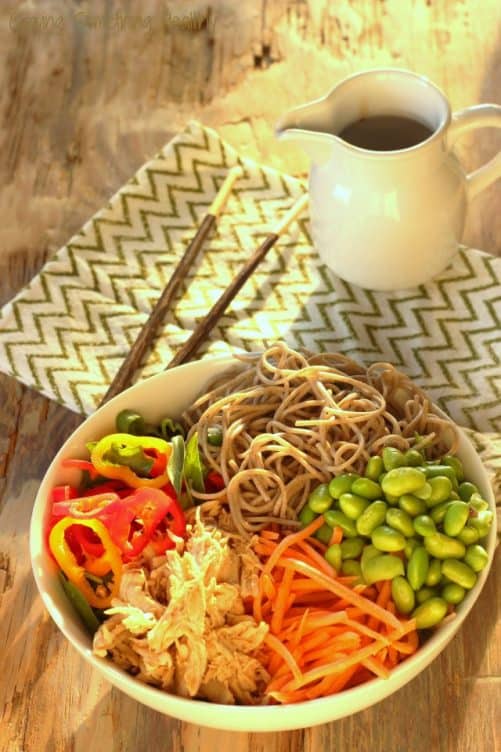 The other day I did Asian chicken, which I shredded up, chilled down, and used in these delicious Asian Chicken Salad Bowls. The beauty of this recipe, is that once you have the chicken cooked, you can throw whatever vegetables you have together, use soba noodles or quinoa or brown rice – whatever you have, eat it hot, warm, cold. It's all good!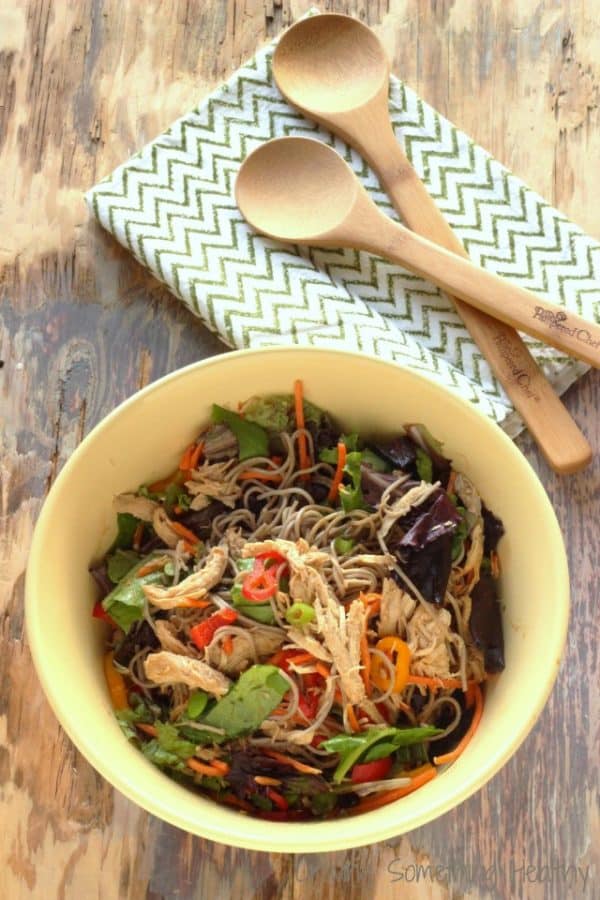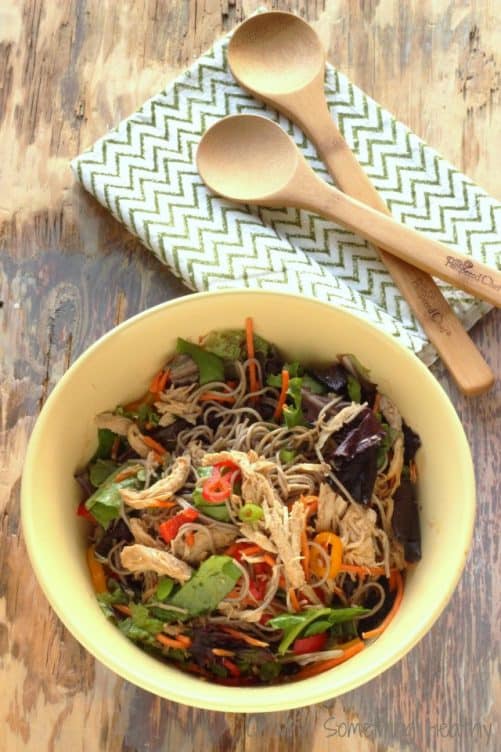 If you have leftover chicken, use it in Asian Chicken Lettuce Wraps. And if you still have more, use it to make Cranberry Asian Barbecue Chicken Sandwiches or toss it into Cauliflower Fried Rice.  You're gonna love not cooking all week!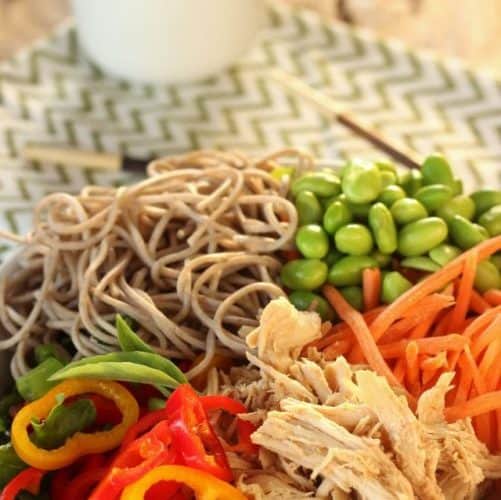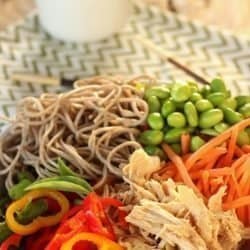 Ingredients
1/2

plus 2 tablespoons cup hoisin sauce

divided

1/2

cup

rice vinegar

1/4

cup

low sodium soy sauce

2

tablespoons

sesame oil

1

teaspoon

minced ginger

1/4

teaspoon

garlic powder

2

teaspoons

or to taste Sriracha

1 1/2

pounds

boneless

skinless chicken breast

6

ounces

soba noodles

1/2

cup

edamame

1/2

cup

peapods

1

cup

shredded carrots

1

large sweet red pepper

sliced thin

3

scallions

sliced thin

2

cups

mixed baby greens

2

tablespoons

chopped Thai Basil leaves
Instructions
In a large measuring cup, mix together 1/4 cup hoisin sauce, along with the rice vinegar, soy sauce, sesame oil, minced ginger, garlic powder and Sriracha. You will have 1 cup of sauce.

Place chicken breasts in the crock pot, and pour 1/2 cup of the sauce over the chicken, turning to coat. Cover the crock pot, and set to low. Cook the chicken for about 3 hours, or until it shreds apart with 2 forks easily. Do not drain the cooking sauce, let the shredded chicken absorb it.

The chicken can be served warm, or chilled in the refrigerator as desired.
To assemble the salad:
Add the additional 2 tablespoons of hoisin sauce to the remaining sauce mixture, to make a dressing for the salad, and set it aside.

Bring a medium pot of water to a boil, and add 1/2 teaspoon salt. Add the soba noodles, and reduce the heat to medium. Cook for about 4-5 minutes, or until just tender. Just before they are finished, add the edamame and pea pods to the salted water with the noodles, and bring everything back up to a boil. Drain and rinse noodles and vegetables with cold water to remove any starch from the noodles, and chill the vegetables.

Add the cooled soba noodles, edamame and pea pods to a large mixing bowl. Pour the reserved dressing over all.

Add the remaining vegetables, and Thai basil leaves, and as much of the chicken as desired. Toss well to combine.

Serve immediately.
Notes
If you plan to have leftovers, keep the baby greens separate,do not add them to the mixing bowl with the dressing, because they will wilt.
Nutrition
Do you use your slow cooker in the summer? What do you like to make?
Eat well!
This post contains Amazon affiliate links.  If you buy something from Amazon after clicking the link, they'll put a few pennies in my account.  Thanks for supporting Craving Something Healthy!