Asian Chicken Lettuce Wraps
A few weeks ago, I did a review of The MD Factor Diet by Caroline Cederquist MD. One of the big takeaways for me is that I really need to focus on eating more protein and less carbs. It's not that I eat an unhealthy diet – I think compared to the typical American, it's actually really healthy, and I'm definitely not overweight. But I've noticed for probably the past five years or so, my metabolism has come to a screeching halt, and I really have to watch what I eat, or I will gain weight. I'm also a lot more tired, and my stomach in particular, has been expanding. Yep, I have the meno-pot and all of the joys that come with it.
Unfortunately, abdominal weight is the worst kind – it leads to insulin resistance, prediabetes, high blood pressure and all those good things, and the best way to reverse it, or stop the progression, is to be as active as possible, eat fewer carbs, especially refined carbs, and keep any alcoholic beverages to a minimum. Even though I work out most days and eat mostly a plant-based diet, I do love my chocolate and ice cream. And I'm not gonna lie – I really enjoy my glass of wine... So I've decided to follow the advice in The MD Factor Diet, and cut out my sweet treats, eliminate the wine, reduce my carbs, and really boost my protein. At least for a few weeks.
Guess what? I'm not dying! I'm actually OK with fruit instead of chocolate, and an extra bite of salmon instead of sweet potato. I did have a glass of wine when we went out to dinner this weekend, but I'm pretty OK without it during the week. Who knew? I even feel like I have more energy, and I'm definitely way more full and satisfied throughout the day.
One of the higher protein-lower carb dinners I tried recently is these Asian Chicken Lettuce Wraps. They were born out of the sad fact that we've been in our new house for almost 6 months, and haven't been able to find a good Chinese restaurant anywhere. If you live in Scottsdale, PU-LEEZE let me know where to find one!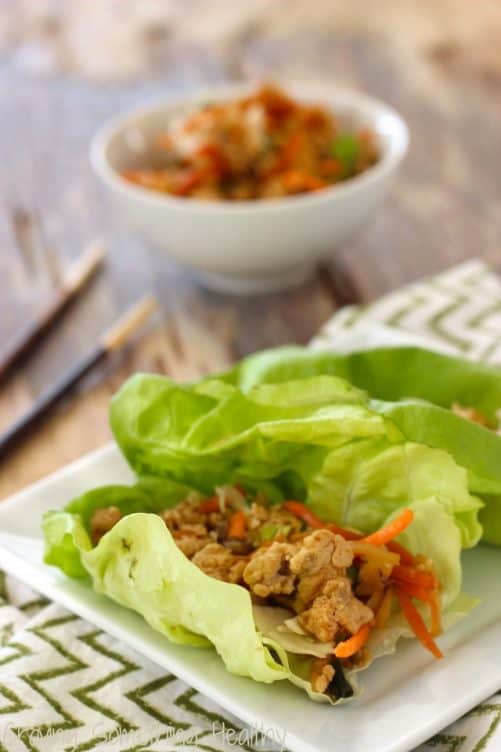 These make a great appetizer or party food as well as dinner.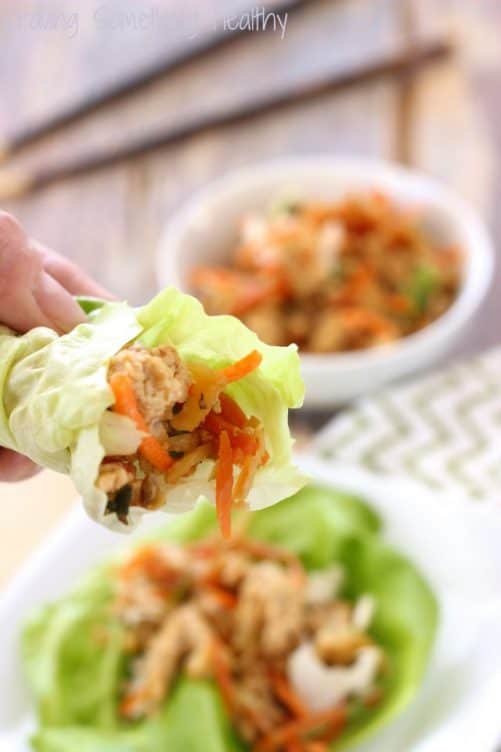 Make this recipe really quick and easy by using the shredded cabbage and carrots sold in little bags in the produce department.
And if you like lettuce wraps, don't miss my Thai Larb Lettuce Wraps. They're delicious too!
Recipe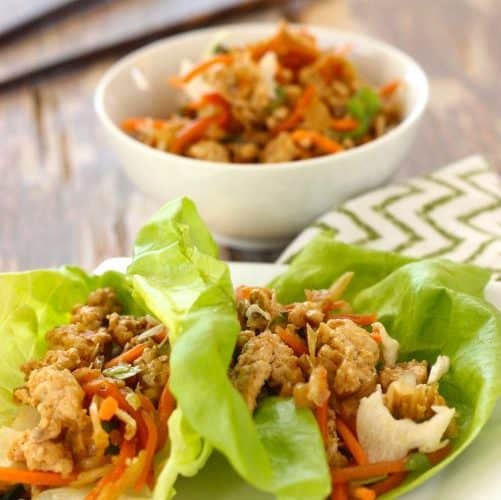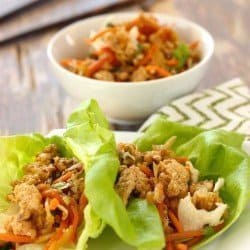 Asian Chicken Lettuce Wraps
A light, low carb Asian-inspired dinner
Print
Pin
Ingredients
2

large cloves of garlic

minced

1

tablespoon

fresh minced ginger root

1

tablespoon

olive oil

1

pound

ground chicken breast

¾

cup

shredded white cabbage

¾

cup

shredded carrots

3

scallions

chopped

4-5

crimini mushrooms

baby bella, minced

2

tablespoons

hoisin sauce

1

tablespoon

sesame oil

1-2

tablespoons

reduced sodium soy sauce

to taste

12

Butter lettuce leaves

washed and dried
Instructions
Heat canola oil in a large saute pan over high heat. Sauté garlic and ginger for about 30 seconds, until fragrant. Reduce heat to medium high and add chicken. Cook, stirring frequently to break up chicken, until it's no longer pink.

Add cabbage, carrots, mushrooms and scallions and stir well until vegetables start to wilt.

Add hoison sauce, sesame oil, and season with soy sauce to taste.

Remove chicken from heat, and let cool for about 5 minutes.

Spoon about 3 tablespoons of chicken mixture into the center of each lettuce leave and serve.

To eat, roll leaves, burrito style.
Notes
To save time, use shredded carrots and cabbage from the produce department.
Nutrition
Serving:
3
g
|
Calories:
241
kcal
|
Carbohydrates:
10
g
|
Protein:
26
g
|
Fat:
10
g
|
Saturated Fat:
2
g
|
Polyunsaturated Fat:
3
g
|
Monounsaturated Fat:
5
g
|
Trans Fat:
0.01
g
|
Cholesterol:
73
mg
|
Sodium:
434
mg
|
Potassium:
775
mg
|
Fiber:
2
g
|
Sugar:
5
g
|
Vitamin A:
5111
IU
|
Vitamin C:
15
mg
|
Calcium:
53
mg
|
Iron:
2
mg
Are you a carb lover, or a protein lover? What's your biggest challenge in eating less carbs?
Eat well!