Prune Bites With Blue Cheese and Toasted Pecans
These prune bites with blue cheese and toasted pecans are a tasty appetizer or snack idea. You'll never look at prunes the same way again!
I feel sorry for prunes. There is probably no other fruit that's so closely associated with older people and bowel habits. And that's not a knock on old people because I'm one myself. Just the word P-R-U-N-E has a negative connotation. Wrinkly. Laxative. Think I'm wrong? Just try to ask the kid who stocks the dried fruit aisle at the grocery store where you can find the prunes, without feeling like you have to whisper.   Oh. You have that problem. Smirk. Middle of aisle on the left. How many other fruits do you know that had to change their name for marketing purposes? Dried Plums – I'm talking about you.
Well, guess what? I love prunes, and my family really does too. They're like sweet, juicy, less-wrinkled giant raisins, and a really yummy fruit snack. And - I love them even more since I discovered that they're also really good for your bones. I know, weird, that prunes (or should I call them, Dried Plums) can be good for your bones – but several research studies have found it to be true. It seems that eating about 10 prunes each day can prevent osteoporosis, and possibly help to rebuild bone.
If you think eating 10 prunes will send you on an instant bathroom break, I highly doubt that would happen. Prunes do have fiber, but a serving (about 5) only has about 3 grams of fiber. That's really not that much, considering we're supposed to eat about 25 grams each day.
Prunes do have naturally occurring sorbitol, a sugar alcohol, which can have a laxative effect in large doses. It's much more concentrated in prune juice though. If you're worried, just start slow – eat 3 or 4 and see how you do.
Prunes, or dried plums are great on their own, but they're kind of fun dressed up too. I love making these prune bites, coated with a little bit of Gorgonzola Dolce and rolled in toasted pecans. Yum. Party Prunes.
You can also use prunes to add natural sweetness to energy bites or bars. Try them in my No Bake Fruit and Nut Bars.
Recipe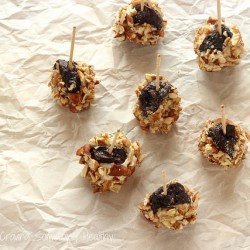 Prune Bites with Blue Cheese and Toasted Pecans
A tasty snack or appetizer idea
Print
Pin
Ingredients
6

large size dried prunes

2

ounces

Gorgonzola Dolce

or mild blue cheese

1

ounce

Greek Cream Cheese

softened

3

tablespoons

pecan halves

toasted and chopped
Instructions
Skewer each prune with a toothpick

Combine Gorgonzola Dolce and Greek cream cheese in a small bowl and mix well to combine

Spread about 1 generous teaspoon of cheese mixture over each dried plum.

Roll each in chopped nuts, and place on a sheet of parchment paper.

Chill in the refrigerator for about 30 minutes to firm up.
Notes
Store leftovers in the refrigerator in an airtight container for up to 3 days.
Nutrition
Serving:
3
g
|
Calories:
101
kcal
|
Carbohydrates:
8
g
|
Protein:
3
g
|
Fat:
7
g
|
Saturated Fat:
3
g
|
Polyunsaturated Fat:
1
g
|
Monounsaturated Fat:
3
g
|
Cholesterol:
10
mg
|
Sodium:
126
mg
|
Potassium:
130
mg
|
Fiber:
1
g
|
Sugar:
4
g
|
Vitamin A:
179
IU
|
Vitamin C:
0.1
mg
|
Calcium:
65
mg
|
Iron:
0.3
mg
Do you like to snack on prunes?
Eat well!