Homemade Grain-Free Six Seed Flatbread Crackers
These Homemade Grain-Free Crackers are packed with protein and healthy fats from flaxseed meal plus five other power-packed seeds. And, oh yeah, these are gluten-free flatbread crackers, but they taste delicious!
You just can't get gluten-free crackers like this from a package.
Have you noticed how little love bread gets lately? Not in public, anyway. I suspect, however, that many of us secretly love it when they bring a nice warm loaf to our restaurant table... AmIright?
I actually tend to stay away from most bread. Even Especially the multigrain loaf and that cranberry walnut loaf from Costco's bakery. It has nothing to do with gluten or carbs, but more to do with the fact that I enjoy it a little too much.
Especially when it's slathered in some whipped honey butter. I like to keep things balanced, and when a nice loaf of bread is on the kitchen counter, things can quickly get out of balance for me.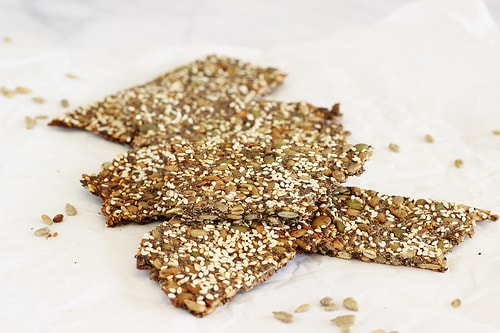 I totally love making bread (especially a good quickbread or focaccia) when I have mouths to feed. Bread is, after all, made for sharing. But I'm an empty-nester, and everyone I know who I might share it with has suddenly gone all keto on me.
So, I thought - flatbread. It's really more of a cracker than a loaf. And it's perfect for snacking on over a few days - with some white bean and garlic dip, and a few snacky sides like olives and sun-dried tomatoes. I've been wanting to try my hand at a grain-free, all-seed cracker, and guess what? It's just as delicious as a good loaf of bread - but in a low carb, healthy fat, and guilt-free kind of way!
Open wide and say yaaas to sunflower, sesame, pumpkin, hemp, flax, and chia seeds in Every. Single. Bite. These grain-free crackers are a nutritional powerhouse and loaded with healthy fats and fiber from all of those seeds. Wondering how they hold together?
The "grain" is ground flax seeds - AKA flaxseed meal and the "glue" is the gel that forms when chia seeds are mixed with water. It coolest cooking experiment ever.
Recipe
Ingredients
¾

cup

unsalted sunflower seeds

½

cup

unsalted pumpkin seeds

4

tablespoons

chia seeds

4

tablespoons

sesame seeds

white or black

2

tablespoons

hemp seeds

½

cup

ground flax meal

½

teaspoon

sea salt

¼

teaspoon

ground pepper

¾

cup

water

3

tablespoons

honey
Instructions
Place all of the seeds, flax meal, salt, and pepper in a mixing bowl and stir to combine.

Add the water and honey, and mix well. Set the mixture aside for about 15 minutes, or until the liquid is absorbed.

While the seeds are sitting, preheat the oven to 300 degrees, and set the oven rack to the middle position. Line a baking pan with a Silpat baking mat, or parchment paper.

When the water is absorbed, and the seed mixture resembles dough, stir well to combine everything and work the mixture into a ball.

Lay the dough onto the lined baking sheet, and with the backside of a spatula, spread it as thin as you can, without leaving any openings in the dough. It should spread out to within about 1 ½ inches of the edges of the pan.

Bake for about 50-60 minutes, or until the flatbread is set and just starting to turn golden.

Remove from the oven, and let the flatbread cool. Remove from the Silpat and cut or break into 12 cracker squares, or longer pieces if desired.

Store any leftovers in a ziploc bag for up to 4 days.
Nutrition
Calories:
134
kcal
|
Carbohydrates:
8
g
|
Protein:
5
g
|
Fat:
10
g
|
Saturated Fat:
1
g
|
Polyunsaturated Fat:
5
g
|
Monounsaturated Fat:
3
g
|
Trans Fat:
0.01
g
|
Sodium:
77
mg
|
Potassium:
134
mg
|
Fiber:
3
g
|
Sugar:
4
g
|
Vitamin A:
15
IU
|
Vitamin C:
0.3
mg
|
Calcium:
61
mg
|
Iron:
2
mg
How much do you love homemade bread? Could you ever do a keto diet?
Eat well!