In case you didn't know, I have a pretty big sweet tooth, but lately I've been craving some savory snacks. I think it has something to do with my Lemon Herb Savory Cheesecake, which was apparently quite a hit with many of you!
I was browsing through one of my cooking magazines recently, and made a mental note that savory granola is a new restaurant trend, and of course my mind started working… I love to make granola, but once you make it a few times, you become painfully aware of how many calories a small handful contains. Sure, they're healthy calories – lots of whole grain oats, dried fruit, nuts, honey or maple syrup, oil… etc, etc but it all adds up. Granola qualifies as one of those calorie dense foods that we all hate to love.
So what if you could take the basic ingredients – oats, and nuts, but skip the sugar and fruit, and maybe just season it with some salt and spices and a touch of parmesan cheese for a treat? Oh yeah. That's what I'm talking about.
This Savory Parmesan Granola is perfect to eat by the handful, or mix with some pretzels and popcorn, or sprinkle over a salad instead of croutons. Really. Yum.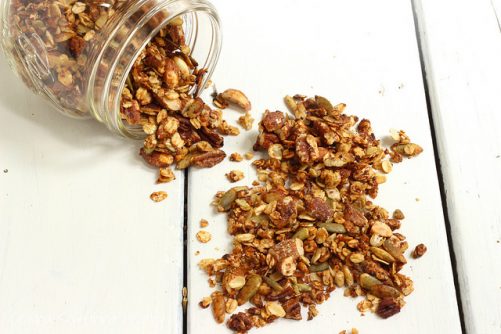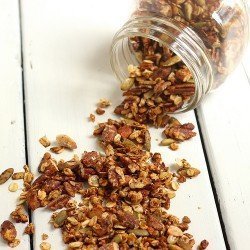 Ingredients
1

cup

old fashioned oats

1/2

cup

almonds

roughly chopped

1/2

cup

pecans

roughly chopped

1/4

cup

roasted

salted pepitas (pumpkin seeds)

1/2

teaspoon

kosher salt

1/8

teaspoon

cayenne pepper

1/4

cup

grated parmesan cheese

1

tablespoon

olive oil

1

tablespoon

honey

1

egg white

lightly beaten
Instructions
Preheat oven to 300 degrees, and set oven rack to the middle position.

Combine dry ingredients in a large mixing bowl and stir to combine.

Add olive oil, honey and egg white, and stir mixture well to coat evenly.

Spread granola onto a baking pan and bake for 20-30 minutes or until golden, tossing once or twice so granola bakes evenly.

Let cool to room temperature, and store in an airtight container.
Notes
Recipe inspired by Bon Appetit

Do you eat granola?  Have you ever made it for a gift?
Eat well!